Have you been repeatedly noticing new technology for music listening? If you're a long time music lover, you might have moved from vintage radios and 45 rpm record players to long-playing disks to cassettes to CD's. Then as technology really exploded, the offerings became home audio systems, Hi Res audio, streaming music on TV and computers, wireless HiFi, iPods, MP3's, Bluetooth, DVD's, boomboxes, and the list goes on.
This amazing technological bonanza has made it possible to take the fun idea of the old roller piano player and turn it into a magnificent "built-in" entertainment center on acoustic pianos. It doesn't interfere with the normal use of the piano at all, but rather adds to the uses of the instrument by turning it into a self-playing piano, a state of the art music-delivery system.
– Imagine Billy Joel playing YOUR piano, or Horowitz or Rubenstein or Peter Nero –
– then imagine the voice and instrumental back-up of Nora Jones, or Adele or Andrea Bocelli accompanied in real time by YOUR piano—
– then imagine a video, played on your iPad, of Michael Buble' or U2 or Tony Bennett with YOUR piano backing up the big band—
– then imagine your video screen providing the words for your favorite Karaoke song, all provided by YOUR piano's Pianodisc Player system.
Install in A Piano You Already Own
Many new pianos today have factory-installed pianodisk players. But the really good news is that you don't have to buy a brand new piano to enjoy the "home theater" of a Player Piano System. Trained technicians can do a pianodisk installation using a universal kit, replicating the identical pianodisk player system to the piano you already own. The wireless system called PianoDisc™ and its revolutionary iQ technology has come to be recognized as the best of systems on the market.
Get "low profile" Invisibility
PianoDisc's forward-thinking innovations have brought it to the top of the industry. Service oriented and entrepreneurial, their latest improvement has made the systems truly invisible by replacing the hanging 4" "box" of tech equipment under the piano with a "low profile" cover that entirely hides the magic of the electronics.
This is a video of a low profile system installation, and you can see how sleek and thin the cover is on the new rendition of PianoDisc's iQ system.
You Can Utilize the Devices You Already Own
iQ makes operating a PianoDisc player system easier than ever before because you can operate it from something you are familiar with. Simply play, pause, stop or even adjust the volume, as you normally would, and the piano will respond.
As a bonus, the fact that almost any music playback device will work with iQ means that you'll always be able to use the latest music playback gear to control your piano. Think of it as built-in insurance on your investment.
The PianoDisc iQ Player System can be customized to operate with your choice of any external music player including popular music delivery devices such as:
With iQ, you can control the piano from any compatible music player, while the SilentDrive HD system delivers a beautiful, fully expressive piano performance— even at whisper-soft levels. PianoDisc's revolutionary iQ acts as a bridge between today's latest music playback technology and PianoDisc's elegant SilentDrive HD reproducing piano system. Easy to operate, play, pause, stop and adjust volume, as you normally would, and the piano will respond.
Even the Music Gets Better
With iQ, you'll enjoy piano performances created by the world's finest pianists. With one of the largest music libraries in the world, titles in every category from classical to rock, and literally thousands of songs to choose from, PianoDisc is sure to have all your favorites. iQ can even play your piano via DVD players, so you can enjoy watching pianists play your piano live via a PianoVideo. These exciting DVDs deliver Standard or High Definition Blu-ray video and live piano performances. With PianoVideos you'll enjoy original performances made by terrific jazz, pop and New Age players, classical virtuosos, wonderful instrumental groups and fantastic vocalists. With brilliant images on the screen and live piano performances, iQ and PianoVideos will give you a private concert in the comfort of your home.
How Do You Go About Converting Your Piano?
If you happen to be interested in having us install a player piano in Florida, Euro Pianos Naples is undoubtedly the best place to start. Just give us a call. Our technician is a PianoDisc certified engineer, and has installed myriad wireless player systems in Naples, as well as being a busy Fort Myers PianoDisc installer as well.
Your piano is usually brought to our workshop, the system installed and then returned to your home with our guarantee of providing the uncompromised customer satisfaction you deserve. The technician will acquaint you with the software and hardware, how to use whatever music delivery device(s) you've chosen, and is able to service repairs or maintenance issues should they arise. If your piano has always been well maintained, there should be few issues.
We are honored to have James Bender on our staff. He is our top-rated PianoDisc Certified Technician and likely singular in this industry for combining PianoDisc technical skills with an extensive background as a performing artist. He holds a Masters of Music degree in piano performance from the Manhattan School of music, and a Ph.D. in Music from New York University. He has been a conductor and performing pianist for over 40 years. Certified by PianoDisc to perform installations, calibrations and repairs on PianoDisc Player Pianos systems, we feel we can offer the finest service available.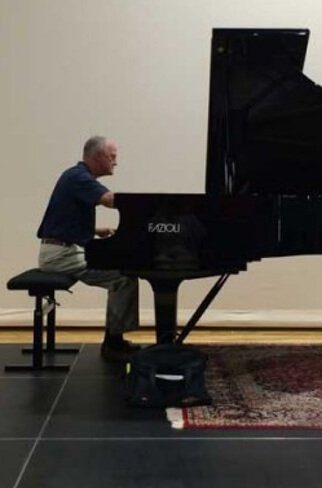 Euro Pianos Naples is a respected distributor of European luxury musical instruments. The company's origin dates back to 1965. Euro Pianos represents world renowned brands such as Sauter, and it has recently become a manufacturer of its own acrylic instrument – The Aire. Apart from being a successful retailer, consultant, and entrepreneur organization, Euro Pianos is actively engaged in the artistic and community life of Naples, Florida as an organizer and supporter of musical events throughout the years.