Welcome! Let us tell you a little about ourselves. Gunter Manchen is the founder and inspiration behind Euro Pianos Naples.
Euro Pianos Naples is a sublime online piano boutique. We carry a high line of designer instruments, the crown jewels of the industry, from Italy, Germany and Spain–as well as state-of-the-art affordable pianos, uniquely styled and unlikely to be found at your local piano store.
Because of our decades of experience, Euro Pianos has a wide historical arc culminating in fresh and innovative creations, our own crystal piano brand, "The Aire" and long-time collaborations with the best piano makers in the world.
We cater to the most discerning of musicians, architects and designers whose needs extend from quality performance concert grands to groundbreaking new designs to satisfy the most discerning of luxury home suppliers.  Clients with moderate budgets can find exceptional styling and quality in instruments that far surpass the usual industry budget offerings.
Our extensive consulting services and expert technicians complete the best piano experience for our clients. We handle customizations, the installation of high performance player systems (plays the piano for you), shipping and delivery expertise with clients all over the world.
Euro Pianos Naples had humble beginnings.  After immigrating from Germany in 1965, Gunter Manchen established a piano business in Toronto.
In 2001 Gunter and his wife Gisela alongside partner Wayne Chen expanded to Naples, Florida. Gunter and Gisela strongly supported Naples fledgling cultural and arts organizations with their exceptional European pianos.
Brubeck's final album was recorded on our 7ft C. Bechstein grand piano.
We hosted a lot of great events! The 2014 Halloween Monster Concert with 10 pianists on 10 grand pianos is perhaps one of the most loved and remembered.
After Gunter's passing, daughter Sunny Manchen Reuter took the reins and started the process of updating and reorganizing the business.  Her first efforts made Euro Pianos a sole Florida representative for one of the finest pianos on the planet, the Italian Fazioli.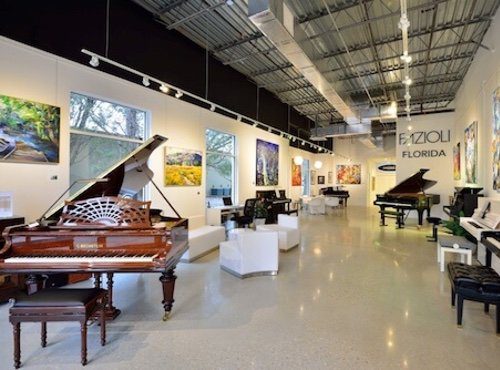 Euro Pianos Naples Fazioli Showroom and Salon
Her next stage was to create a unique Naples salon where intimate concerts by renowned pianists  and masterclasses for children were held, and art was sold.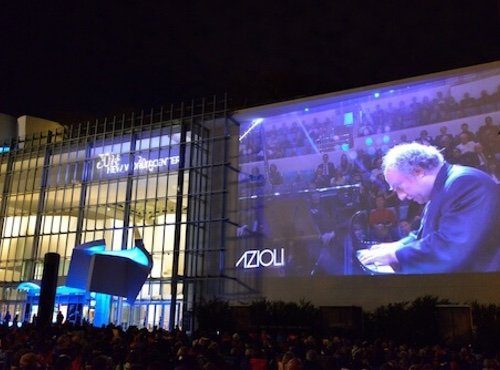 Jeffrey Kahane on Fazioli F278 provided by Euro Pianos in Miami 2016
Fazioli became a known brand in Naples because of the exposure the grand pianos got at venues all over the city.  Miami's New World Symphony Wallcast with Jeffrey Kahane on a Fazioli concert grand was just one of the exciting events.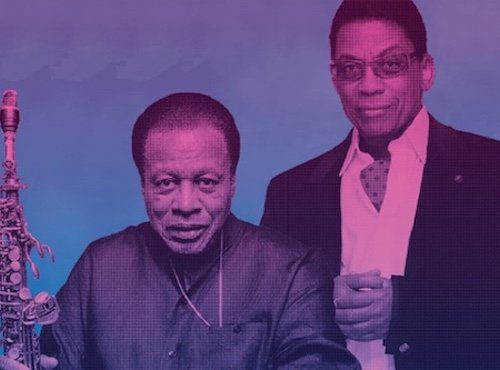 Wayne Shorter and Herbie Hancock in Orlando 2016
Jazz giants, Herbie Hancock and Wayne Shorter performed at Dr. Phillips Performing Center in Orlando with our nine-foot Fazioli concert grand, one of Hancock's favorites.
Euro Piano Naples' events were the genesis of the Grand Piano Series, a classical piano event program that is one of the hottest tickets in town. Remaining intimate and community-minded, GPS maintained the Euro "touch" in its spinoff.
Sunny continued to spread her wings with a beautiful new website design.  Clients can now navigate through menus of brands as well as models and customized examples of spectacular grand pianos and extraordinary uprights.
In addition, she added a blog to the website called "UNDER THE LID" which covers topics that clients continually ask:  what's the best piano? what's the difference in brands? should I buy used or new? how do player pianos work? what piano should I buy for a beginner? and many, many more. A wealth of information can be gleaned from the blog articles on Euro Piano's website. Our blog is one of the highest rated on the web.
As a result, more and more orders came in via the website.  The phenomenon of buying online was not just for books and music tapes any longer. Clients actually began to order designer pianos with six figure price tags off our website, sight unseen. The reputation and guarantees of the piano builders, and those of Euro Pianos Naples insures a reliable, safe and wholly enjoyable transaction. Because Euro prides itself on service and consultation, no detail is left undone in every sale. Sunny quickly made a reputation in the industry for her hands-on, friendly and competent guidance through every step of the purchase and delivery.
Euro Pianos Naples was entirely online by 2017. With offices in Naples, FL and representation in Manhattan, NY we serve a varied clientele. Sales began to skyrocket when the first affordable acrylic piano was introduced. This baby grand is such a beauty that it's already been sent to notables in Mexico and Hollywood besides a bevy of other sales all over the east coast.
Sunny never stops in her process of improving, improvising and creating new ideas.
We established a presence at ICFF in 2017.  North America's largest and most prestigious design event for interiors welcomed us and invited us back in 2018 to ICFF New York.  Our Aire baby grand got a lot of attention from architects and designers. To that end, we have created piano renderings in DWG format to be used in interior design projects.
Another new upright piano idea is in the works for Euro to manufacture. Keep your eye on the website for a big announcement of another Sunny Reuter innovation, as usual, prompted by the desires and needs of her customers.
Also, a new Live Chat feature on the website is now up and running.
Euro Pianos Naples is known for catering to every client and every project. We can send sample materials—woods, colors, acrylics as part of the consultation. We design and build custom benches, add piano bar acrylics to the standard Aire baby grand, add player pianos to new or existing instruments already in your home, and are available to discuss your concerns, answer your questions and brainstorm with you on your own piano dreams. It's all about services Euro Pianos can provide that others are not doing, as well as a one stop shop for all designer and unique pianos.
Let us tell you a little info and cool facts about our team members. Each one of us brings something unique to the company and to the clients.