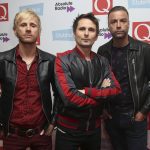 Before we investigate that acrylic piano, let's look at Muse for a moment.
Muse. It's no secret that this English rock band from Devon, debuting in 1999, soared to fame with their lead singer, Matt Bellamy, being the stand-out attraction. Bellamy is also their primary songwriter, and plays guitar and piano. His eccentricities on and offstage have captured the imaginations of rock fans.  
Matt Bellamy's complete vocal range covers approximately 3½ octaves. Known for singing in a high falsetto, even in popular songs like Plug In Baby, Time Is Running Out, and Knights of Cydonia. Throughout Muse's career, his singing voice has deepened and matured, with improved low-end, sustain and vibrato.
It's said that the unusually small size of his vocal cords explains how he manages to attain the high ranges that he does. Bellamy himself has stated that early on he was embarrassed about singing in the high ranges, and tried to sing lower. But that is no longer an issue with his successful use of vibrato, falsetto, and melismatic phrasing (a phrase of several notes sung to one word, like blues phraseology. Think Ella.).
Bellamy, a showman and serious musician, has habits that delight his fans.  He reportedly uses an electric foot massager to dispel nervousness before a show, and to get rid of jet lag. He also allegedly warms up for a performance with a bubble bath and a banana.
In an interview with NME, he once said that when he leaves the stage, the first thing he drinks is red wine, claiming it's the only alcoholic beverage that helps his voice and doesn't dry his throat.
Known for his early fantastical and nostalgic lyrics, his increasingly apocalyptic and political lyrics added to his mystique. The beginnings of Muse, like so many other bands coming up in the 90's, were strongly influenced by their predecessor, Radiohead. When Radiohead did an abrupt change in style in 2000, Muse readily filled their shoes with dystopian and anti-authoritarian rock but also grew into a multi-faceted and talented pop band, creating a potpourri of melodic grandeur and ear-deafening arena rock.  Their recent move away from anti-government rhetoric back into Bellamy's nostalgia and fantasy modes signifies the current need to defy negativity in the world, according to Muse.
With two Grammy Awards, five MTV Europe Music awards, eight NME awards and too many more to name, Muse has sold over 20 million albums worldwide.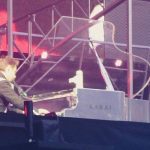 The piano was the first instrument Matt Bellamy played. Without tutor or lesson, he started at five, and tinkered with his left hand to do Ray Charles' style boogie woogie, and practicing to do chords with the right hand. Most of Muses 'songs have been written on piano by Bellamy.
 "I find it easy to find interesting chords on the piano. Especially because on a lot of stuff we do, the guitar and bass are harmonizing," he said. "Even a song like Stockholm Syndrome was written on piano."   He didn't learn to sing while playing until the end of the Showbiz era. The band got more complex with piano-based tracks, such as Space Dementia, at this time.
So, what's the acrylic grand piano that Muse uses?  It's not what you probably think.
Bellamy is known for using digital keyboard pianos onstage.  During Muse's Origin of Symmetry tour, Muse needed acoustic piano sounds as well as electronic/synth sounds, so he used a Korg SG Stage Piano or a Roland Juno 60 or a Yamaha P80. These instruments allowed the music to be routed to their own individual amplifiers.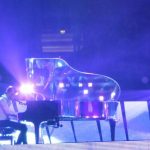 On the Absolution tour, he used a podium-mounted Kawai MP9500 digital stage piano, which featured LED displays that could be synchronized to the onstage visuals and  the MIDI output from the keyboard.  
Bellamy has also used a Kawai MP-8 digital stage piano mounted in a white, custom-made upright piano case.
 "A new black grand piano" was mentioned in the reviews of the 2007 Luxembourg concert at Rockhal, but in truth the outer case of the same Kawai MP-8 digital piano had once again been replaced, this time by a black grand piano shell with a transparent acrylic lid. Inside the wing of the piano are MIDI-controlled lights that reflect onto the lid. It is fun to note that this is not a real grand piano, but the same stage piano as used before, merely in a new case. Since then, the black grand piano case and white upright case have both been replaced by silver cases.
If you want to see a REAL acrylic acoustical piano, take a look at Euro Piano's website where their Aire™ semi-transparent piano, and the Bluthner Lucid all-acrylic pianos will really rock your world.