History of the Piano Bench
As long as there has been a clavichord, harpsichord or organ to play, there have been artists' benches to seat the players.  Antique piano stools and benches are sought for their historic value as well as their aesthetic beauty. The ball and claw feet ornate designs were often used, as well as lavish fabrics. decorative metals, needlepoint, embroidery and gilt.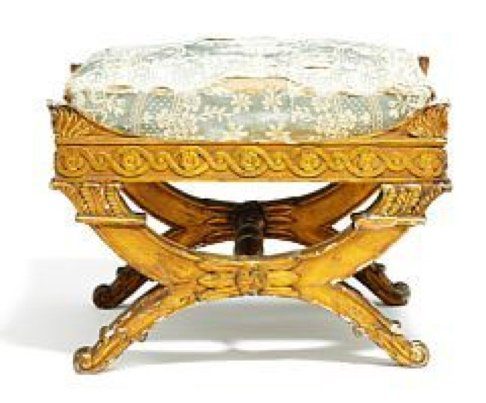 In the 1860s the piano chair was created. Early piano chairs had three legs and a sculpted and heavily detailed back. There is a wide diversity of carved and artful chairs to be found in museums and tucked away in antique shops and attics.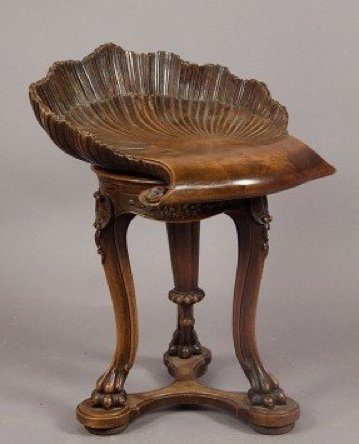 It wasn't until the 1870's that the rectangular wood seat, that we know as the piano bench was introduced.
And it wasn't until modern times that piano benches were sometimes manufactured by actual piano companies.  And it's still not the norm today.  Benches were always a separate industry from the piano makers in the past, and still thrive independently today.  It's understandable because besides piano stools, there is a brisk business in footstools, dressing table stools, bed steps, sewing machine benches as well as designer benches for the entire home.
Between 1870 and 1891, a carpenter named Joshua Briggs created the screw-style piano stool. By the late 19th century most middle class home had a piano or organ, so Briggs started a large scale operation that grew into a factory.  He patented his portable screw stools and won awards and worldwide recognition.
Briggs produced a variety of styles in addition to his screw-style above.  Some had compartments for holding sheet music.  These antique stools can be found throughout the U.S. They are commonly identified by the paper label glued to the underside of the seat, if it survived.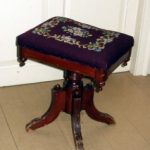 The Modern Piano Bench Comes into its Own
If you browse our website, you might be astonished at the numbers of exciting new piano designs that are available.  The standard piano silhouette that has survived since the first pianoforte began to evolve in the 20th Century and continues to explode into new shapes, colors, and case materials as we progress in the 21st Century.
The design revolution in the piano industry didn't stop with just exciting new modern piano styles.  No, the same modern esthetic eked into the design of  the piano bench, which is an integral part of the visual beauty of the instrument and the room.
People are often amazed at the variety of benches available today.  Often in the excitement of a piano purchase, the customer takes whatever bench is offered in the sale, but a little education in bench designs can enhance your choice for furniture in your home.
The Modern High End Piano Bench
The variety of contemporary benches available include some beauties available from the famous German piano builder, Sauter.  Their "Tubus" adjustable piano bench designed by Peter Maly, is upholstered in leather with a chrome plated steel-tube frame that echoes the gently rounded designs of some of Sauter's  exclusive Maly-designed pianos.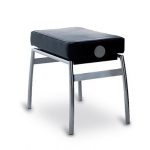 TUBUS piano bench by Peter Maly
$2,900
You could imagine this piano bench with a Sauter piano like the magnificent Rondo Upright with its soft rounded edges and chrome trim.
A piano bench with storage space for sheet music doesn't have to be a boring hope-chest-style crate to sit on. Sauter has a piano bench for sale that oozes style and individuality.  The "Unico" can be made to match your piano's gloss, satin or waxed finish. It has solid brass handles and is height adjustable.
Sauter also sells the "Factus" bench designed by Peter Maly.  It is available in black or white leather and has the clean, straight lines that echo today's modern piano design.  The metal plating can be done in high-gloss or matte chrome.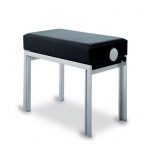 FACTUS piano bench by Peter Maly
$2,900
This beautiful grand features steel leg construction and is detailed with inlays of stainless steel squares.
When shopping for piano stools and benches, it pays to remember what particular requirements you might have, including storage and piano bench height.  Depending on the piano you choose or have already chosen, the piano bench dimensions should be in keeping with the instrument, with special attention of course for musicians that are extra short or long legged.
Living in the 21st Century offers all sorts of technological advances. We found a hydraulic piano bench manufacturer who uses a superior pneumatic mechanism with compressed air  (and not messy fluids) to facilitate height adjustments.  Hidrau Model also offers this pneumatic bench in a duet piano bench, a whopping 43 inches wide, if you are giving lessons or play a lot of duets. A very nice studio bench.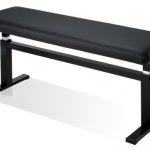 A  'Duet' Bench, is generally between 33″ & 36″ wide.  Other sizes are available but the width should be proportionate to the size of the instrument. A duet bench can be used with Grand Pianos, full size Upright pianos, or with any piano where you'd like two people to sit side by side.  Teaching and Practice studios frequently buy such benches.
The upside of buying high-end products is that many sellers will customize the bench for you, even using your own fabric or leather choices to match your décor.  Cushions can sometimes be added to benches where there are not cushioned seats, and height adjustments can sometimes be requested and custom ordered, if there is no movable seat.  Like any other fine furniture dealers, sellers of pianos and their benches and stools frequently custom-accommodate the needs of designers and homeowners.
What's Considered the Best Piano Bench?
There are numerous reputable piano bench brands, many with quality and designs that are difficult to match.  But just as Steinway has imprinted its brand name on the piano industry, the products of Paul L. Jansen & Son have, for the past fifty years, been known as the standard to beat in piano benches.  They boast a silent "Micro-A-Just" mechanism on the inside of the benches for raising and lowering them.  They offer a choice of nine styles of bench legs, and a choice of an affordable vinyl or genuine leather, six wood finishes, all in the classic Jansen configurations in wood tops, padded tops and tufted padding tops. They have an array of other products, stools, hydraulics, metronomes, casters, etc.  But the Jansen Bench is what people most remember.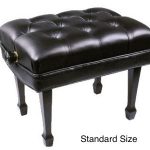 The Affordable Modern Piano Bench and Stool
We like clean lines and found this to be the go-with-all modern piano bench. This bench in metal and faux leather, with a lot of pizzazz, is an economical answer for a budget.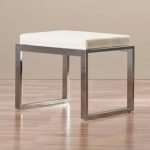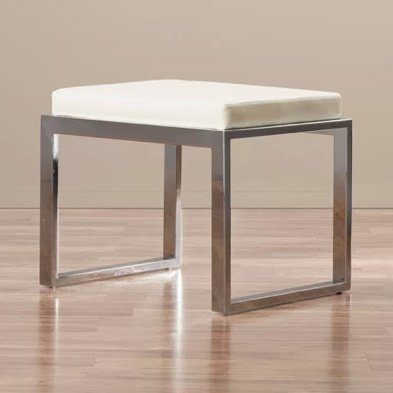 This hardwood stool with its metal footrest might double as a barstool and piano stool because it's adjustable, and good looking – especially for those pianos that have hardwood finishes instead of lacquered color or it can be used as a juxtaposition to an ultra modern piano.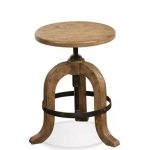 Sometimes nothing will do but a stark industrial touch.  We love cement floors with an oriental carpet – a kind of tasteful eclectic mix, and this adjustable little stool would be right at home in front of a modern piano, upright or grand.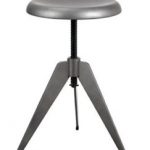 You can always add your own touches to affordable benches.  From the esthetic point of view, the choices of piano bench cushions, be in color, fabric or size, is a great way to throw in an accent color and make affordable furniture more comfy.  Like any other furniture in your home, piano benches and stools are another reflection of the taste and style of the owner and should match the décor and thematic design you are going for.
We're always cheering on the buyers who want to operate outside the box with daring and flair.  Some of the most beautiful and unusual pianos in the world are hard to imagine unless you have the courage of an innovator or a trailblazer.  One of our favorite pianos of this ilk is the Pegasus made by Schimmel.  It looks like a vehicle that could fly you off into the land of music, and as you can see, it comes with its own bench!
Other designers have found new and refreshing ways to seat their musicians, and we thought these ideas were fun. How about a wild and wooly ottoman?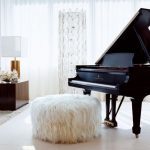 Here's a modern bench with beautiful lines that looks adjustable and comfortable as well.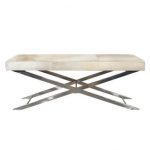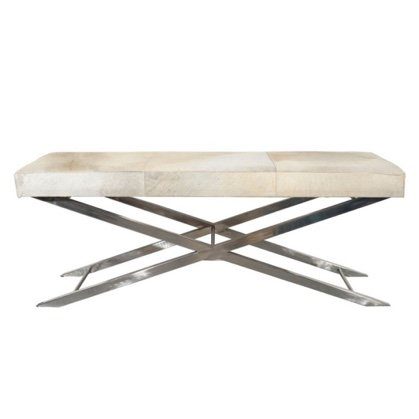 And let us not forget the piano stool which can be as stylish and practical as any bench.  We loved this modern duo, with its little three-legged designer stool after our own hearts.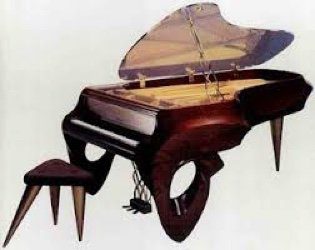 And let us not forget the piano stool which can be as stylish and practical as any bench.  We loved this modern duo, with its little three-legged designer stool after our own hearts.
People often ask if there is a difference between benches for grand pianos and uprights.  In the traditional venues, shorter benches were generally made for upright pianos, and more substantial, heavier ones for grands.  But in today's market, one only has to appease the needs of the buyer and the esthetic appeal of the combo.  Imagination beats out tradition in contemporary furniture of this century, so we like to encourage the unique as a way of enhancing the many joys of life's variety and new adventures.
The Acrylic Piano Bench and Stool
Transparent pianos have been on the market for a while.  They have the captivating crystal quality of light and space, which makes a grand piano look much less cumbersome in a modern setting than the traditional brown or black behemoth. The problem with these beautiful lucite pianos is that they carry a six figure price tag which is out of the range of many interested buyers.
As Euro Pianos customers continued to inquire after acrylic pianos, not being able to afford them, we decided to design our own premium affordable brand of semi-transparent instrument. We named it "The Aire" after the airiness that acrylic lends to a large piece of furniture, and indeed they seem to sit in space.
The lush crystal pianos of today have inspired new designs of benches and stools fashioned from Plexiglas, Lucite and acrylic.  Euro Pianos, the designer of the acrylic Aire™ piano, has come out with a series of stool and lustrous benches that are little art treasures in themselves.
A popular model is a bench with acrylic legs.  A three legged, adjustable stool that floats on air has become a popular item.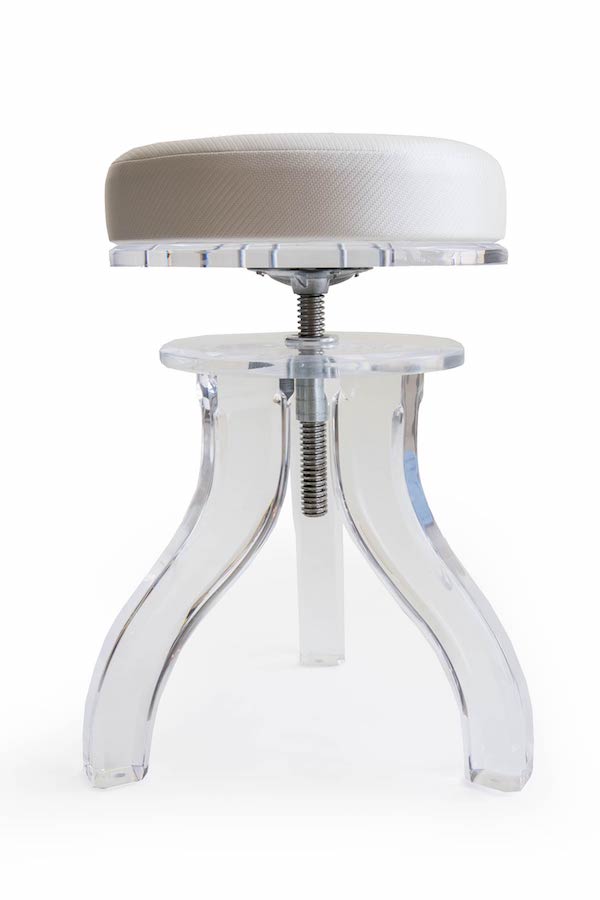 Acrylic Swivel Piano Stool with Cushion
20" H x 18" W x 13″ D
Maximum Seat Height – 24.5″
Minimum Seat Height – 19.5″
$1,400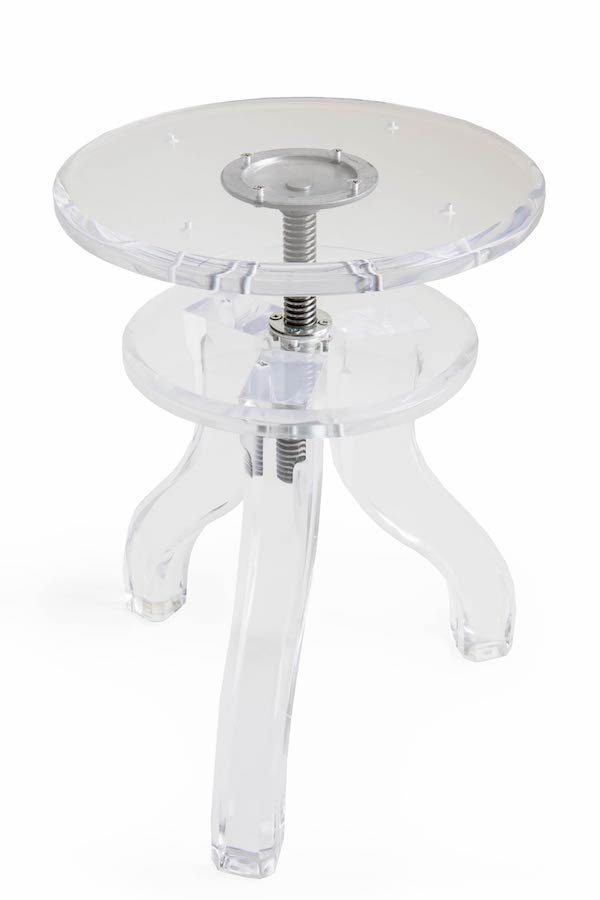 Acrylic Swivel Piano Stool (no Cushion)
20" H x 18" W x 13″ D
Maximum Seat Height – 24.5″
Minimum Seat Height – 17.5″
$1,400
Almost any modern stool or bench can be glamorized with the addition of acrylic bench legs.
This padded piano bench might have looked fine with wooden legs, but a bench with Plexiglas legs just carries a lot more panache. Sometimes people switch out the legs on an old favorite bench to acrylic, just to update it.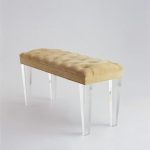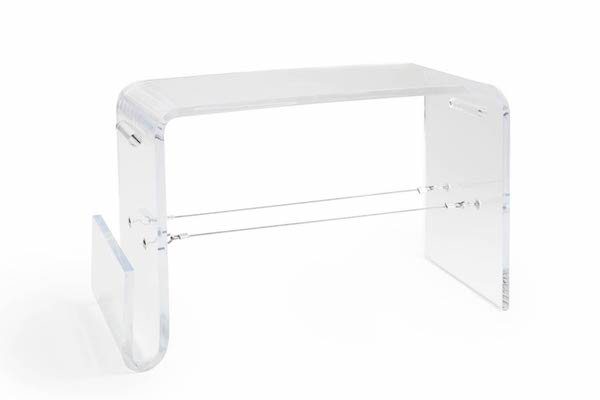 Acrylic Piano Bench with Storage by Euro Pianos
Bench Dimensions:
Three legged stools are popular but we're in love with the "Quadra" in all its simplicity.
It would look good in front of any modern piano. It's saucy enough to be used as a matching end table (or two) in the room.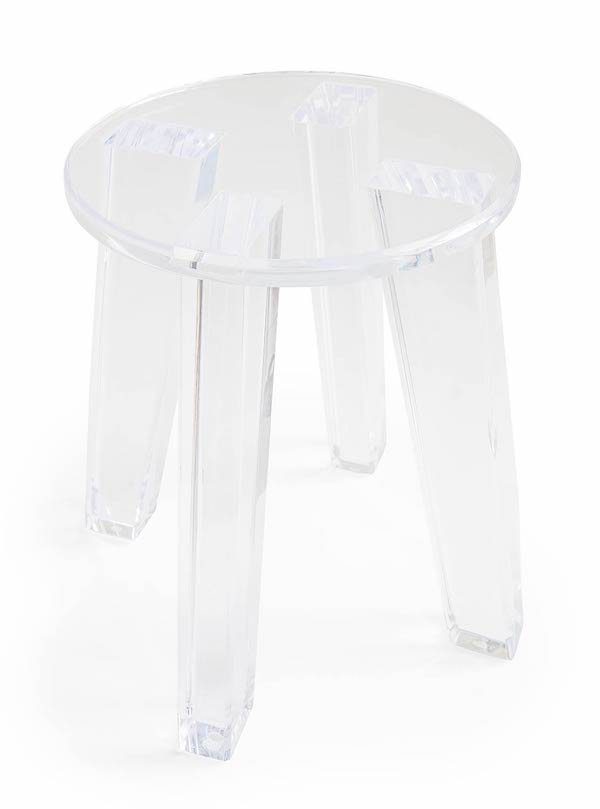 Modern Acrylic Piano Stool Quadra
Seat Height – 17.5″
$1,100
Acrylic is catching on.  See our blog article on acrylic furniture HERE.
If you need help finding just the right bench give us a call.  We consult on other products as well as our own so that you get a well-rounded and unbiased view.  It's our goal to meet the needs of piano customers and put smiles on their faces.
Euro Pianos Naples is a respected distributor of European luxury musical instruments. The company's origin dates back to 1965. Euro Pianos represents world renowned brands such as Sauter, and it has recently become a manufacturer of its own acrylic instrument – The Aire. Apart from being a successful retailer, consultant, and entrepreneur organization, Euro Pianos is actively engaged in the artistic and community life of Naples, Florida as an organizer and supporter of musical events throughout the years.