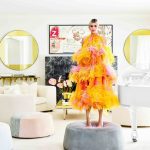 Kylie Jenner's home, a serene and colorful oasis (she loves pink and lots of it) with "equal parts sparkle and sumptuousness" is glamorous but totally inviting."
Martyn Bullard's fun, flirty and elegant design is absolutely perfect for the successful young woman and new mother Kylie is.  
Mayer Rus writes:  The Old/New Hollywood living room; the gold-leafed ceiling of the dining room; vintage lucite furniture by Charles Hollis Jones; and reflective wall coverings galore. On the plush side of the equation, Bullard deployed carpets of Patagonian shearling, alpaca, and silk; snow leopard–patterned velvet on the vintage Milo Baughman barstools in the lounge; and fur bedcovers. "The look is glamorous but totally inviting. "Kylie loves to have people over, and there's nothing so precious that you can't stand, jump, or dance on it." Bullard explains of the decorative mix."
A sampling of Jenner's art collection and her acrylic grand piano, the AIRE™ (made in Miami by Euro Pianos Naples) are featured in this article.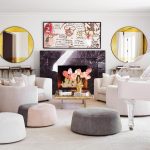 The article continues: "Sly nods to Kylie Cosmetics, Jenner's blockbuster business, abound. In the dining room, for example, the leather upholstery on the chairs was custom-dyed to match colors from Kylie's lipstick collection, ranging from cerise to pale pink to deep garnet. In the living room, seemingly liquescent brass consoles riff on the drip patterns of the makeup line's signature packaging. "I have a lot of Kylie Cosmetics, awards, and my magazine covers around the house that inspire me on a daily basis. I am very proud of what I've accomplished," Jenner notes."
And so she should be. For all her accomplishments, Kylie remains remarkably down to earth. Shortly after it arrived, Kylie, revealing her excitement, posted the AIRE™ piano with the caption "I'm Gonna Learn"! 
Mayer Rus writes:  "Halfway through the project, Jenner learned that she was going to have a baby with rapper Travis Scott (given name Jacques Bermon Webster II), which necessitated a retrofit for a nursery and playroom. "Stormi has definitely taken over the house with her toys," Jenner says, laughing. And not just any old binkies and baubles. Chez Kylie, it's all about the bling – a Fendi baby stroller and a Lamborghini child's car are among the many high-end playthings."
So, how does it feel to have created a glamorous piano for Kylie Jenner?  Wonderful, absolutely wonderful. We love the thought of our piano helping to make her elegant house a home.
And if Kylie isn't able to master the piano, she'll just add an iPad controlled player system to fill her home with music!
Euro Pianos has championed designer and custom pianos in North America since 1965 and been operating out of Naples, Florida since 2001. The company specializes in the design and acquisition of custom luxury pianos.  Kylie Jenner's AIRE™ piano designed by Sunny Reuter made its debut in 2017 at the International Contemporary Furniture Fair. (white AIRE) (black & white AIRE)
The origins of acrylic pianos
Acrylic pianos exude luxury. They are marvelously adaptable design elements.
The first company to build an acrylic piano was Bluthner in Germany. The PH piano, designed in 1931 by Poul Henningsen remains an iconic and sought after piano today. In the decades following, several piano manufacturers would build acrylic pianos from time to time. 
Fast forward to 2016, when Bluthner begins producing a fleet of transparent Lucid Pianos with German Evonik acrylic – guaranteed never to yellow.  Simultaneously, Euro Pianos Naples develops its affordable transparent AIRE™ baby grand piano in Miami, USA, the only acrylic piano design marketed and made in the USA.