Once in awhile a product comes along that just creates an immediate Buzzzzz.  There's no way to predict the reception when you take a risk and do something new – something that no-one has done before.  That's what happened when Sunny Reuter decided there needed to be a baby grand on the market that could satisfy the tastes and modernity of 21stcentury designers and customers – a baby grand with all the magic of transparent pianos and traditional shape of a grand piano.
Designed and built exclusively by Euro Pianos Naples, the new transparent baby grand, the Aire, was a huge hit at the 2018 ICFF designer show in New York City this Spring, producing lots of questions and orders. Crowds gathered around the Aire™ for mini-concerts performed on the eye-catching instrument which had snagged the intense interest of Rock Star Pianist Konstantin Soukhovetski, celebrated international pianist and composer. He couldn't wait to negotiate a contract for continued access to the baby grand.
As a result, Mr. Soukhovetski will be in residence at Southampton Inn this summer for his new one man show, titled In His Shoes. "Claude's at the Southampton Inn" is introducing their first ever piano cabaret on Thursday evenings and Konstantin  will be performing on… you guessed it… The Aire!
So, it wasn't surprising to see the online media community also sitting up and taking notice. Where there's celebrity, there's usually music and news travels fast!
The trendy and beautiful lifestyle magazine La Vie  featured The Aire™ in their March 2018 "C'est La Vie Entertainer" issue honoring the tradition of gathering with family and friends to listen to or play music. As La Vieput it, "Music is magical and has the power to stir our thoughts, make us feel, bring people together and evoke precious memories." We concur. 
And in addition, we find it mighty satisfying that a high-end lifestyle venue sees the unique and beautiful styling  of the Aire™ and ranks it among a grouping of other luxury items that we found charming and appealing to the modern consumer.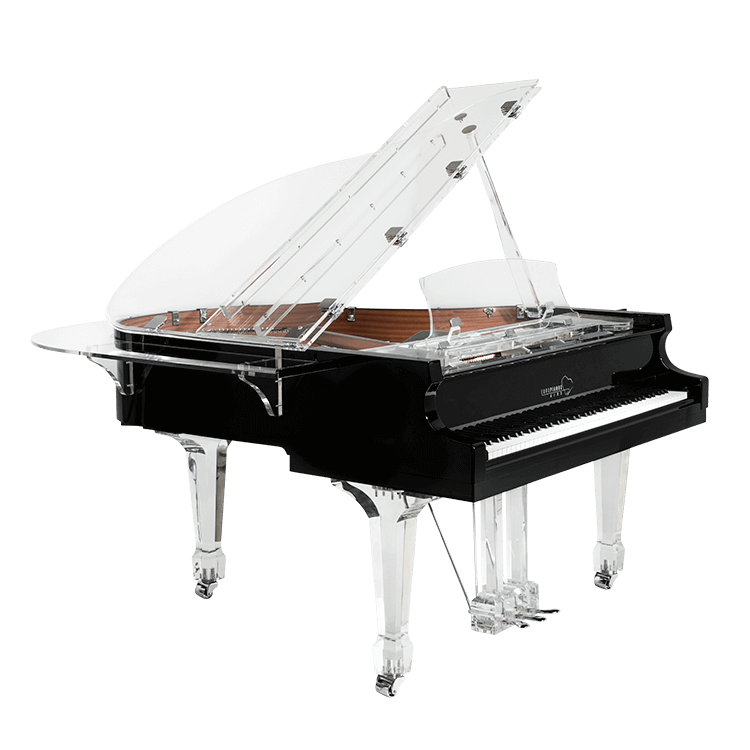 Aire™ Black trim acrylic piano at the VIE magazine
The Aire, being a luxury baby grand with an acrylic lid, legs and lyre is frequently thought of as an art acquisition, due to its graceful lines and dramatic light-reflecting qualities that make it both compelling and unusual. The transparency of the legs give the instrument the illusion of levitating. For this reason, it has enthralled decorators and customers alike.
The Arts section of the online May 2018 issue of Vogue Magazine featured the art work of Kylie Jenner, the famous offspring of the 1976 Summer Olympics decathlon winner, Caitlyn Jenner and Kris Jenner; she is also half sister to the Kardashian girls, all of them starting in reality television in 2001, Keeping Up with the Kardashians. Kylie has been in the news with a new baby girl, Stormi, and a new product line of "Lip Kits" which are selling fast.
The 20-year-old collector has recently shown off her art online. Among the Tracy Emin light installations of neon art, and the butterfly Damien Hirst prints,  Ms. Jenner included her own white Aire™ piano in front of two beautiful red and blue prints. Vogue playfully notes that the piano in acrylic is a nod to her famous sisters, Khloé and Kim, who chose acrylic cribs for their recent babies.
Aire™ Acrylic Piano featured in Vogue Magazine
On the international front, celebrities are all the rage in France, and the online fan zine, Fan2.Fr  also got wind of Kylie Jenner's home décor and art exhibitions online. We did our best to translate their very French take on the new acrylic piano:  Perhaps our best is lacking?
"Very private since the announcement (non-official) of her pregnancy, Kylie Jenner certainly passes a lot of time at home. Far from the spolights, the young woman has found a new passion!
Kylie Jenner, pregnant and bare on Instagram & Snapchat, once teased the sensibilities of admirers! Even if she has become much more discreet than she was before on social networks, Queen Kylie continues to share a few moments of her daily life with her fans. On Snapchat, the young woman has unveiled the elements of art decor of her house and took the opportunity to announce to all the world her new passion: the piano!
"For the moment," she said, "it has certainly not been played very much, but things will change: "I'm gonna learn."  That was the caption accompanying her photograph. Pending Kylie's first concert, and while we're waiting, she wants us to know she's grateful for her baby. 
Should we be surprised?"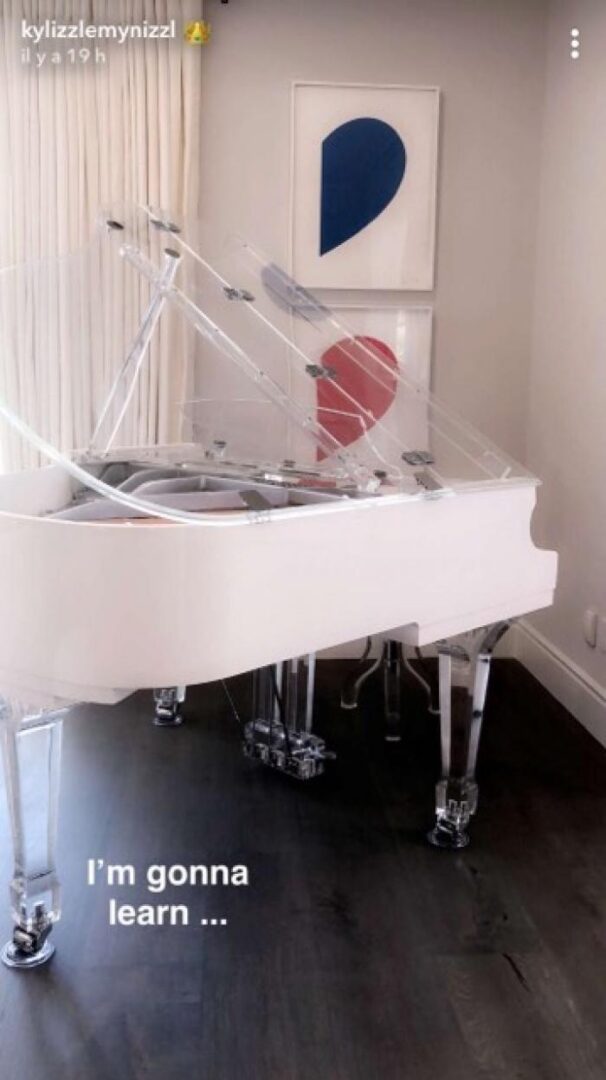 While some might think of celebrity "fans" being youngsters, London's Daily Mail newspaper is the 2ndlargest selling tabloid in the UK with a median age of 58, according to a 2014 survey. So, the interest in what is new, exciting and beautiful is not restricted to the young. 
Of course, the online Daily Mail  may appeal to a computerized generation, and given that Kylie Jenner has 109 million (yes, we said MILLION) followers on Instagram, perhaps some of them might be young. And enthusiastic. Here's another peek at the world interest in the art and furnishings of Ms. Jenner, and the esteem for the Euro Pianos Aire™ baby grand.
In keeping with our celebratory mood, we thought we'd mention that this Aire™ baby grand can be ordered with a "piano bar" built onto it, and acrylic bar stools to match, for a sophisticated take on the gathering place for family and friends to make music and memories.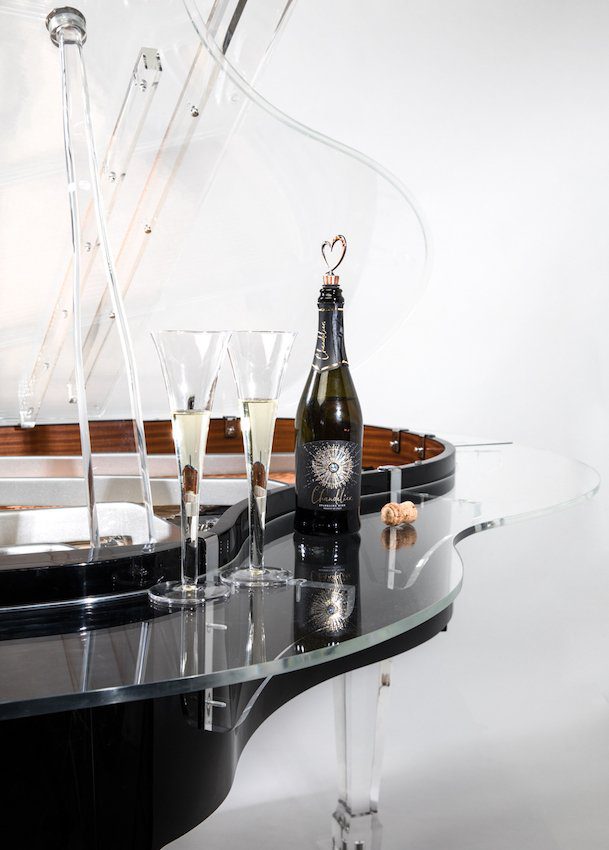 ABOUT EURO PIANOS NAPLES
Euro Pianos Naples is a respected distributor of European luxury musical instruments. The company's origin dates back to 1965. Euro Pianos represents world renowned brands such as Sauter, and it has recently become a manufacturer of its own acrylic instrument – The Aire. Apart from being a successful retailer, consultant, and entrepreneur organization, Euro Pianos is actively engaged in the artistic and community life of Naples, Florida as an organizer and supporter of musical events throughout the years.