Long before she gave us girl power anthems like 'God is a Woman', '7 Rings' and the iconic, 'thank you, next', 25-year-old Ariana Grande sang us a sweet love song at the 2015 Grammy Awards.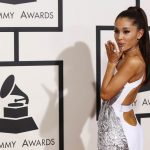 The 21-year-old singer performed her piano heavy hit, 'Just a Little Bit of Your Heart,' alongside a beautiful Lucid Bluthner grand piano. The dimly lit stage helped set the mood, with help from blue and purple lighting accents. The pint-sized pop star stood alone at the mic, dressed in a beautiful black gown, and serenaded the audience with her angelic voice.
Since 2015, Grande has grown increasingly popular at a fast rate. After starting her career on Broadway, she landed a major role in Nickelodeon's "Victorious" and its spin-off, "Sam and Cat." Her debut album, Yours Truly, was released in 2013. She has since released 3 wildly successful albums, including the incredible, 'thank you, next'.
Grande is often compared to legendary songstress, Mariah Carey. After winning a Grammy, a BRIT, 3 American Music Awards, 3 MTV Europe Music Awards, and 2 MTV Video Music Awards, it's safe to say Grande's career is headed in a similar direction.
Similar to Arianna, Lucid Bluthner pianos are quickly rising in popularity, as well. Lucid pianos are an instrument most only dream of owning. The combination of modern acrylic design intertwined with the high-quality performance standard of Bluthner, makes for a show stopping art piece.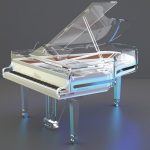 The use of over-the-top, modern pianos, like the Lucid Bluthner in live musical performances is becoming the latest trend. To date, we've seen Lady Gaga, Taylor Swift, Cardi B, Bruno Mars and Arianna Grande all on stage, flanked by gorgeous grand pianos.
The crystal Lucid Bluthner is absolutely stunning. Euro Pianos Naples can accommodate the choices, custom order, and delivery of this German-made beauty. It is available with LED lights, and can be customized in colors and graphics incomparable in their beauty. A luxury item, due to its 100% acrylic futuristic design and intricate manufacturing, the price is necessarily high-end and top of the line.
To achieve a similar look, Euro Pianos can introduce you to our own semi-transparent Aire™ baby grand at more affordable prices.
The Aire™ is exclusively manufactured by Euro Pianos. Designed by owner and lead designer, Sunny Reuter, these pianos are the perfect mix of classic and modern. We are sure they will satisfy your needs with regard to performance, as well as give you that cutting-edge look.
The Aire™ pianos are available in bright red, jet black and crisp white. The lid, legs, and music stand are handmade with top grade acrylic, guaranteed not to yellow. To date, the Aire™ is the only American made acrylic piano on the market.
Whether you're an experienced musician, an individual with an eye for interior design, or someone who enjoys entertaining without being taken away from their guests, (Installing a player system leaves you more time for hor d'oeuvres and happy hour martinis) the Aire™ piano is sure to be a perfect fit for you.
On her most recent hit, '7 Rings', Miss Grande puts a pop spin on the classic, "My Favorite Things" by Julie Andrews. Similarly, Euro Pianos' is giving consumers a new take on the classic baby grand piano, with our Aire.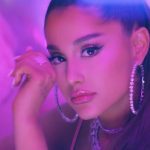 Prepare to hear plenty of "wows!!!" from your guests when they see the Aire™ floating effortlessly in your home. Like Arianna on '7 Rings', you'll be repeating "You want it? I got it! Gee thanks, just bought it" over and over again.