Steingraeber & Söhne is one of the world's best piano brands that nobody has heard of (except, of course, by the people who know).  The company was founded in 1852 by Eduard Steingraeber, the son and nephew of organ and square piano builders in Neustadt, Germany. An innovative designer, Eduard's full-size cast-iron piano frame was exhibited at the Paris world exhibition in 1867. From 1872 on, Franz Liszt and Richard Wagner and other professionals bought his pianos and in 1873, he opened their first concert hall in Bayreuth.
Steingraeber is one of the smaller piano manufacturers in the world, producing fewer than 80 grands and 60 verticals per year for the top end of the market. It is owned and operated by sixth-generation family member Udo Schmidt-Steingraeber, who still makes pianos using the traditional methods of his forebears at the company's present factory, which it has occupied since 1872.
Steingraeber has a rich working history with furniture designers since 1904, when it collaborated with Bruno Paul on his Art Nouveau furniture for the St. Louis World's Fair. In 2009, the company built a piano designed by Jørn Utzon, (architect of the Sydney Opera House,) for the Bagsvaerd Church in Denmark.
After the reunification of Germany, in 1991 the Steingraeber engineering department began technical development consulting services on pianos to assist former East Germans and has done prototypes of new piano models for other European piano manufacturers. These designs are different from Steingraeber's own current models. In 2012, Steingraeber entered into a cooperative agreement with Pearl River, in China, to help that company design and manufacture a new line of premium pianos.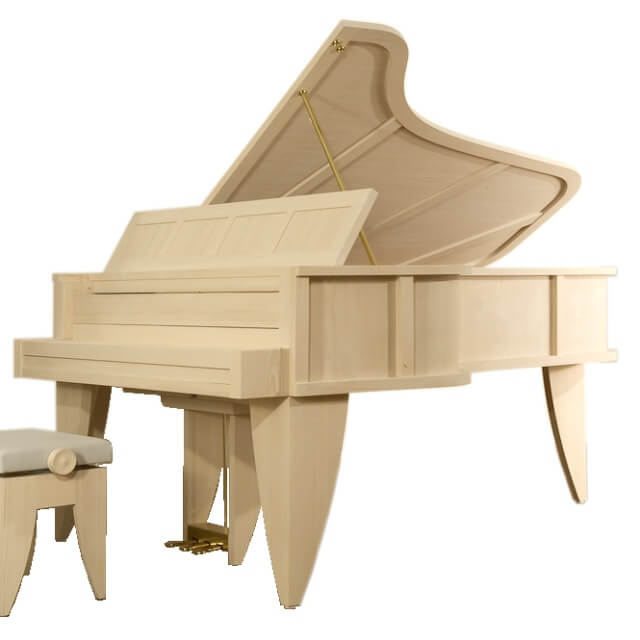 Steingraeber makes three sizes of vertical piano: 48″, 51″, and 54″ with the option of the unique "twist and change" panels: two-sided top and bottom panels, one polished ebony side, the other in a two-toned combination of a wood veneer and ebony. The panels can be reversed for the customer's room décor, or for a change of mood.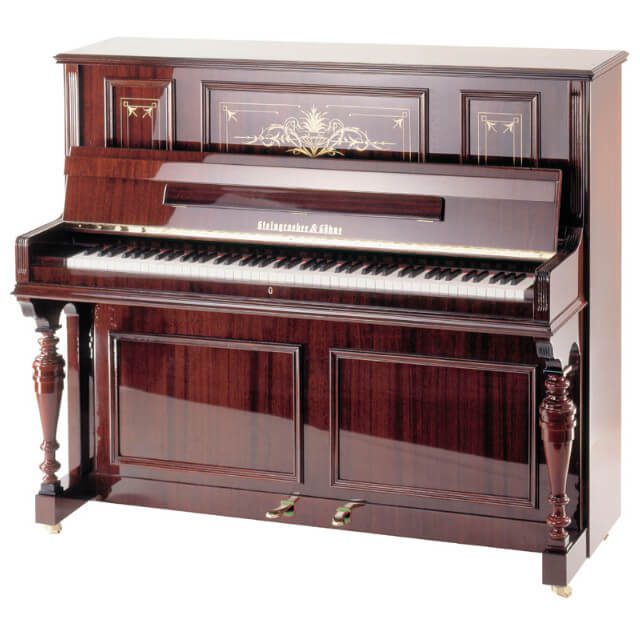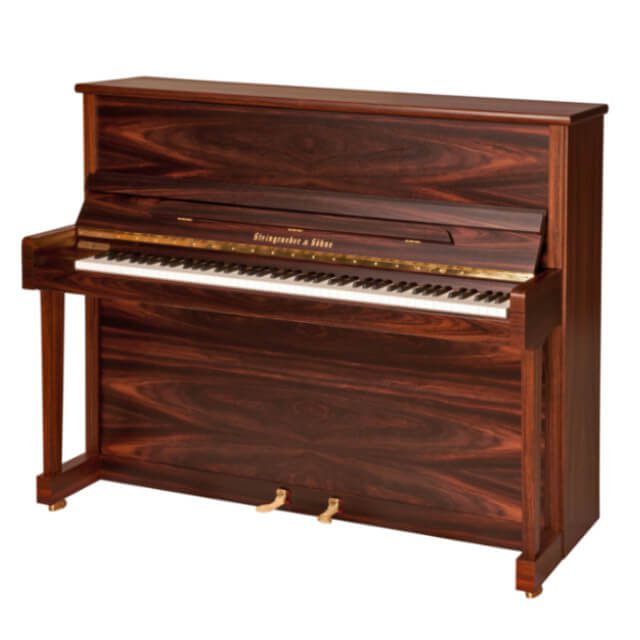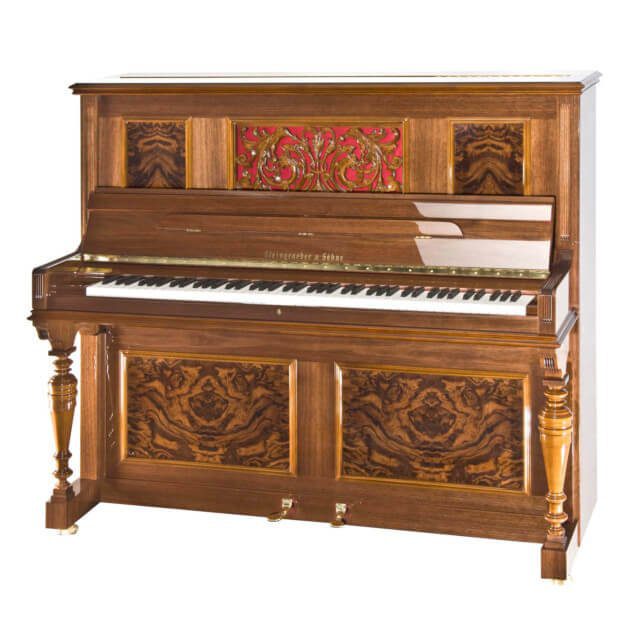 The company also makes five sizes of grand piano: 5′ 7″, 6′ 3″, 7′, 7′ 7″, and 8′ 11″. The 5′ 7″ model A-170 grand has an unusually wide tail which allows for a larger soundboard and longer bass strings for a bigger sound than is customary for its size. The 7' model C-212, known as the Chamber Concert Grand, was designed to match the tone quality of the Steingraeber Liszt grand of 1873, but with a louder bass register. The 8′ 11″ model E-272 concert grand was introduced in 2002 for Steingraeber's 150th anniversary. It features the unusual drilled capo bar for more sustain in the treble, unusually shaped rim bracing, and a smaller soundboard resonating area in the treble to better match string length. In 2007, Steingraeber introduced the 7′ 7″ D-232 concert grand piano to provide another smaller instrument. The  6′ 3″ model B-192, is new in 2012 and echoes the enhancements of the D-232 and C-212 in a size more appropriate for homes and smaller concert halls.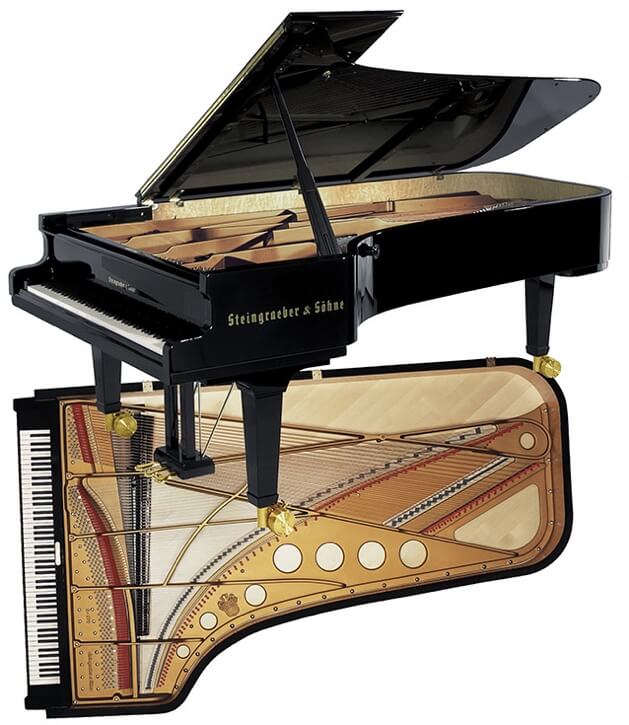 Steingraeber pianos have a far reaching tonal palette derived from a mixture of clarity and warmth. The distinctive sound of their instruments is renowned.
Steingraeber is also known for its many innovative technical improvements to the piano, one of which is a new action for uprights, available in all three vertical-piano models. This SFM action, as it is named, has no usual jack spring, but instead has magnets to return the jack under the hammer for much faster repetition.
Another innovation, introduced in 2013, is the optional sordino pedal, to create a distant, ethereal sound popular in the 19thCentury and expands expressive possibilities.
 In 2014, Steingraeber created the world's lightest grand piano lid, 50% lighter than normal lids, made of modern aircraft material with a honeycomb interior with better sound projection. Steingraeber also offers the option of ecological or biological finishes on most models, by using organic materials on the case such as natural paints and glues, and white keytops made from cattle bone.
In addition to its regular line of pianos, Steingraeber offers a piano for physically handicapped players who are unable to pedal.  A wireless (Bluetooth) pedal actuator is operated by biting on a special denture.
Warranty: 5 years, parts and labor, transferable to future owners within the warranty period.