If you know anything about pianos, you know there's been a revolution in the industry in the past century. Yes, I said century. Because the three-legged acoustic piano has managed to look pretty much the same for centuries after the first pianoforte was created in an evolutionary leap from virginal, (one step up from a harpsichord)  in 1700 by Bartolomeo Cristofori.
Bluthner, a family owned, German piano builder who's been around since 1853, is one of those historical wunderkinds who left their indelible mark—first as the largest European piano maker before 1900, and then after WWII,  the most innovative piano designer and game changer.
Bluthner incorporates unique aliquot stringing into their grands, giving the treble notes four strings rather than the standard three, which aids the singing tone.
They introduced the first "backward" piano for left-handed pianists which can still be special-ordered in two sizes, with treble strings, hammers and keys on the left and bass on the right.
When you stop to consider that their pianos are always built with superb materials, and carry a rich tone, -warm, romantic and lyrical, and has become their trademark- think of the excitement created when they became the only piano builder in the world to carry a full line of transparent, high-quality acrylic pianos with the same performance values.
When I say innovative, I want to impress on the reader their readiness to find designers out of their fold, to create models that bear no resemblance to the traditions of their historical success, and their utter insistence on Bluthner quality, regardless of the size, shape or style of the instrument they make.
A case in point is the PH Grand Piano which was so far ahead of its time that today it still stands as one of the most modern pianos in the world. It was designed by a Dane named Poul Henningsen (the PH) in 1931. At that time, it was an unheard-of departure from any others' piano designs and carried all the organic mystique and glee of the Bauhaus artistic fervor of the day.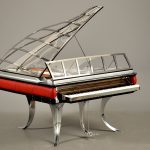 Poul Henningsen, the son of a famous Danish actress, Agnes Henningsen, had a flair for the dramatic, but all the balanced and simplified tastes of an architect and a democratic thinker of his time. Just imagine such a piano in 1931, with its gracefully curved, chrome-plated steel legs, its peekaboo lid made of crystal-clear Plexiglas (the latest and most expensive material), and the matching music rack that sweeps across the entire width of the instrument. Banded in leather, it was the perfect marriage of organic and new materials.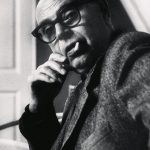 It was the frontrunner of the wholly transparent acrylic piano they make today, but stands alone even now as an incredible icon of futuristic design. The PH Grand Piano is a symbol of functionalism and represents Poul Henningsen's personal ideal of simplicity. He called it a "glass piano" and said, "this is how music looks." That was just the beginning.
The case and components of the PH Grand Piano can be customized in infinite ways. Even the metal aspects of the piano can be changed to colors and finished to individual choice. Similarly, the leather banding can be color coordinated to interior settings or unique preferences. It isn't surprising that the PH Grand Piano is available with a unique self-player system, controlled by any device (smartphone or tablet) and turns the PH Grand Piano in to the most sophisticated piano available today.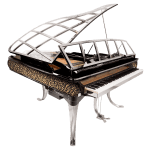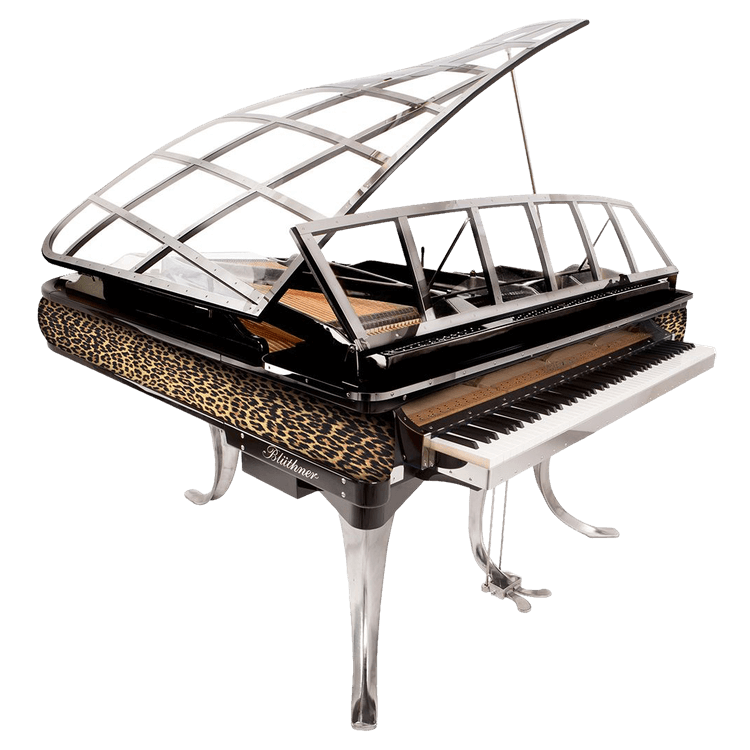 One of our favorites of the infinite variations for customization is the crystal PH Grand where the leather band is replaced with Austrian Swarovski crystals. Can a piano get any more dramatic or beautiful?  
We can picture it in cozy cocktail lounges, sexy music rooms in lavish homes, and on any performance stage where glitz and drama fit the bill.
The late, great Liberace (who wisely purchased a Bluthner grand piano for his first important engagement in Las Vegas)  later went on to deck out a Baldwin piano in Austrian crystals.
If he were around today, Liberace could have commissioned Bluthner to custom built that PH grand piano for him out of transparent Lucite, set it aglow with LED lights and a hidden player piano to accompany him with a full orchestra and I bet Liberace would have been overjoyed to show it off.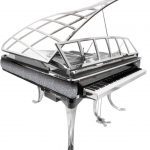 Lucid PH in Custom Swarovski Crystals Trim
The PH Grand piano is available in two sizes, a Grand of 6'1″ and a Petite Grand of 5'.
Contact Euro Pianos for more information about Bluthner Lucid Pianos.