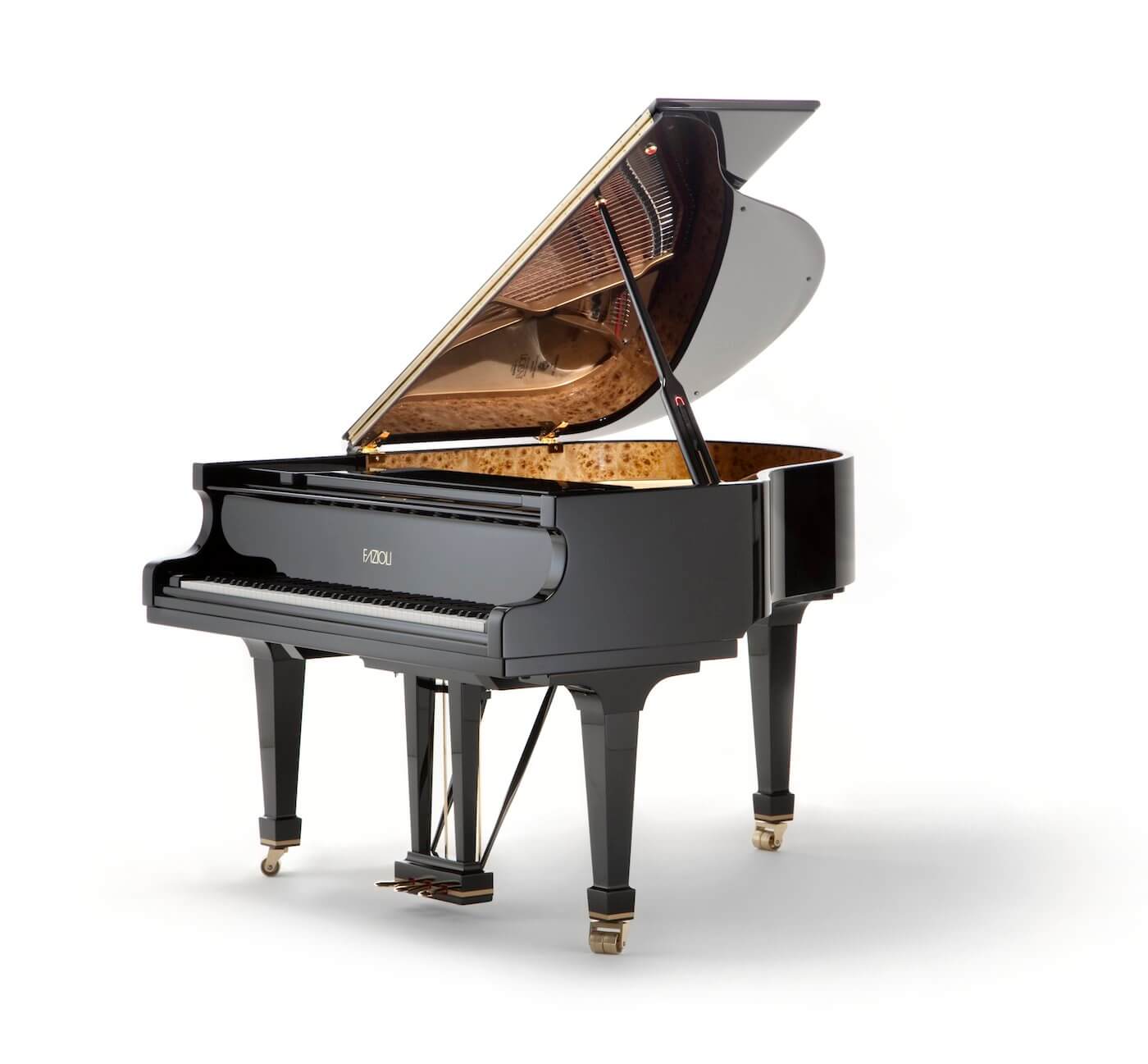 Fazioli is the Italian piano company making an enormous impact on the industry because its grand pianos, being handcrafted in Italy, offer the first new performance improvements in an instrument that has remained virtually unchanged for the past 300 years. Paolo Fazioli, a concert pianist and engineer, set out in 1978 to create the best piano in the world, and by all testimonies, has succeeded. The superior workmanship and extraordinary materials being used, coupled with the best technicians, musicologists, acousticians, engineers and furniture makeers, have resulted in an incomparable piano. Only 150 phenomenal Fazioli grand pianos are built every year at a factory just north of Venice. 
Each unique piano is a veritable work of art, always with utterly consistent quality because each instrument is personally approved by Paolo Fazioli before it ever leaves the factory.
In only a few short years, these pianos enjoy an incomparable reputation and are being sought by musicians, by the most prestigious concert halls, music schools as well as by discerning private clients who truly desire the best.
Fazioli grand pianos range in sizes from 5'2" (F156) to the world's largest, the Fazioli concert grand (F308) at 10'2".
For the highest quality, one might ask how much does a Fazioli piano cost? The traditional six models of satin and polished ebony grand pianos range from $128,000 to $234,000, which is very much in line with the bestGerman and Austrian piano manufacturers.
The Fazioli company says that a critical factor in the distinct and improved sound of its pianos is the scientific selection of its woods, such as the "resonant spruce" obtained from the Val di Fiemme, where Stradivari harvested woods for his violins. Each piece of wood is carefully tested for resonant properties before being approved for use in the pianos. An incredible level of detail goes into the design and construction of these pianos. For instance, in one small portion of the soundboard where additional stiffness is required, the grain of the wood runs perpendicular to that of the rest of the soundboard, cleverly disguised so as to be almost unnoticeable. The pianos are impeccably prepared at the factory, including very fine voicing — even perfect tuning of the duplex scales. When the piano comes out of its shipping crate, it is absolutely perfect and ready to be played. There is no dealer preparation of any kind nor any tuning required. The piano is sublimely made.
It is not uncommon for Fazioli to receive special orders for unusual piano cases. The Fazioli factory obliges by providing designs using inlaid woods, gold leaf, gemstones, metals and even fine paintings upon request. Our website showcases a variety of such designer cases. The Fazioli M.Liminal model, for example, inspired by dolphins and ocean waves was originally designed by NYT Line as a piano for a yacht.
The Fazioli baby grands offer a lot to a piano lover and professional alike. For small homes, practice studios and apartments, the Fazioli F156 (5'2") and F183 (6') offer the full range of dynamic performance while remaining conveniently small.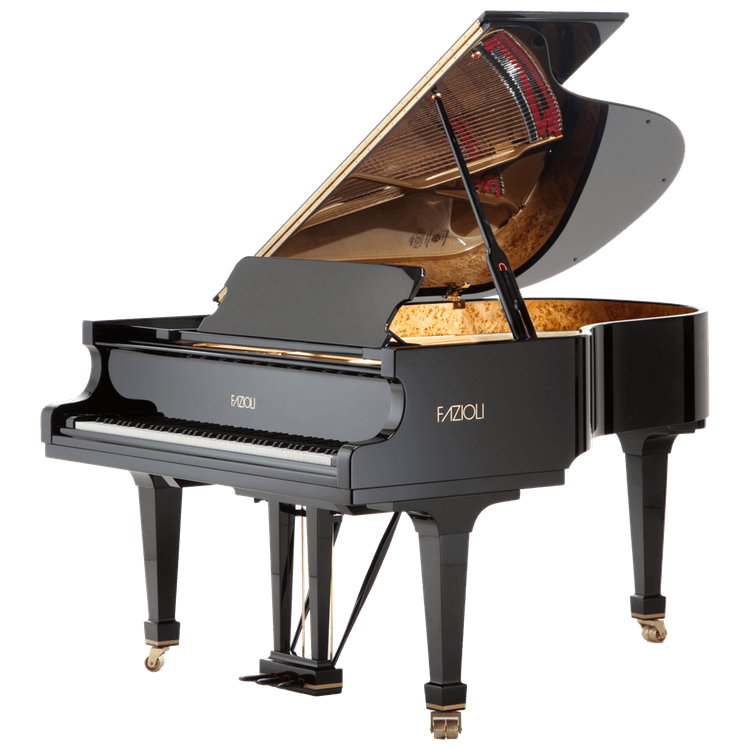 The Fazioli F212 (6'11") is a medium sized grand perfectly suited for chamber music performances, professional studios, small churches and rehearsal spaces. The smaller proportions of F212 make it a viable choice for integrating a grand piano into an interior without it dominating the space. We are very comfortable recommending this model for standard HOME use.
The Fazioli F228 (7'6") is a smaller rendition of the concert grand F278. It retains the power and agility of the larger instrument, and is well suited for medium sized venues, small halls and churches with limited piano floor space.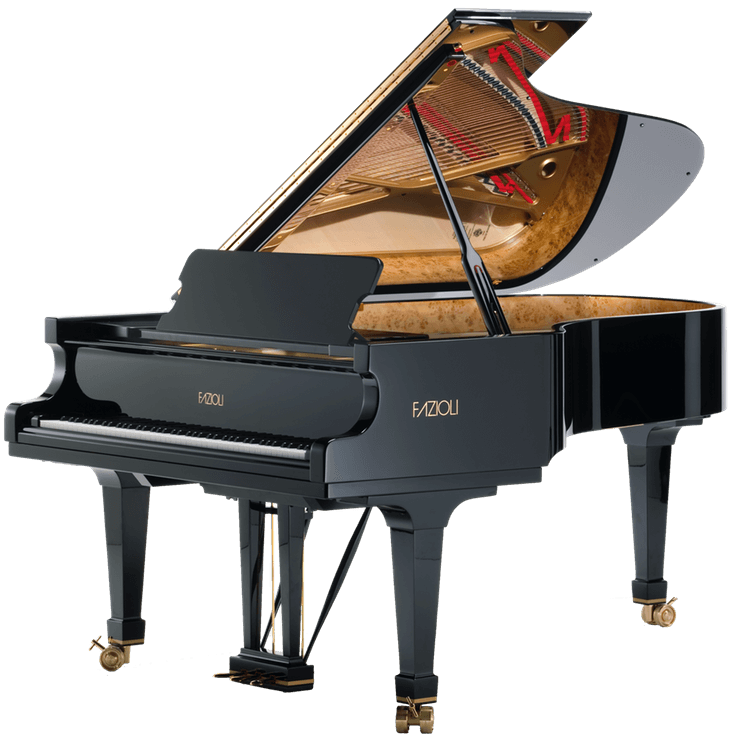 Fazioli Concert Grand Piano
The Fazioli F278 (9' 2") is the second largest concert grand in the Fazioli family. Built for concert halls, it is a perfect size for worship centers and other substantial performance venues. The instrument is powerful; designed for virtuoso pianists on the world's premier stages. This is the model most frequently chosen by music lovers with large homes.
The Fazioli F308 (10'2") is the company's flagship concert grand. With its impressive length, one foot longer than most, it the largest grand in the world. (Note that this model has four pedals). The advantage of a longer piano is that longer strings produce great power and richness of sound. It also increases the emotions or expressiveness. This concert grand is easily heard clear to the back of a concert hall, even when accompanied by a full symphonic orchestra.  The workmanship that goes into these Fazioli instruments gives them the ability to retain harmonic balance better than other brands, ensuring that close or spread octaves alike have a purity and brilliance that produces virtually beatless perfect fifths. Fazioli concert grands enable technicians to artistically voice an instrument with the excellence of their soundboard wood, the rim stock, and the hammers.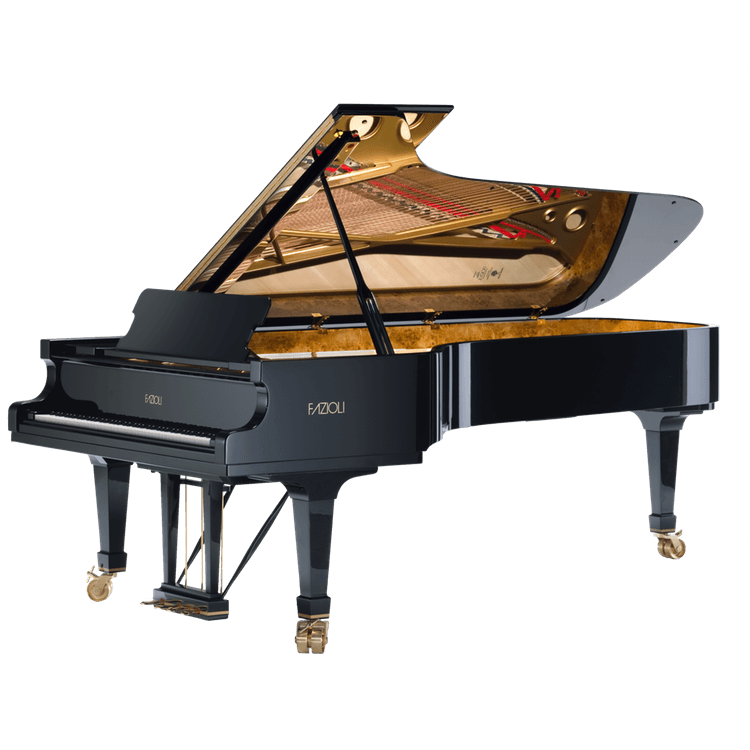 There are many opinions about the extent to which a pianist can affect the tone of a piano while playing, but it is a fact that, with the more sensitive actions of high-quality instruments like the Fazioli, the skilled pianist is able to more reliably control the speed of the hammers' attack on the strings, and thus create a wider tonal palette, giving the audience a better and more nuanced musical experience.
When a buyer decides to invest in a fine musical instrument, it is important to consult with experts familiar with German and Italian piano brands. Limiting your search to storefront sales people experienced in selling American and Asian products is a mistake. Determine your budget, space, and the instrument's intended use, then set out to find the best possible piano that your money can buy. Research reviews about pianos from Germany and Italy. Learn about pianos that are made using the best materials, design and workmanship. Dig deep. European brands such as Fazioli or Hamburg Steinway are a much better quality and value than you may expect. There is no reason not to explore and purchase the best piano you can afford.
Euro Pianos Naples is a respected distributor of European luxury musical instruments. The company's origin dates back to 1965. Euro Pianos represents world renowned brands such as Sauter, and it has recently become a manufacturer of its own acrylic instrument – The Aire. Apart from being a successful retailer, consultant, and entrepreneur organization, Euro Pianos is actively engaged in the artistic and community life of Naples, Florida as an organizer and supporter of musical events throughout the years.