We have a penchant for wanting the best of the best. So this article does a comparison of two of the most talked-about and desired pianos on the planet. One is a familiar name to most and one is an Italian brand people may not have heard of. Which one is really the best? Are they even comparable or are consumers victims of marketing myths?
The best known, because it's been around since 1853, is the STEINWAY. It has held the world record in sheer name recognition over the decades. There are a network of Steinway dealers, Steinway stores, Steinway showrooms, retailers selling rebuilt Steinways, all over the world, with myriad Steinway models available, both new and used.
Grand pianos, and most especially concert grands and performance grands are the instruments on stages around the world that most people revere. Steinway baby grands have been the darlings of living rooms across the country, but their size makes the tone in certain areas less than perfect. (You can often find Steinway baby grand sales, as a result of people upgrading to a larger instrument.)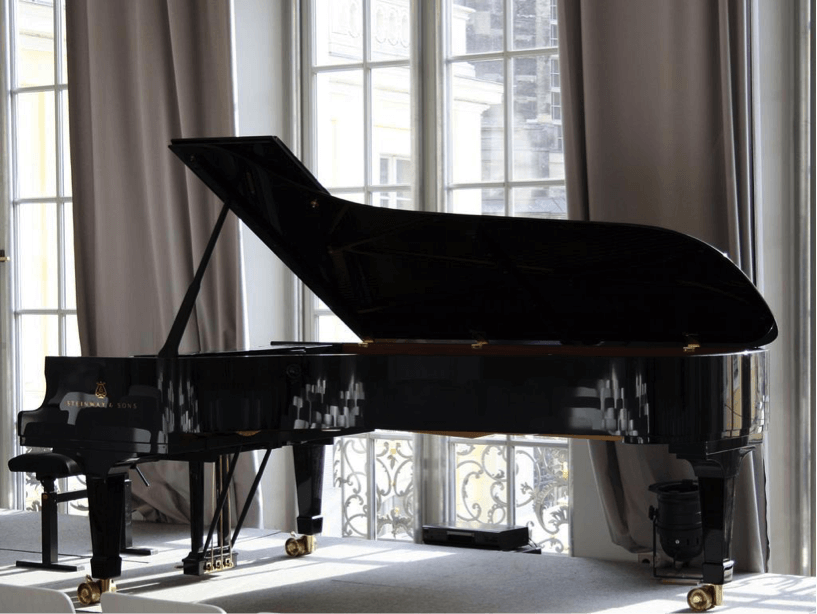 The lesser known competitor for this comparison is the FAZIOLI piano designed by an Italian musician and engineer, Paolo Fazioli, who in 1978 set out to create the finest-quality hand-made pianos ever built. In only a few short years, his extraordinary pianos are sought after in the most prestigious concert halls by artists, as well as by discerning private clients who are truly in the know.
"Fazioli handcrafts about 150 instruments per year.
Each Fazioli piano takes over 2 years to build."
At the height of their success, Steinway produced 3,500 pianos annually. Side by side there is simply no comparison between Steinway and Fazioli not on any front.
To judge for yourself – we've prepared a comparative chart of piano facts and elements between the two brands: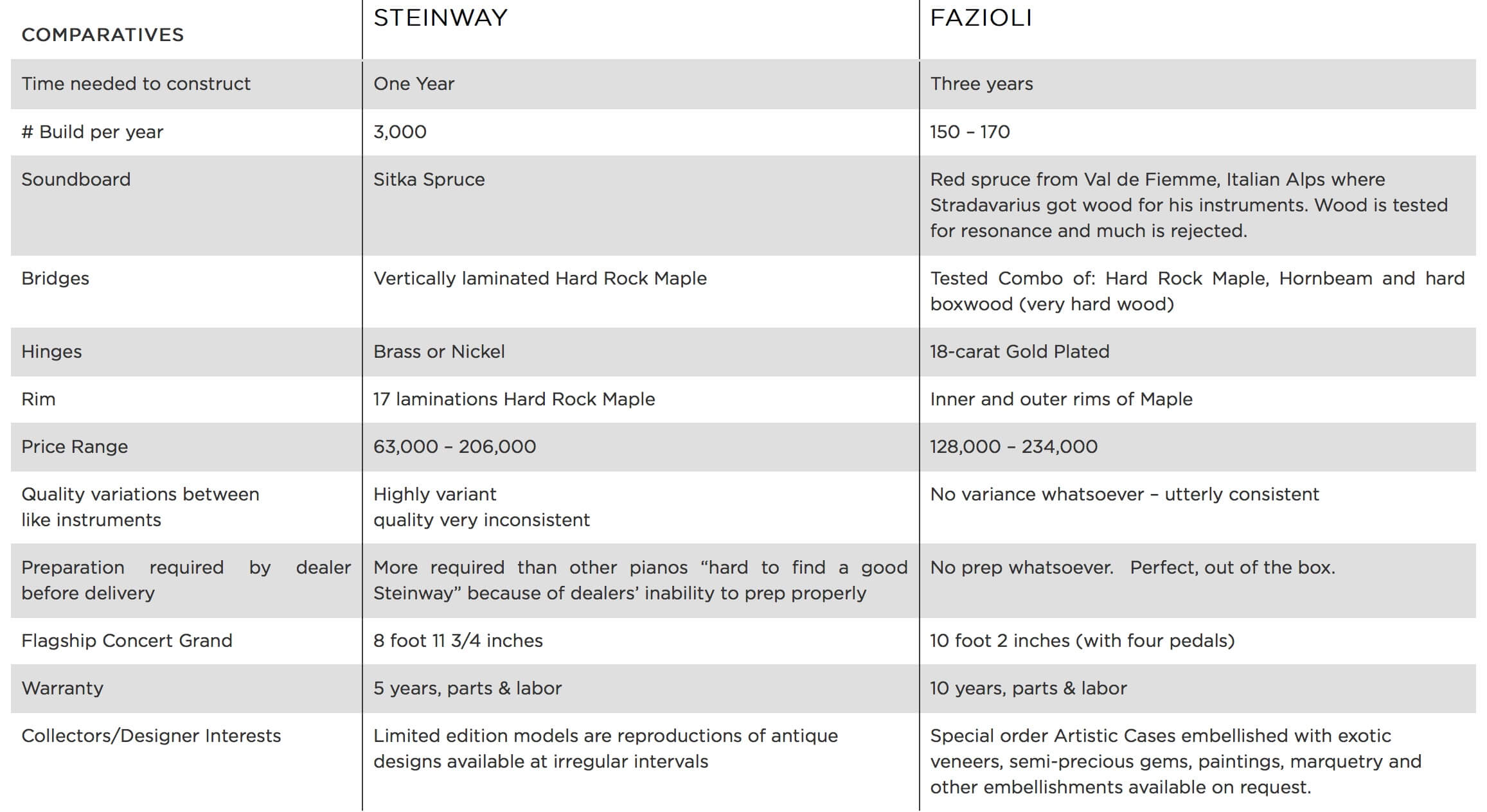 What Clients Think of FAZIOLI
After Euro Pianos Naples was named a Fazioli dealer (one of only nine dealerships in the entire United States), one of our first Fazioli sales was to a client who had been arduously searching for the perfect (for him) piano. His search included forays to see and play Steinways, Yamahas, and Bosendorfer among others. For almost three years he researched, and tinkered with different dealers. When he got wind that Euro Pianos Naples had become a Fazioli dealer, he called. He had heard of the brand, and drove straight from Miami to our showroom, sat down to play. It was love at first note. He couldn't say often enough how much he loved this spectacular instrument. It was the most responsive piano he had encountered. He purchased one on the spot.
"Compare a Steinway to a hand crafted Fazioli case side by side and you will see the difference."
When asked how he knew within minutes that this piano was absolutely special and different, he responded that foremost, the performance of the action was noticeably superior to anything he'd tried or owned before. It was lightning fast and even. Secondly the impeccable craftsmanship, the detailing and fine woods and materials used (18K gold to prevent tarnishing) were done with an eye to artistic and mechanical perfection. The case itself was a piece of art. Compare a Steinway to a hand crafted Fazioli case side by side and you will see the difference. The wide tonal color palette and dynamic range combined with the great power of the piano made the Fazioli simply irresistible.
Another client of Euro Pianos Naples was seeking a one-of-a-kind piano for his penthouse apartment in a very upscale coastline city. His décor was the creation of a top designer. He insisted on a piano befitting his style and taste, a piano in keeping with the prestige of his successful firm, something spectacular to showcase to his guests and visiting business associates. When asked about brands only the best would do. Nothing "ordinary" or "common", nothing mass produced. He wanted the truly unique, and it had to be of the highest quality. When he saw the limited edition M. Liminal model of the Fazioli line—the same piano favored by Herbie Hancock in his concerts—we had another love affair on our hands.
David Stabler, a reporter for the Oregoner, described a Fazioli in 2013, this way:
"This is a piano that is so responsive it can almost read minds. The key action is silicone smooth, producing cathedral whispers, purring bass and sweet treble arias. Hammers and steel melt into effortless legato."
The Juilliard School, located in Lincoln Center of the Performing Arts in New York City, one of the world's leading music conservatories, had been using Steinways exclusively since 1924. Sometime after 2000, much to the surprise of the piano world, Juilliard broke with tradition and purchased a coveted Fazioli. It makes sense for a music school to expand their horizons, given that the world consists of many amazing piano brands – not just Steinway. Juilliard was so pleased with their Fazioli they have since purchased additional instruments.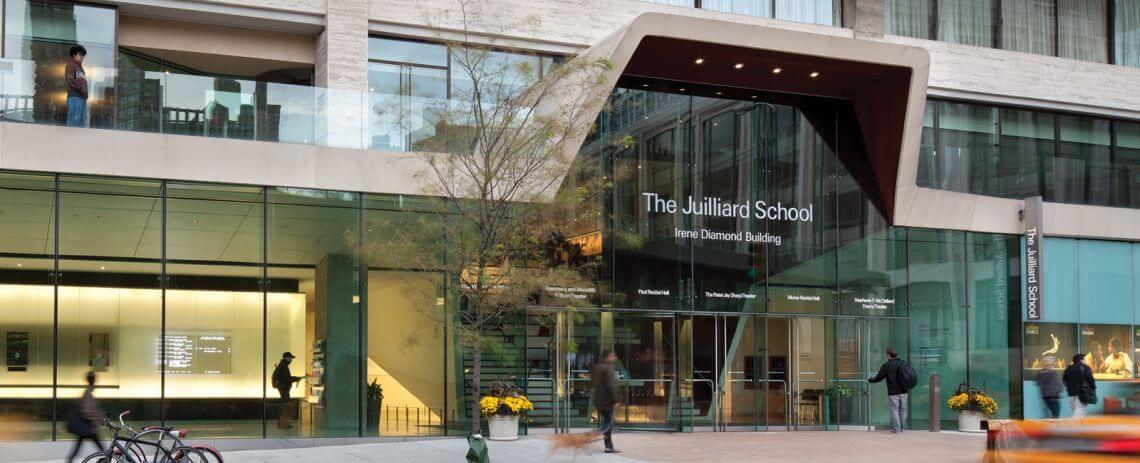 Cases in point:
– March, 2015 Chopin Competition in Miami, the first and second place winners, Eric Lu and Rachel Naomi Kudo, both chose Fazioli F278 as their performance instrument, over Steinways.
– At the Sydney Australia international piano competition in July, the three finalists, playing Mozart, all chose Fazioli as their piano of choice.
– Five out of six finalists at the 2014 Rubenstein International Piano Competition chose Fazioli over a Hamburg Steinway D. (Steinway NY was not even offered).
There is a lot of debate among pianists about Steinway versus Fazioli, and we want to treat the subject fairly. Many people still prefer Steinway, and that's understandable with a history of 300 years versus 30 years.
Fazioli pianos retain their status and desirability. Because only 150 are available annually, Fazioli will never saturate the market.
Euro Pianos Naples is a respected distributor of European luxury musical instruments. The company's origin dates back to 1965. Euro Pianos represents world renowned brands such as Sauter, and it has recently become a manufacturer of its own acrylic instrument – The Aire. Apart from being a successful retailer, consultant, and entrepreneur organization, Euro Pianos is actively engaged in the artistic and community life of Naples, Florida as an organizer and supporter of musical events throughout the years.