Naples, Florida is the home of some of the most beautiful and exclusive homes in the world. A tour of Port Royal luxury real estate communities reveals oceanfront and lakeside properties, golf properties, and condominium high-rises that are the equal of the most lavish estates in the nation. Port Royal interior design is in demand, and piano decor that can match the splendor of such interiors are finally here.
Magnificent real estate anywhere is always the province of extraordinary interior design, and Naples is no exception. Naples interior design is the dominion of the easy but elegant lifestyle of the balmy tropical outdoors coupled with an eye to social and entertaining standards that Southwest Floridians have come to expect in a cosmopolitan city that is home to The Naples Philharmonic, The Napes Players, Opera Naples, the Baker Museum to mention only a few of the myriad arts and music venues.
Pianos, of course, are a mainstay of good Naples interior design, because they symbolize all that Naples embraces, as well as the seven elements of good design.
The first element is SPACE, and piano decor can be used effectively to create illusions of space, to fill expanses of space, and to overlap with other objects to create the visual spatial effect needed.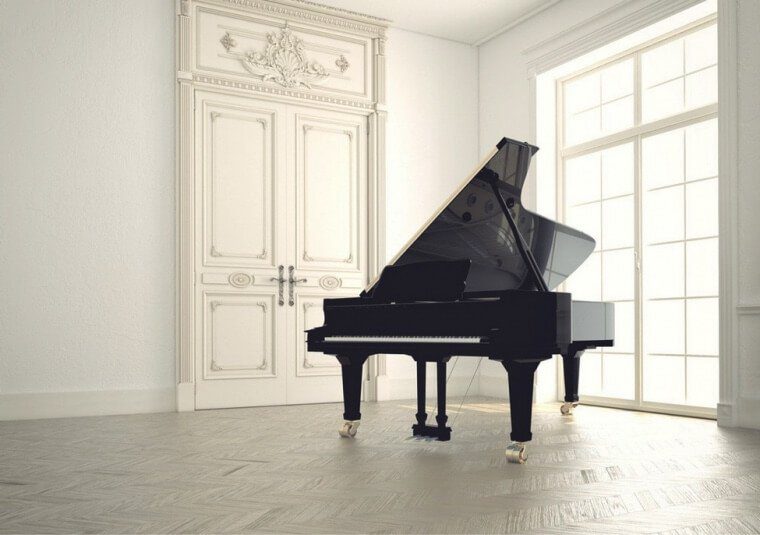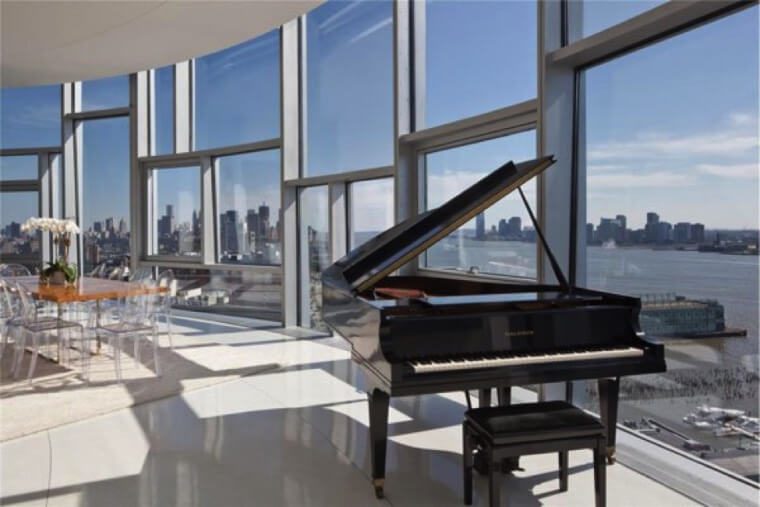 LINE is the mother of form and shapes, and lines are responsible for establishing harmony, unity, and contrast in a living space. Notice how the lines of the piano, the filigreed stairwell, the ornate chandelier and table all take on a new form visually. Decorating with a piano  provides artistic nuances.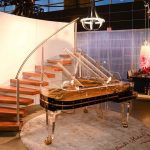 The many windows and high ceilings of this room below, as well as the planked floors further use the element of line and disparate intersections (as in the ceiling) and piano lid to create an effect of organized harmony.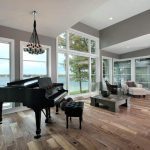 FORM and shapes can be geometric, free form, or organic. As an element of design they can often be surprising and playful, or traditional in grandeur.
The oddly shaped windows echo the piano lid and surprise the viewer. 
Finding the subtlety involved in piano décor is part of the fun.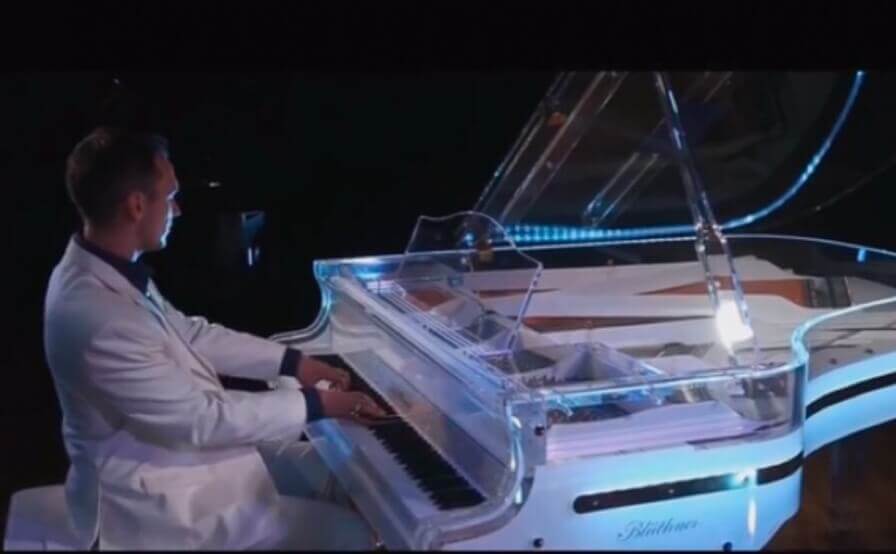 With the use of quiet and traditional shapes, the classic piano, the overstuffed chair, a fireplace, familiar shapes can make a serene living space that soothes.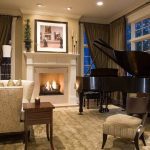 COLOR (hue, value and intensity) always plays a major role in interiors and can be used in pianos as well to full effect. Today's high-end pianos are as original as modern and classical art and just as beautiful.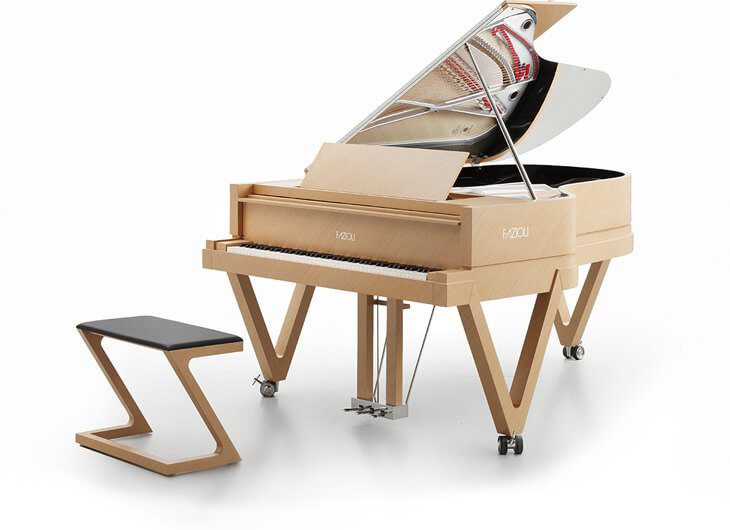 TEXTURE as a design element cannot be ignored. Texture moves the eye from object to object, creating visual interest and focal points in a room.
Notice how metal, fabric, tiles, ceramics and wood–all tactile objects, soft, hard, diverse can create surprises and excitement. The decorative merits of piano décor cannot be minimized.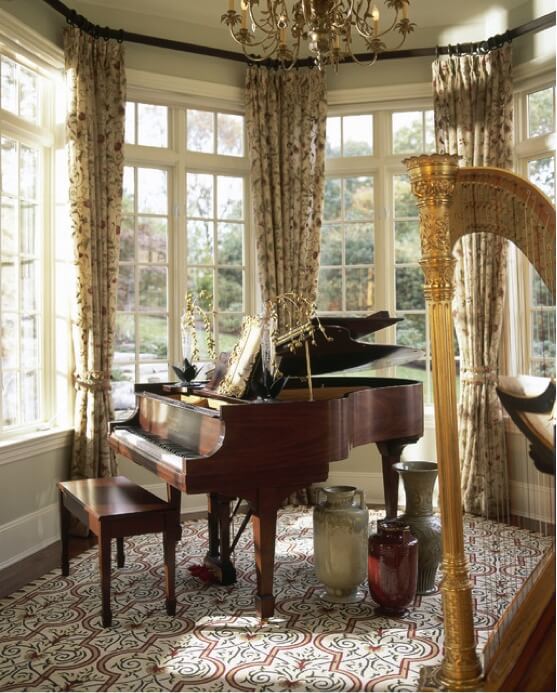 The Bluthner "Hive" piano is textural eye candy. One wants to touch its surfaces for its smooth Lucite feel.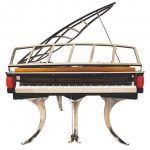 LIGHT (and lighting) play their own important role in designing any room, and today's pianos have taken advantage of the dramatic effects that can be created with LED lights on the piano itself. (sample below in a Lucid Bluthner with blue LED)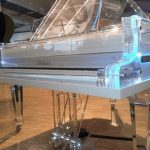 PATTERN, like texture, is another element that moves the eye about a room, from object to object, and often cleverly marries disparate designs into a coherent whole.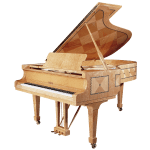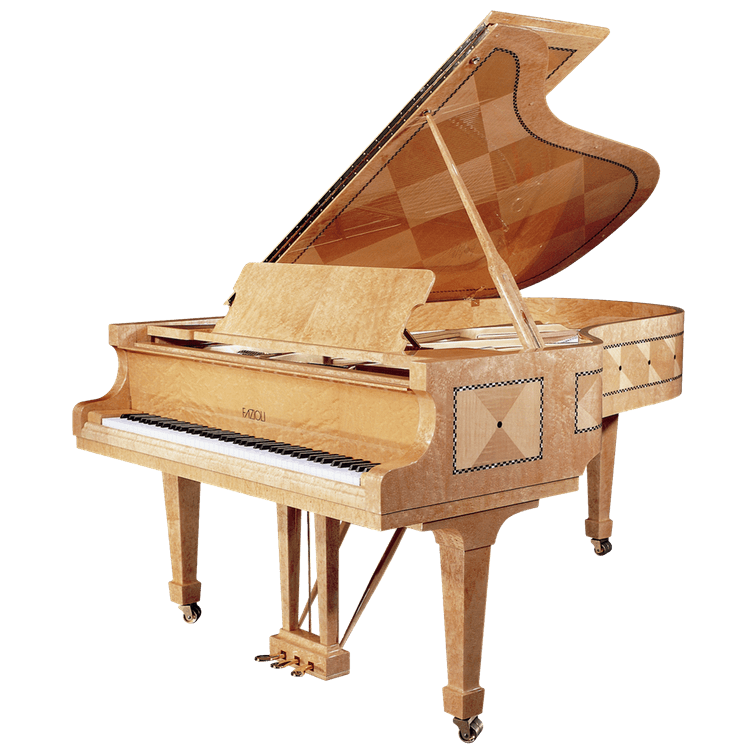 Having It All In A Smaller Space
Many people come to Naples just for the winter season, and some have smaller apartments or condos, but still want the opulent lifestyle that Naples offers year round. By choosing the right piano for the space, pianists can have beautiful instruments and surroundings in their home away from home. Here are some examples of how smaller pianos can fit perfectly into limited spaces.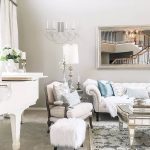 The Benefits Of Buying From Euro Pianos Naples
Euro Pianos Naples is a respected distributor of European luxury musical instruments. The company's origin dates back to 1965. Euro Pianos represents world renowned brands such as Sauter, and it has recently become a manufacturer of its own acrylic instrument – The Aire. Apart from being a successful retailer, consultant, and entrepreneur organization, Euro Pianos is actively engaged in the artistic and community life of Naples, Florida as an organizer and supporter of musical events throughout the years.