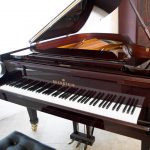 Pre-owned Bechstein A190 Grand Piano
One-owner Bechstein grand piano.
New MSRP: $78,500
SOLD
Bechstein A190 (2005)
Made in Germany
Like new Bechstein A190 purchased from Euro Pianos a few years ago. The piano is in pristine condition.
Serial Number: 193088
Dimensions: 6'1″ or 190cm
Finish: Mahogany Polished
Hardware: Brass
Bench: Matching adjustable bench
Piano location: Naples, FL
Have a question about this piano?
Call us or send email using form below
More Piano Designs for You