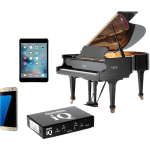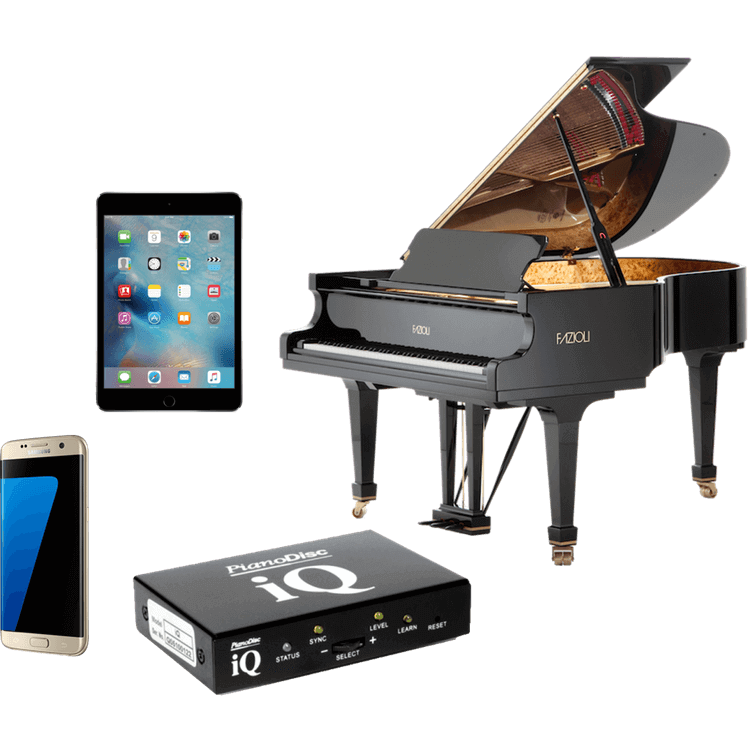 PianoDisc iQ player systems
The piano world has had a revolution. Innovative European piano makers have taken time-honored quality and classical styling and transformed historic excellence into modern magnificence with the use of handmade Stradivarian woods, unimagined precision actions, and a variety of decorous piano cases defying art itself. But in addition to the glorious acoustical instruments offered today, there's another exciting facet. Technology has now revolutionized the player piano.
THE PIANODISC REVOLUTION – PLAYER PIANOS OF TODAY
There's a new passion that's been unleashed in music lovers. Everyone wants a piano whether they know how to play it or not. The electronic technology of today has allowed PianoDisc, a savvy company who knows the ropes, to create a player piano system that can be added to acoustic pianos of virtually any size, style or make, turning them into modern player pianos, while retaining their use as acoustic instruments.
You may remember the old paper-roll player pianos from great-grandfather's Victorian drawing room, but those curiosity pieces are in no way comparable to what's available today.
Yes, the untouched piano keys still rise and fall with every musical note, but there the resemblance ends. Once people hear the incredible sound quality, and realize that the PianoDisc Music Library contains thousands of titles in categories as assorted as classical, jazz, latin, new age, pop, sacred and many more. Piano owners can enjoy performances by world class artists on their own instruments. As a result, the supply is barely keeping up with the demand for this amazing and magical addition to the piano lover's instrument.
Price: Please Inquire 
Availability: In Stock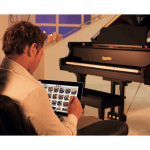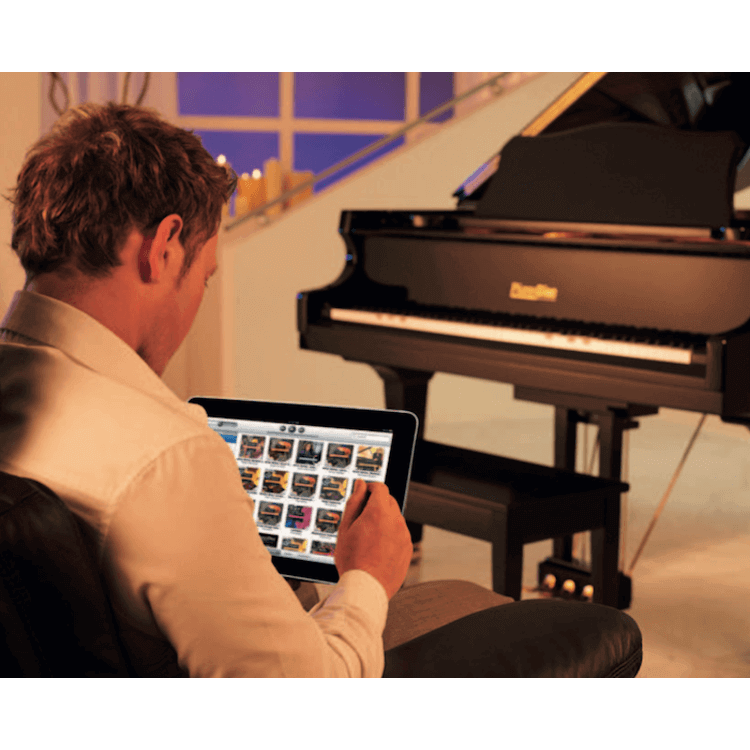 IT'S NOT NECESSARY TO BUY A NEW PIANO
New pianos can be purchased with PianoDisc player piano systems already installed, but ANY existing acoustic piano can also be upgraded to a player piano system, giving it dual uses.
HOW IT WORKS
The PianoDisc iQ Intelligent Player System can be customized to operate with your choice of any external music player including popular music delivery devices such as: MP3 player, iPad, iPhone, Android.
With iQ, you can control the piano from any compatible music player, while the SilentDrive HD system delivers a beautiful, fully expressive piano performance— even at whisper-soft levels. PianoDisc's revolutionary iQ acts as a bridge between today's latest music playback technology and PianoDisc's elegant SilentDrive HD reproducing piano system. Easy to operate, play, pause, stop and adjust volume, as you normally would, and the piano will respond. All of your music is safely stored on your device or in the cloud. Smart and Invisible iQ gives you the flexibility to enjoy a truly invisible system, with no visible electronics mounted on the piano. An Airport WiFi router is mounted underneath the piano to communicate with your iPad, or other mobile device.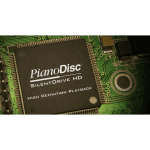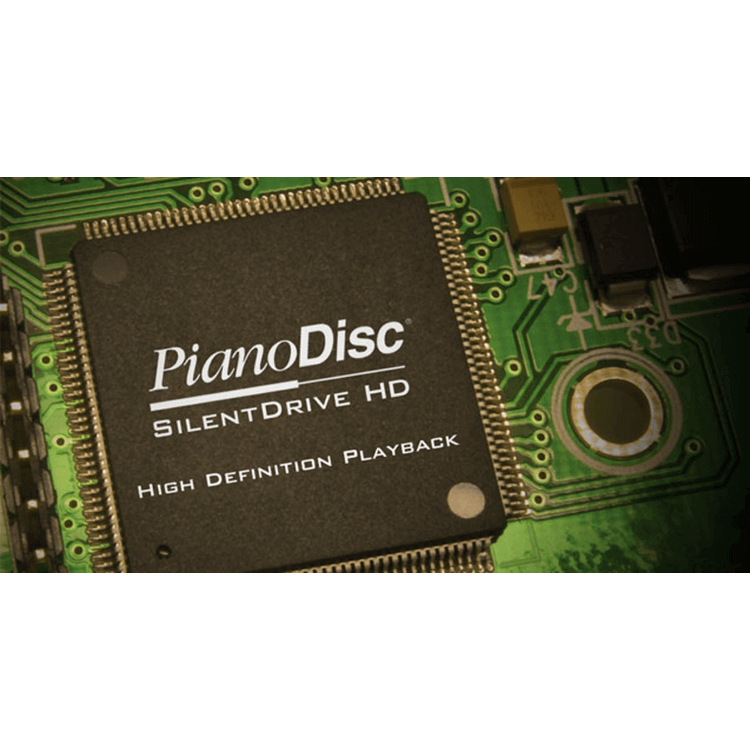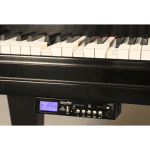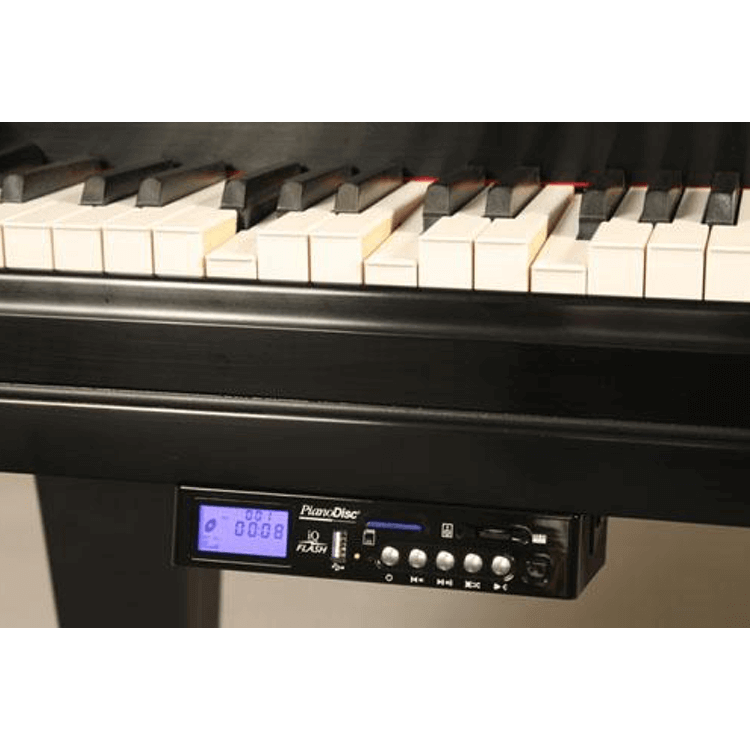 PianoDisc stays dynamic in the industry by adding new products frequently. Examples of sophisticated additions include:
PianoDisc iQ DVD which is a three in one multimedia player with built in CD/DVD drive, USB port and SD card slot and takes full advantage of the iQ system.
Another terrific product completely new in home entertainment, Sync-A-Vision brings excitement and entertainment to host and guests alike. The world's top artists perform as you watch, while listening to your piano play live, or listen to the piano accompany silent movies, set the mood for a romantic environment and even enjoy your favorite DVDs or CDs. Sync-A-Vision also accomodates a personal in-home piano teacher. Learning to play piano has never been easier. Take advantage of world renowned teachers such as David Higginson, whose 72 lesson series is included with Sync-A-Vision and Scott Houston of Public Television fame. The Sync-A-Choice feature allows you to play along with scrolling music, karaoke style. Choose U-Listen or U-Play or U-Sing.
A whole host of other products are available, depending on your needs, including
– high quality, high fidelity loudspeakers
– Piano-Mute and earphones so you can play anytime without disturbing anyone or the QuietTime Magic Star which is another muting application giving your acoustic piano the benefits of a digital.
– TFT MIDI Record uses a patented technology in an exclusive recording system so you can record your child's first recital, use recordings as an educational tool or compose and record your own music
– MIDI Controller Retrofit System uses your piano keyboard to record music to a computer and send key and pedal data to a variety of external devices such as a digital piano, sequencer, sound module or other MIDI device.
Read the interview with our PianoDisc technician James Bender here.