Man has always made music and over centuries, the stringed instrument of choice that evolved was the piano.
Using the primitive instruments from the beginning of time as their springboard, musicians in different parts of the world, starting in the 14thcentury, created the clavichord, harpsichord, and spinet (virginal) and provided the blueprints predating Christifiori's  1700's gravicembalo col piano e forte, (the harpsichord that plays soft and loud). Piano e forte later was shortened to piano, and "Piano" as we know it was pretty much set in stone as far as the inner mechanics of piano design went.
Of course, there were some innovative additions, extra keys, extra pedals, different and better materials substituted over the decades that followed, and the piano cases went from Renaissance lavish to Industrial spartan as modern society made its advances. Player systems and electronic digitals later added more modernity. And a cycle of nostalgia returned some high end piano makers to resurrect lavish "art cases" made of precious materials and gemstones, rare woods with handmade customizations. But for all intents and purposes the shape and mechanics of the basic piano hasn't changed much since the 14thCentury, in the grand scheme of things.
Decorators and Interior Designers Make Themselves Heard
That is, not until the 20thand 21stCentury. Then something magical happened. The cliché family piano–the old Steinway grand or Yamaha upright in the corner – had become an  out of fashion eyesore in the rooms of sleek homes and buildings of the modern world. Designers and interior decorators began seeking decorative and minimalist "furniture" and "art" for their clients, no longer satisfied with just a box that made music. Their demands were heard.
Clients (both residential and commercial) were willing to pay six figure prices for pianos that stayed at the front of innovative design and performance.
Piano masters around the globe were inspired to redefine what a modern piano should look and sound like. And what they came up with was so incredible that pianists are still reeling, scheming to get their hands on these amazing European instruments. 
Why is Redefining Shape Important?
Some people may think it odd that anyone would ever want to change the design of a piano, an instrument that has worked for musicians for generations. What's the point?  If it ain't broke, don't fix it mentality. But I believe that life, and the essence of all living, is a matter of change. Changing seasons, aging, degeneration and regeneration in myriad ways, both large and small, happen daily in every aspect of our life. You can hold that fact as a metaphor for major things right down to the most insignificant things, like the mosquitoes quit biting. Life is more alive with change because we march with the essence of it.  Your surroundings, your thinking, your values and tastes are all subject to change. Embrace it, explore it, exploit it for the pure enjoyment that change can bring. Art, music and ambiance can change your entire outlook on life, so ask Change in, take a seat and enjoy the ride.
Change is the law of life. And those who look only to the past or present are certain to miss the future. – John F. Kennedy
7 Pianos that Redefined the Shape of the Piano
1. From Italy - Fazioli M. Liminal Designed by NYT Line
Paolo Fazioli of Rome, Italy, began designing and building pianos, with the object of making the finest-quality instruments possible. There is no doubt that this manufacturer has surpassed the best of the best. Now even the most famous piano makers of Western Europe are recognizing his accomplishment, and artists throughout the world are using the instruments successfully on the concert stage and elsewhere. Many artists, and others most familiar with Fazioli pianos, describe them as sources of inspiration with a wide color palette and dynamic range, and combining great power with great warmth in a way that causes music played on them to "make sense" in a way made possible by few other pianos.
Fazioli always put performance first in their sublime ebony concert grands for professional halls and stages everywhere. But his personalized art cases are some of the most beautiful in the world still embracing the highest acoustic qualities Fazioli is known for.
Then when a valued client commissioned a special instrument for a yacht, using dolphins and the waves of the ocean for inspiration, NYT Line designers began to change the history of pianos. Centuries-old tradition of piano building was never going to be the same.
Fazioli engineers had to completely re-think the architecture to make the traditional case into an irregular-shaped case using carbon fiber beautifully balanced on a large single metal pedestal. The combination of use of carbon fiber, irregular shape of the case and completely re-engineered sound board in fact improved the acoustical qualities of the piano. The transparent reinforced lucite music stand and support rod streamline the visual effect so that M. Liminal, an elegant monolith, appears to float. That element of defying gravity gives M. Liminal it's futuristic, spaceship sensibility.
 The balance and grounding of M. Liminal  is an architectural feat and gives M. Liminal absolutely stability on any surface and in any environment be it a yacht, an aircraft or a luxury penthouse. The most advanced Fazioli action rests within this high-tech case and gives a medium sized M. Liminal grand piano the power and resonance of a full concert grand.
2. Fazioli Aria Designed by NYT Line
Fazioli didn't stop there. Their high-end design for the 20thCentury, the M. Liminal, impacted customers across the globe, and a second model emerged not too long after.
Taking the engineering challenges learned from the M. Liminal, the FAZIOLI Aria was carried to the next step: the summit of innovation and piano engineering supreme.
There is something evocative of a mid-century modernism about the elegant and simple angularity of Aria's key features and shapes. The black and chrome combination punctuated by triangle-derived motifs evoked Art Deco, placing this marvelously futuristic piano in the realm of the Chrysler Building of the future, or a skyscraper yet to be built.
3. From Hungary – The Bogányi Piano
Hungarian pianist Gergely Bogányi designed and built the Boganyi piano with its its distinctive shape and also with the use of carbon fiber materials. This performance grand piano is available as the Prestige B-262 and the Grand Prestige B-292 models.
The carbon fiber body and re-designed support of the Boganyi piano, creates a distinctive cantilevered shape which enhances the quality of its sound. The custom Boganyi bench echoes the design of the piano form perfectly. Centuries-old tradition of piano building was never going to be the same.
Some are calling it the Batpiano because of its sleek, Gothamesque look. For others, it's a cross between an art deco sculpture and something out of Star Trek.
"There have been no major developments in piano construction in over 100 years," said Gergely Bogányi, when he gave the Guardian a preview of his 10-year project at a workshop in Budapest. He has already spent 8,000 working hours on it.
4. From Germany – Schimmel Pegasus by Dr. Luigi Colani
The 9'10" Schimmel Pegasus is made of reinforced fiberglass resting on a Plexiglas pedestal. The piano is finished in high gloss ebony with brass hardware and hinges.
The top is raised and lowered with an electric hydraulic pump. The performance sound is very clear, and precise, almost crystalline. The piano bench is built into piano giving the clever aspect of a vehicle about to take off. Out of the fourteen of these pianos ever made, three of them were ordered by celebrities:  Prince, Lenny Kravitz and Eddie Murphy.
5. From England - Whaletone Digital Grand Piano by Polish designer/owner: Robert Majkut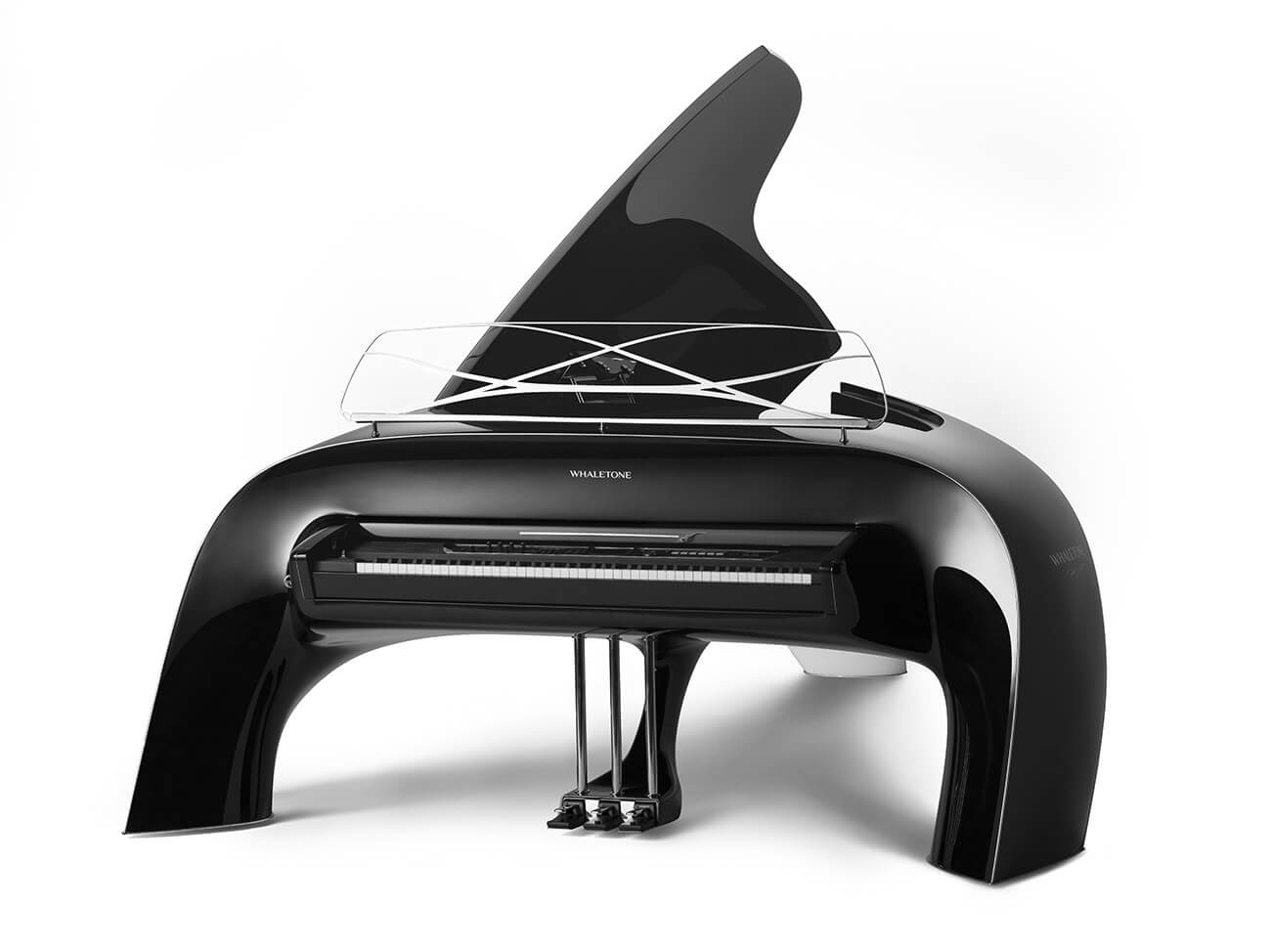 Each model is built to order and sized for chamber performance, but due to its capabilities with on-board speakers, subwoofer and digital connections, it could also fill a stadium or concert hall of any size with sound.
Buyers can choose an acoustic piano sound or select from 500 other options built in. The processor generates a superior authentic simulation of a string grand piano using Roland's patented SuperNATURAL technology in three sounds: Concert, Studio and Brilliant. But that's just the beginning. It can recreate vintage pianos from 1960 to 1980. The totally bespoke instrument is almost unlimited.
The keyboard is based on the full mechanics of a classical hammer mechanism to give the impression you really are playing a natural keyboard. But should you not wish to play, you can sit back and let the Hybrid  player system take over with performances of your favorite artists, downloaded from the web and controlled via an iPad. You can even have the Grand Hybrid record and play back your own compositions.
6. From France - Pleyel Grand Piano by Peugeot Design Lab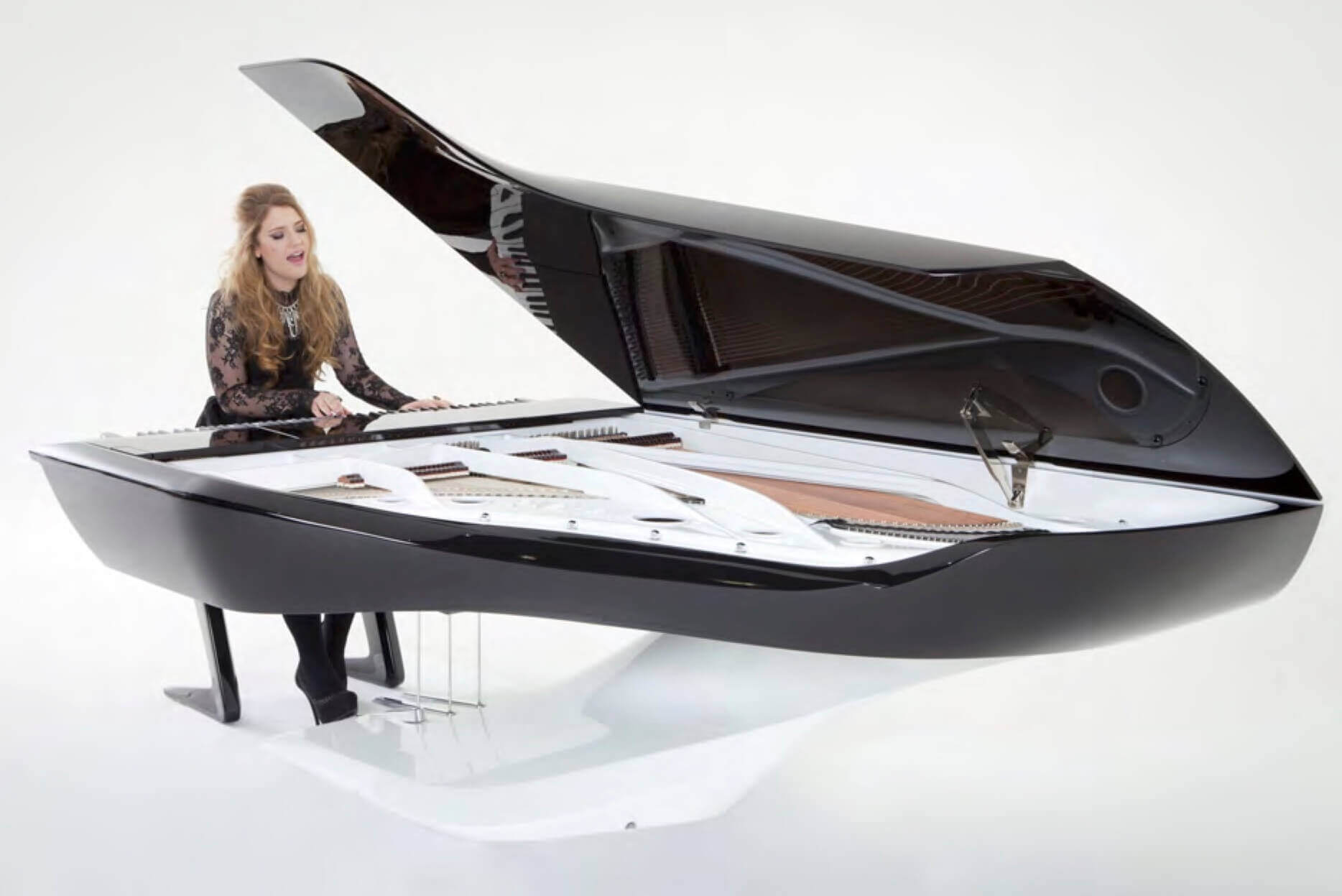 Peugeot Design Lab team approached Pleyel, a 200-year-old French piano maker, with the idea of designing a new modern piano. Engineers and acoustic engineers from both companies collaborated to produce a streamlined design on a single cantilevered leg borrowed from the world of architecture.
The designers say the alignment of the cover and keyboard not only allows the audience to get a better look at the finger work of the pianist, but also delivers better sound quality to the pianist as the sound travels unimpeded.
Peugeot Design Lab's automotive background helped innovate a self supporting lid mechanism borrowed from the design of a car's tailgate. This replaces the traditional lid prop and allows the lid to be opened with one hand.
To retain the sound quality and touch, the body and soundboard of the piano are made of traditional wood, while the lid and leg are constructed from carbon fiber. While this helps with sound projection and weight reduction, a central frame is made from steel to support the piano, while the carbon fiber leg has been filled with expanded foam to eliminate any sound box effect.
"We do not do style for the sake of style," says Gilles Vidal, Peugeot's Director of Styling. "This instrument is not a concept but a real product which involves an exchange of know-how between the design studio and its client."
7. From Germany – Bluthner PH Grand Piano by Danish cultural icon, Poul Henningsen
Blüthner, a privately-owned family business, has been making pianos of the highest quality in Leipzig, Germany, since 1853. And today boasts the world's most extensive selection of extraordinary transparent "Lucid" grand pianos.  The performance quality of all of their instruments is top rated and revered.
Bluthner PH can be customized in colors and finishes to suit the buyer.  Henningsen, the designer, had this excerpt to say: 
"In 1930 I designed something entirely new … and the result was this "glass piano". My idea was that the piano is one of the very few instruments that is played inside its box. A violin, after all, is taken out of its case. The traditional wrapping of the piano has therefore always been a piece of furniture in the style of the time. I wanted to make it an instrument and maybe even improve the sound of it."
Euro Pianos Naples is a respected distributor of European luxury musical instruments. The company's origin dates back to 1965. Euro Pianos represents world renowned brands such as Sauter, and it has recently become a manufacturer of its own acrylic instrument – The Aire. Apart from being a successful retailer, consultant, and entrepreneur organization, Euro Pianos is actively engaged in the artistic and community life of Naples, Florida as an organizer and supporter of musical events throughout the years.