In piano parlance, pianos are classified as Grands "horizontal-sitting" pianos and Uprights "vertical-sitting pianos. Categories under upright pianos include spinets and consoles.
So, What is a Spinet Piano?
Upright or vertical pianos come in various different sizes and a spinet piano is the smallest of the upright pianos measuring between 36" and 40" tall from the floor to the top of the lid and weighing about 300 pounds. The keyboard is approximately five feet wide, like most pianos. But the spinet varies from other uprights not merely in size. Originally introduced in the 1930's, spinets were designed to be smaller and cheaper than other uprights, and to accomplish this, a different kind of action was introduced called a drop action or an indirect blow action with rods or "elbows" under the keyboard connecting each key to the action.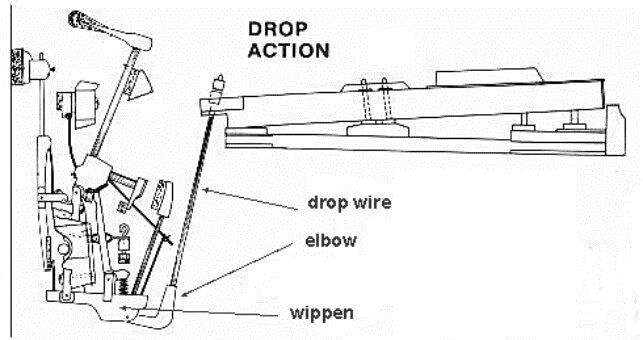 Also the keys on a spinet piano are shorter. The top of the piano is just a few inches above the keys and the action is located below, this does save space and dimensions, but it results in a lack of control.
Spinets are space savers and usually less expensive than other uprights, but a lesser quality of sound is the tradeoff.  
A spinet is not capable of producing the nuanced sound, touch and volume required by professional musicians due to their smallness and action design. The other drawback is that spinets are more difficult to maintain, thus more expensive to tune and repair. Tuners and technicians generally avoid working on this type of piano.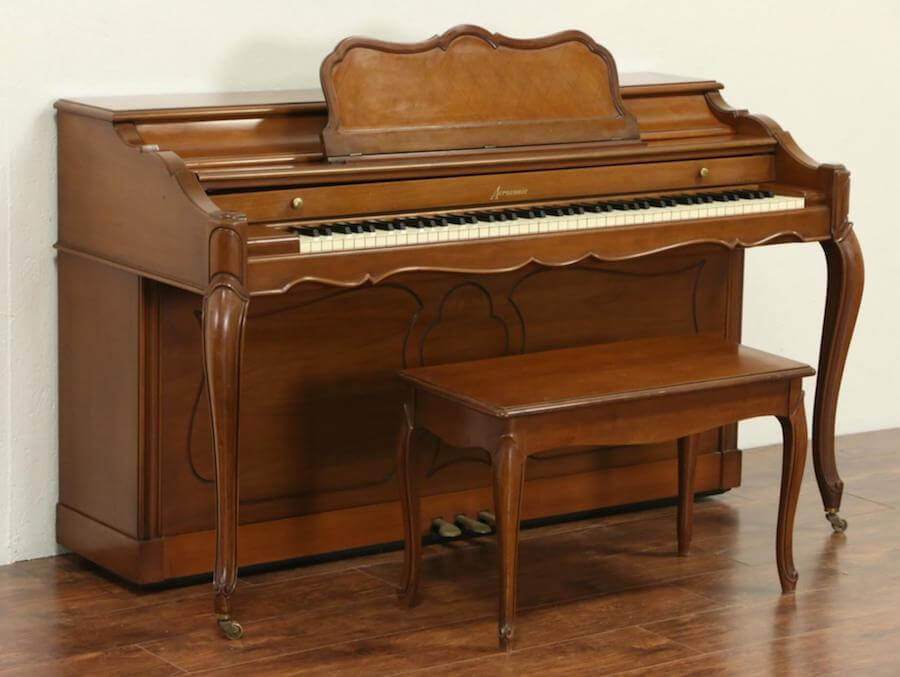 That being said, there were brands of spinets that found great favor over the years.  Baldwin's Acrosonic spinet piano was considered one of the better spinets as its action was well designed and built to be removed in one piece for service. The string scale was one of the better spinet scales and reasonably easy to tune (as much as any spinet is). Other commercial brands included Wurlitzer spinet pianos which were modest models, reasonably priced, as were Kimball spinet pianos.  These days most manufacturers have stopped producing spinets entirely.
The console piano is the next largest upright, and is somewhere between 40" to 44" tall, – compact and space saving, but with better performance than a spinet.  Manufacturers today are using actions from larger uprights in consoles to give console pianos bigger performance, and while the original consoles were 43" tall, the continental console designs have crept upwards to 44 inches. Because of the popularity of the console piano, manufacturers continue to improve the design.
The sound quality of the console piano is absolutely satisfactory for most home pianists. Unlike spinets, console pianos have a normal action that sits directly on top of the keys, and the hammers sit in an upright (not dropped) position.  Just as it should, a hammer strikes the string, which releases the key, and a spring pulls the hammer back into position. The action of a console piano (and most of the uprights) is not as immediately responsive and tonal quality and dynamics are not as rich as that of a grand piano, but it is definitely preferable to the spinet piano's touch and tone.
Many manufacturers build console pianos that continue to enjoy robust sales today.  Yamaha, Baldwin, Pearl River, Pramberger, Charles R.Walter, Kawai, and Young Chang – just to name a few.
What is a "Furniture Console?"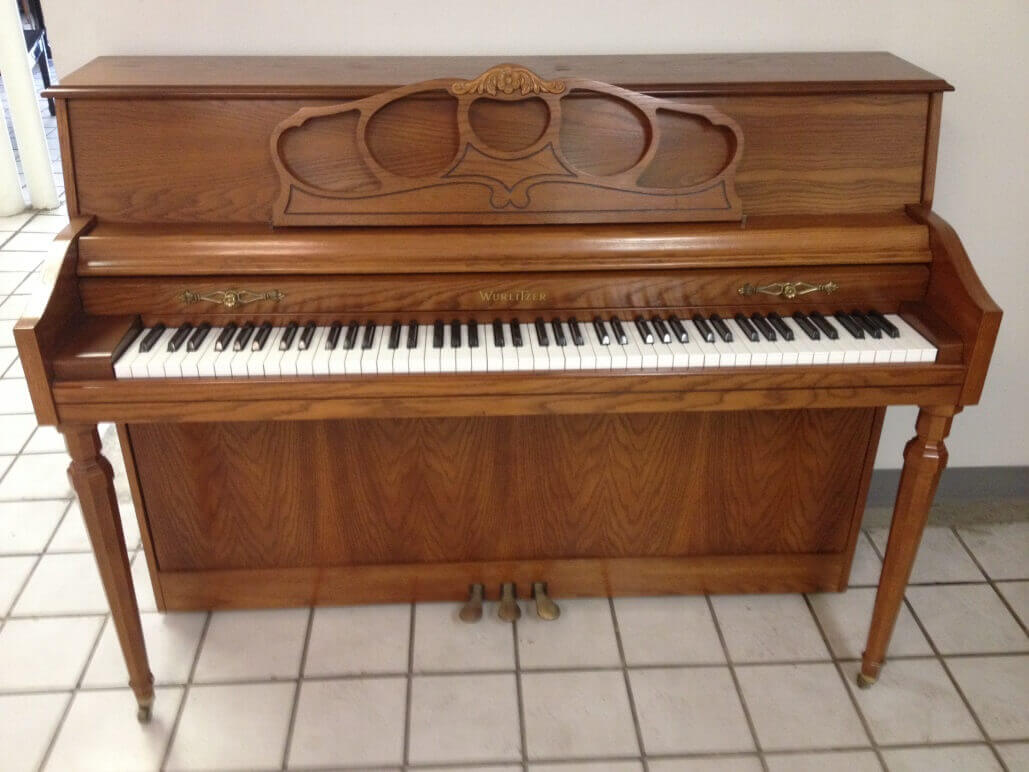 The console piano shown above would be considered a "furniture console" in the traditional style because it has legs. Such consoles were manufactured in popular furniture styles, including Queen Anne, French Provincial, Italian Provincial, Traditional, Country and Mid Century Modern. One could argue that most of these furniture styles are currently not in vogue.  Mid Century Modern furnishings –  beautifully embodied by the Baldwin piano company – are highly sought after.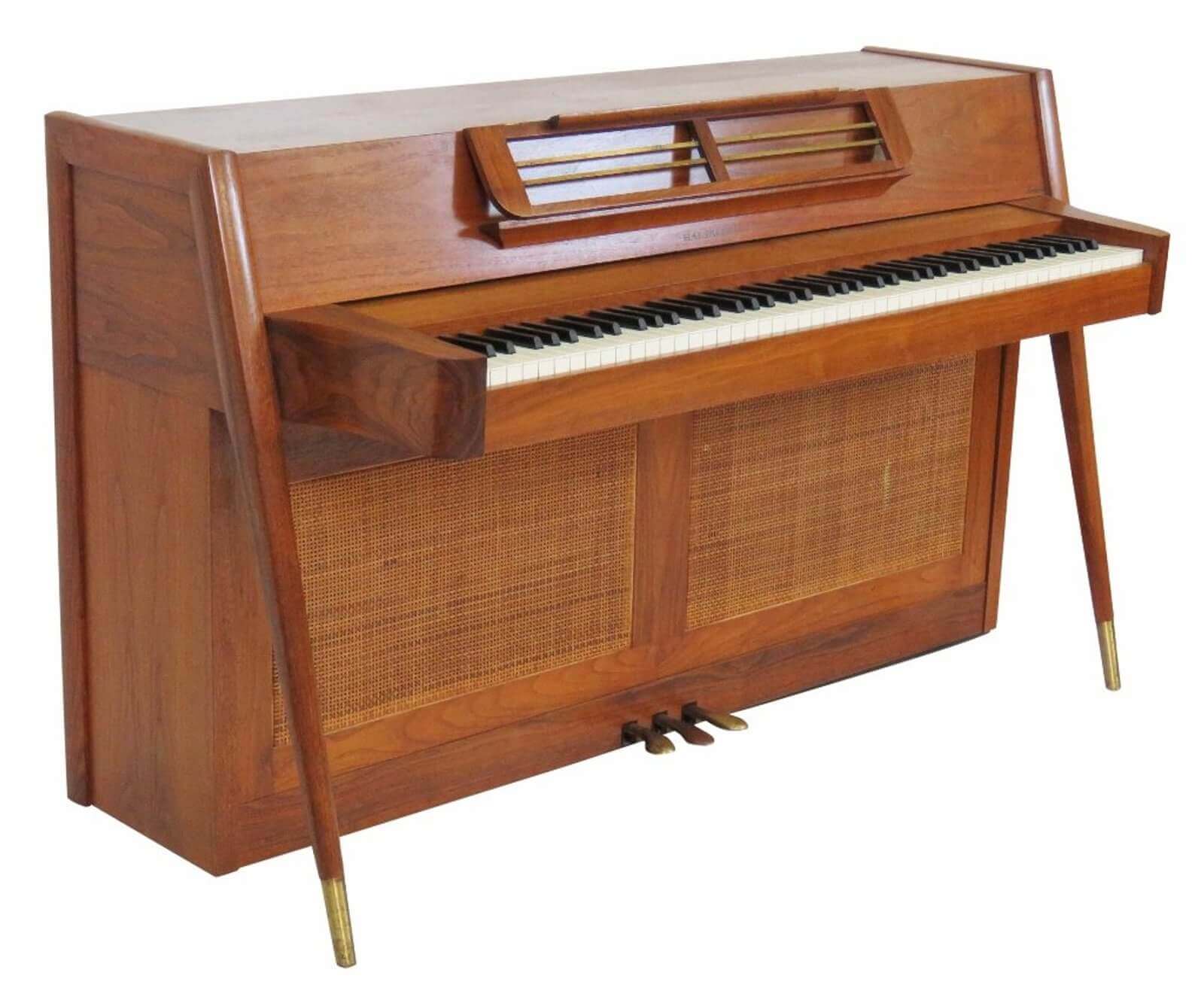 This piano is no longer in production.
What is a Continental Console?
The Young Chang console shown below is considered a "continental console" because of the omission of legs.  A sleek contemporary silhouette continues to be extremely popular among urban buyers of pianos today.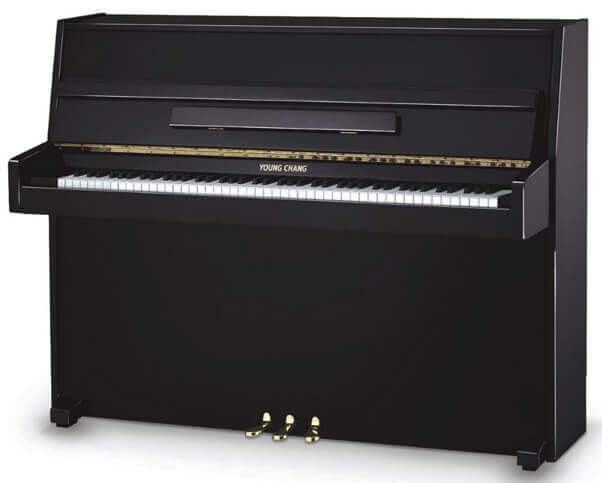 Euro Pianos Naples is a respected distributor of European luxury musical instruments. The company's origin dates back to 1965. Euro Pianos represents world renowned brands such as Sauter, and it has recently become a manufacturer of its own acrylic instrument – The Aire. Apart from being a successful retailer, consultant, and entrepreneur organization, Euro Pianos is actively engaged in the artistic and community life of Naples, Florida as an organizer and supporter of musical events throughout the years.