Kawai Corporation, founded by former Yamaha employee, Koichi Kawai in 1927, was the first in Japan to design and build a piano action. Over 40 years of scientific testing, Kawai developed an important innovation in the use of ABS Styran plastic to manufacture action parts. Better than wood for this purpose, ABS does not swell or shrink with humidity, so the regulation of the action is easier to maintain. These parts are present in every Kawai piano. Kawai has built a reputation for making excellent pianos and celebrated its 90th anniversary in 2017.
In honor of this anniversary, Kawai unveiled its new Crystal Grand Piano CR-1M, a 6'1" acoustic instrument made almost entirely of industrial-grade acrylic. The piano is based on the legendary Shigeru Kawai SK-5 grand piano.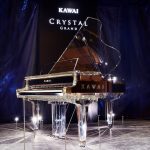 The Kawai CR-1M Crystal Grand is truly a work of art. The benefits of acrylic pianos, besides being beautiful is to "see right through" to view its inner workings. Acoustically similar to a standard grand, the CR-1M distinguishes itself by its transparency. The piano comes with a matching acrylic bench.
Only Five Pianos To Be Made
The CR-1M is part of a Kawai special-order program which limits sales to five instruments. The five lucky buyers have the option of customizing their piano to match their unique personal preferences. The price tag on this beauty of ¥100,000,000 Japanese yen translates to approximately $893,000 in U.S. dollars, but this not include the shipping from Japan. 
CR-40 Auctioned For Charity
While Kawai has unveiled the CR-1M in 2017, there is some confusion about when this crystal piano actually was put into use. (One reference to a CR-30 and a photo can be found on the internet, a 5'10" crystal piano, but it is apparently no longer on the market.)
However, Yoshiki, a world renowned musician and song writer for his famous heavy metal rock group, X JAPAN, allegedly owned a CR-40 as early as 2011. Yoshiki, who lives in Los Angeles, adopted Kawai's Crystal Grand Piano for ensemble and solo performances at musical events around the globe. The group attracted 8,000 screaming fans in Hollywood alone, so any piano of his was considered a big draw at auction.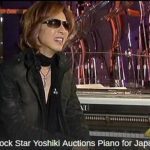 In 2011, Yoshiki, who spearheaded the Japan Relief Fundraising Auction with help from Yahoo Japan, was the first of many celebrities donating items to the project. Other big names include Britney Spears, Reese Witherspoon, Robert Pattinson, Cher, Marilyn Manson, Anthony Kiedis and Stan Lee.
Proceeds from the sale of Yoshiki's crystal piano were donated to Japan earthquake and tsunami relief. Apparently, the auction went wild. Britney Spears' clothing (pants and a top) got bids over $1 million. Bidding reached $20 million for the crystal piano, and the auction had to be closed down and later reopened with rules controlling the verifications and concern over the authenticity of the bids. The piano ultimately sold for $134,931.
Kawai CR-1M At Art And Design Exhibits
The 2018 Tokyo DESIGN TOUCH exhibition, an annual design and art fair, included the CR-1M as in installation in their theme of "Ideas for the Future" exhibits.
In addition, it has been exhibited internationally, including at MILANA SALONE, the world's largest design event. At the SUPER DESIGN SHOW in April 2018, light artist Takahiro Matsuo, developed an installation entitled Crystal Rain, incorporating the CR-1M crystal grand piano floating upon undulating waves of water. As the instrument was played, each note sparkled as droplets of light, rained down into the space surrounding the piano, enhancing the transparency and crystal glitter. It was described as "a dream-like space, where piano, art, and technology merged, presenting a modern impression of musical space, transcending the rigid boundaries commonly associated with the musical instrument industry."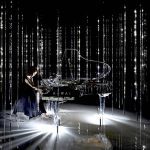 There's no doubt that acrylic pianos are amazing. That's why Euro Pianos Naples has chosen to represent Lucid Bluthner pianos, because they are the only piano builders in the world who have an entire line of models from traditional style (like this Kawai) to ultra-modern to downright futuristic, made out of the highest-grade acrylic and components you can buy. Lucid iDyllic Excellence is also the only fully transparent piano!
Drop by our website and check out the excitement that is crystal pianos today!