What is it about white pianos that captivates the imaginations of homeowners and designers?  In the old days, white wooden pianos got a bad reputation for yellowing, so people stuck to the tried and true conventional brown.  But yellowing finishes were resolved decades ago by modern technology, and the used piano stores are stacked with brown relics today.  Black was always the unchanging standard for stage and public concert grands, and remains so.  But many people, especially those who live in warm climates with light decors or limited space, do not want a big black gorilla parked in their pastel or high tech living room.
It's an interesting aside that Marilyn Monroe had a white piano which was purchased at Christie's in 1999 by Mariah Carey – and such stars may have stigmatized the color as show biz glitz.  But serious designers like Adalene Keeler Smith, AMI Designs, and Sara Hopkins, and many others found that their modern clients needed the lighter touch and commissioned white instruments for beautiful results.  It occurred to the piano makers that there was more than glamour to the white piano. Once they got the hint and began creating designer pianos in white, the rush was on.  Today, some of the most attractive pianos on the market are white upright instruments which lend themselves to space saving, luxuriously modern settings, pulling together the 21st Century visions of design and clean lines for timeless beauty.
Sauter Pure White Upright Piano
Sauter, a German piano firm, has six generations of family still in control of one of the most innovative and exciting companies of the European manufacturers, and was founded in 1819.  They make grands and specialty uprights, and anyone looking for a unique piano or a luxury piano should not overlook their enormous styling,–aided by the internationally-renowned Peter Maly whose award -winning designs for Sauter pianos are remarkable.
Peter Maly, a famous German designer, has been at the top of his field since 1970, designing furniture, trade fair architecture, photo set designs and store concepts for major companies.  Sauter Pianos has the only exclusive Maly piano designs in the world, and his characteristic concepts of combining purist design with functionality and timelessness have resulted in seven piano projects which are extraordinary. While much of his cubistic and modern lines are suitable for a contemporary room with sleek furniture and abstract art, the overall purity and simplicity of his work makes it timeless and appropriate for many other applications of interior design.
Maly has devised the lids to open like "wings" on top, allowing more projection of the beautiful sound of these pianos.  This modern classic fairly begs for a contemporary setting in its lines and lovely white color.   However the surprising appurtenance of a natural maple keyboard cover exudes style with a touch of cultured earthiness to further diversify the decorative versatility, making this milky white beauty fit and complement almost any décor, not just modern interiors. Anyone looking for white pianos will be seeking the lightness and cheer that white adds to interior design.
Maly's line of "Pure Pianos" perfectly exemplifies this.  His Pure white piano  (which is also available in black) with its opalescent satin finish has chromium plated metal accessories which are deliberately matte to retain the airy lightness of the design.
Some other  recent  Maly designs include the 48″ upright Vitrea, after the Latin word for glass, with a matt veneer of greenish glass covering the front panels of the upright cabinet, framed by thin chromium strips and the "wing" lid. Another is Rondo, an upright with elegant, soft rounded corners instead of straight lines, also with the "wing" lid design.
Sauter Concent White Upright Piano
Another upright in the Maly designs is the Concent Upright which carries the lines of the Pure White model, but with a lower price tag.  The Pure White is constructed with high-end Concert Grand piano action, whereas the Concent model contains the standard Sauter action, but which is still considered superior to most other brands of uprights. The side panels have chrome plated feet that define the style, and are accented by the clean chrome handle on the keycover and piano bench compliments.
The very finest action, soundboard and pinblocks are used, and Sauter makes its own keys. All of Sauter's pianos are fully tropicalized for humid climates.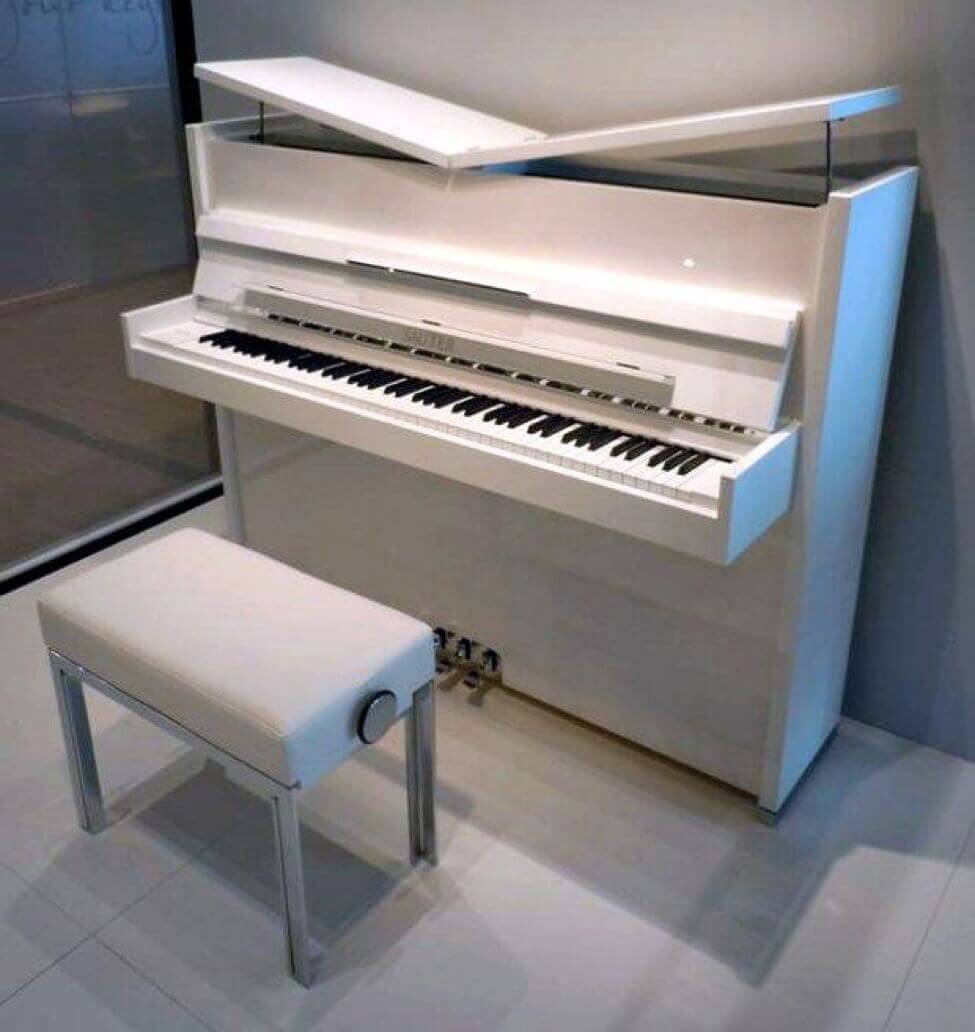 Sauter pianos are high-quality instruments with a lush, full, singing tone, closer to an "American" sound than most other European pianos.
Schimmel White Upright Piano
Schimmel, another excellent, innovative piano maker also includes a concert grand piano action in their uprights.  Among European piano manufacturers, Schimmel has been a pioneer in the use of computer-aided design and manufacturing. The Schimmel Model 116 made in Germany, is an elegant white upright that would enhance the décor of any modern setting.  The high gloss finish and clean lines have made it one of Schimmel's most highly awarded upright pianos. Schimmel is proud that it consistently integrates the construction concepts of its large Koncert Grand Piano  K-280 into its smaller models, and where possible with identical components. Schimmel produces its own piano-cabinet components and its own keyboards, which it also supplies to other German piano makers.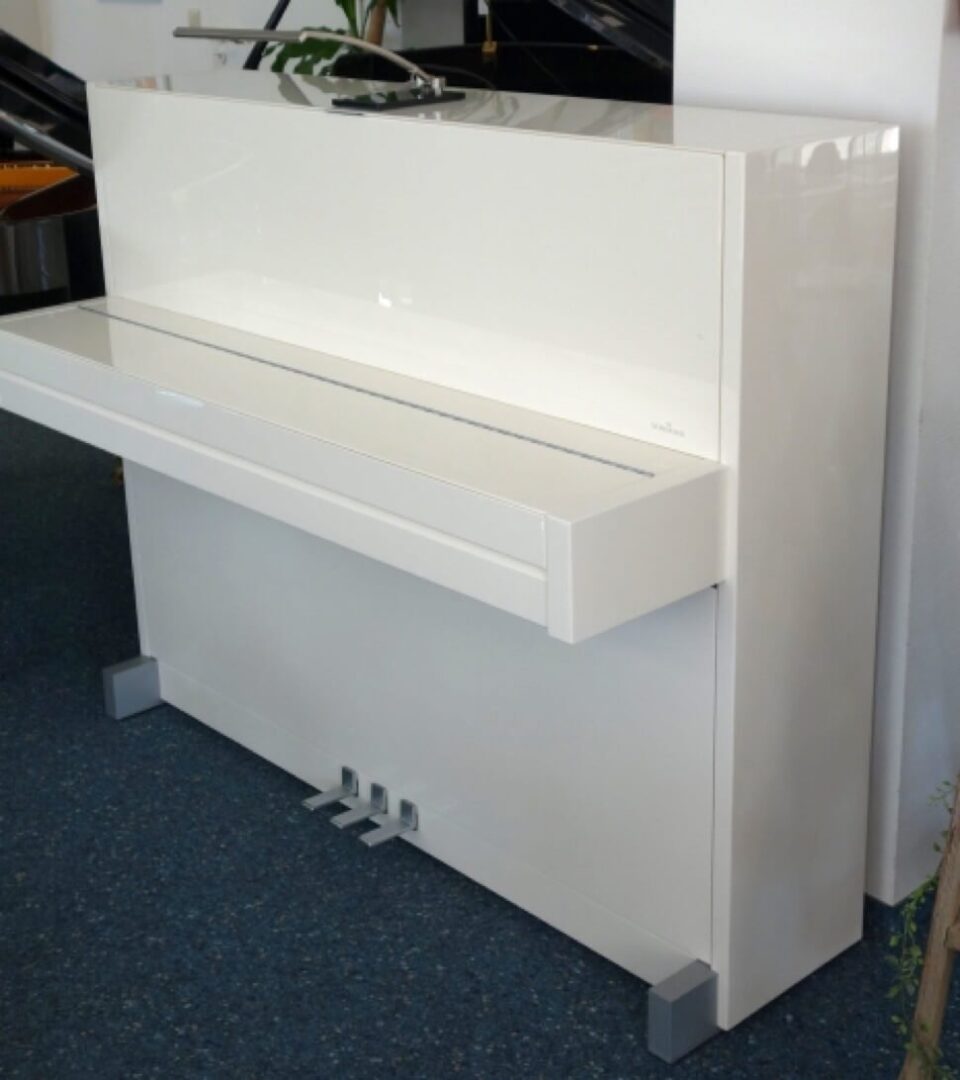 Johannes Seiler Modern White Upright Piano
Seiler, after a long history of piano making, was ultimately acquired by Samick Pianos.  But in 2013, a new Johnnnes Seiler line was introduced with its own scale design not shared by other Samick products, and carries the "Johannes Seiler" label on the fallboard. Produced entirely in an Indonesian facility, the Seiler Model 110 with its competitive pricing is another example of the sleek and beautiful light instruments on the market today which fit right into the needs of Port Royal homes and designer's portfolios.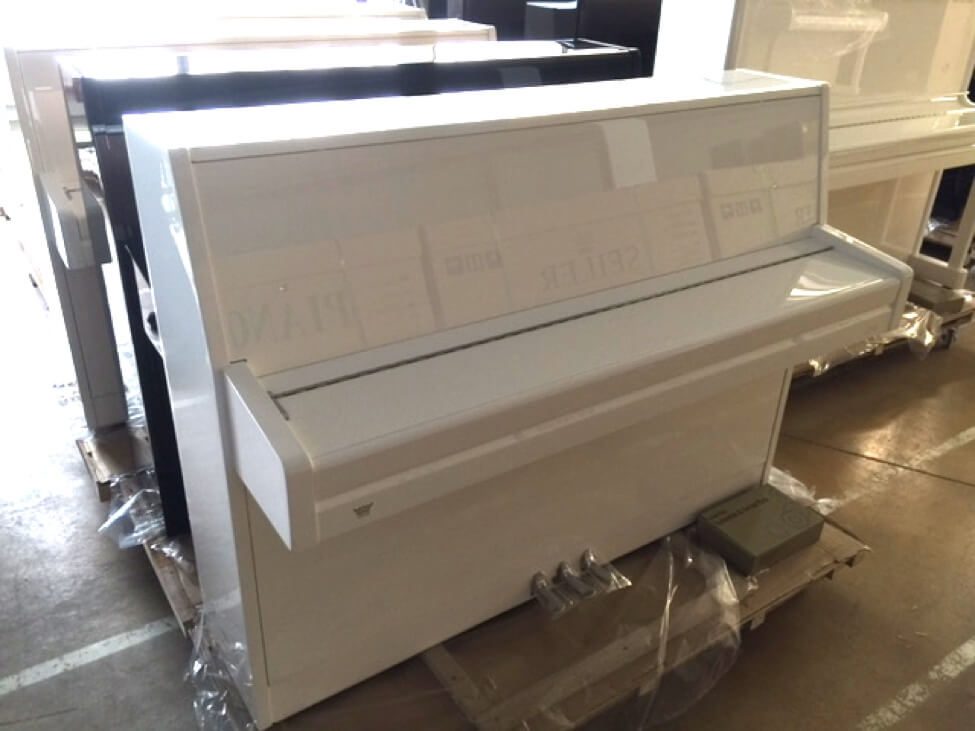 Euro Piano Naples, a world-renowned distributor of European designer pianos, has company origins dating back to 1965.  Its innovative online boutique, caters to designers and consumers seeking the best, and offers the zenith of luxury instruments, including its own newly designed acrylic piano, The Aire.  Based in Naples, Florida, Euro Pianos Naples is a community leader actively engaged in artistic and commercial affairs, sponsoring a series of grand piano concerts featuring world class pianists.