Upright pianos have stood in the shadows of the grands for many decades, but we think it's time to take another look. Uprights date back to 1805 and were sometimes called "Cottage" pianos because they took up less floor space. Lower production costs and a smaller footprint propelled the upright piano into most homes by the end of the 1800's. By the beginning of the 1900's, the vertical piano became the space-saving alternative to the grand piano. The soundboard and plane of the strings of a vertical piano run vertically, perpendicular to the keyboard, from 36" to 60", thus taking up less floor space than the horizontal grand piano.
There are four types of Vertical pianos:
Spinets are the smallest (approx. 38" tall and 58" wide);
Consoles, slightly taller than spinets (up to 43") and made with direct action for better sound;
Studio, taller still, up to 48" are used in schools and music studios
Upright (50" to 60" tall , originally "the Parlor" piano.
The action (hammer and damper mechanism) of the upright pianos differs from the grand-piano action mainly in that upright action is returned to a resting position by means of springs rather than by gravity alone, as in a grand. This, in part, accounts for the characteristic "touch" of uprights, which is distinct from that of grands. The chief advantage of upright pianos lie in their compactness; they are instruments for the home, casual commercial venues (like small restaurants and bars) and schools–not for the formal concert stage.  But that's not to say one has to give up concert performance quality.
We are in the middle of a piano revolution, and because of this renaissance in upright pianos in recent years, both in design values and technical innovations, it is useful to take a look at the BEST PIANO BRANDS.  You will see that the best uprights are now hand made for and with concert quality components. Even practice pianos for professionals need to be exemplary, and with the uprights available today, good brands offer sound quality that is comparable to  smaller grands, as well as eye appealing, beautiful upright instruments that home designers and art collectors can embrace.
It stands to reason that most of the same Top Brand piano builders who handcraft grand pianos now also produce infinitely higher quality uprights. 
We are going to look at the top 10 Best Upright Piano Brands today (alphabetical order):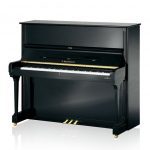 C. Bechstein Concert 8
If you wanted to buy an upright piano that epitomized the top ten, you couldn't go wrong  with  C. Bechstein's Concert 8.  Its 131 cm (51 ½ ") height provides room for a remarkable acoustic assembly similar to that of their C. Bechstein grands in the Masterpiece class. Among the features found in both the Concert 8 model and their grands are the sophisticated dynamics of a graduated and subtly colorful timbre, with optimized sound development, even further improved recently.  Such outstanding characteristics explain why several revered musical artists, including Simon & Garfunkel, Sir Simon Rattle and the Beatles, made this piano their favored working instrument. The C. Bechstein Concert 8 lays claim to the 'king of uprights'. This might not be the best upright piano for beginners because of a hefty price tag.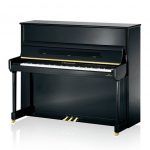 C. Bechstein  Elegance 124
But Bechstein also produces the slightly smaller Elegance 124 cm (48.8")  upright. Another professional level instrument, it has the distinctive Bechstein tone; warm, hollow and delicate, sings out beautifully on this piano.  Both models have top of the line Renner action and offer great control. It also has a lower price tag, but is favored by many for its tone.
With German origins dating back to 1853, the C. Bechstein pianos, both grands and verticals are formidable, of the highest reputation in Europe and the world.
Bechstein pianos are impeccably made and are "orchestrally" voiced, a concept that the company says is related to the change of timbre at different velocities of touch.
Warranty: 5 years, parts and labor, to original purchaser.
Price Range:
Elegance 124: $42,400 – $47,000
Concert 8 : $70,000 -$78,000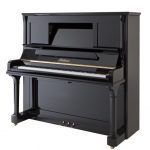 Model S
Blüthner builds approximately 100 verticals a year in four sizes, with a very full sound that is warm, romantic, and lyrical, generally deeper and darker than some of their German counterparts.   The pianos are built of superb materials, hand made and are favorably priced compared to some of their competitors.
While the dimensions of a standard full-sized upright piano have long been set across the musical world, Blüthner, always the innovator, has lengthened the height, width, and depth of the Model S instrument in a beautifully proportioned design, for a sound only comparable to the experience of a Blüthner grand piano.  145.6 cm (57 ½") Model S is best suited to a location where a large grand piano sound is required without requiring a grand piano floor-space: it is the crowning achievement of the Blüthner upright piano collection.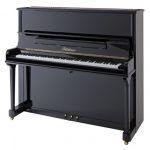 Model B
The Blüthner Model B upright while being smaller and less expensive than its S big brother, nevertheless is still in the running as a professional class upright with that remarkable rich tonal color and dynamic range that put Bluthner on the map.
Warranty: 10 years, parts and labor, to original purchaser.
Price Range:
Model S $63,600 – $85,700
Model B $47,700 – $63,900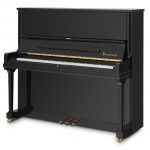 Grand Upright 130
When Bösendorfer made an upright, they made only one, and it's a doozy!  The Bösendorfer 130 upright piano surprises with subtle nuances and the powerful bass of a grand piano. Bösendorfer is renowned for their refined craftsmanship and sound philosophy, and it was transferred into upright form in this instrument. The precise action offers freedom in articulation and play with maximum controllability. The grand sound of this upright shouldn't be a surprise since the very Bösendorfer artisans who build their Imperial Concert Grands design have crafted the Bösendorfer Grand Upright 130, with nearly two centuries of sound crafting experience.
Warranty: 10 years, parts and labor, transferable to future owners within the warranty period.
Price Range:
Grand Upright 130 : $74,000 – $100,000
(choice of ebony, white or various rare woods)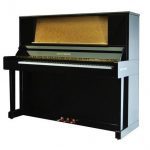 AUGUST FORSTER  134K
Even to those who have seen pianos in all shapes and sizes this is an instrument that is of large proportions, 53" x 60" x 24" and likely not for use in a small apartment.
The 134K is, however, a special instrument and is not just big for effect. This piano plays like a grand piano with an action that responds with precision and tremendous effect. The tonal qualities are superb. There is nothing run-of-the-mill about this piano and anyone wanting something distinctive need look no further. Playing an upright piano means that one has the music score lower and closer than if one were seated at a grand piano. Not here. The music desk is ingeniously designed to be adjustable both in angle and distance from the player; it is also much higher that one would normally expect.
The  53″ model 134K anniversary upright, intended for pianists who don't have space for a grand, has such grand-piano–like features as a full sostenuto; the music desk; and black keys of real ebony.
Most of the same quality of materials and workmanship that go into the Förster grands also apply to the verticals. The cabinet of the vertical is of exceptional width, with extra-thick side panels of solid-core stock. Counter bridges are used on the outside of the soundboard to increase its mass. The verticals have a full set of agraffes, and all the hardware and handmade wood parts are of elegant quality.   The verticals possess the same warm, rich, deep bass tone as the grands.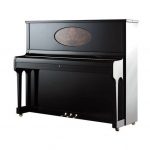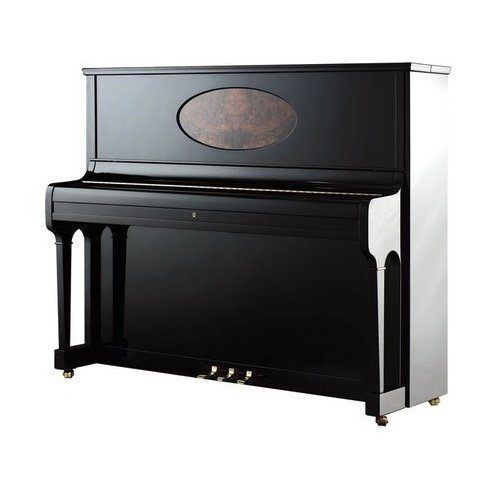 Model 125G
If the 134K is a Forester super star, their Model 125G is the darling of the professional upright world.  Considerably less expense, and smaller (46") it nonetheless carries the same hand made technical superiority of its big brother.  A best-selling upright, Forester has sold this piano as a suitable substitute for a baby grand.  It comes in choices of ebony, white and many wood cases, and this, with medallion.
Warranty: 5 Years, parts and labor, to original purchaser
Price Range:
Model 134K – $40,900 (polished ebony only)
Model 125G – $27,600 – $28,500 (choice of woods, ebony or white)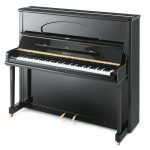 Concertino
The Concertino is a true concert upright. Designed with substantial dimensions in every respect, the case consists of high-quality woods, the top panel carries an elegant inlaid oval, the star-shaped back-frame is made of two strong layers, the bass is full and rich, and the tone in the treble lingers with a large dynamic range. The touch and repetition have been reworked recently to give an even more full and sensitive response. This piano stands alongside the very best but its price is lower than many competitors
Grotrian pianos are known for their treble's extraordinary sustaining characteristics, and have a pronounced sound of attack which is subtle and light. The tenor is darker than many other pianos, with a powerful bass.  This excellent brand is known for their unique and expressive sound.  They have been endorsed and appreciated by many famous pianists.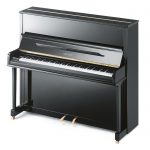 Classic 124
The Classic 124 is among the finest upright pianos. The tone is absolutely clear and refined, with a truly sculptural quality. The 124 is one of the most in-demand models produced by Grotrian-Steinweg, because an upright piano of this size already delivers excellent acoustics and a comparably large action. And yet this instrument is exceptionally versatile. The touch gives the finest response. You can control this piano, creating with dynamism and a real character in tone.
Many institutions have used the Grotrian-Steinweg Classic 124 for decades. You may imagine, therefore, how long the piano will last in private use: this is a dream upright piano for a lifetime.
Throughout the piano world, the Classic 124 model is well known for its strengths and stands as a benchmark for upright pianos in the industry, 100% made in Braunschweig, Germany.
Warranty: 5 Years parts and labor, transferable to future owners
Price Range:
Concertino $43,300 (ebony and walnut choices)
Classic Model: $34,400 – $37,100 (ebony, walnut and white choices)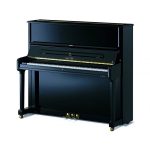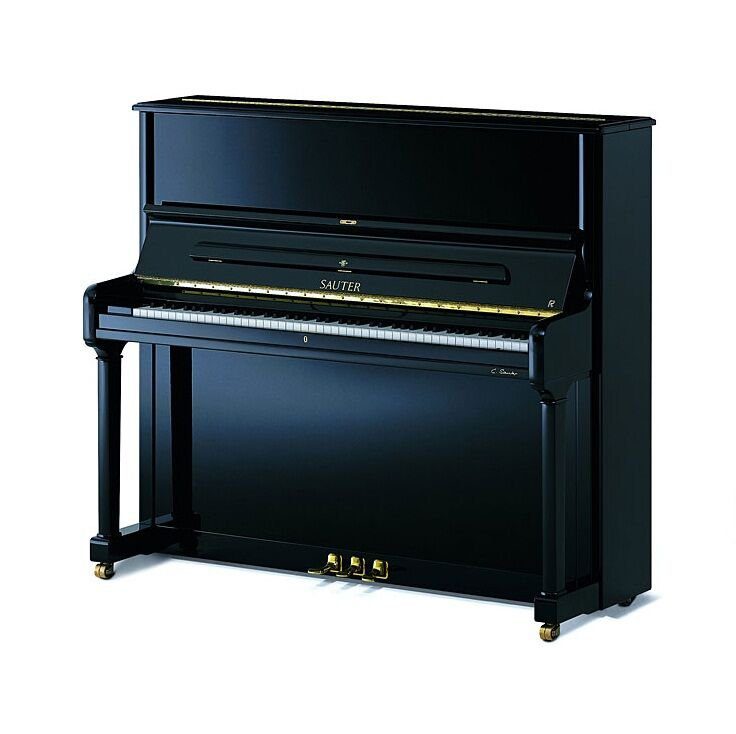 130 Master Class
Sauter produces about 800 Uprights per year (and 120 Grands) in their German factory.
The larger verticals use an action, designed and patented by Sauter, that contains an auxiliary jack spring to aid in faster repetition. Sauter calls this the R2 Double Escapement action. The added tongue-shaped spring on the jack keeps it against the butt of the hammer much like gravity does on a grand piano. Repetition is nearly instantaneous, but doesn't put any "lost motion" in the key. This makes Sauter uprights a great choice among professionals.
We heard a piano salesman say the other day, "Of those brands that build uprights, the Sauter 130 Masterclass is my favorite for quality of sound and performance. I've played some of the best uprights in the market, but to me they didn't have the depth of the Sauter 130 which is warm and lush and very bell-like."
In addition, the Sauter M-line uses Val di Fiemme spruce (of Stradivarius fame) for its sounding boards. (Fazioli uses it for their grand pianos)  The Sauter 130 Master Class instrument rates high in every comparison.  Its 51" size makes it a contender in any upright competition.
In technical terms, the uprights in the Master Class line are among the very best pianos built. They are ideal for playing demanding pieces and achieving concert-quality sound. Unique is the sostenuto pedal, which is usually only found on grand pianos. This is how these Sauter uprights achieve the tone of a grand piano.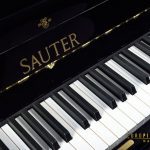 122 Master Class
The 122 Master Class is the smaller version of the Master line instruments at 48" but with the same enormous attributes. The differences between standard Sauter 122's & 130's and their Masterclass counterparts are that the Masterclass pianos have a full sostenuto, and there are other cabinet and accessory features  and detailing specific to the Masterclass (such as a built in Hygrometer to measure relative humidity) that are not available on the standard models. These (standard 48" Sauter 122's) are structurally identical otherwise. Allegedly, Steve Jobs, the founder of Apple, (who could afford whatever he wanted) purchased a standard Sauter 122 after seriously considering the Sauter 130 Master Class, Bosendorfer 130, Steinway K, Steingraeber 130, Schimmel K132, Bluthner B,  Bechstein Concert 8, and Grotrian Concertino.
Part of the Sauter 122 Standard's success is owed to the famous European designer, Peter Maly who exclusively designed cabinets for Sauter. The charm of the Maly designs put these 122's in competition with the Master Class models.
Some recent designs include the Vitrea, after the Latin word for glass, with a veneer of greenish glass covering the front of the cabinet; and Ambiente,  Concent. Sauter has won several prestigious design awards for its Peter Maly–designed pianos. The white upright pianos in particular seem to be a favorite as sophisticated additions to many modern homes and apartments.
Sauter pianos are high-quality instruments with a lush, full, singing tone, closer to an "American" sound than most other European pianos.
Warranty: 5 years, parts and labor, to original purchaser.
Price Range:
51" 130 Masterclass  $53,000 (ebony)
48" 122 Masterclass $47,000 (ebony)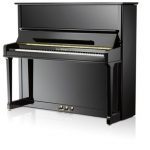 Model K132
One of Europe's most prolific piano makers, Schimmel makes about 2,500 verticals and 500 grands per year. They interpret tradition with a contemporary slant as illustrated by the K 132 Tradition which is inimitable in its combination of the traditions of German artisan piano manufacture, innovative construction and contemporary design. Schimmel's philosophy for these uprights was to design them to be as much like the grands as possible. The treble scales, in fact, are exactly the same as in the Konzert grands. (their top line).  All uprights have adjustable gliders (to adjust to unevenness in the floor) and come with a matching adjustable bench.
Schimmel has been a pioneer in the use of computer-aided design and manufacturing. The company has used its Computer Assisted Piano Engineering (CAPE) software to research, design, and implement virtually every aspect of making a piano, from keyboard layout and action geometry to soundboard acoustics and scale design. According to Schimmel, the combination of CNC machinery and handcraftsmanship leads to better results than handwork alone
The 52″ model K132, which features a grand-shaped soundboard, has a very big sound; listening to it, one might think one was in the presence of a medium-size grand.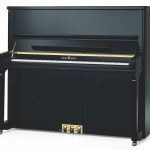 Model K125
At a smaller size (49") and slightly reduced price, the Schimmel 125 is still a lot of top line upright piano, reflecting all the expertise and high quality of the K132.
Schimmel is an interesting company that makes extraordinary pianos. Almost every concert quality brand offers a classic ebony black upright piano, but like many others, Shimmel does custom work and special edition pianos as well as modern decorative instruments, including a white upright piano which are in so much demand.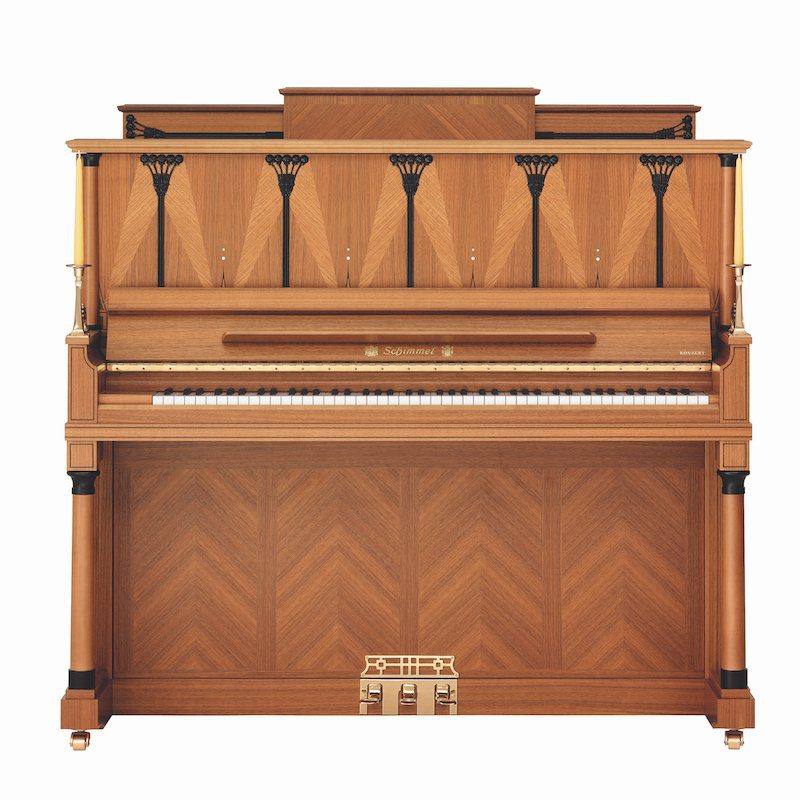 Warranty: 10 years, parts and labor, transferable to future owners within warranty period.
Price Range:
K132 52" – $43,500 – $47,600 (ebony, white, mahogany)
K125 49" – $38,000 – $42,200 (ebony, white, mahogany)
8. Steinway & Sons Pianos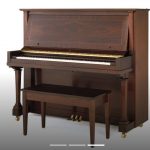 Model K52
Steinway makes only three verticals, the top being a K52 upright, a  52″ model is  an institutional cabinet for school use or less furniture-conscious home use. The middle pedal operates a sostenuto mechanism. All Steinway verticals use a solid spruce soundboard, have no particleboard, and in many other ways are similar in design, materials, and quality of workmanship to Steinway grands.
Technicians have lauded the performance of Steinway verticals, but complained that they were difficult pianos to tune and unexpectedly jumped out of tune. In recent years, Steinway has made small design changes to alleviate this problem. The pianos are now mechanically more normal stable, but an excess of false beats (tonal irregularities) still make the pianos at times difficult to tune.
The underlying excellence of the Steinway musical designs and the integrity of the construction process are the hallmarks of the iconic Steinway piano. Steinway pianos at their best have the quintessential American piano sound: a powerful bass, a resonant midrange, and a treble with tonal color.
Warranty: 5 year, parts and labor, to original purchaser
Price Ranges:
$37,600 – $43,900  (ebony, mahogany, walnut)
9. Steingraeber & Söhne Pianos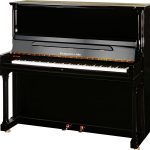 Model 130
This prestigious old  German company hand-makes less than 80 uprights per year at a factory they've occupied since 1872. Steingraeber's most successful upright, Model 130, purports to be the equivalent of buying a baby grand.  Unique to the market, it has the choice of two touches by different actions:
– 130 T PS (Professional Studio) with accelerated repetition and sostenuto pedal
– 130 T SFM (Steingraeber-Ferro-Magnet-action) with a repetition point at 1-2 mm (=8-9 mm key depth like grand pianos)
This model was awarded the 'world's best' prize for uprights in Paris. It is often chosen by music conservatories over factory-produced, studio grands, because it is technically their equal and has superior flexibility of sound.
There are options available for 3rd pedal sostenuto, chamber music dampers, veneers and colors and boutique models.
The opinion of one pianist was that if one wanted an upright somewhere in-between the Bechstein and Sauter, was that Steingraeber offered a very clean approach to sound, with more color and depth than the Bechstein, but not as warm or bell-like as Sauter.  It has a lightning quick action for an upright.
Steingraeber & Söhne 122
Model 122 is ideal for home concerts, study and serious music-making.  This model has been used on the stage of the Bayreuth Festival Theater for decades.  A particularly special feature is its auxiliary soundboard, providing for color enrichment and projection in the middle register.  Upright piano 122 T Comes with the classic Steingraeber action, and has option for colors, veneers and Art Deco available.
An interesting option on the vertical models is their "twist and change" panels: two-sided top and bottom panels, one side finished in polished ebony, the other in a two-toned combination of a wood veneer and ebony. The panels can be reversed as desired by the piano owner to match room décor, or just for a change of scenery.
Steingraeber pianos have a unique sound, and an extensive tonal palette with a mix of clarity and warmth.
Warranty: 5 years, parts and labor, transferable to future owners within the warranty period.
Price range:
130T – $55,800 – $85,000 (choices of special veneers et al)
122T – $44,000 – $74,000  (choices of special veneers et al)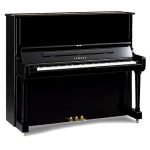 Model SU7
The flagship of Yamaha's Japanese upright models, the SU7 is handcrafted using only the finest materials, featuring a unique keyboard with the longest keysticks in Yamaha's upright series. This not only provides optimum sensitive dynamic control but allows for the maximum possible variation in tonal shading and colour. The hammers used are to the same specification as the renowned CFX concert grand, and high-quality agraffes help to offer superior sound and clarity. The back grid features a six-post design, giving additional depth and focus to the tone, as well as contributing to overall stability. The lever-operated muffler allows for quieter practice, whilst the standard sostenuto pedal lets the player rehearse grand piano damping technique.
A simple, classic cabinet in polished ebony, with concealed fall-hinges and exquisite polished mahogany interior finishing, has a three position, two-piece top lid.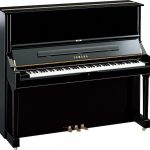 Models U3 and U1
It is sometimes said that if you're going to buy a Yamaha upright, buy the best you can afford.  But sometimes it's confusing to know the differences between uprights when the choices are myriad.  So what's the difference, for example, between a U3 and a U1 upright?
The main difference is that the U3 is 10cm taller and a little bit deeper (measuring from front to back). This gives it 3 main advantages: it can house longer strings which result in a warmer, richer sound. Also the larger cabinet of the Yamaha U3 houses a larger soundboard which is good for producing a richer, more resonant tone, and the extra space created inside the Yamaha U3 cabinet allows it to house longer keys and a taller action which gives it a touch very close to that of a grand piano.
A U1 can feel a little bit "shallow" to touch compared with the deeper, smoother, more comfortably balanced touch of the Yamaha U3. Technicians and pianists alike comment on the better level of control you can achieve with the U3 action compared with the U1. Other than that, they are equal. The build quality and component quality is equally good. The U1 is not a small piano so it does still have a good, rich tone, just not quite as rich as the U3. So if your budget will stretch, the Yamaha U3 is recommended.
The job of the soundboard is to amplify the vibrations from the strings and so each different soundboard gives each piano it's own unique "voice".
Warranty: Yamaha — 10 years, parts and labor, to original purchaser.
Price Range:
SU7 – $40,000 approx.
U1- $12,000 approx.
U3 – $15,000 approx.
Euro Pianos Naples is a respected distributor of European luxury musical instruments. The company's origin dates back to 1965. Euro Pianos represents world renowned brands such as Sauter, and it has recently become a manufacturer of its own acrylic instrument – The Aire. Apart from being a successful retailer, consultant, and entrepreneur organization, Euro Pianos is actively engaged in the artistic and community life of Naples, Florida as an organizer and supporter of musical events throughout the years.