Do you remember the last time you walked into a building and there was a beautiful grand piano sitting in the lobby, or perhaps it was featured in a lighted alcove with a comfortable sofa nearby?  It might have been playing music all by itself, with the sleek new player piano accessories that are hidden away in grand pianos these days, filling the space with delightful sound, appropriate to the venue.  It gave you a feeling of warmth and welcome, did it not? Combining the art case of a grand piano with the allure of music is one of the best welcome signs an enterprise could offer.
Hotels and condominiums have been using luxury pianos in their lobbies for decades.  All over the world, the touch of elegance has caught on. The H10 Timanfaya Palace Hotel in Spain is an example of classy Mediterranean ambiance.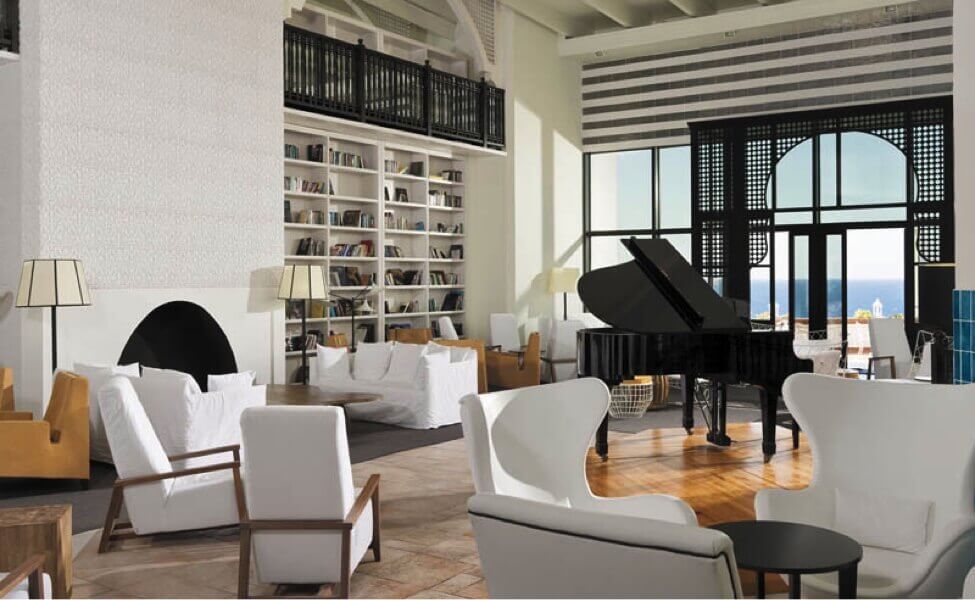 When hotels offer comfortable common area spaces for their clientele, whether to socialize or do business, the memories linger when the next trip is planned, so such lobbies are a good investment.
The Westbury Hotel in Dublin uses a grand piano, mirror and vase to make a formal, artistic statement.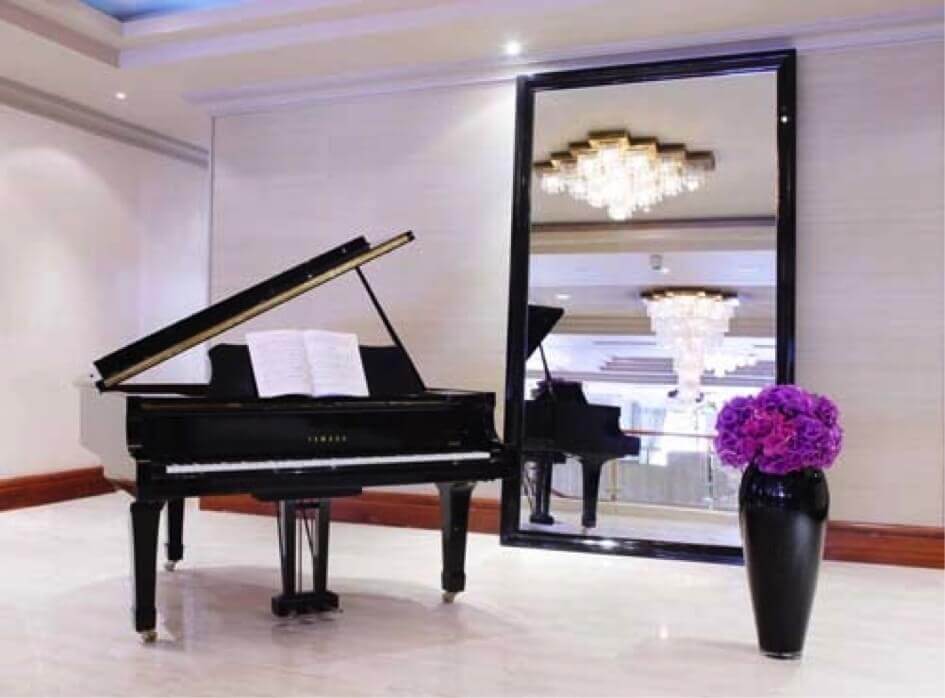 Never before have there been such cool pianos available on the marketplace.  For the discerning hotelier or architects of public spaces, the decorator pianos of today can be ordered to almost any creative specifications.
As an example, a custom order white Fazioli F212, with intricate walnut inlays on the underside of the lid, was installed at the Fairmont Pacific Rim Hotel in Vancouver.  The unusual piano design echoed the 180 foot origami statue by Joseph Wu jutting into the hotel lobby.  The piano is well used for jazz brunches, nightly entertainment, and weekly soloists.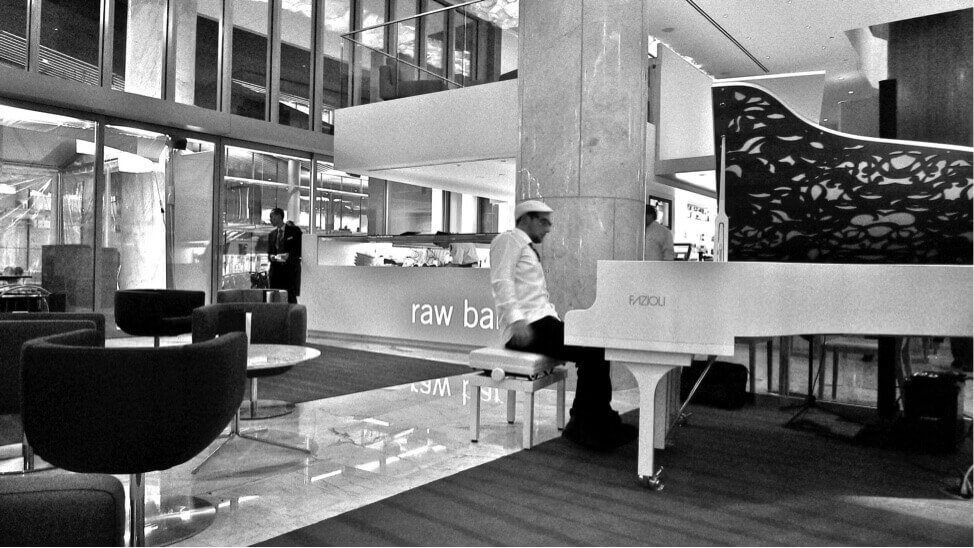 At the Fazioli factory in Sacile, Italy, the inlays for the White F212 are handmade like all Fazioli instruments. Fazioli loves to match their decorated pianos art with the client's desires.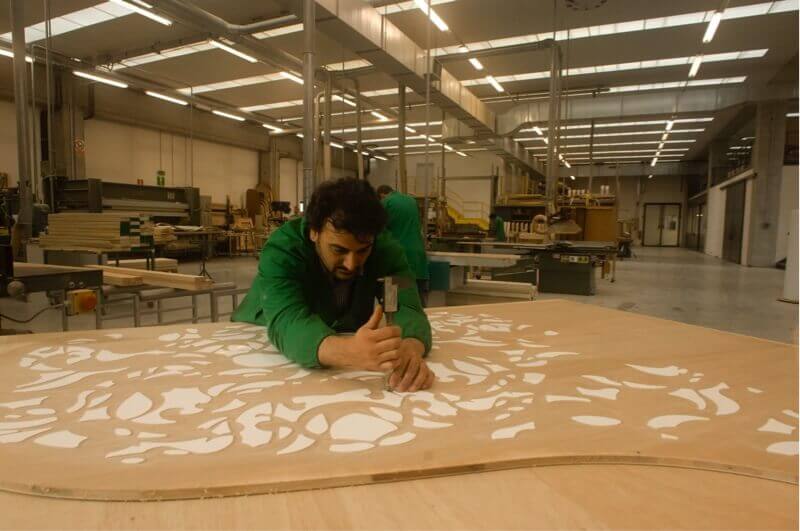 The incredible Fairmont Baku Flame Towers Hotel in Azerbaijan has installed a magnificent Fazioli model M. Liminal grand piano in their Nur Cocktail Lounge, a statement of ultimate elegance: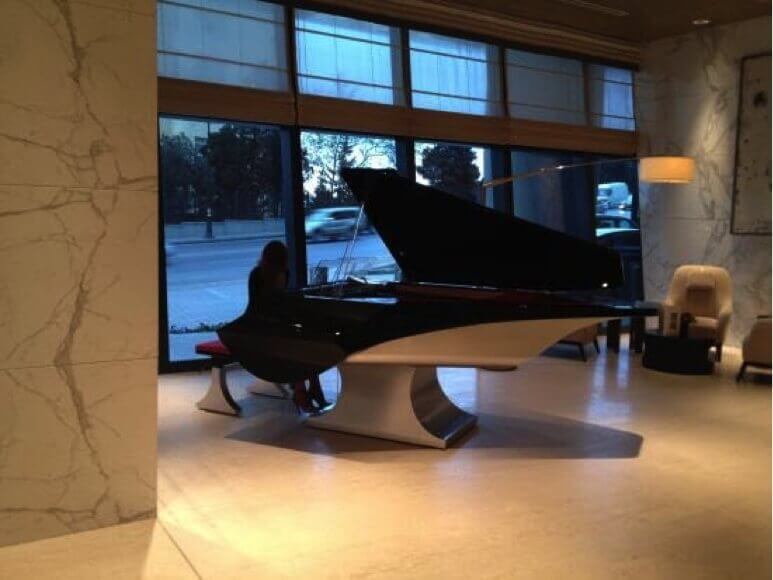 Closer to home, the Delano Hotel in Miami, Florida  showcases a Schimmel Glass Piano which is one of the most expensive of the transparent piano products.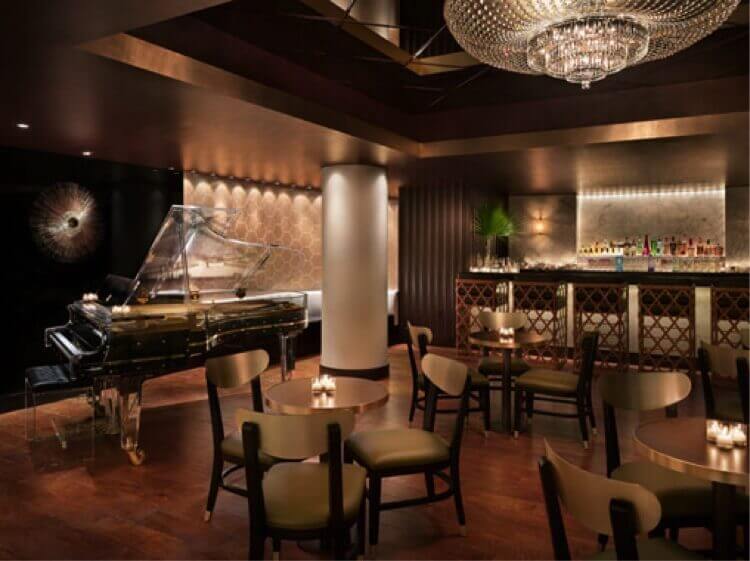 This is a great example of how the glass piano décor highlights the chandelier and "crystal" décor of this lounge.
With a little imagination, every luxury condominium and hotel can have a piano that reflects its tastes, its character and the tone of its clientele. Everything from gorgeous handmade Faziolis in every imaginable art case (please see the blog articles: Exotic Woods  and Most Extraordinary Pianos in the World for a few examples).
Other buildings are taking their cue from hotels.  In Vancouver, the TELUS Office Tower with its architectural V designs wanted a piano to compliment Hernandez's inspirations, and their one of a kind piano Telus Model did just that.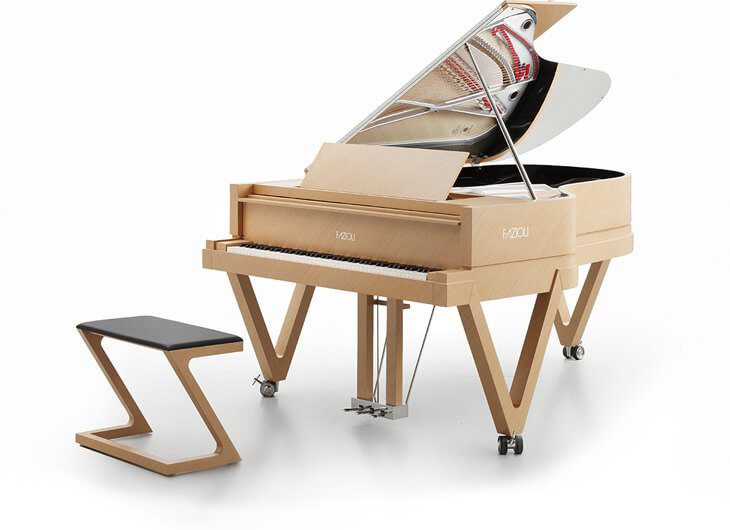 In the same way, Citibank's Plaza Lobby in Hong Kong decided that a piano was just the thing for their customers, with a stage built for events and exciting attractions.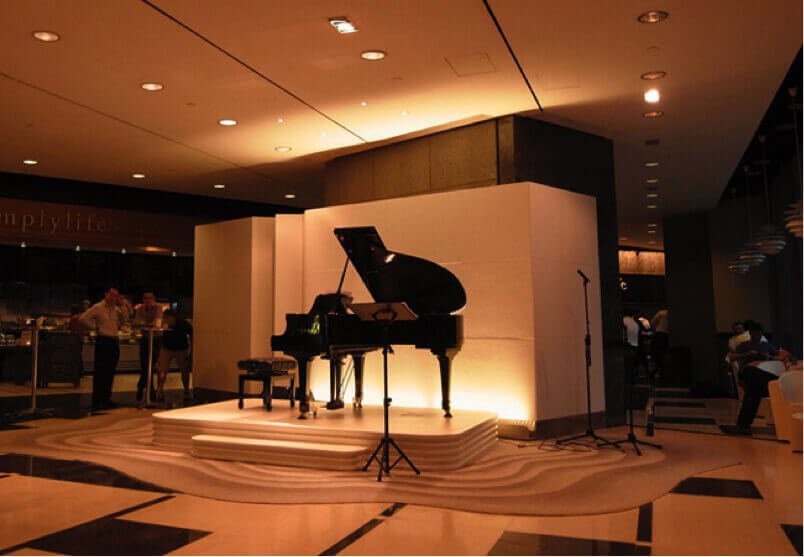 Euro Pianos Naples specializes in bespoke pianos and is especially interested in working in consultation with builders, designers, hoteliers, and condominium associations.  Because we are the only Fazioli representative in the state of Florida, we are a perfect pairing for Miami/Naples hotel lines, as well as the many, many Florida high rises and luxury suites up and down both coasts.
Euro Pianos designed the latest addition to our list of high-quality instruments, The Aire, which is an affordable transparent piano created for just this market.  At 4'11" it is small enough for the most modest lobbies, but has enough pizzazz to give the kind of knockout effect that acrylic luxury pianos provide. The Aire™ is available in white, black and fire engine red, as well as special order colors like the silver below. For more details see Euro Pianos New Aire™ acrylic piano.
Euro Pianos Naples is a respected distributor of European luxury musical instruments. The company's origin dates back to 1965. Euro Pianos represents world renowned brands such as Sauter, and it has recently become a manufacturer of its own acrylic instrument – The Aire. Apart from being a successful retailer, consultant, and entrepreneur organization, Euro Pianos is actively engaged in the artistic and community life of Naples, Florida as an organizer and supporter of musical events throughout the years.