One of the many tragic stories of the entertainment industry is the short life of megastar pop icon singer, Whitney Houston. God-daughter of Aretha Franklin, daughter of gospel singer Cissy Houston and first cousin of Dionne Warwick, Whitney, at the age of nineteen, signed with Clive Davis of Arista Records, and sold 12 million copies of her first album with him.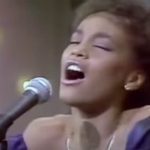 The rest is history. She went on to win six Grammys and countless other major awards. The album of her 1992 film "The Bodyguard," sold 44 million copies. Despite the film's mixed reviews, it was hugely successful, grossing more than $121 million in the U.S. and $410 million worldwide, making it one of the top 100 grossing films at the time. The film's soundtrack also Houston executive-produced and contributed six songs for the soundtrack album with the lead single being "I Will Always Love You", written and originally recorded by Dolly Parton in 1974. It was so successful it became Houston's signature song. The single peaked at number one on all the major charts for weeks and was certified  platinum and became the best-selling single of all time by a female solo artist, selling 20 million copies. Houston won three Grammys for the album in 1994, and a multitude of other awards, by the Academy, American Music Awards, Billboard, Soul Train Music and many more. 
Houston and boyfriend Bobby Brown married in 1992 and had their daughter in 1993.
Embarking on another expansive global tour, The Bodyguard World Tour, in 1993–94, her concerts, movie, and recording grosses made her the third highest-earning female entertainer of 1993–94,  just behind Oprah Winfrey and Barbra Streisand according to Forbes magazine.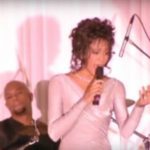 At the end of her world tour, Houston performed three concerts in South Africa to honor President Mandela, playing to over 200,000 people; this made her the first major musician to visit the newly unified and apartheid free nation following Mandela's winning election. The proceeds of the concert were donated to South African charities. Broadcast live on HBO, the event was so big it was compared to the inauguration of Nelson Mandela.
Between 1995 and 1997, Houston focused on three more films, "Waiting to Exhale", "The Preacher's Wife" and "Cinderella," and their soundtrack albums. That was followed by two years of successful singles and mega-successful The Greatest Hits platinum album, selling 10 million worldwide.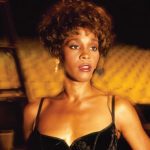 At the peak of her international success, she owned a 12,000 sq. ft. mansion with five-bedrooms and four baths in New Jersey, with a six-car garage, exquisitely furnished. Her favorite piano was said to be a bespoke transparent baby grand, built especially for her by Schimmel, the high-end German piano builder. She had a glass coffee table and chairs made to match the beautiful Plexiglas instrument.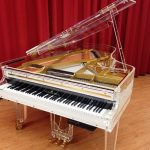 World renowned piano maker Schimmel today offers a line of excellent pianos in a range of models with wood cases in traditional ebony finish and some choices of other colors and woods. It makes only one standard acrylic piano. On today's market, its one Glas Clear model sells for between $250K and $325K.  It should be noted that this is the only acrylic piano that Schimmel makes, unlike German competitor Bluthner who has an entire line of see-through Lucid pianos in a range of traditional to futuristic designs. At the time Houston special ordered her piano, it would have most likely cost a great deal more for Schimmel to build, perhaps close to a half million dollars.
Houston's private life and marriage sadly became involved in drugs and domestic violence early in the 2000's and she divorced the by-then-infamous Bobby Brown in 2007. Her life had spiraled down, and she was allegedly unable to pay $175,000 in storage fees accruing unpaid since 2005 for several tons of concert gear, and was sued. She lost and was forced by the order of the New Jersey Superior Court to pay up. She had to auction off over 400 of her personal belongings, including piles of famous-designer gowns, sequined costumes, her favorite chair, and sixteen of Bobby Brown's musical awards. Other less star-studded things were up for sale including a fork lift, records, a coffee maker and even a small traveling vanity full of Houston's personal items like a disposable razor, a bottle of Gatorade, and herbal tea. (the vanity sold for $550). Her Yamaha piano sold for $12,000. Minutes later, the highlight of the auction was sold, the custom-made, Schimmel see-through piano for $20,000. A reporter from the New York Post who was present said it was purchased by a Mississippi antiques dealer wearing snakeskin boots with all of that cash carried in a plastic bag.
There was more to this collector however than a lot of people saw.
The really sad report from this auction transaction was a remark allegedly made by a man who played the Schimmel before the auction, trying it out. He nearly cried and said to a fellow shopper beside him, "How can you neglect something like this?" As any pianist knows, acoustic pianos must be regularly maintained in order to retain their value, tone and even improve with age. This Schimmel had apparently taken the same downfall as its owner and sat at auction in sad disrepair.
The other man, standing by the matching coffee table also up for sale, responded, "How about this glass table?  I wonder how many lines they cut on that?"
In 2010, Whitney Houston cut short a tour. It was determined that she had damaged her voice by smoking. In 2012 she was tragically found dead at the age of 48. There are different accounts of her death, drowning in her bathtub, but none are thought to be foul play. Drug paraphernalia was found, and one forensic pathologist is quoted as saying, "I think that this lady fell into the water, and she was unconscious, dead or dying when she fell into the tub."
It's a tragic ending to the life of a true talent and her passing was mourned worldwide.
Her Schimmel and its tufted matching piano bench was back on auction in 2017.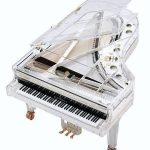 The auction house advertised it with this copy: "one of the most valuable pianos in the entire world, a true masterpiece. This piece comes from the collection of "Treasure King" Richie Marcello. Larger-than-life collector Richie Marcello scours the globe to buy and sell some of the world's most highly sought- after museum-caliber treasures and rare Hollywood memorabilia many believed to be lost forever. Marcello has been featured on REELZ in his own television show, as well as other television shows. The Schimmel piano was featured on the TV show "Beverly Hills Pawn" that is on the REELZ channel. Yosi Dina, the pawnshop owner offered $500,000 for the piano, and Marcello did not make a deal with him on the show, as he wishes to try his chances at auction."  The auction house valued it at $2Mill and up.
Apparently, Marcello didn't find a buyer at the 2017 auction. When researching "Treasure King", a website turns up. And it's Richie Marcello, all right. He proclaims 30,000 sq. ft. museum of treasures, with accompanied videos. He has galleries, film stages, and treasures exhibited in Las Vegas.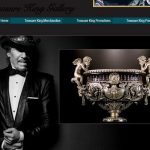 Clicking through Marcello's many ventures, an enterprise called LA Film Stage is found, which is a production stage where, front and center, Houston's crystal Schimmel is featured.  In this photo Mike Beardon (yes, that Mike Beardon, the director of Michael Jackson and Lady Gaga fame) is sitting at it!  Artists and filmmakers can rent this state of the art sound and video stage for projects.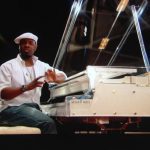 So perhaps, unlike Whitney Houston, the Schimmel transparent piano has found a new life.  A fresh start with its new owner.and is not for sale at all.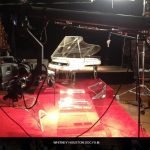 But Euro Pianos Naples can find a crystal piano for you. See our beautiful baby grand Aire or any of the Bluthner models on our website.  We promise they offer an exciting new beginning, with no sad history, and stand as beautiful icons in their own right.