It may be true that the great concert halls of the world favor their concert grand pianos in traditional ebony color regardless of brand, but that is where tradition ends.
It may also be true that during the era when the parlors of the middle class and children's school began to fill with uprights and small grands, the typical piano color was brown.  It was simply the economic result of mass-production by manufacturers like Steinway where uniformity saved dollars.
But what is also true is that for the pure aesthetics of décor, status and beauty, the white piano has forever held its own.
Historically, before the marketing and newspaper advertisements were everywhere, people either went to a piano store to buy a piano, or  if they had the money for customization and real luxury designs, they likely went directly to the designer and manufacturer.  It is hard to imagine that a white grand piano like the one above would be found in a piano store.   Even replicas of those old fabulous designer pianos are hard to find these days.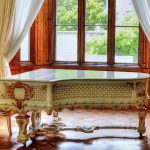 Even the old white uprights had panache and individualism that made the brown pianos of the day look dull in comparison.  So Style was a major inducement for piano makers to create white instruments in historic times, as it is today.  White pianos just have a kind of magical influence on people whose visual and aesthetic senses are stimulated by the unusual, the creative and the dramatic.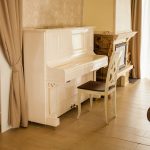 There are, of course, designer tricks in decorating rooms. White is "lighter" in more ways than color. A big black or brown piano sitting in a small room or a light-colored room is likely to suck the life out of the décor. Imagine a room like this with a black baby grand.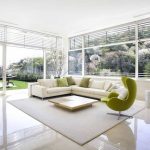 The contemporary homes of today are often designed around lightness, glass and airy concepts. Sometimes a white piano is the only logical choice for a space.
Not everyone decides on a slick contemporary home.  Tradition is still very much alive in modern life.  But even people who decorate with an eye to vintage and traditional values often chose white for its appeal and charm, like this white upright and a traditional baby grand.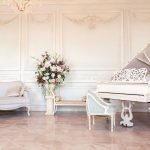 There has been a renaissance in the piano industry in the last couple of decades.  New brands and new technology (a very rare event in pianos) have created a competitive market that has had to produce products that offer more than the old brown piano, even in the economy market.
Marilyn Monroe had a white piano which was purchased at Christie's in 1999 by Mariah Carey. Elvis Presley and John Lennon also enjoyed white pianos.  Designers like Adalene Keeler Smith, AMI Designs, and Sara Hopkins, and many others have found that their modern clients needed the lighter touch and have commissioned white instruments with terrific results.  Today, some of the most attractive pianos on the market are white and lend themselves to space saving, luxuriously modern settings, pulling together contemporary design and clean lines.
If you're looking for a white piano for sale, look no further.  Euro Pianos Naples loves the look of white and uses it in their own baby grand.  Whether it's a white upright piano, a white baby grand piano or a white grand piano for sale, we can consult with you, and steer you to the best in design, performance and price.
The white uprights today also have more charm and innovative styling than ever before.
Sauter, a German piano firm, of one of the most innovative companies of the European piano builders, has six generations of family still in control   They make grands and specialty uprights, and they carry many white unique pianos, with extra special styling.
The internationally-renowned Peter Maly has been famous since 1970, designing furniture, trade fair architecture, photo set designs and store concepts for major companies. He was commissioned exclusively by Sauter pianos and his characteristic concepts of combining purist design with functionality and timelessness have resulted in piano projects which are extraordinary. While much of his cubistic and modern lines lend themselves to contemporary rooms with modern furniture and abstract art, the designs are so pure and simple that they are timeless and could be applied to all kinds of interior design ideas.
The lids of Maly's uprights open like "wings" on top, allowing the sound to project. While this classic totally suits a contemporary setting, the additional of a natural maple keyboard cover offers a touch of cultured earthiness to further diversify the decorative versatility, making it fit and complement almost any décor, not just modern interiors. Anyone seeking a piano  will love the lightness and joy  that white adds to interior design.
Maly's line of "Pure Pianos" are very special. His Pure white piano  has opalescent satin finish and chromium plated accessories which are deliberately matte to sustain the airiness of the design.
Another white upright designed by Peter Maly is the Concent which replicates the lines of the Pure White model, but with a lower price tag.  The Pure White is constructed with high-end piano action like a Concert Grand, whereas the Concent model has the standard Sauter action, but is still considered superior to most other brands of uprights. The side panels carry chrome plated feet that complete the style, and accent the clean chrome handle on the keycover and piano bench as well.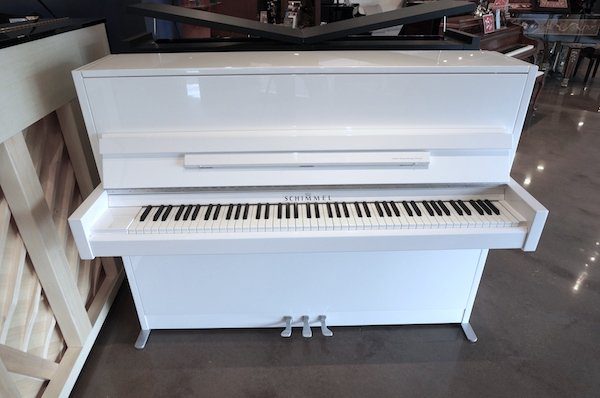 And while we're talking about uprights, Schimmel, another excellent German piano maker also puts a concert grand piano action in their uprights.  Among European piano manufacturers, Schimmel has been a pioneer in the use of computer-aided design and manufacturing. The Schimmel Model i115 made in Germany, is an elegant white upright that would look stately in almost any room  The high gloss finish and clean lines have won awards for Schimmel's upright pianos. Schimmel is proud that it consistently includes the construction  ideas of its large Koncert Grand Piano  K-280 into its smaller models, and where possible, uses identical components. Schimmel makes its own piano-cabinet components and   keyboards. They also supply them to other German piano makers.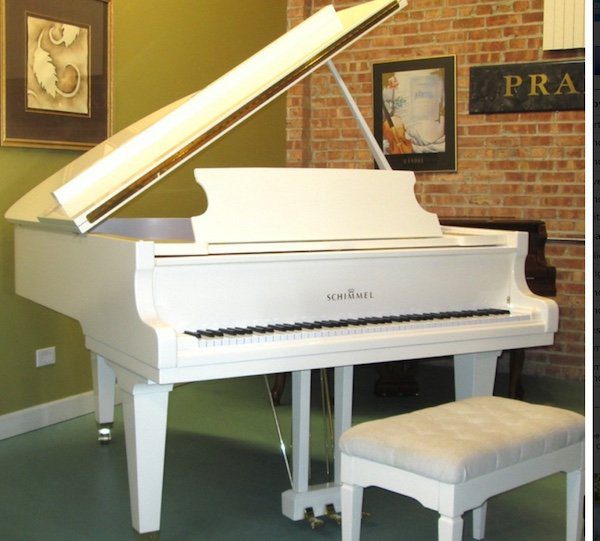 While we're on the subject of Schimmel, here's their white polish baby grand whose elegance would fit in any kind of décor. Schimmel pianos are manufactured exclusively in Braunschweig, Germany. Schimmel is known for its advancements in the technology of the piano-building process using. Computer Assisted Piano Engineering (CAPE) software.  Their engineers can design each part of the piano because Schimmel believes in carefully controlling each piece of their designs. As a result the piano-cabinet components and keyboard of each piano are exclusively produced in the Schimmel factory. The detailing and balance between traditional craftsmanship and modern technology is the reason that the brand name Schimmel always enjoys a worldwide excellent reputation.  If you like Schimmel as a brand, it's also refreshing to know that you can get almost any of their models, except for a few Concert Grands, in white polish finish. They know it's a mainstay in designer pianos.
When shopping for white pianos, don't be discouraged. It is still common for manufacturers to advertise photos of pianos in traditional black ebony, so photos of white pianos are not as easily found, but many, many grand piano models can be purchased in white polish, regardless of the brand.  Just check out the color choices as you check out models or call us and we can do the footwork for you.
Along with white pianos, acrylic pianos have recently become the other modern innovation in pianos, serving the same purpose of  "lightening up" the contemporary designs in today's homes. The white model of The Aire™ acrylic piano is particularly suited to 21st Century designers and to bring an affordable transparent piano to the marketplace required a lot of research into acrylic manufacturers, and modestly priced piano parts.  Sunny Reuter of Euro Pianos pulled together a team of engineering and design specialists  to create the semi-transparent Euro Pianos baby grand "The Aire."
The standard 5'3" polished-wood piano case can be ordered in black, white, mahogany and walnut colors – glossy or matte finish — and every Aire™ model has beautiful acrylic legs, lid, lyre, key cover and music stand.   The clear elements make the piano look as if it's floating on air, thus the name designated for this little beauty.
The Asian-made piano parts are the highest quality available on the market in the economy class of instruments. Warranty and service from Euro Pianos is unsurpassed, and the buyer can be assured of quality performance to suit home pianists and students alike.
Just by some subtle changes in color, size and finish, one baby grand can create dozens of different ambiances from Hollywood Zing to Classic Modern.
Euro Pianos Naples is a respected distributor of European luxury musical instruments. The company's origin dates back to 1965. Euro Pianos represents world renowned brands such as Sauter, and it has recently become a manufacturer of its own acrylic instrument – The Aire. Apart from being a successful retailer, consultant, and entrepreneur organization, Euro Pianos is actively engaged in the artistic and community life of Naples, Florida as an organizer and supporter of musical events throughout the years.