Blüthner, a privately-owned family business, has been making pianos of the highest quality in Leipzig, Germany, since 1853. and today boasts the world's most extensive selection of transparent "Lucid" grand pianos. When you think of the brown Steinway piano tradition, it is clear that pianos have evolved to stunning new choices.
The Lucid piano is realized in reinforced Plexiglass exposing the beauty of what's within. Customizable with different veneers and iron frame coatings, the look of the Blüthner Lucid Elegance is born of the client's desires and imagination. From ebony or exotic burl veneers on the side panels to rose gold or chrome finish of the frame the semi-transparent instrument can be uniquely designed. The addition of LED illumination of the inner and outer rim of the piano case will add a touch a magic and transform your interior into real-life Neverland. Bluthner Lucid is where tradition and know-how of piano-making meet the vision of the future using new materials and latest technologies to make what seemed impossible just yesterday a beguiling reality of today.
Until 1900, Blüthner was Europe's largest piano factory. During World War II, the factory was bombed, but after the war the East German government allowed the Blüthner family and workers to rebuild it because the Blüthner piano was considered a national treasure (and because the Soviet Union needed quality pianos).
Blüthner pianos have beech rims (grands), solid spruce soundboards, Delignit pinblocks, Renner actions, Abel hammers, and polyester finishes. Pianos for export have three pedals, including sostenuto on the grands, and celeste (practice) on the verticals. Blüthner builds about 100 verticals a year in four sizes, and 500 grands a year in six sizes.
Blüthner pianos incorporate several unique technical features. With aliquot stringing, the notes in the highest treble section (about the top two octaves) have four strings each instead of three. The extra string is raised slightly above the others and vibrates only sympathetically. The effect, heard mainly in medium to forte playing, is similar to that of a duplex scale, adding tonal color to the treble and aiding the singing tone.
In what may have been a world's first, Blüthner designed a piano for left-handed pianists. This is a completely backward piano, with the treble keys, hammers, and strings on the left and the bass on the right. When it was introduced, a pianist gave a concert on it after only a couple of hours of practice! It is currently available in the 6′ 10″ and 9′ 2″ sizes by special order.
With voicing, Blüthner pianos have a very full sound that is warm, romantic, and lyrical, generally deeper and darker than some of their German counterparts. Sustain is good, but at a low level of volume, giving the tone a refined, delicate character. The action is a little light, but responsive. The pianos are built of superb materials, and are favorably priced compared to some of their competitors.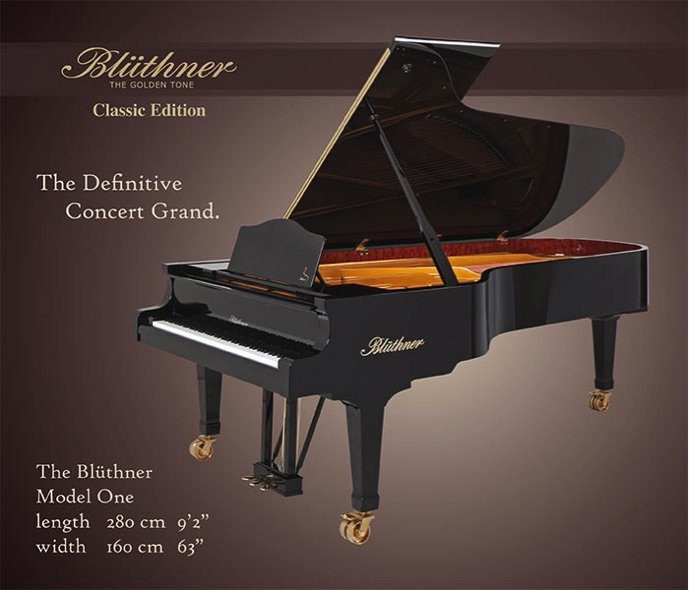 Blüthner also owns the Irmler brand and the Rönisch and Hupfeld brands.
Warranty: Blüthner and Haessler — 10 years, parts and labor, to original purchaser.
See Series Of Blog Posts For More Highest Quality/Prestige Pianos
Euro Pianos Naples is a respected distributor of European luxury musical instruments. The company's origin dates back to 1965. Euro Pianos represents world renowned brands such as Sauter, and it has recently become a manufacturer of its own acrylic instrument – The Aire. Apart from being a successful retailer, consultant, and entrepreneur organization, Euro Pianos is actively engaged in the artistic and community life of Naples, Florida as an organizer and supporter of musical events throughout the years.