When you find a piano that looks as amazing as a Boganyi Grand, you can't help wondering about its origins, its creator and its significance in the piano world. To take in the swooping curves and sleek cantilevered body and pedestal is to recognize a new level of design in an instrument that has had very little design changes since the days of the harpsichord.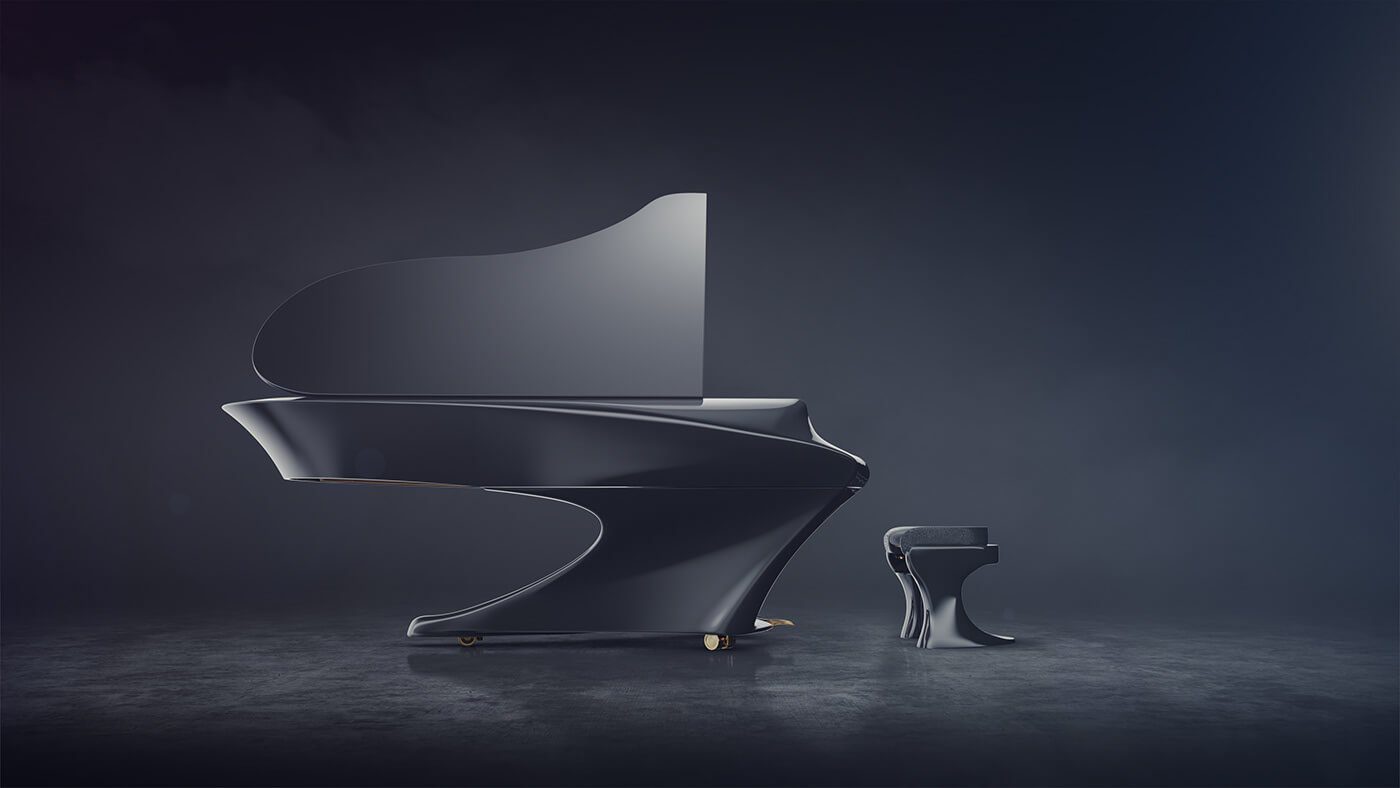 Its creator is Gergely Bogányi, a world renowned Hungarian pianist who was one of the youngest competitors to have won the Kossuth Prize in 2004, the most prestigious cultural award in Hungary. Born into a musical family in 1974, Gergely Boganyi was raised to be a concert pianist, and began amassing awards at an early age. At 19, he won Chopin and Mozart competitions in Budapest; at 20, the piano competition at Indiana University-Bloomington; at 22, he won the International Franz Liszt competition in Budapest, and was titled a "Citizen of Honor" in his hometown of Vac, Hungary. Bogányi performed concerts with the London Philharmonic Orchestra in 2004. In November 2010, he performed for two consecutive nights the entire piano production of Frédéric Chopin in Budapest.
Besides his virtuoso performances, Bogányi quickly became known for his revolutionary piano designs. He not only wanted to change the look of the instrument, but in the tradition of an architectural maxim by Louis Sullivan, that "form follows function," Boganyi also desired to enhance the performance sound quality of a grand piano and using a bold design to enhance it. He had a sound in his head that existing pianos couldn't produce, so in the search for better sound, he had to rethink the shape, the spatial aspects and aesthetics which resulted in a simultaneous visual piece of art.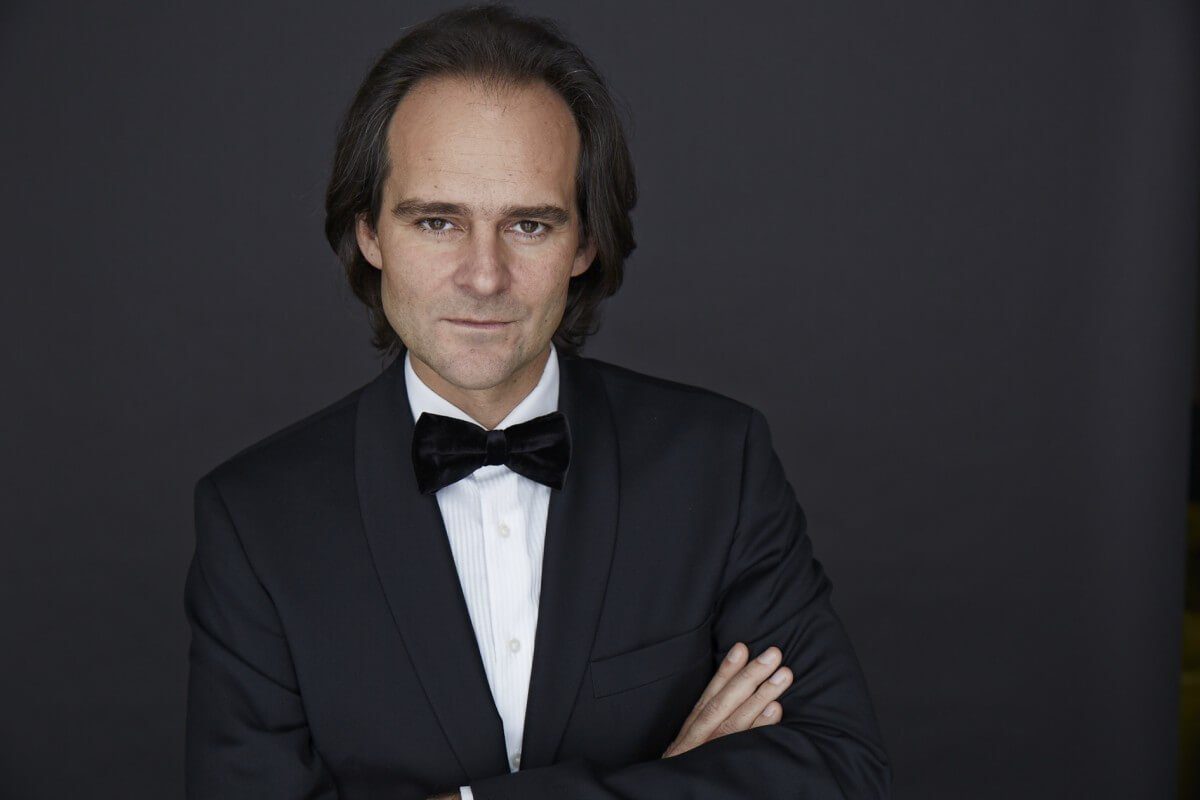 In order to accomplish this, he collaborated with many technicians over decades and assembled a masterful team. Eventually he found success with a Hungarian industrial designer, Peter Uyeges, who had experience with stringed instruments, designing unique electric guitars, and Uyeges employed the same work ethic and concepts Boganyi embraced. Uyeges's designs brought years of research and work to life with the astounding shape and sound concepts of the Boganyi piano.
In order to support the enhanced sound in stability and design, a new cast-iron frame unique to its kind, had to be developed. The crimson red of the cast-iron plate is now their trademark, a tribute to brave and innovative solutions. The plate not only easily holds the 21 tons of string tension, but realizes their philosophy of functionality and power being in harmony with design.
Believing that the soundboard is the soul of a grand piano, they further enlarged the Boganyi soundboard and proportioned it for more power and roundness in the desired tone.
"We experimented through some 8,000 engineering hours with modern materials, particularly with the soundboard, searching for new technical solutions, constantly analyzing the derived new specter of sound," said Bogányi. The soundboard was designed to be more resistant to environmental conditions such as humidity or dryness, so the instrument will hold its tuning longer.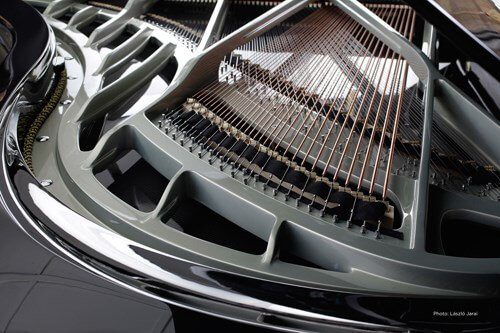 The soundboard is only one of the many crucial design changes on the Bogányi piano. The agraffes – the links between the keys and the soundboard – were redesigned to create almost zero friction; the frame above the soundboard was reshaped in special cast iron; and the traditional three legs were ditched in favor of two curved legs that project sound towards the audience. The construction technology for the rest of the composite elements had to be modified to fit the demands of the enlarged body, using modern materials with a carbon fibre action custom designed by Wessell, Nickel & Gross, innovators in moving from wood to composite materials in their manufacture of piano parts. Boganyi's piano keys were made from original materials.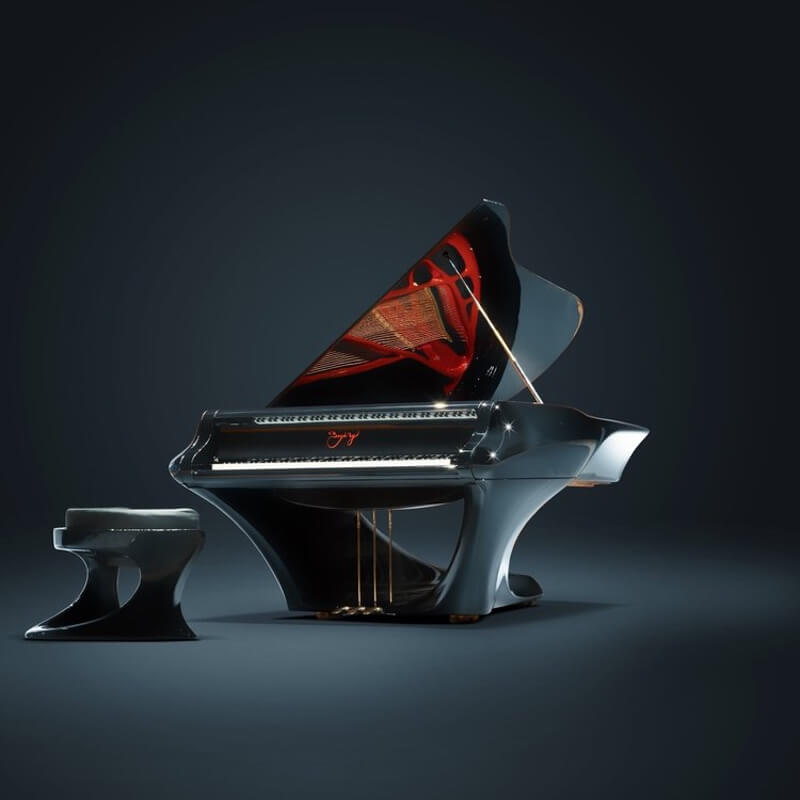 In 2015 the revolutionary new Boyanyi piano, the Prestige model B-262 was introduced to tentative reviews. Would this spectacular instrument be a flash in the pan anomaly or be a true contender among the Fazioli and Steinway lovers?
In honor of Finland's 100thyear of independence, the country of Hungary presented a gift of the sleek, futuristic Boganyi piano to the country of Finland – where Gergely Boganyi had spent part of his youth, and studied music at the Sibelius Academy. The new instrument is housed at the academy in Helsinki.
It didn't take long for the breathtaking, floating design with the crystal clear and longer lasting sound to gain a great international reputation and be added to the traditional grand piano heritage.  
Tamás Horváth, a sound engineer at Bartók Rádió, said of the instrument: "I can certainly say it has a unique tone, this is characteristic of all great pianos, such as Steinway, or Bösendorfer – they all have a specific sound." Horváth added that the Bogányi had "a great sound for jazz pieces".
Gerald Clayton, a four-time Grammy award-winning UK pianist who performed at the piano's debut concert, has had more playing time on the Bogányi than most remarked.
 "It feels like you are in a spaceship, like you are hovering above gravity," he said. "When you play a lot of notes, or you play a chord, the sensation is different. It's super-clear."
With a sales price of over 300,000 Euros, sales were not brisk however.
Nevertheless, research  and development continued for another ten years.  Building on the B-262 model, the next edition is a full concert grand with a whopping 9'7" length and 6'2" width, the Grand Prestige B-292, their flagship model with an entirely new dimension of sound improvements and design elements.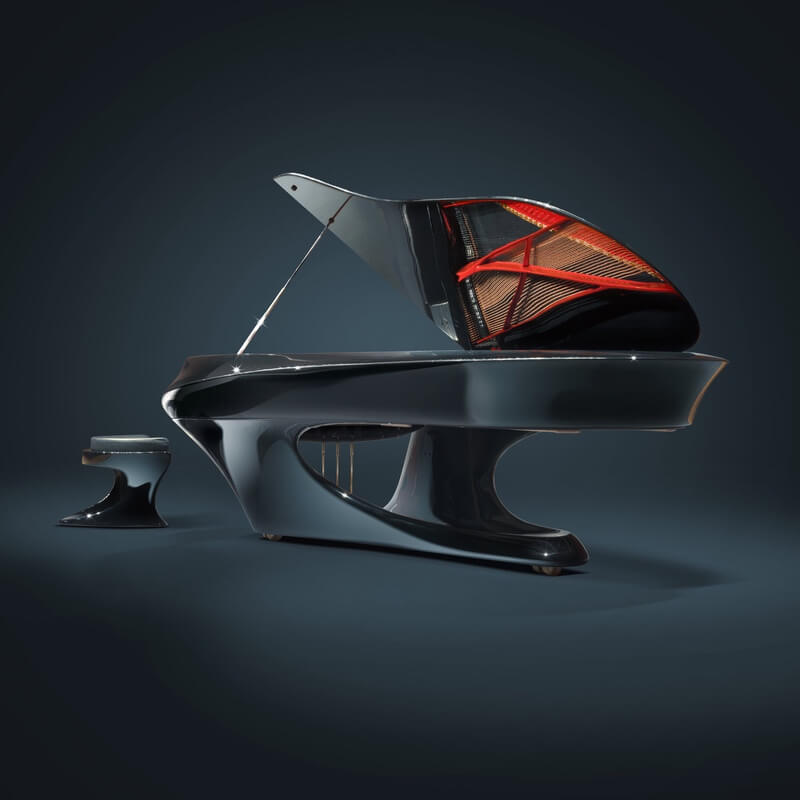 Euro Pianos Naples is proud to offer our customers access to these amazing instruments. We see the future in Boganyi's visions.
Euro Pianos Naples is a respected distributor of European luxury musical instruments. The company's origin dates back to 1965. Euro Pianos represents world renowned brands such as Sauter, and it has recently become a manufacturer of its own acrylic instrument – The Aire. Apart from being a successful retailer, consultant, and entrepreneur organization, Euro Pianos is actively engaged in the artistic and community life of Naples, Florida as an organizer and supporter of musical events throughout the years.