Upright pianos have undergone an extraordinary transformation in the past few decades and emerged as a sought after modern work of art.
No longer a 'lesser' instrument simply built to serve a purpose, our modern upright pianos are powerful examples of pianos making daring and ingenious modern design statements.
Sleek, modern designs, in a host of colors and materials, provide our clients the ability to enhance their space with a compact yet remarkable upright piano that will delight and fascinate for years to come.
Lucid Transparent Upright Piano
Honoring tradition as well as perfectly embodying modernity, a transparent vertical piano affords a view like no other. One hears what is being played whilst seeing the miracle of sound being created. Magic on all fronts! 
Sauter Pure Cayenne
Finished in a custom Cayenne color, this modern upright piano is perfect for compact living.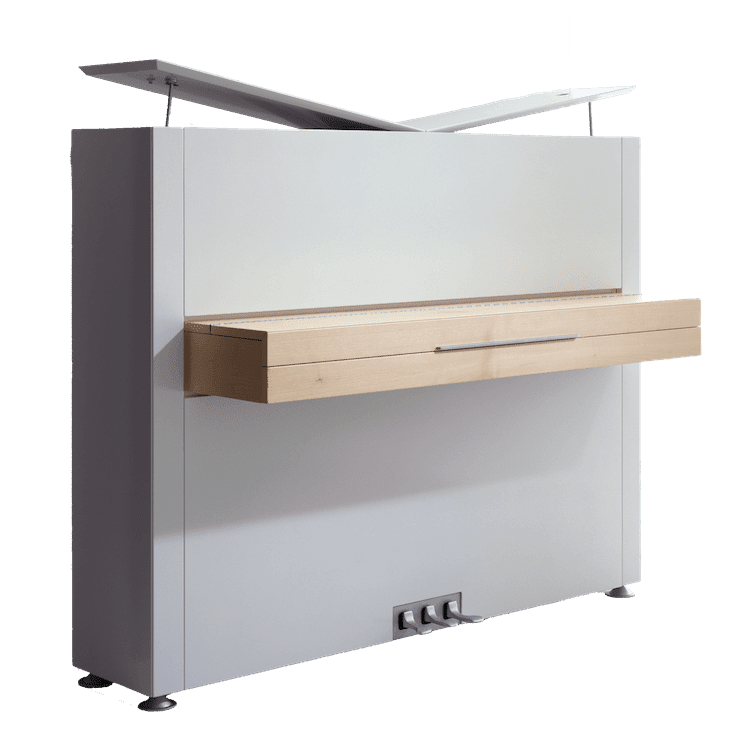 Sauter Pure White
The embodiment of a contemporary concept of simplicity, eco-functionality and glamour is witnessed in this sleek designer upright piano.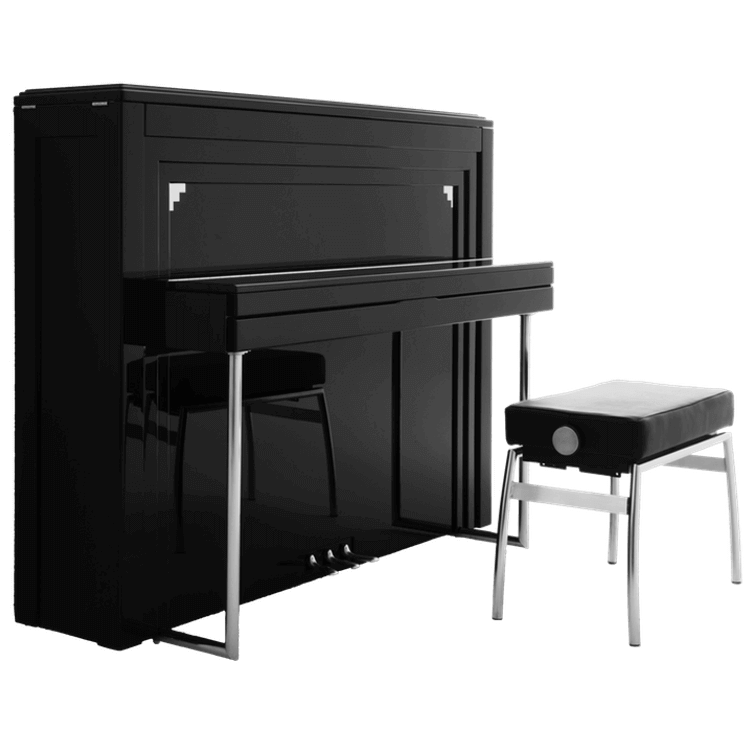 Sauter Artes
Paying homage to classic Art Deco design elements is the stunning Artes piano by Peter Maly. This gorgeous piano, with chrome accents, adds incredible style to small spaces.
Sauter Rondo
Encapsulating the concept of edgelessness in a sleek and stylish way, the Rondo is an exciting, modern designer piano.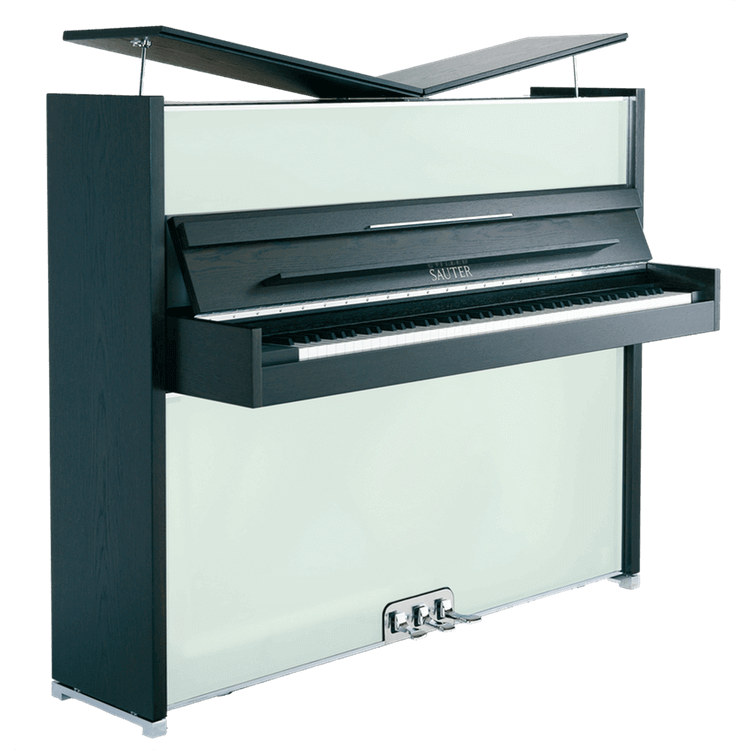 Sauter Vitrea
This hybrid combination of glass and wood in a deceptively simple design, is tremendously impactful.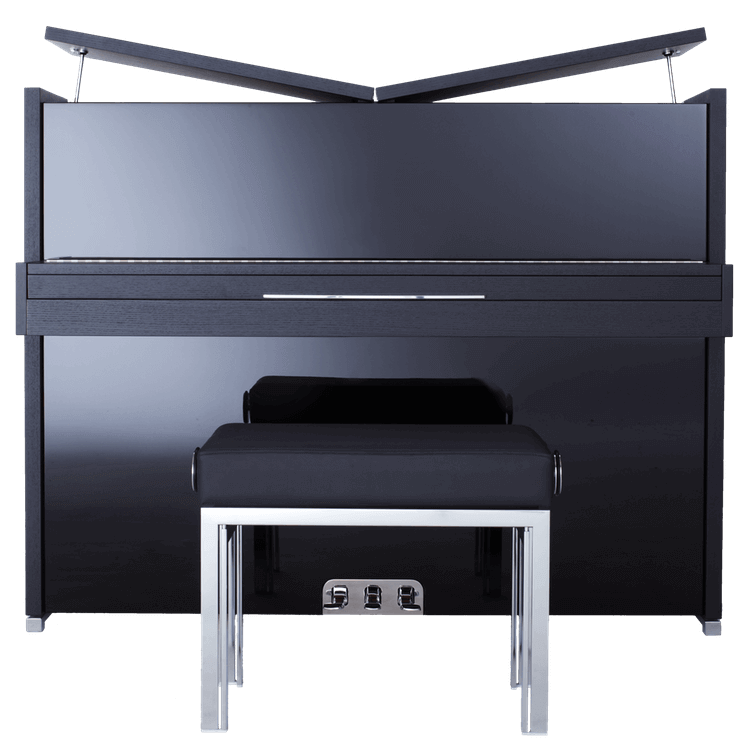 Sauter Concent
Your search for the perfect contemporary upright piano is over. This cubic, clean and quietly elegant upright is the ideal solution.
While the intended outcome remains the same – a gorgeous piano perfect in small spaces – nothing about these upright pianos is ordinary. The designs are fresh and modern. As an example, the butterfly lid is highly effective both visually and aurally! These designer upright pianos are the perfect solution for superior sound and enviable style in small spaces.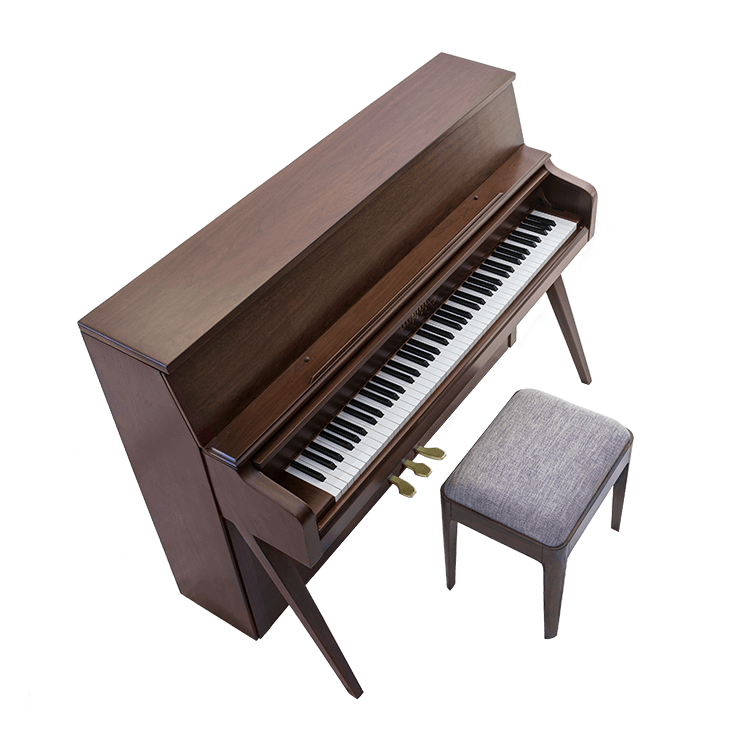 Echo™
Inspired by the timeless elegance of the 1950s, designed by Euro Pianos Naples, the Echo™ is a sleek addition to today's modern interiors.
Sauter Rhapsody
Horizontal lines of matte wood veneers beautifully contrast the glossy key case imbuing this upright piano with simple sophistication. Rhapsody celebrates Sauter pianos 200th anniversary.
Sauter Accento
The Accento is in the shape of a bridge framing the front panel. Choose an elegant monochromatic look or select the impactful black & white combination.