There is no doubt that acrylics are finding their rightful place in the marketplace, the darling of designers, homeowners, and architects.  What makes acrylic so desirable is its versatility and its advantages.  By that I mean that acrylic is crystal clear and free of distortions.  Tough and shatterproof, it's seventeen times more impact resistant than glass, and usually about half the weight. It maintains its clarity and does not yellow, so a new item looks just as new years later.  It's highly weather resistant as well, unlike some woods and leathers.  The material can be fashioned into every conceivable shape and design.  Not only is furniture being fashioned totally in acrylic, but also acrylic furniture legs are being added to sofas, chairs, tables and benches.  Here's an example of how these legs make conventional furniture seem to "float" in the air.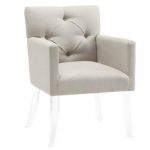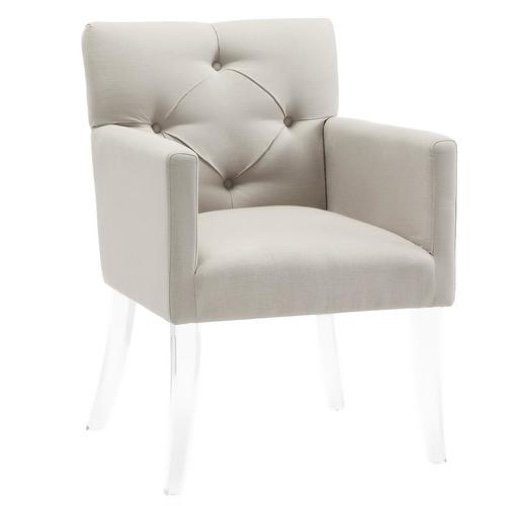 One of the joys of modern designers is the availability and range of choices in acrylic furniture today.  Also known as Lucite or Plexiglass, designers began toying with transparent furniture as far back as the 1930's when art deco trends lent themselves to the unusual.  The material was introduced to the marketplace in 1933 by the Rohm and Haas Company. By the 21st Century, those Lucite furniture options have exploded into a feast of furniture elements that provide unlimited creative décor.
Even for the traditionalists, today's designs include clear acrylic furniture as elements of interest in an otherwise traditional room.  Notice how the acrylic table in this room almost "disappears" giving the whole space a less cluttered feel.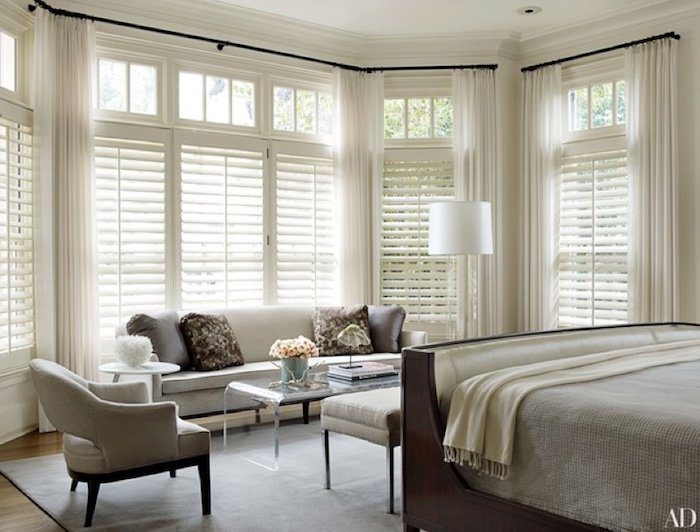 The transparency of pieces make them versatile enough to work with almost any other elements. This magnificent dining room has all the classical charm any traditionalist could want, and yet the addition of the Lucite chairs transforms the room into a brilliant eclectic wedding of styles.  Adding edgy pieces to classic décor creates zing in a room, making it exciting.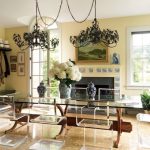 But of course acrylic furniture is right at home in modern homes.  Here's another dining room that strives for sparseness and open space.  The chairs here work to enhance that spaciness and also show off the magnificent table base and more of the incredible wood flooring.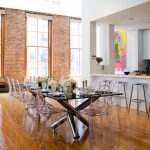 What is so wonderful about acrylic is that it can be fashioned into curves and swirls as well as linear shapes. It can be cut and faceted like the face of a diamond. While it is usually left crystal-clear, it can be customized tinted and even edged with dyes to produce neon effects.
Acrylic has been used extensively in dining rooms because of the need to seat a lot of people without creating too "heavy" a space with so many pieces of furniture.  We love the designer look of mixing Lucite chairs with padded chairs for an eclectic mix that keeps the eye moving. For traditionalists, this is a very savvy solution to creating more space.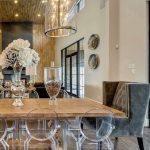 Here's another rendition of the same idea of armchairs and acrylic chairs combined.
In this case, the black bases of the chairs are used to echo the choice of a black table. blending a mellow country house feeling with the modernity of acrylic.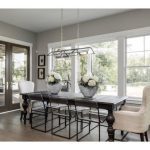 This modern white dining room below looks very compact, and positively shines with light and cheer.  It easily sits six, but looks like no space is taken up at all, in a smaller home.  Once again the lovely wooden floors are visible through the acrylic chairs, giving that floaty look which in this case totally; compliments the floating stairway.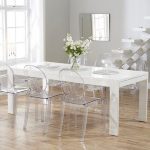 Here's acrylic used again in a charming four-seat dinette tucked into the corner of a condo or summer house.  The airy, breezy look of the transparent furniture adds to the outdoors view through the wall of window.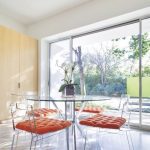 Take a look at these black and white designs in contemporary spaces that carry not only startling sophistication, but a whimsical feel with the artwork or architecture and omission of color.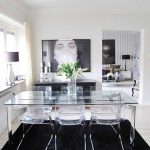 Dining rooms are only one application of acrylic. Conversation pieces like the Jacinda bench below can be used to brighten up any room.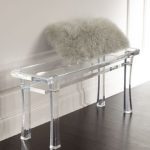 End tables and occasional tables can be scattered throughout the house.  The designs and shapes can be pure whimsy like the end table below. Just let your imagination soar!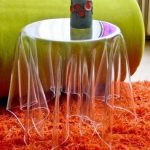 Or seriously sophisticated like the stunning Lucite table below.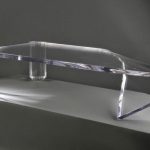 In home decorating, Lucite furniture minimizes the visual footprint, so it is ideal for small spaces, or to visually create space when a large room is full of heavy furniture. It can combine with other materials, such as glass, wood, leather and metals.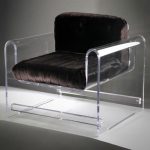 Acrylic furniture often has a modern design, but it is also made in ornate, swirly shapes to pay homage to period furniture with a sassy touch of boldness, like these acrylic chairs.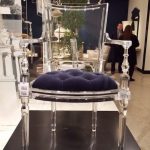 From tiny end tables to magnificent dining tables and desks, Lucite tables offer a range of decorating ideas. An acrylic coffee table takes up next to nothing in visual space, and at the same time special patterned carpets show through.
Here's a tinted acrylic desk design for a minimalist home office. We love the whimsy of the shapes of chandelier and chair design.  Keep these pieces uncluttered for maximum effect.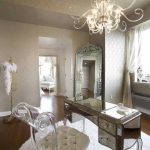 Acrylic can be used for furniture, shelving, dishes, pitchers, and other kitchenware.  It can be fashioned into vases, clocks, magazine holders, picture frames and other decorative accents. To glamorize a bathroom, acrylic boxes or canisters filled with cotton balls, tissues and guest soaps, make an elegant display in the bath, even if you don't go so far as to have a Lucite bathtub!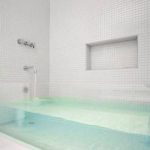 Of course when we see a living room that is beautifully decorated with touches of light and white and spacey ambiance, like this one below, our immediate thought is that "that room needs a piano!"  And of course in a room like this, we would imagine an acrylic piano.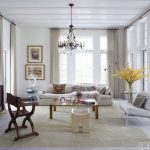 Wouldn't this space be gorgeous for a beautiful acrylic piano? Grand piano furniture is not a new concept.  Pianos have been decorating living rooms of distinction for generations, but today we have the wonderful advent of pianos being fashioned from acrylic materials. Since grand pianos of yore were heavy dark instruments, many decorators and designers were reluctant to include pianos into their design for purely aesthetic reasons. Today is a different situation altogether. Lucite grand pianos are the rage and we are proud of our best selling "Aire" model which utilizes acrylic for its legs, lid, lyre and music stand. It creates the effect of a baby grand floating on air.
When Euro Pianos Naples had customers interested in transparent pianos, they often were disappointed in the six figure prices.  It was then we decided to manufacture a quality crystal piano that was affordable. Bringing a new transparent piano to the marketplace required a lot of research into acrylic manufacturers, and modestly priced piano parts. Over months of intensive study, a team of specialists, and an engineer created the semi-transparent Euro Pianos baby grand "The Aire."
The standard 5'2" polished-wood piano case can be ordered in black, white, mahogany and walnut colors.
The Asian-made piano parts are the highest quality available on the market in the economy class of instruments. Warranty and service from Euro Pianos is unsurpassed, and the buyer can be assured of quality performance to suit home pianists and students alike.
There are several brands of transparent grand pianos which are beautiful, but none are as budget friendly as The Aire.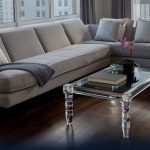 However, one brand is known as a leader in the high end luxury acrylics—and we can't go without lauding Bluthner's magnificent crystal pianos. This German piano maker not only has brought Lucid Pianos to the marketplace, but has been a risk-taking innovator of some of the most beautiful and glamorous instruments in the world.
In 2018 Bluthner explodes with new ideas once again with their Lucid Exo models.  It is this kind of excitement that keep designers and decorators inspired to develop living spaces that truly are settings for these extraordinary art treasures that go beyond musical performance and furniture.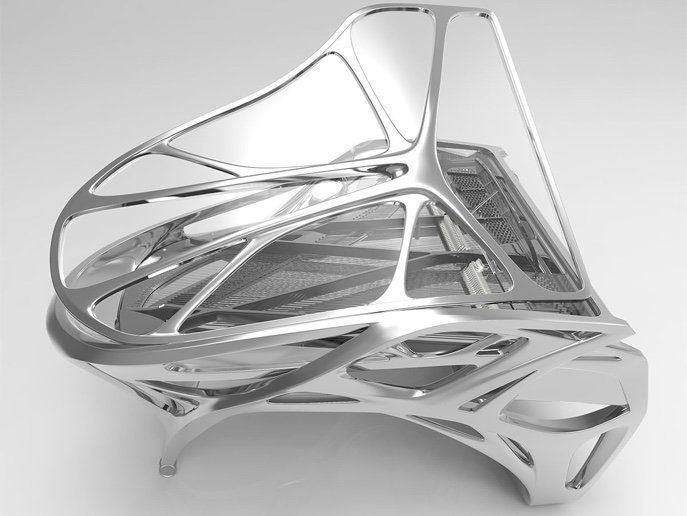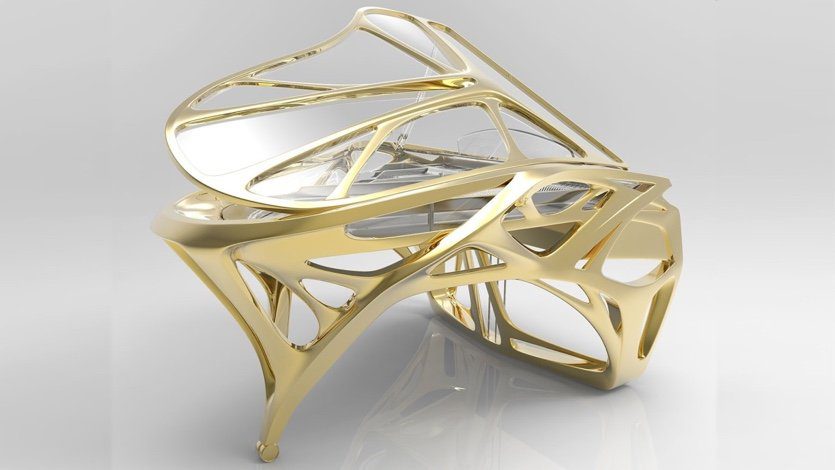 Well, now that you've seen the hot acrylic furniture of the 21st Century, you might wonder how one takes care of it?  For furniture this beautiful, people often think there has to be a hitch.  What's the drawback? Well, that's more good news.  There is none.
Acrylic furniture needs very little care aside from dusting and occasional cleaning. You should never use window cleaner, or glass cleaner or any product containing ammonia, as the chemical reaction will scratch or cloud the acrylic surface.  There are actually acrylic cleaners that can be purchased online, and some do it yourself home concoctions with natural ingredients you can use.  Or just hot, soapy water with a clean, soft cloth.  Avoid using any rough materials that could scratch your surfaces. Dust your acrylic with a clean, soft cloth.  A soft non abrasive cloth, like they use today for computer screens is a good choice.
If you should happen to get a scratch, since with time accidents can happen, don't fret, as there are solutions. A small scratch can be resolved with an acrylic polishing cloth found online.  Some serious damage in a move or something heavy dropped on the furniture, can be polished out professionally with a buffing wheel.
Euro Pianos Naples is a respected distributor of European luxury musical instruments. The company's origin dates back to 1965. Euro Pianos represents world renowned brands such as Sauter, and it has recently become a manufacturer of its own acrylic instrument – The Aire. Apart from being a successful retailer, consultant, and entrepreneur organization, Euro Pianos is actively engaged in the artistic and community life of Naples, Florida as an organizer and supporter of musical events throughout the years.