Heads turned and jaws dropped as 25-year-old, hip hop sensation Cardi B performed her smash hit "Money" at the 2019 Grammy Awards. However, it wasn't only Cardi who the crowd was cheering for.
Meet Chloe Flower. The 33-year-old, classically trained pianist who wowed the crowd with the help of a glitzy and glamorous, bedazzled Liberace grand piano.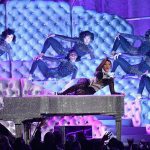 Clad in a beautiful black and white gown, Miss Flower and the stunning grand piano immediately captured the audience. Having the opportunity to perform alongside a name like Cardi B is something most musicians only dream of.
New York native, Belcalis Marlenis Almanzar, aka Cardi B, rose to fame with her hit song 'Bodak Yellow'. Her debut studio album, 'Invasion of Privacy' scored her a Grammy, broke numerous Billboard records, and earned her a spot on 'TIMES 100 Most Influential People in the World' list – all before she was 25 years old. To have accomplished so much in such little time proves that this girl is here to stay – and she's only getting started.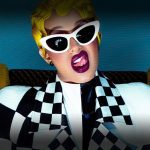 Modern, bespoke pianos; similar to the Liberace Baldwin seen played by Flowers in said performance, have taken the world by storm. Acrylic and glass made pianos have quickly become the new must-have in people's homes, especially since they are available with piano players installed and you don't even need to know how to play.
They've been spotted bringing glamour to modern music performances, adding a pop of excitement to a swanky hotel lobby, or even complimenting carefully thought-out interior design within residences.
Chloe Flower is no stranger to performing on wonderful works of art like these. In fact, she even shared a video of herself playing Liberace's famous Glass Piano with her 230 thousand plus Instagram followers. Following her shining star moment during this year's Grammys, a la Cardi B, Chloe Flower went viral. Twitter, Instagram, and the rest of the internet went wild. Everyone wanted to know – Who was she? And what kind of piano was that?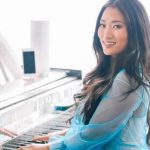 Since being discovered by producer Kenny "Babyface" Edmonds in 2011, 'Miss Chloe Flower', as she refers to herself on Instagram, has collaborated with hip hop greats like Nas, Swizz Beats and Timbaland. She's also worked alongside Comedic legend Kevin Hart, and Canadian Superstar, Celine Dion. Since flanking Cardi B at the Grammys, she has undoubtedly blown up. It's safe to say Miss Flower's career is about to take off.
Post-performance, in an interview with Cosmopolitan Magazine, Flowers said, "As an instrumentalist, it's amazing to see so many people who don't follow classical music be excited about a pianist. People are excited about the piano!" She continued, saying, "That's really important to me. Anything I do in my career is to promote music education and to make classical music more accessible, so, that was the most exciting thing."
 Girl, we couldn't agree more. The idea of mixing today's trending hits with inspiration from yesterday's classical music is one we are behind 100 percent.
Wondering how you can achieve the same "drip" that Miss Chloe and Queen Cardi had on the Grammy stage? Well, unfortunately the Liberace pianos are on loan from the Liberace Museum – and those killer dance moves and designer outfits may be hard to get your hands on. However, don't fret, because as far as the piano goes, a more affordable, accessible version can be found right here at Euro Pianos Naples.
Designed and built exclusively at Euro Pianos, the Aire™ Piano is a stylish, newly designed, acrylic baby grand piano. Feel free to customize your colors and hardware, as well as add accessories such as a floating bar, or invisible player system.
With a semi-transparent piano in your possession, who's to say that you can't turn your living room into a Grammy themed stage? Just like Cardi says on her track 'Money', the Aire™ baby grand sure was "born to flex."