In his forty-year performing career, the megastar, Liberace, was one of the most widely-known and well-loved living pianists in the world. The son of Polish and Italian immigrants, Liberace performed in concerts, television, motion pictures, recorded, wrote books and made endorsements. At the height of his fame, from the 1950s to the 1970s, he was the highest-paid entertainer in the world with established Las Vegas "residence" bookings and an international touring schedule.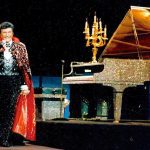 What is not as well known is that Liberace was a child prodigy, learning classical piano at aged four, with the encouragement of his father who played French horn with bands and wanted his entire family to be musical.
Liberace's mother, before her marriage, had been a concert pianist, but considered music lessons for the children to be "luxuries" they couldn't afford. His father opposed such thinking and took his children to concerts and set strict rules for musical practice and learning the classics.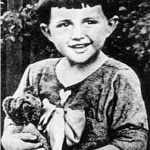 During the Depression and hard times, at a young age, Liberace was able to find work as a musician in jazz groups, cabarets and strip clubs, under the disapproving eyes of his parents.
With the later help of music teacher Florence Kelly, who oversaw Liberace's musical development for 10 years, he gained experience playing popular music in theaters, on local radio, for dancing classes, for clubs, and for weddings.
Always considered a bit fey by his classmates, he struggled in school with a speech impediment, and was teased for his effeminacy, love of piano, cooking and avoidance of sports.
At age fifteen, the young prodigy won a scholarship to the Wisconsin College of Music where he was required to play stuffy recitals which bored him, so he would play with dance bands at night. At the age of sixteen, the Chicago Symphony Orchestra asked him to be a soloist. He was warned that he could not play dance bands under his own name and keep the job. So, the name Walter Busterkeys became his pop music stage name, and he learned the enmity between classical and pop performers at an early age. Loving all music equally, Liberace couldn't help but work a bit of "crossover" into his recitals. In 1939, he did "Three Little Fishes" as an encore to a classical repertoire, winking at the audience, playing with them, and the applause was thunderous. It was a turning point for him. He would have it his way, classical music without "the boring parts" mixed with the popular music of the people.
He took his wink and smile to New York the next year and played the Persian Room of the Plaza Hotel as an intermission pianist.
Seven years later he returned to the Persian Room, wearing diamonds, and bringing his own custom-built Bluthner concert grand piano (said to be the largest at the time, and insured for $150K) along with Louis XIV candelabra for the performance. It was also the debut of ballroom dancers, Marge and Gower Champion that night.
One of the reviews read,
Liberace has masterful stage presence, a twinkle in his eye, a good grasp of humor that seems natural and, of course, a brilliant touch at the piano. He needed all of the human props as well as the manufactured ones opening night because the dancers had received an ovation, but he was equal to the task. He opened with Liszt's 14th Hungarian Rhapsody just to show the crowd he knew how to play good music, then he played a popular duet with Joel Herron, the latter pounding away in the background. Herron played at other times too, but his efforts were lost in the tones of the larger piano."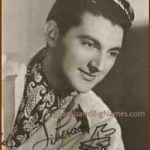 In spite of his amazing successes, for most of his 93 years, Liberace's father refused to forgive his son for what he considered butchering and shaming the music classics.
The rest is well known history. Liberace soared to fame. It is no secret that the famous pianist, Liberace, "Mr. Showmanship," was one of the most flamboyant and glittery stars of his time. His entire act, in time, included an homage to Austrian crystals.
His stage sets. costumes, shoes, candelabra, and capes were covered in crystals. He wore a white mink coat lined with crystals. A vintage Duesenberg roadster covered in crystals was dramatically used to escort Liberace onstage. The auto was on display in the lobby of the Cosmopolitan luxury hotel (whose motto is "Be strange but not a stranger") until 2014 where it was photographed by thousands every day. The rock group, Duran Duran, commissioned the car for their "Pop Trash" album cover in 2000.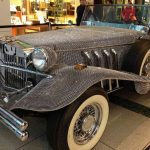 And of course, Liberace's Baldwin piano, one of many he owned, is covered with Austrian AB lead crystals. Not only every panel that the eye can see, (apart from the see-through acrylic lid and prop) but the underside as well!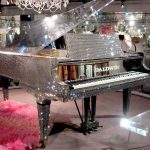 The Austrian crystal-makers, known for their highest-quality crystals, loved Liberace. The availability of crystals at any given time is limited, but he likely got preferential treatment from these artisans, being a million-dollar walking promotion for their products.
In 1985, the Austrian crystal-makers presented to Liberace what became known as the "Heart of Liberace" – the largest rhinestone crystal in the world. It measures 115,000 carats, 50.6 pounds and is valued in the millions.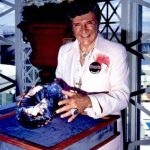 Throughout his career, his sexuality was in question, and Liberace carefully cloaked his homosexuality without defending it. Indeed, from the stage he courted older women in the audience who adored him. Later in life his personal life became more open, and scandal and lawsuits hounded him.
But another sort of criticism hurt him much deeper. He admitted that being dismissed as a schlock artist and reviler of the classics cut him to the core, because it recalled the early disapproval he received at home and when starting his career.
Like his music or not, there is one thing you cannot take away from this iconic performer. His larger than life persona imprinted the American entertainment industry and set the standard in Las Vegas for showmanship. 
Liberace's Baldwin crystal piano might not have been Euro Piano's first choice, but his early instincts with a Bluthner concert grand were right on the mark.
Today Bluthner could have custom built a LUCID PH crystal grand piano for him out of transparent Lucite, decked out with LED lights and a hidden player piano to accompany him with a full orchestra and I bet Liberace would have been overjoyed to see it.