A grand piano is a substantial piece of furniture, and when we think of the home where a grand might go, we might imagine the opulence of lavish estates like the following: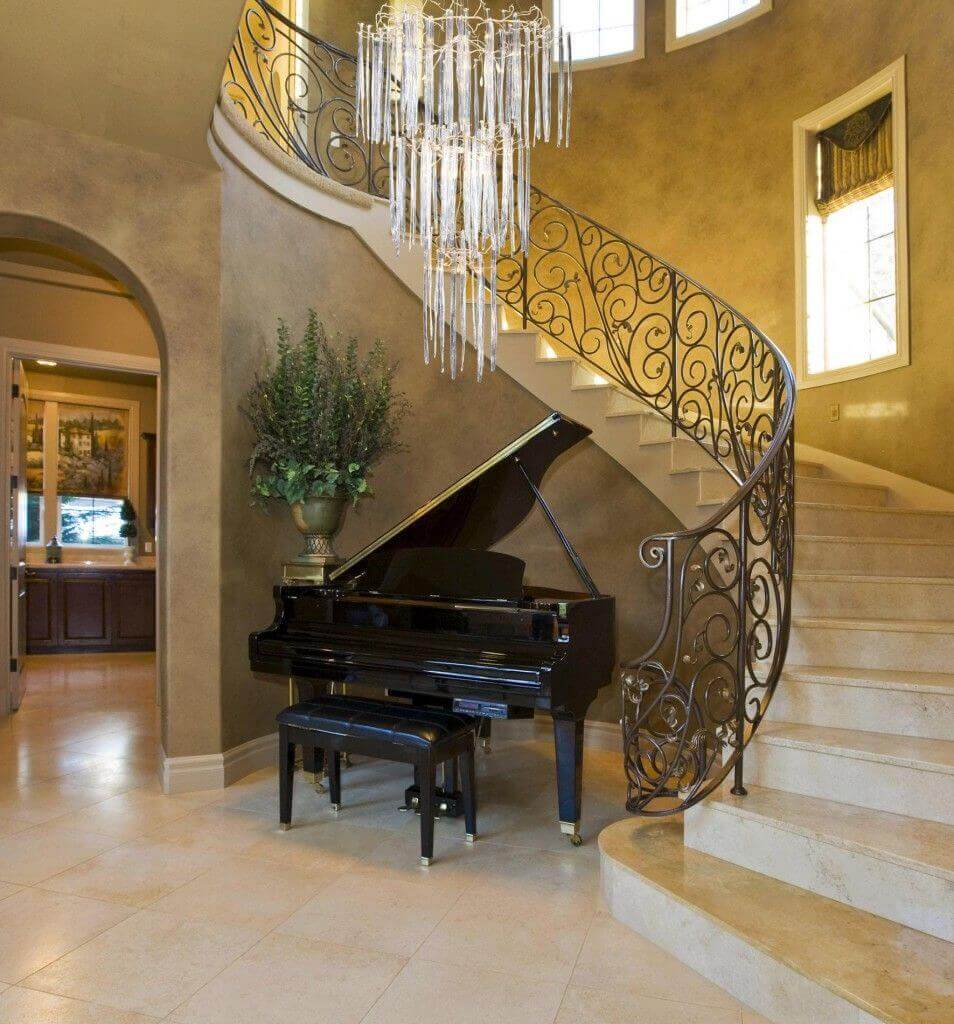 However, some pianists who relish the resonance and sound of a grand luxury piano sometimes live in more modest spaces but they can still accomplish a wonderful living arrangement by decorating with the instrument in mind, rather than trying to shove a big addition into an already full room. Many decorators and homeowners have managed to find beautiful ways to incorporate grands and baby grands into normal sized rooms, like the ones that follow.
This little white baby grand is a perfect example of blended unity. You can have a piano in a living room with some planning and carefully chosen decorating ideas. There are a few facets to contemplate. As in this case, the architecture can lend itself to the piano placement. It becomes part of the piano room décor.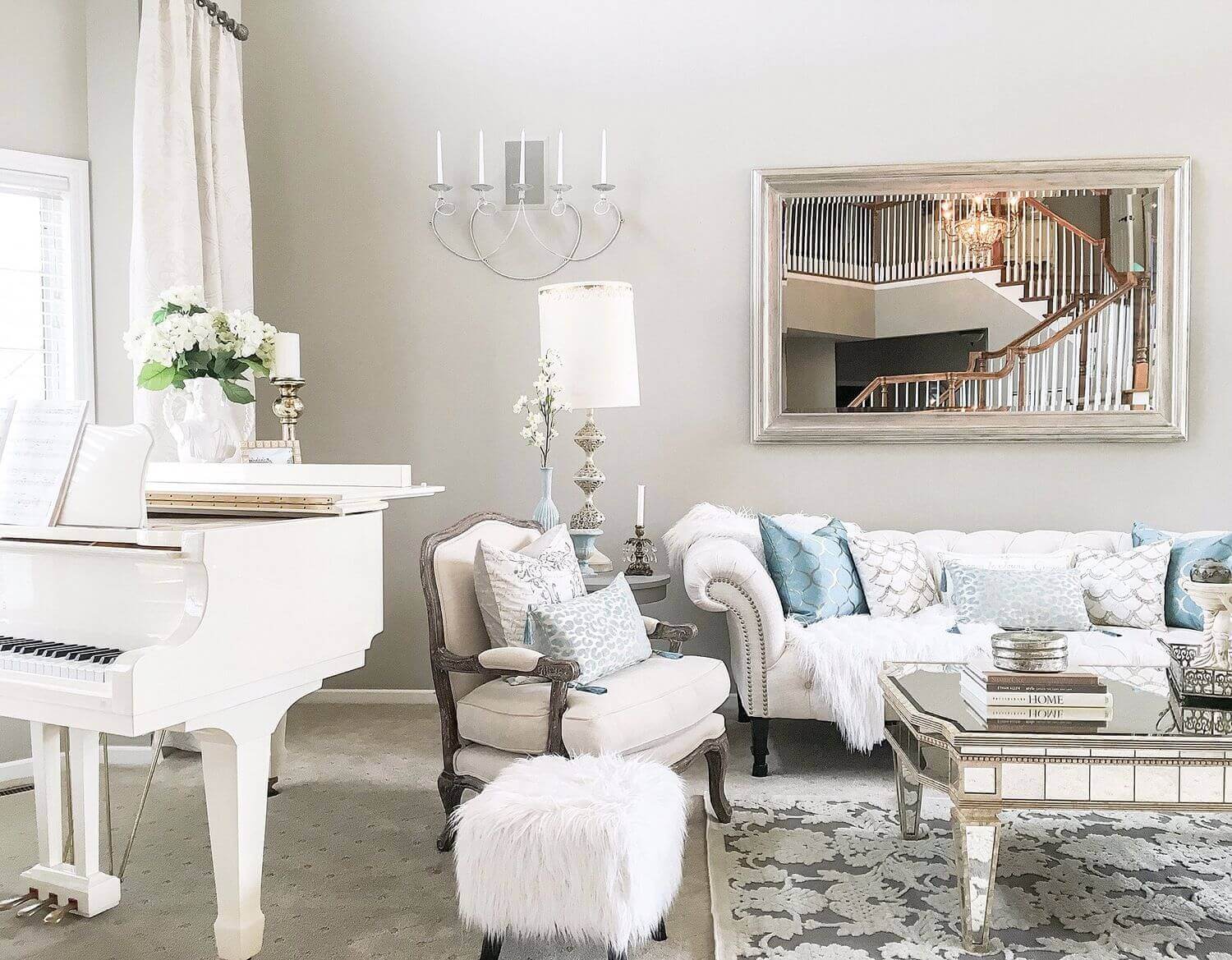 Here is one example in a small traditional living room with piano design carefully incorporated by a decision to decorate the corner of the living room with a baby grand.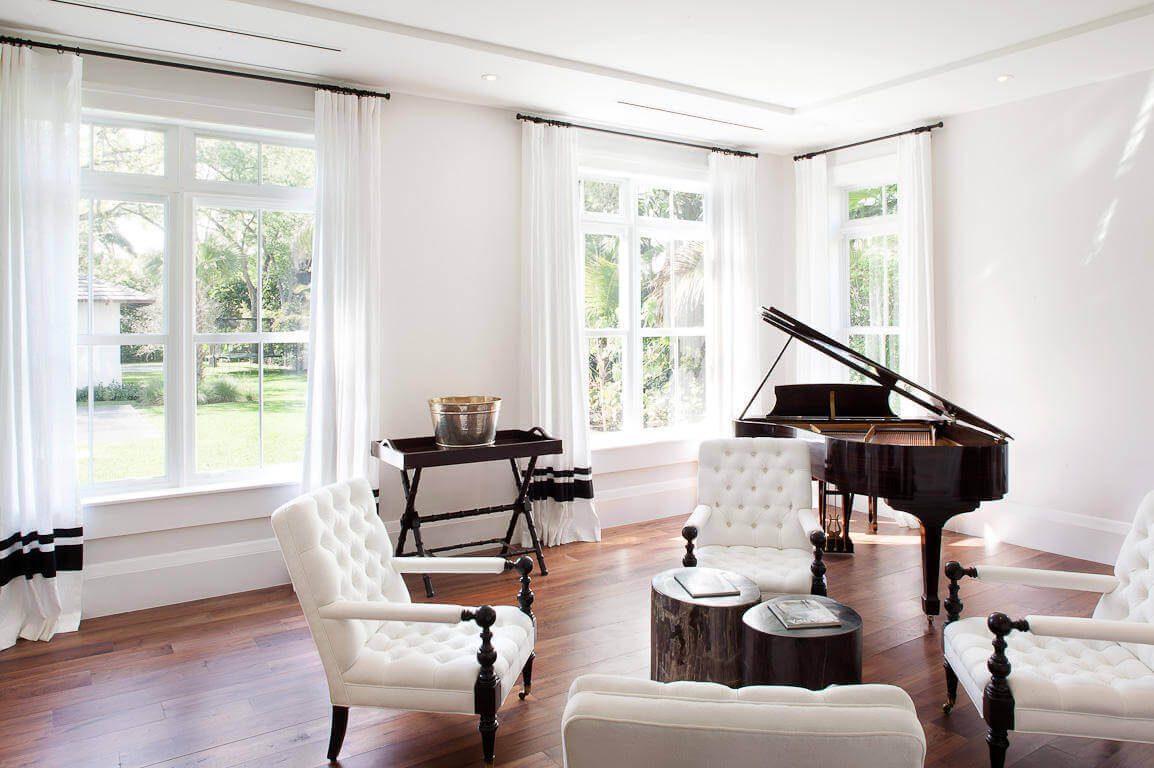 Living rooms with piano design can be traditional, modern, eclectic or rococo. Here is an example of a successful contemporary living room.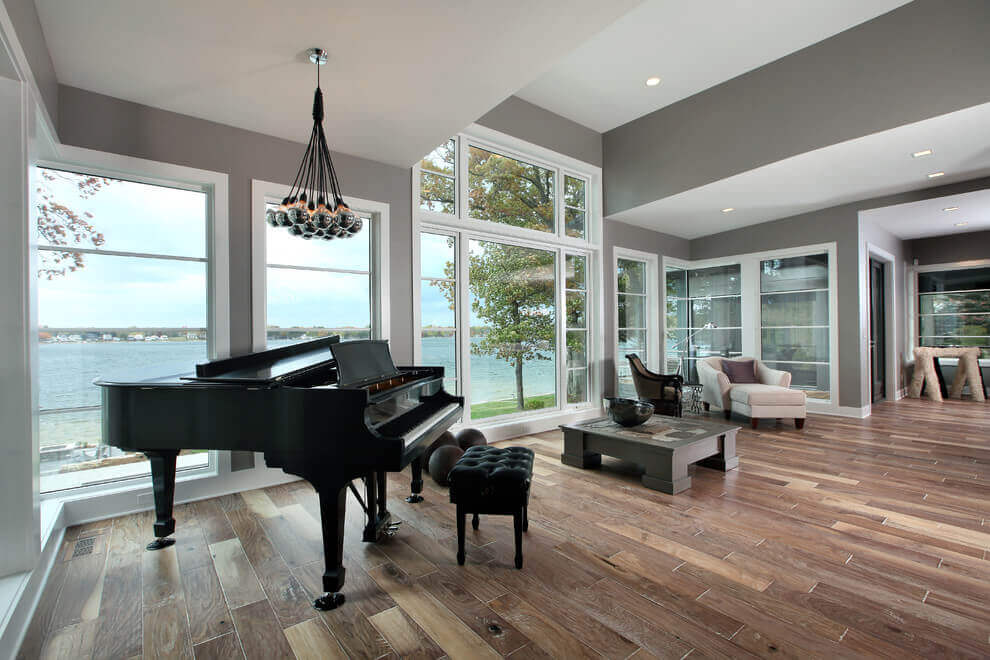 If you think about a grand piano decorating idea, you might want to just draw a schematic of furniture placement. Here's a nice example of how to place a grand piano in a room. This cozy room with a fireplace looks perfect with a grand piano included.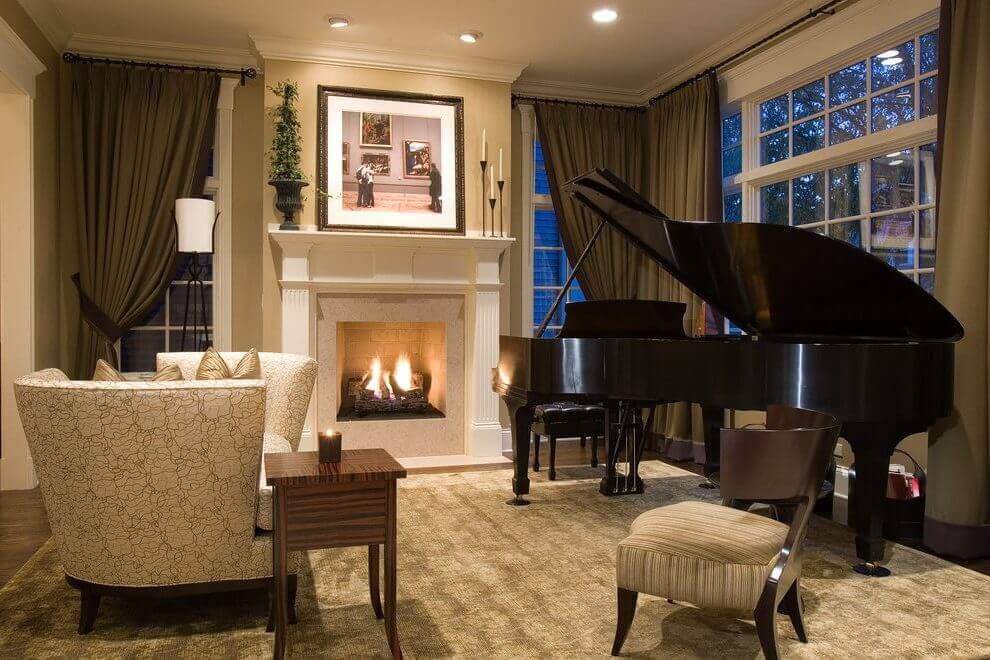 In the parlance of interior designers, there are definitely principles and elements involved to accomplish the goal. By choosing furniture that is scaled and in proportion to the room, (the smaller the room, the less furniture or smaller scale) and including the choice of piano in the style and theme of the home décor, the instrument can become a focal point but balanced with the rest of the design elements of the room. Most people think of a flat TV or a fireplace as the focal point, but as you can see in the photo above, it can be a balancing act.
Decorators and designers, when they work, consider space, pattern, lighting, texture, color and line in order to unify the room's style and theme. It is this kind of visual attention that gives harmony to a space. It can dictate the best place to put a piano in a house.
Decorating a Room with an Upright Piano
Obviously there is another solution for small rooms, and that can be vertical, or upright pianos. No longer the stepchild of the grands, some of the upright luxury pianos of today have the performance values of concert grands, and every bit as much styling and décor oomph.
In the photo below, you can see how this upright has become the focus of a decorative wall of art objects, a decorated piano, so to speak. Such clever placements can dictate where to put a piano in a house. Because the instrument is so cleverly integrated, it actually enlarges this small room. If you considered putting a white upright in this room, you might add some livelier color and texture values.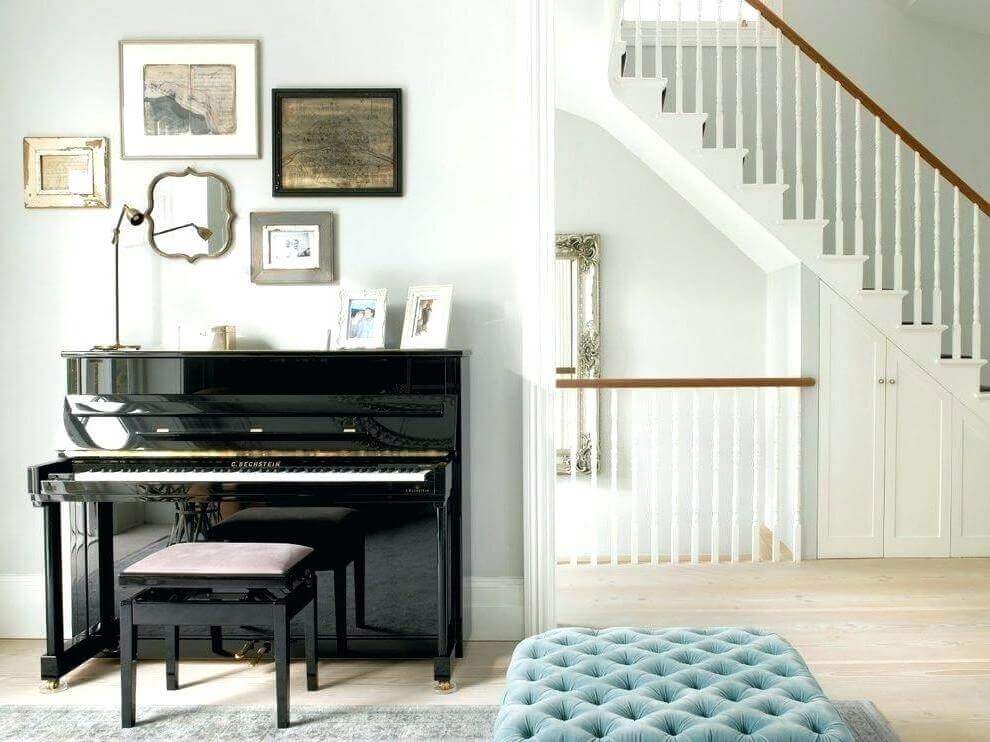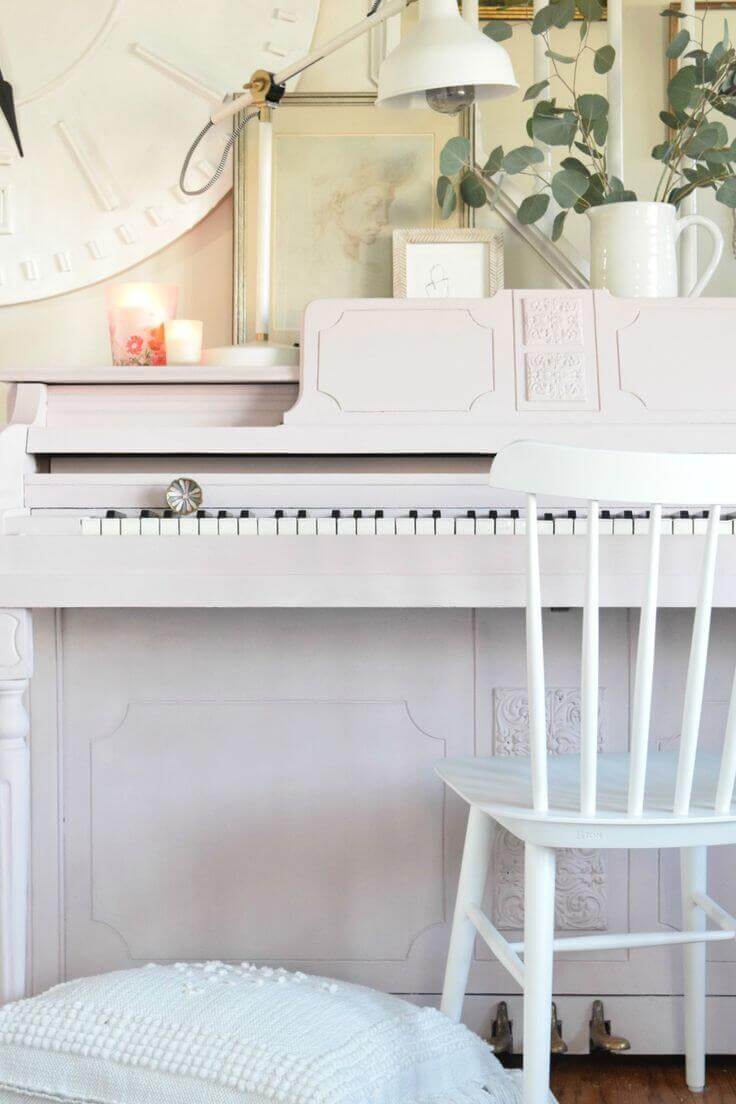 Upright pianos have always been space savers, and used to be relegated to "lesser than" in quality and performance, but that is no longer true. Uprights have found their own in design and can be counted among the designer pianos of the new wave of contemporaries. They can be very useful for piano room decorating ideas.
Here's another example of a decorated piano that totally owns its space, below, in the southwest house makeover done by Jenny Komenda. The upright piano is not only integrated into the room, but looks so at home you can almost hear it playing.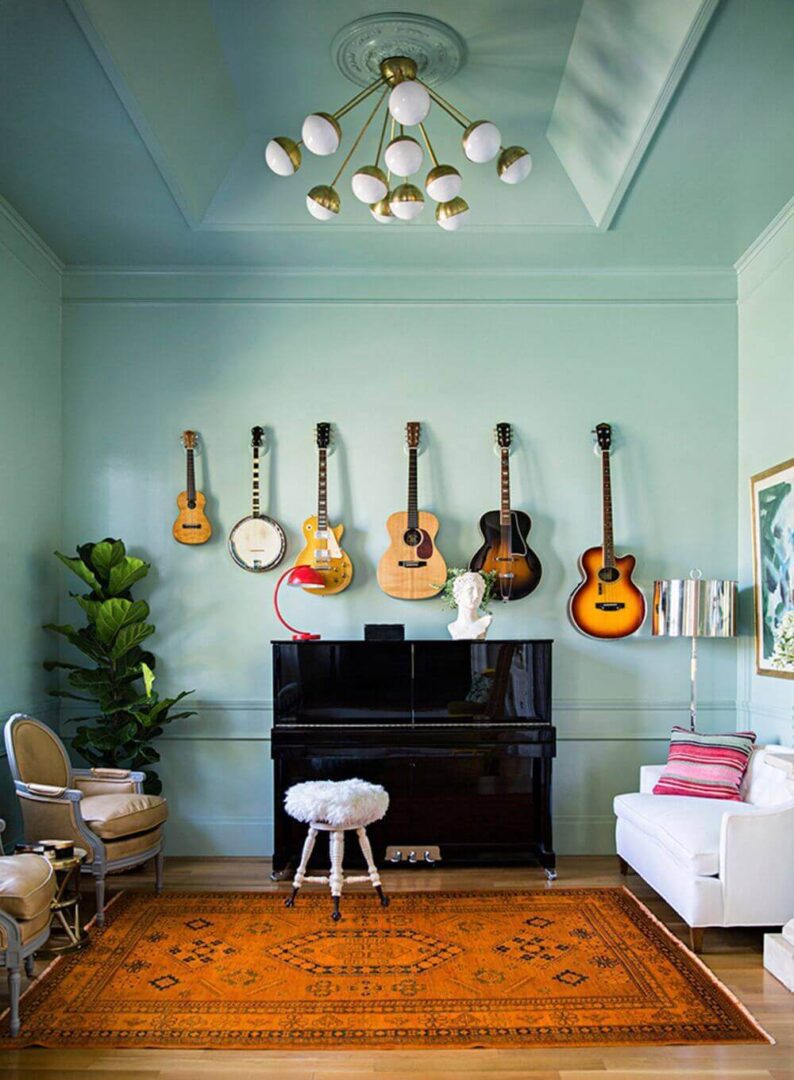 Some families choose to make the space for a separate piano room which can accommodate different needs. You might have purchased a piano for the kids. and wamt to have a private space for piano lessons, or if there's an adult in the house who wants to practice frequently without disturbing the rest of the family, this might be the solution for piano practice too, as well as a practice place for piano lessons for the kids.
Basements, recreation rooms, and attics sometimes lend themselves to being renovated into piano rooms. If other members of the family play other instruments, it can be deemed the music room, and family get togethers can be held there as well.
The idea is to make it cozy and inviting. Sometimes children are not eager to practice, but with the right décor and a little effort, the space itself can be a draw, and enjoyment had by using the room.
We loved this idea of old sheet music being used as wallpaper.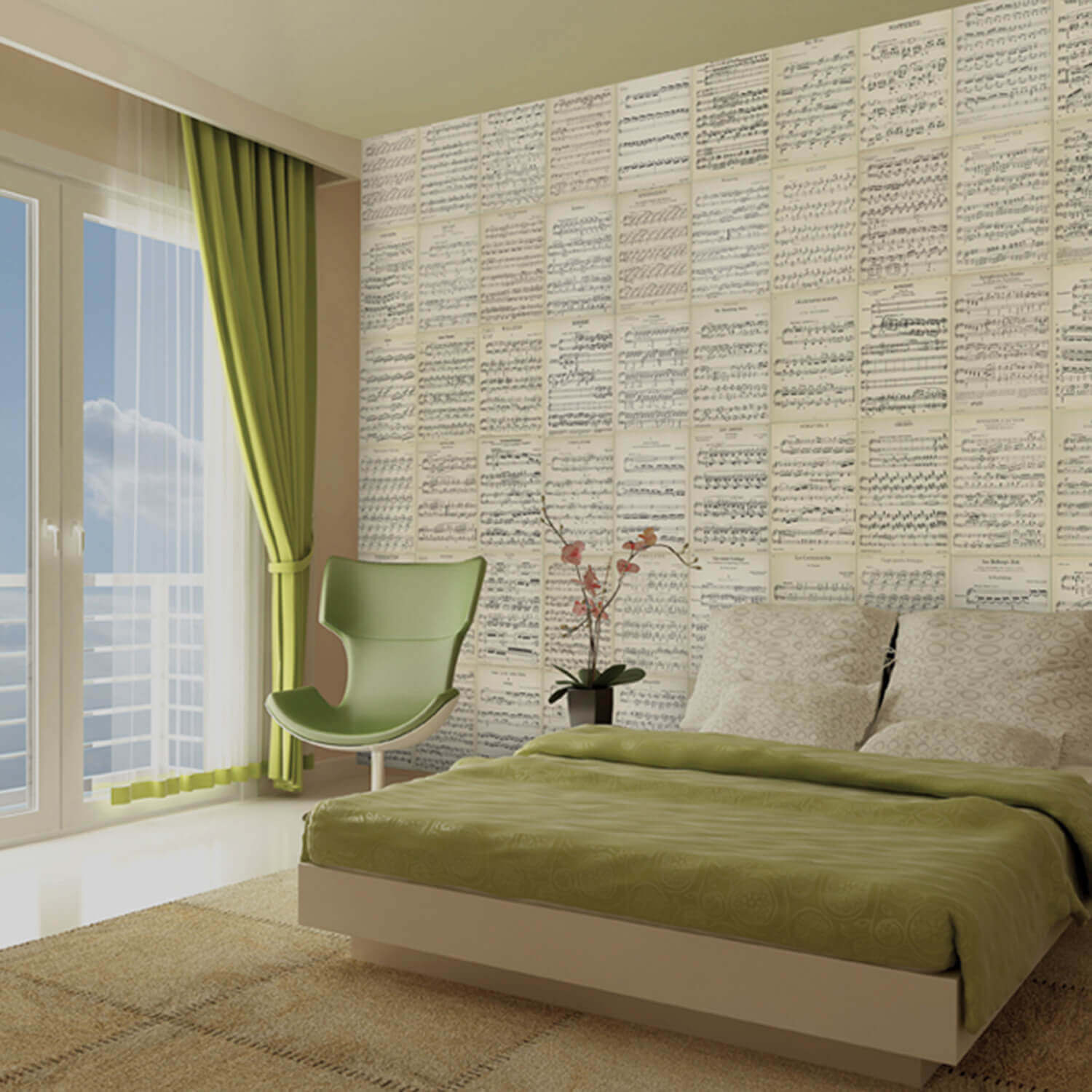 Sometimes a music room can be taken to the next step, and over time, a recording studio develops. In this example, the walls of the music room have actually been soundproofed, which can also help acoustics. Do it yourself soundproofing is pretty easy, with inexpensive materials for those who want to keep the sound down, or the performance enhanced within. Carpeting is also a great sound absorber, as are blankets, foam and acoustic panels. Even bookcases filled with books are a great buffer for sound.  For serious soundproofing, even padding can be installed underneath wood and tile floors. Baffles can be suspended from the ceilings to absorb sound. There are many ways to accomplish quiet in the house.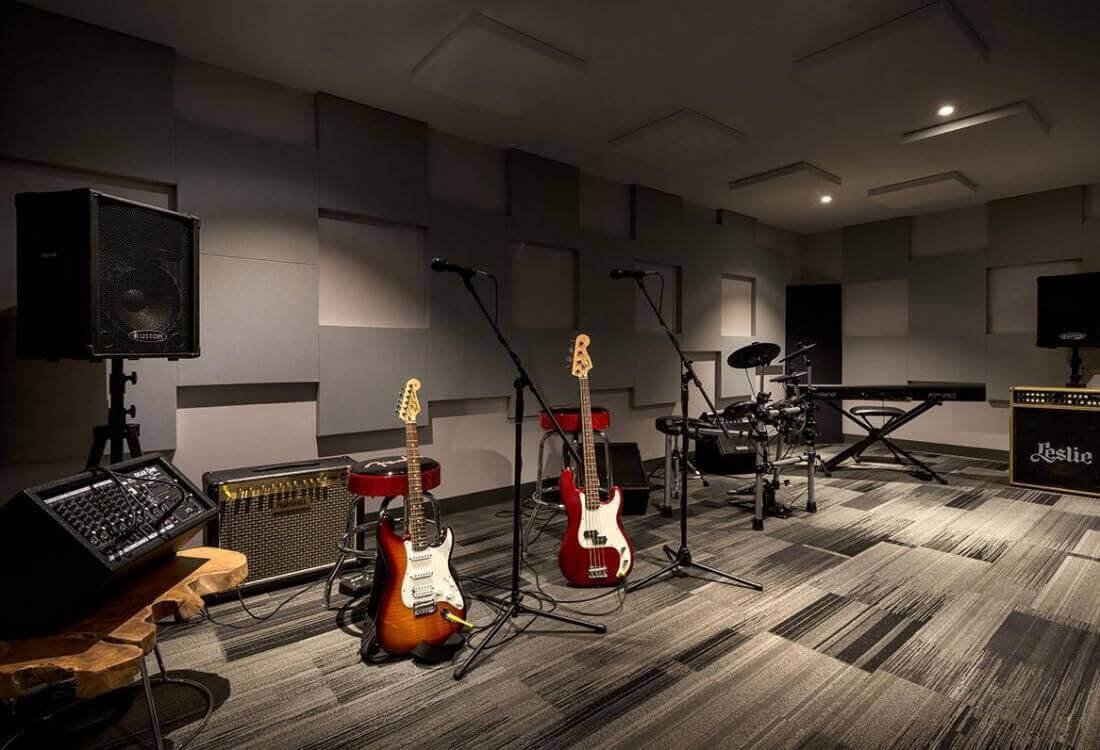 Here's another example of a small music room – studio.
If you can afford some recording equipment (which is pretty available today in all kinds of configurations, including PianoDisc Player systems in your piano), we love the idea of recording the music of children who are learning piano. They get very excited to perform what they learn, and having a mini studio can be a great incentive for kids to continue their piano studies. It's also a poignant family "record" of their progress as they improve.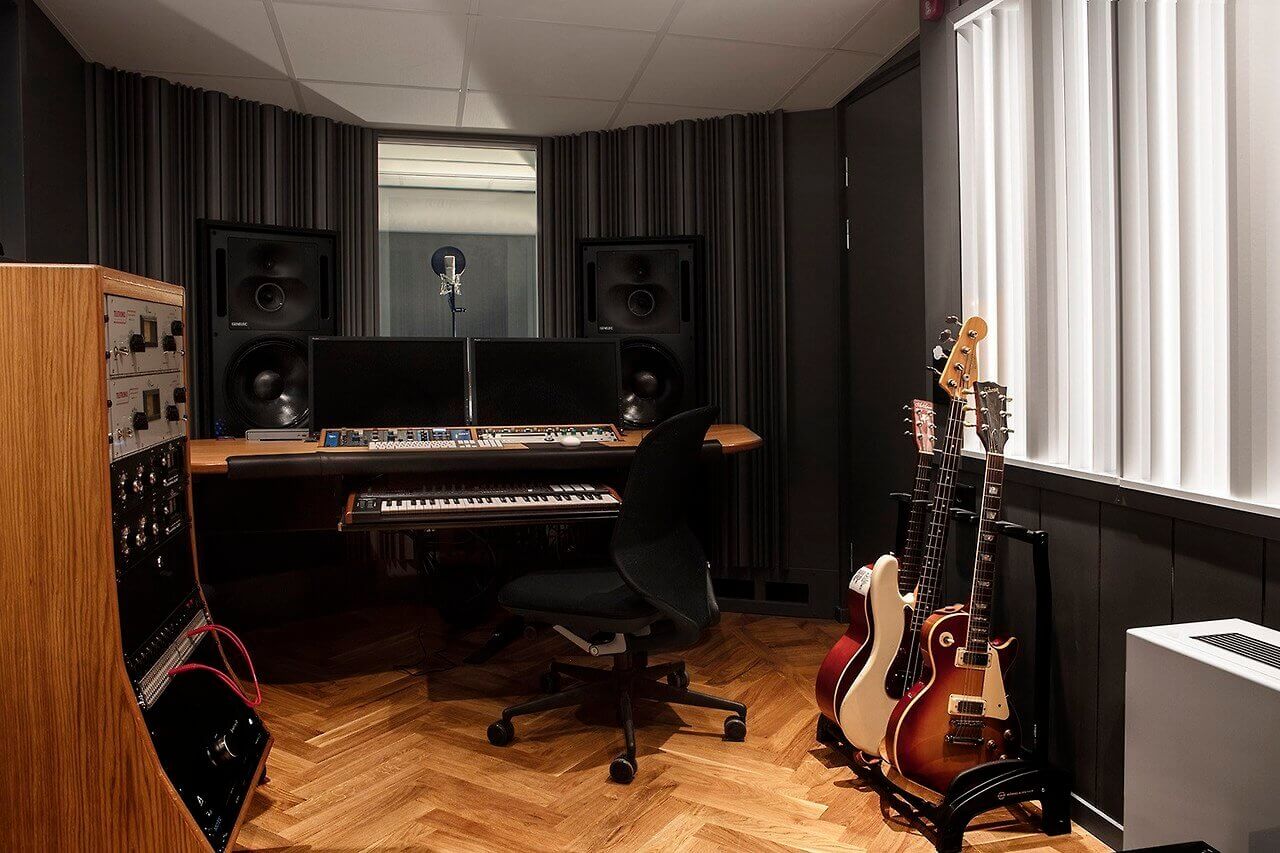 Sometimes it might seem that there isn't enough space for a separate room, but even grand pianos can be at home in small places with the right décor and choices. In the room below, there's very little space, but a grand is comfortably lodged there.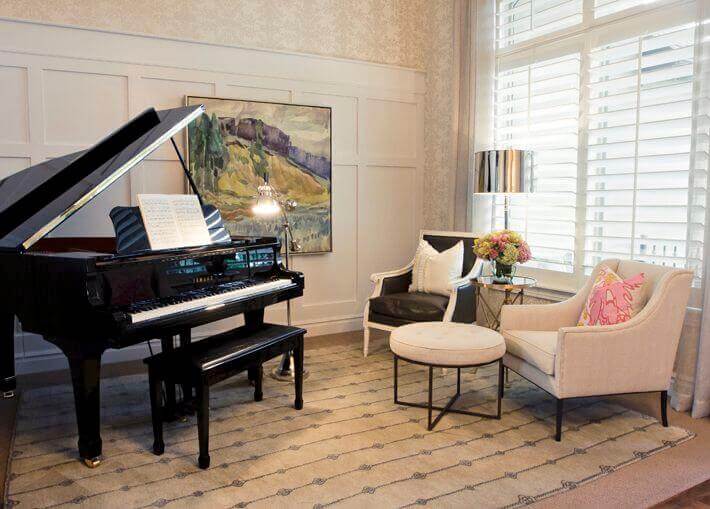 If a basement or attic isn't feasible, sometimes a spare bedroom or a guest room can double as a piano room. Here's a tiny room that can multi task for music or for sleeping. It just takes a little thoughtful planning to pick out a space and get out the decorating ideas.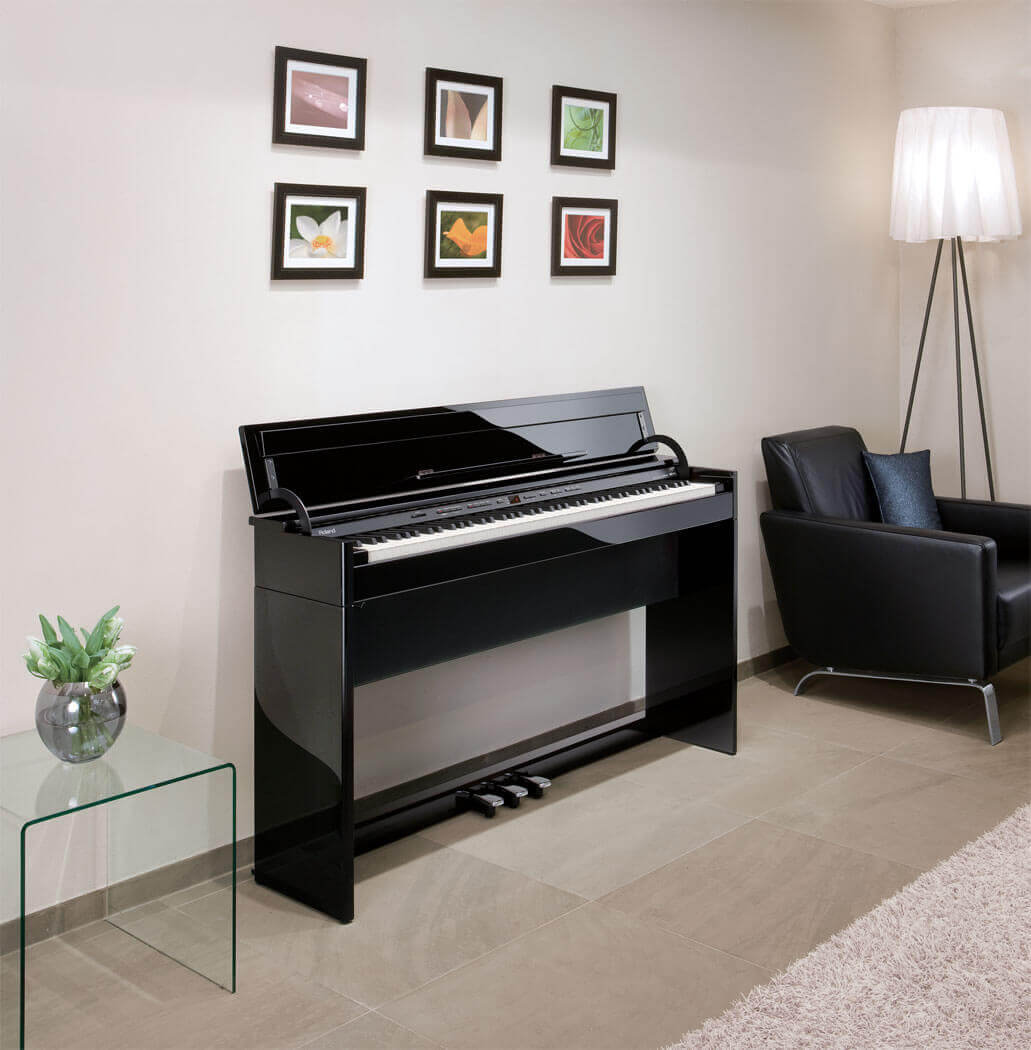 Sometimes if you shop around for decorative elements, one thing can inspire a whole room. We found a few items that were whimsical and fun that we'd love to incorporate into a music room. Look at the upholstery fabric on this chair.  You can decorate a whole room around it, using sheet music and piano keys.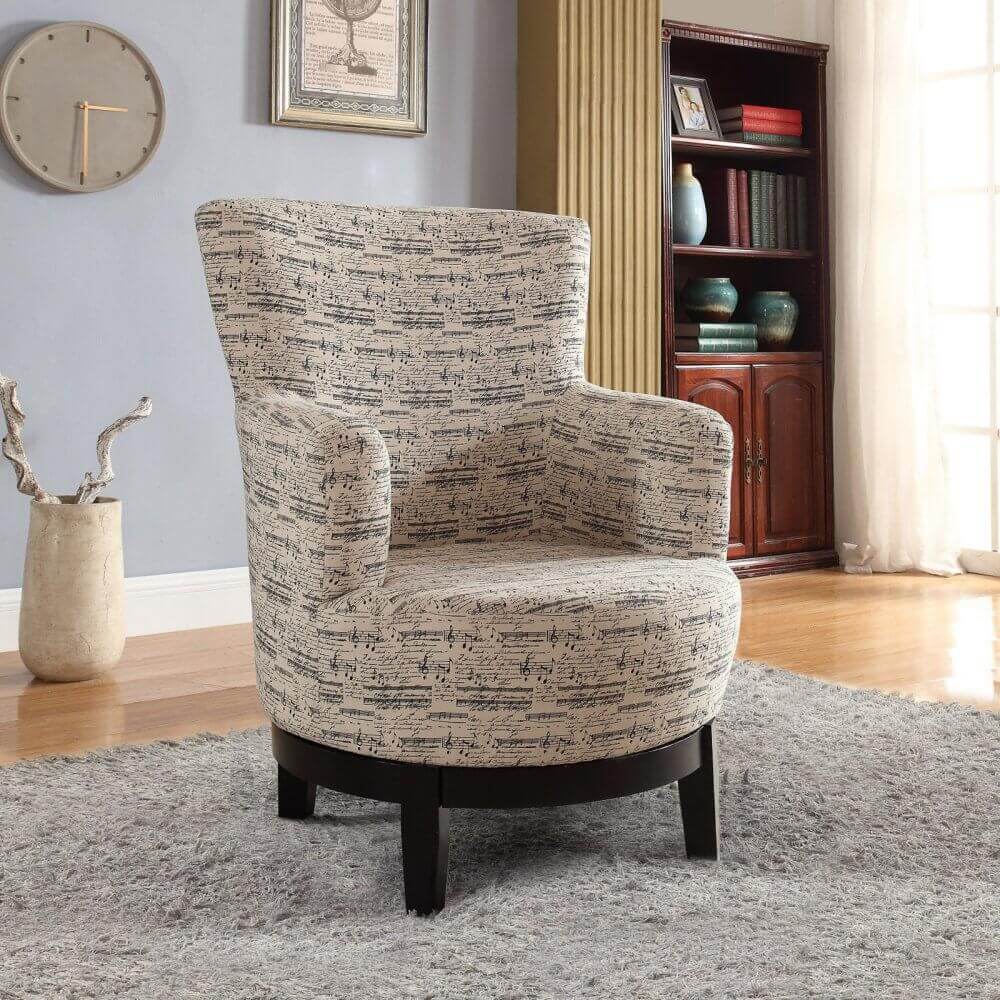 Here's a fun door that is kitschy enough to be a conversation piece. This could even be a do it yourself art project for the family.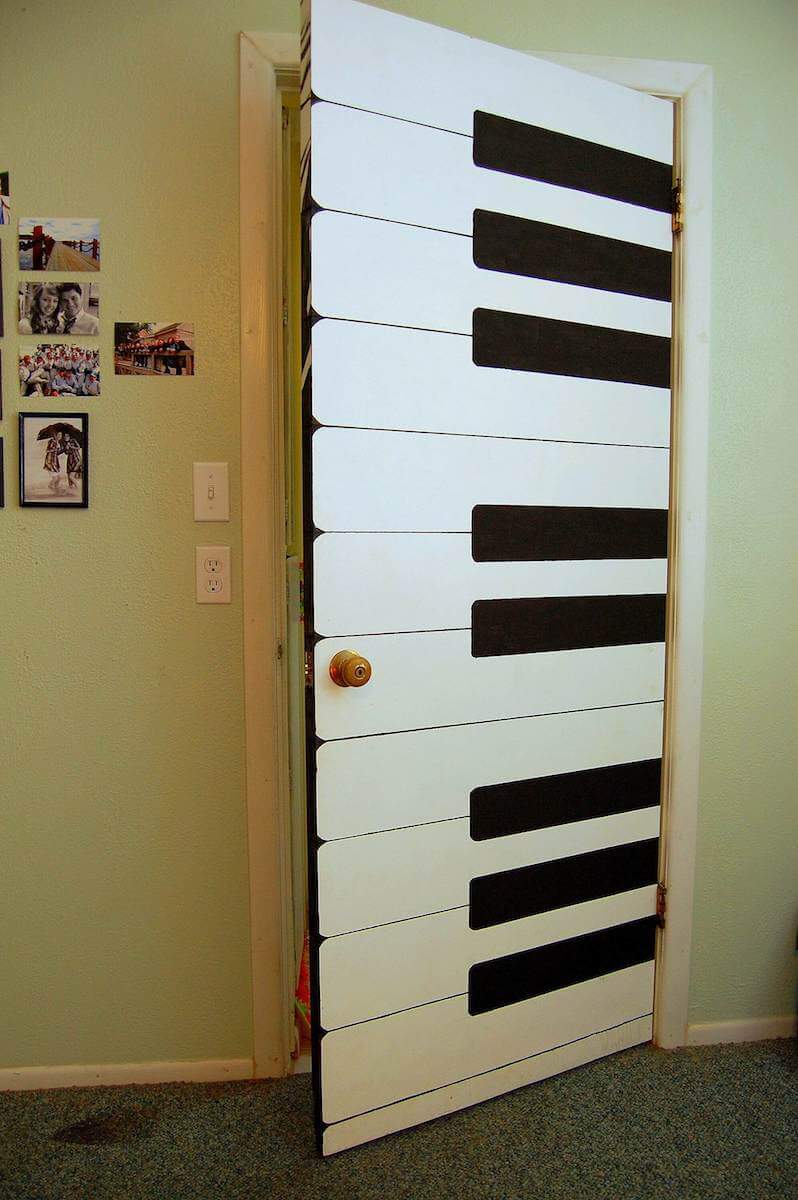 For a more sophisticated look, this wall art might be the focus of a room dedicated to your piano and your music.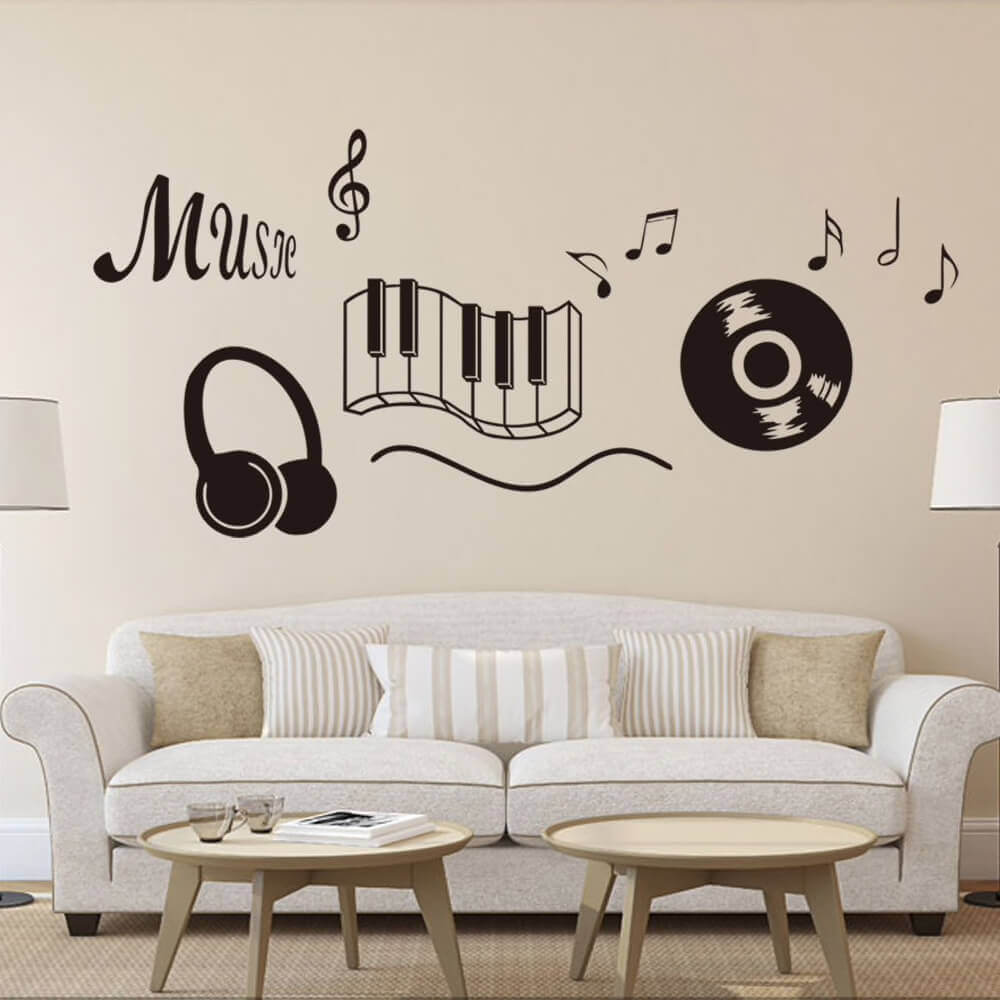 The important thing is that decorating your home and your piano room is a fun thing that the whole family can enjoy, so create projects to enhance the joy you have in music.
Using A Grand Piano To Dictate Your Décor
Sometimes a grand piano is just so beautiful that it begs to have a designer or homeowner fashion the space to spotlight and celebrate it.  The jewel in the crown.
Expensive pianos come in many shapes and sizes.  Anyone who has recently shopped for a new grand piano for sale knows that the European piano makers have turned the industry on its ear with a bonanza of exciting and ingenuous designs. The best place to buy a piano these days is on an online piano boutique (like Euro Piano Naples) who specializes in uber quality, high end designed instruments that are world famous and extraordinary. They cannot be found in your local piano stores because most of them are custom handcrafted and shipped from Europe directly to your door.
The lightness of a plexiglas piano, for example, stirs the imagination in any number of ways.
With today's instruments, the buyer can customize many of the grand pianos with an array of decorative choices, including rare woods, stone inlays, gems, paintings, graphics, LED lights, custom colors, and more.
Living rooms with pianos seem to come alive and give the inhabitants a life lived to the fullest with cultural and artistic qualities that enhance the human experience.
Which Décor Would You Choose For These Grand Pianos?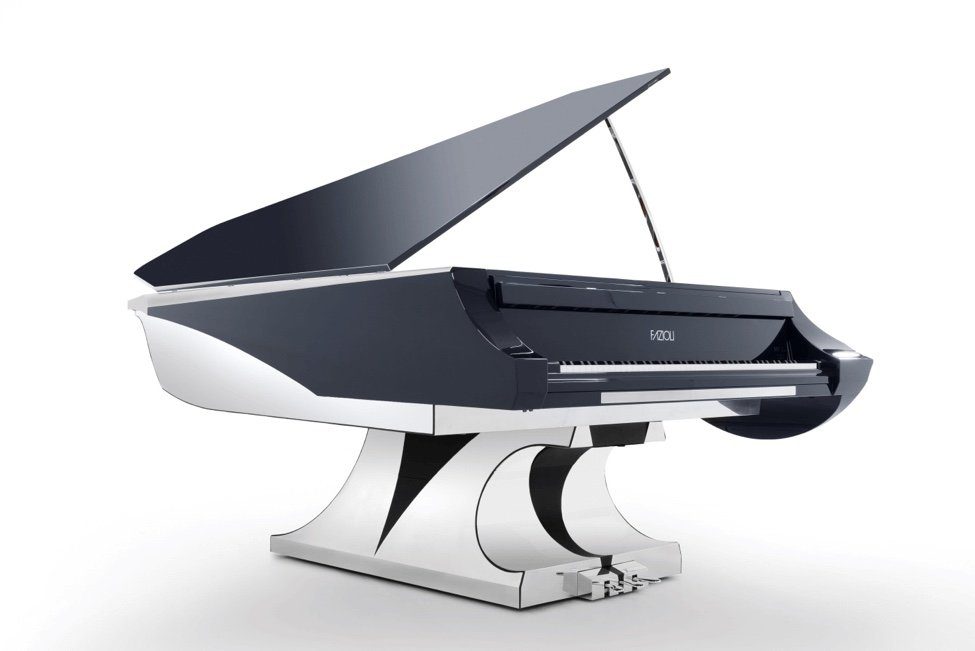 Only the imagination is the limit for what can be done today. It's fun to imagine what you can do with pianos this outstanding and avant garde. Just for fun, it's a great game to imagine how pianos can enhance living room  and music room spaces. By observing what famous designers and other piano owners have done, we get ideas of our own, for our own spaces. Obviously this FAZIOLI Aria piano would be most at home in a super modern room, right?
This room comes to my mind. With architectural design lines of both the space and instrument, the wedding of these would be perfection.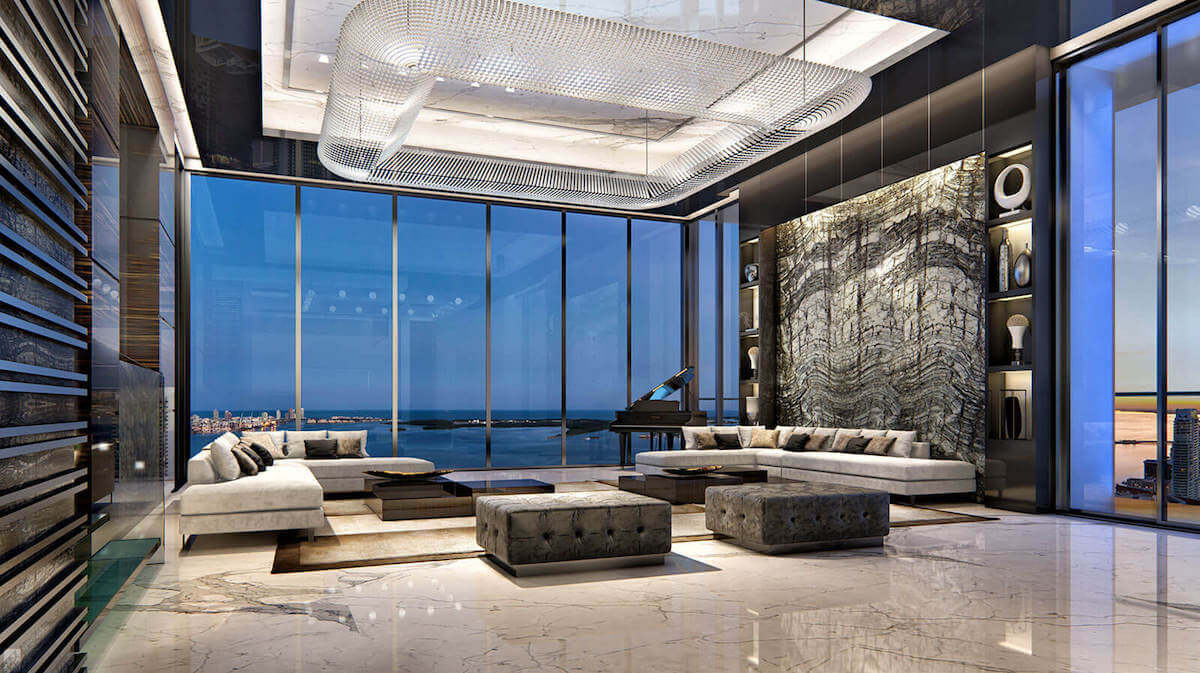 Speaking of luxury, people who own yachts know that living well is a combination of style, décor, money, and purpose. The "living room" becomes an adventure on the high seas and the sky's the limit. The way we see it, every yacht should have a designer piano.
Imagine this Bluthner Lucid Hive piano aboard the superyacht designed by Zaha Hadid, below.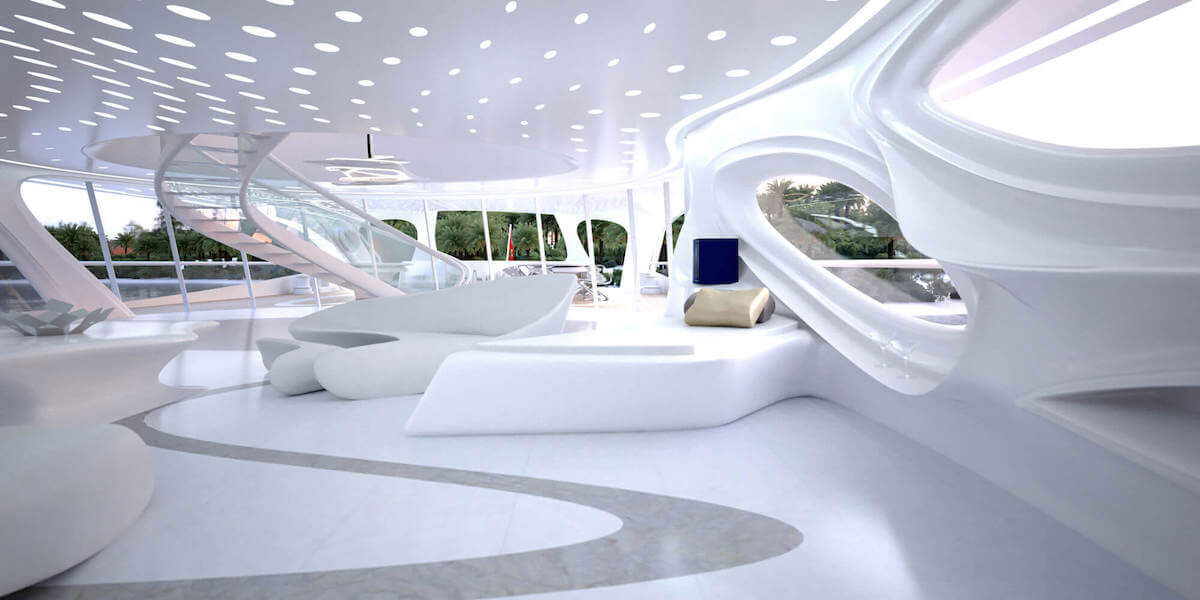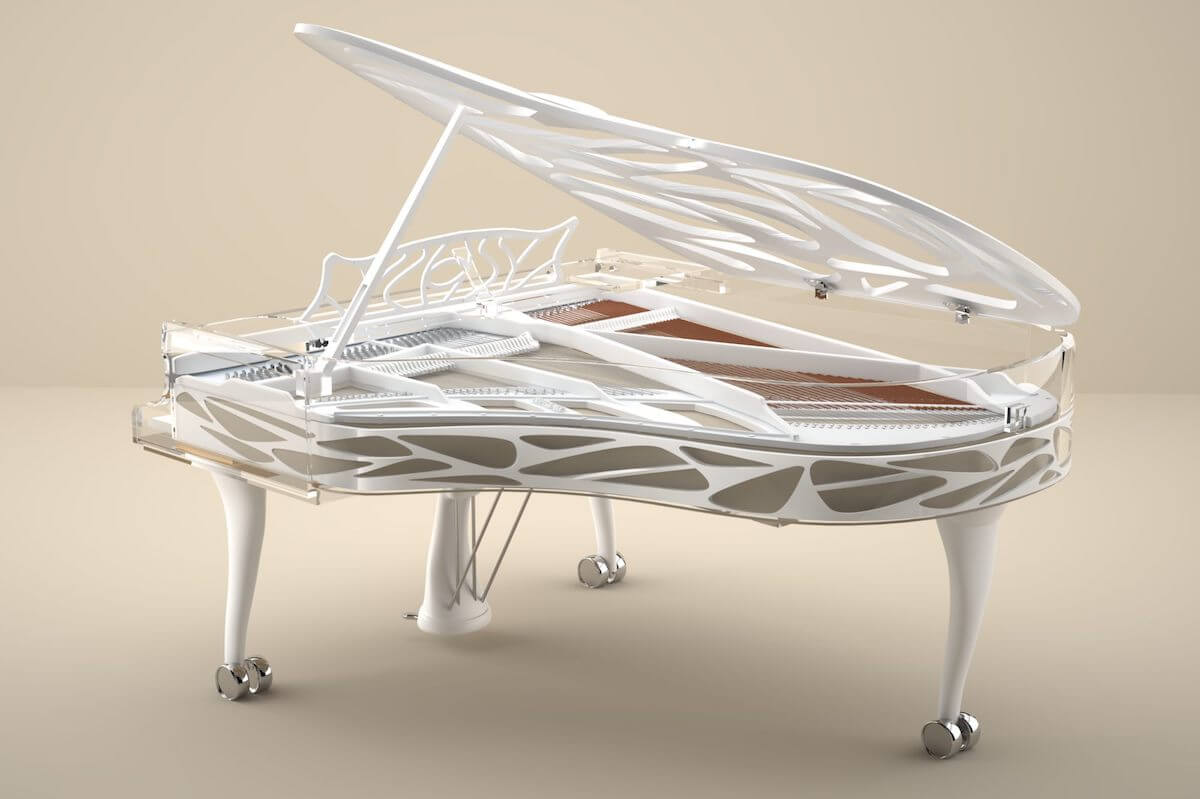 What Other Places Might Use Today's Innovative Pianos?
While we have focused on living rooms, we cannot forget that some people have entertainment rooms, music rooms, and recreation rooms that happily accommodate a piano and even a piano bar.  This fun acrylic piano bar would provide many good evenings of music and celebration.
Let us not forget public places where music is enjoyed.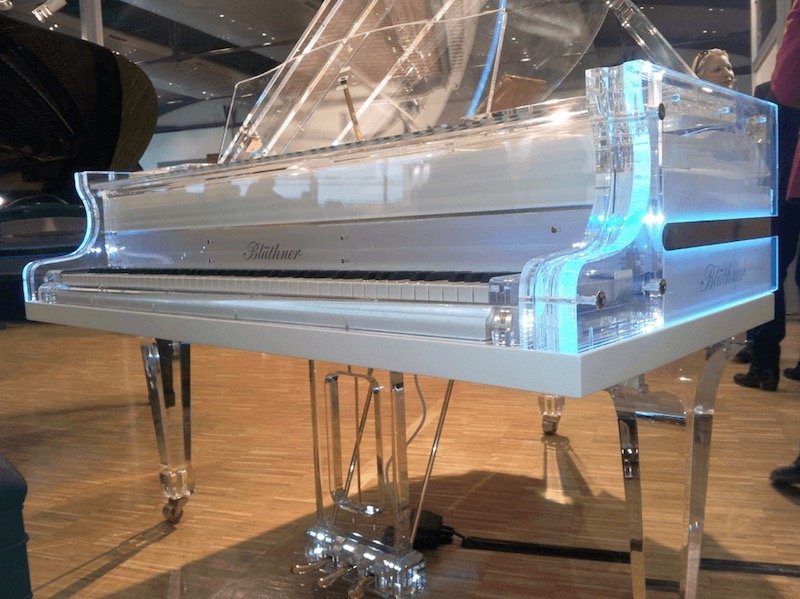 The LED-lit Bluethner would be a happy addition to the Romeo Hotel in Naples, don't you think?
Hotel lobbies, bars, restaurants, corporate buildings, and any other place where people might enjoy music and the visual delights of a designer piano would relish these new models.  Consultations on request.
Euro Piano Naples, a world-renowned distributor of European designer pianos, has company origins dating back to 1965.  Its innovative online boutique, caters to designers and consumers seeking the best, and offers the zenith of luxury instruments, including its own newly designed acrylic piano, The Aire.  Based in Naples, Florida, Euro Pianos Naples is a community leader actively engaged in artistic and commercial affairs, sponsoring a series of grand piano concerts featuring world class pianists.