Maybe we could entertain thoughts of a new way to how to decorate around a piano.  
The usual chain of events is to try to fit a new piano into an existing space, a living room or music room already in use.  This takes some planning and ingenuity of its own. Where Should We Put the Piano in the House?  But what about the idea of decorating around a piano?
Buying a new designer piano is an investment and takes considerable thought.  The homeowner wants an instrument that can serve a particular purpose–be it for practice, performance, or as an entertainment center.   Perhaps all of that and more.
The decor imagination can soar if you consider a piano with the styling of the Bluthner PH. A grand piano is a large piece of furniture and a large addition to the family.  But in some happy instances, the homeowner may be in a position to change the décor altogether. When building a new home, a piano can be worked right into the floor plans at the stage of the architect's planning.  Perhaps you are designing a piano room or in the living area, designing around a piano.  Or if you are moving into an empty home, the planning can be similar—putting the piano as the focal point in the room before planning the rest of the furniture. 
It could be a choice of doing a remodeling facelift to welcome the new piano and upgrade the beauty of the room.  You can redecorate around the piano.
Photo: Courtesy of Estate Media Australia
The designer's secret weapon – The Focal Point
Interior decorators and designers know the secrets of making a room spectacular.  One of their first principles is the simple matter of finding a focal point in a room.  Very often this can be part of the architecture, like a fireplace or a pillar, a glass wall or a beamed ceiling.  
Coral Nafie, author and expert on interior design has an article on The Spruce website about focal points.
A focal point can dictate many of the other design choices in the space. A beautiful designer piano can be the perfect focal point for a room.  
Today's revolution in piano designs has created a marketplace of the most diverse and extraordinary pianos of all time. Modern materials like acrylic, fiberglass, carbon fiber with the addition of customizable colors, graphics, and personalized mementos all lend themselves to the most visual and beautiful pieces of furniture one could want.  
So, this approach is to first buy it, then decorate around a piano of your dreams.
The Seven Elements to Decorate Around A Piano
Size
The piano itself dictates a certain amount of space in the room.  Grand pianos are anywhere from 5-ft to 10 ft. long, and the larger the piano, the larger the sound.  Besides size, there is a huge range of styles available, everything from futuristic and modern to the uber traditional, with many eclectics mixes in-between.    A small living room would not accommodate a ten-foot grand piano, so the first consideration is having a balance between the size of the piano and the size of the room.  Upright pianos, now available in designer styles, are perfect for smaller rooms.   We have written an article on how to fit a small piano into a small home.
We would advise on measuring the living area and shopping for a piano based on a reasonable size to balance the space.  In today's modern structures, very often baby grand pianos (from 4'10' to 5' 5") are the ideal size.  But in luxury estates where space is no issue, a full grand piano can be ideal.
Space And Form
Since today's designer pianos are available in dramatic shapes which are a departure from the old three-legged Steinway, some thought should be given to the artistic value and "showcase" value of the instrument.  Not only a focal point but a prized treasure that is the shining heart of the home.  This Boganyi is a perfect example of splendor extraordinaire in the home.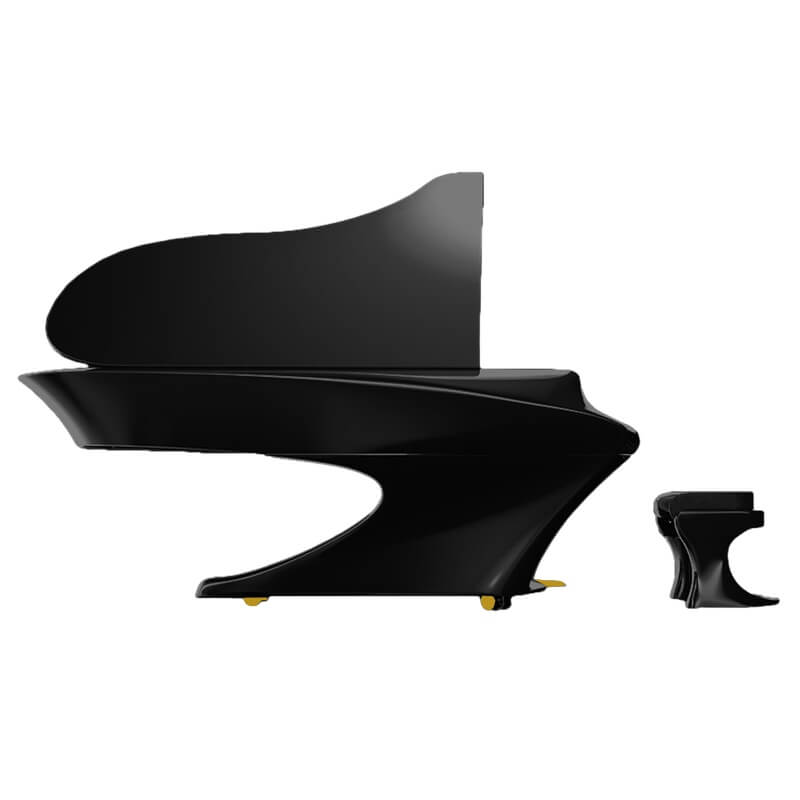 Designing Around the Focal Point – the Piano
Every room should have one (and only one) focal point.  When one enters a room, the focal point is the first place that the eye lands.  With a beautiful piano as your focal point, there are little tricks to making the instrument the 'star' of the room.  Its size and shape are a pretty good start anyway, but you always want to draw the eye to the piano by adding extra design elements to enhance it.  This could be a textile in a vibrant pattern on the bench; if the piano sits next to a wall, a grouping of eye-catching pictures on the wall would grab the eye. Every focal point should have its own lighting source, and a special light treatment on a piano can make it truly stand out, whether it's recessed ceiling lights, a dramatic arc floor lamp or even a small chandelier, the options are many. 
How to Choose the Rest of the Furniture
When you decorate around a piano, you must plan how to fill the space of your room, and there are a set number of things to consider:
Style
Most of us think we just lean one way or another.  We are traditionalists or we are drawn to a modern style.  But have you really considered all the styles there are?
Consider these, as delightfully outlined and pictured in House and Garden.
Art Deco

Arts & Craft

Asian

Bohemian

Coastal

Contemporary

Country

Eclectic

French Country

Industrial

Mediterranean

Mid Century Modern

Modern

Moroccan

Scandinavian

Shabby Chic

Southwestern

Traditional

Transitional

Tropical
Chances are the piano of your dreams lends itself perfectly to one or more of these motifs.
Function and Placement
When choosing furniture for your space, it helps to have an idea of what activities this room will be used for.  Is it primarily for music and entertaining?  Is it a welcome space for cozying into a reading chair or dozing on a sofa?  Is it a lavish show room for guests and business?  Your furniture will reflect your style but also your functions in the room. You will also want to consider placement in a way that supports your focal point. If the piano is the star of the room, the rest of the furniture should be supporting actors and positioned accordingly.
It helps to have a paper floor plan (like an architect's blueprints) where 'to scale' pieces can be moved around until the ideal layout is achieved.  As you search for the proper furnishings, keep the balanced plan of space and form in your sites, and expressly measure pieces to mock up for your design.  Here's a handy website with examples of how you might proceed with layout plans. 
Omit Clutter
One of the most common mistakes made in interiors is having too much in a room.  All those things you love and must have need to be seriously considered.  (why not the bedroom, or the bath, or the family room?)  More than one collection of anything in the same room, unless you have an estate with a football sized floor plan, is one too many. 
Use Different Brands
If you fall in love with one furniture collection, and buy all the matchy-matchy pieces, chances are your living room will look like a showroom for than manufacturer rather than having you own individual stamp on things.  Shop!  Look at photos!  Do the work and your living room will be a treasure.
Avoid Amateur Errors
Pictures hung too high. Throw rugs too small. (they should fit under the feet of all the furniture facing them).  Trendy colors that will be outdated soon. (remember the avocado kitchen appliances and the bathroom fixtures of the 1960's?)  Stick to replaceable pillow covers and throws for that fuchsia you must have Now! 
Decorating the Top of A Piano
Some people ask how to decorate a grand piano top in the living room.  If the piano is used mainly as an entertainment center with the hidden player piano system, (thus the lid is not needed to be raised) the piano top can be treated as a showcase for a piece of art, a vase of fresh flowers or a beautiful lamp.  But more often a lifted lid creates the elegant silhouette that a grand piano offers to a room, and it seems a shame to mar it.  How to decorate a piano for Christmas falls under the same guidelines.  One classic Christmas figurine atop the instrument might be charming, but don't be tempted to string popcorn around the lid or hang stockings from it!
Do Add Odd and Unique Pieces
Don't be afraid to use that heirloom clock, that old fashioned candy dish or Tiffany lampshade in your uber modern digs.  A little personalized eclectic touch can bring a room to life.  
Make Sure You Like It!
If you do it yourself or pay a decorator to do it, when the project is complete, make sure it's a living room that gives you comfort and pleasure.  It's a place for living, not just for showing.   But let's move on to the rest of the elements.
Color is one of the most exciting elements of design.  Designers frequently use a soft palette of two or three colors.  By using muted, natural colors in your walls, flooring and seating, your accessories and focal point can be a dynamic and bright medley of colors.  Or one pop of color like red!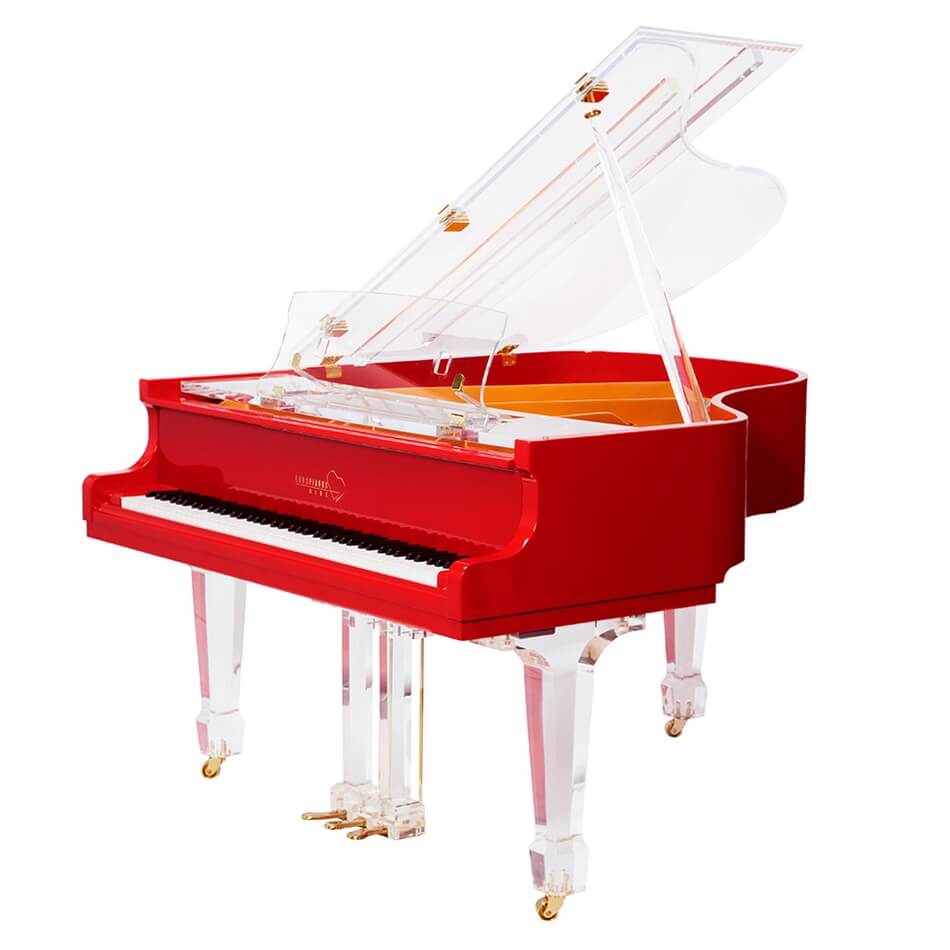 Imagine this fire engine red piano in a muted room such as this Kerimoglu House:
Ozhanhazilar.com Interior Architecture  – (Istanbul Interior Design Project 2015)
Black and white is another combination that is easy to live with, and easy to brighten up with accessories.   A white piano could be the perfect complement to this kind of low-key color choice.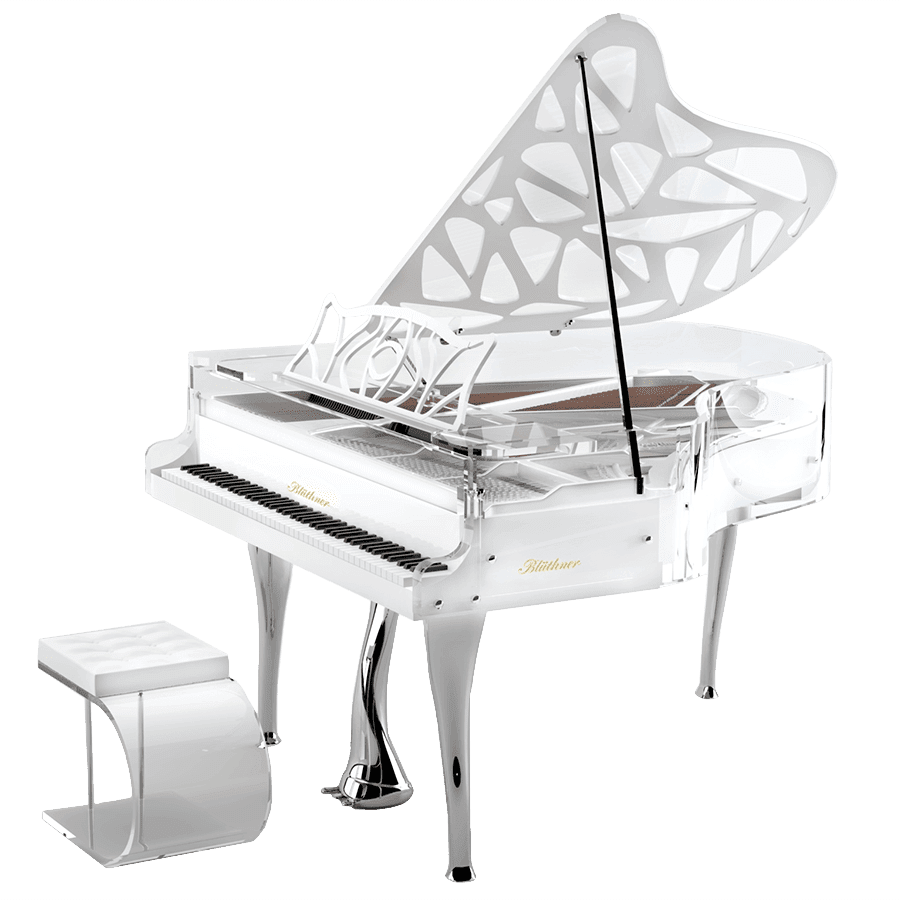 Bluthner Lucid Hive Elegance grand piano
Picture a white piano in the beautiful black and white room put together below:
A nice article on basic color theory can be found at Fresh Home.
Texture and Pattern
For our purposes, we like to combine these two elements and they often go hand in hand.  Often-overlooked designer elements, the huge choice of textures and patterns in all kinds of textiles, woods, wall treatments, and the thoughtful mix of them can create amazing results.  No matter what the decorating budget, texture and pattern can add flair and individualism to any room, without taking attention away from the focal point of the room, your beautiful piano.
The room above might be designed around a black Euro Pianos AIRE™ baby grand.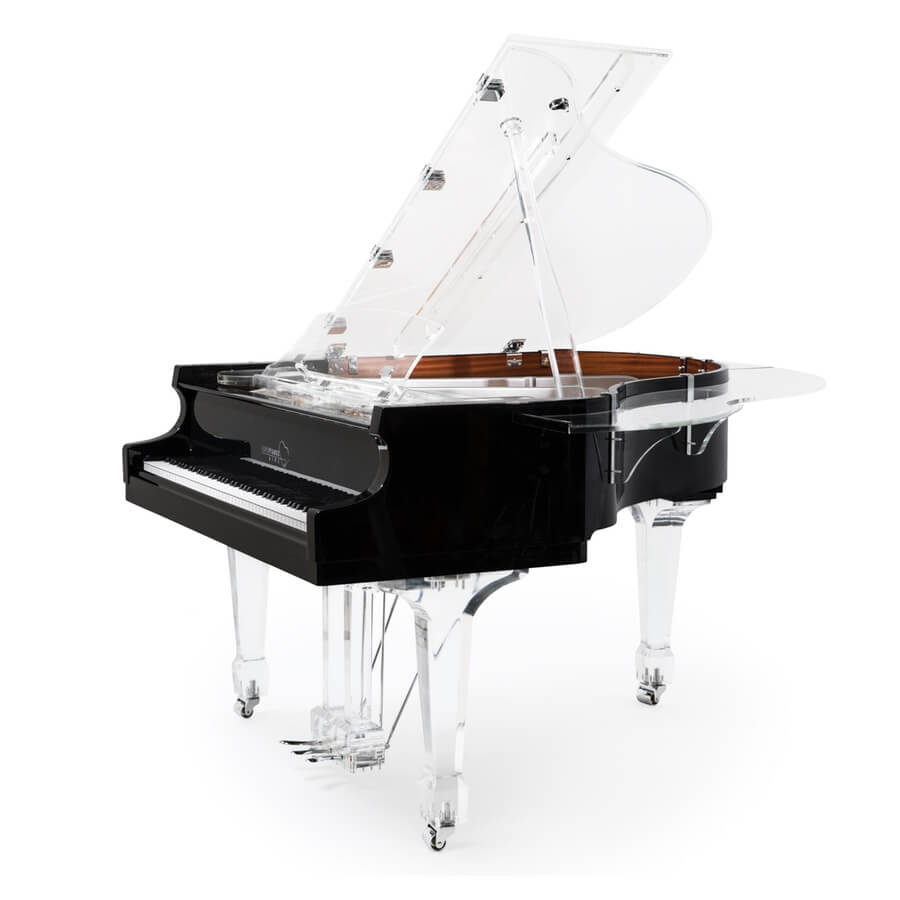 Line
This element of design is perhaps the most elusive.  It takes a trained eye to actually pre-plan line.   Low, close to the floor furniture will carry the eye horizontally.  Tall windows and bookcases will lead the eye to vertical lines.  The desired effect of a room can be controlled by line, including diagonals, zigzags, and curves.  Most designers are looking for balance in line, but it's an element that should be studied.  When you decorate around a piano, it opens up many choices.  An article in Ace Interior Design in Britain addresses the possibilities:  Intro to Line Interior Design.
Light
In our opinion, we saved the best for last.  Lighting can make or break a beautiful room.  Light obviously has a functional purpose (like the ability to read off the music stand of the piano!) This is called task lighting and can be done in many ways such as a gooseneck lamp or a floor lamp et al.  The living room can be broken down into its uses, such as the reading chair, the entertainment center, the piano illumination. and the ideal light fixtures should be carefully considered for each use.
 But beyond function, light is the best way to complement a room with mood and atmosphere.  It also can be designed to 'show off' your piano, and punch up your accessories, color and textures.
Light fixtures can be works of art themselves, and should warrant high esteem in your decorating scheme.
Euro Piano Naples is available for free consultation on your dream piano, your dream interior designer, as well as answering any questions you might have about customization, player piano systems, and any other.  We are pleased to be of service.
For more decorating/designing ideas, see more of our "Under the Lid" blog articles:
https://www.europianosnaples.com/interior-design-ideas-with-pianos/
https://www.europianosnaples.com/decorating-a-room-with-a-piano-in-mind/
Euro Pianos Naples is a respected distributor of European luxury musical instruments. The company's origin dates back to 1965. Euro Pianos represents world renowned brands such as Sauter, and it has recently become a manufacturer of its own acrylic instrument – The Aire. Apart from being a successful retailer, consultant, and entrepreneur organization, Euro Pianos is actively engaged in the artistic and community life of Naples, Florida as an organizer and supporter of musical events throughout the years.