The question might be:  why do you want or need a piano in your home at all?   Some might consider it a luxury or perhaps a dated family tradition, a throwback to the days of a parlor grand in every Victorian sitting room. But people who know and play piano, who want their children to learn piano, and who have experienced the benefits, might yearn for a piano, but feel there's nowhere to put it. So, first, what are the benefits?
The Benefits Of Owning A Piano
There have been decades of research done on the benefits of playing a musical instrument, and it is generally acknowledged that the piano encompasses the entire musical spectrum of notes and clefs. This makes all other instruments relative to the piano, so the piano is music's poster child.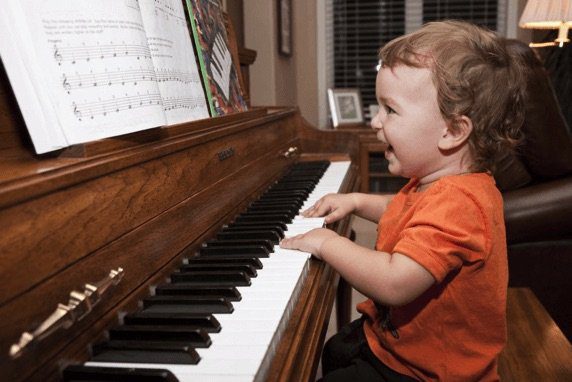 Piano offers physiological advantages to players of all ages. Playing sharpens motor skills and improves hand-eye coordination in the young. In older adults research shows significantly increased levels of Human Growth Hormone, which slows the adverse effects of aging. Bringing music into your life is also proven to reduce anxiety, heart and respiratory rates, cardiac complications, and to lower blood pressure and increase immune response.
Piano practice boosts cognitive and intellectual abilities, activating parts of the brain used in spatial reasoning and math. Studying piano has also been shown to improve memory and help build positive habits like focus, perseverance, and creativity. Regular practice from an early age can make structural changes to the brain that are life-lasting, making your brain more efficient both in music and in all other endeavors.
Spiritual & Psychological Benefits:
Music is a uniquely human experience. As a facet of worship around the world, music has been tied culturally to religion and spirituality. As a form of art and entertainment, music has spoken to multitudes of individuals at deeply personal, and yet universally human, levels. The researchers are forever seeking to understand the spiritual, religious, or emotional cause of music's power over the human psyche, but there's no denying its impact.
It is also interesting that piano has been used to treat Attention Deficit Disorder, and is generally known to help people experience less anxiety, loneliness, and depression. Playing piano has also been shown to be a great source of stress relief, and provides ample opportunities to bolster self-esteem.
So, Where Are You Going To Put It?
If you want a  small piano in your home, but feel that an apartment or small dwelling is just not big enough to accommodate anything but a keyboard, then we believe you should think again. As a rule you can usually make it work if it's a priority in your life. The first step is to decide that you can fit a small piano into your small home. Many thousands of people have done so, and so can you.
If you really want a piano, whether it's a small upright piano or a small baby grand piano, there's every chance that you can find room for it. You'd be surprised how easily it can be done by revising the way you look at the space in your home, and where your priorities lie. Prioritizing means that you look around your home and actually focus on what takes up space, and choose what's important to you.
Each household is different and has its own priorities. Bookshelves, overstuffed furniture, entertainment spaces, (home bars, large TV's, music systems and video game setups) have been given floor space – and perhaps without a lot of thought going into it. Sometimes things accumulate over years and are added a piece at a time – because we like the look or need the seating or it's an impulse purchase – perhaps a big potted palm takes up three feet in the foyer. But the overall planning of a room isn't always considered. Sometimes the original overall design and décor of a room has been altered over the years simply by unplanned purchases, the addition of children and their needs to the household, and other factors.
Trading Clutter For What Matters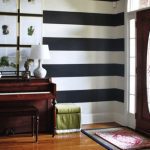 The first step might be to see how things can be rearranged or even excluded.   An entryway might have enough room for an upright piano (if the potted palm was moved out to the patio).
A large bookcase might do better in the bedroom to make space in the living room.  For that matter, would some of those books be better off at Goodwill?   Is that collection of old magazines and yellowed newspapers really necessary or taking up space? What matters more to you?  Remember, it's your vision and desire that make this possible.
Could a cluttered den be cleaned out and set up as a den/music room?  Could a TV room also include an upright piano? How long has it been since the kids used the rec room? How long has it been since you've updated the furniture?  Could you use less?  Could small, more modern pieces better fit your small house?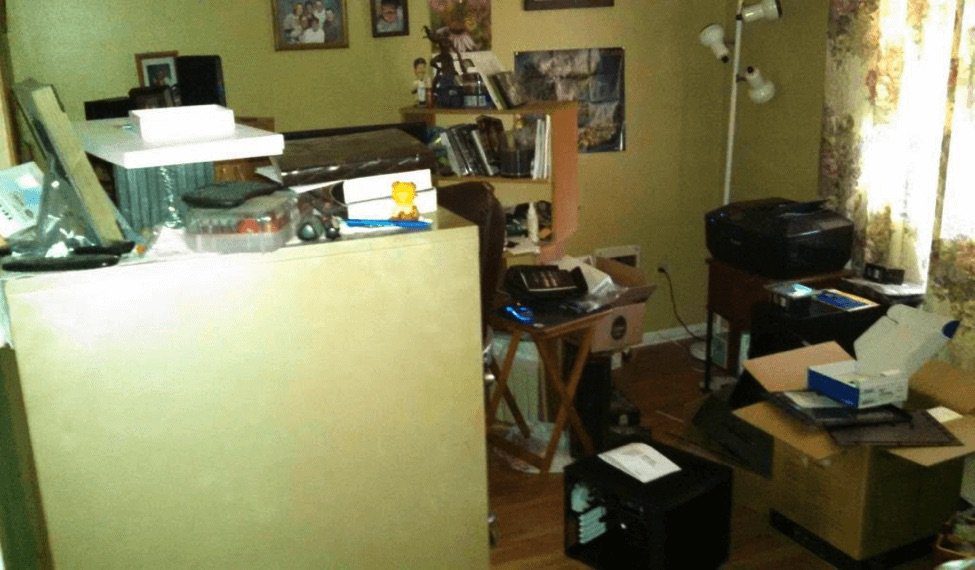 Maybe you have a home office that's lost its way?  Perhaps the office would fit in some cubby, and the space could be traded out for a music room?
If the family room is a catch-all for clutter and spare furniture, perhaps it could be redone with a needs-only approach, minimal furniture plus a small piano.  A new look and new focus is sometimes the very thing a family needs to spark new interest and inspiration in the home.
Finding The Odd Spots In Your Home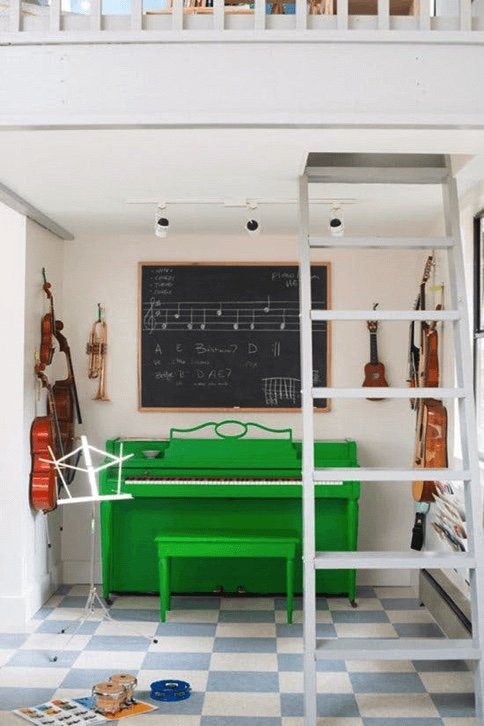 Is there a bay window or a niche  or some odd little spot where a small piano might sit?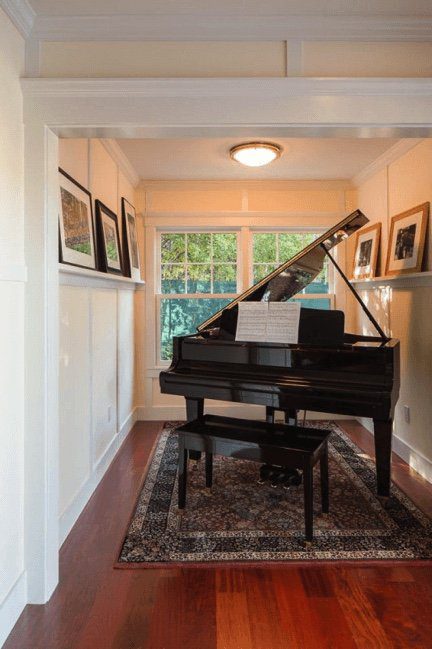 Perhaps there's a tiny room that's too small for anything but a grand piano!  It might take a little imagination, but the chances are good that there's a place somewhere in your home.
Don't Ignore The Corners!
Take a look at the corners of your rooms. Are they really being utilized, or simply ignored? You'd be amazed how many times people have fit a grand piano into a small living room with only a few adjustments, allowing access to a corner previously ignored.
While grand pianos sometimes have a way of taking over the focus of an entire room, small pianos often have the opposite effect. With the right choice of a piano, it can blend right into the surroundings as naturally as a credenza.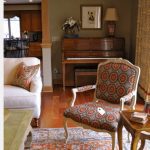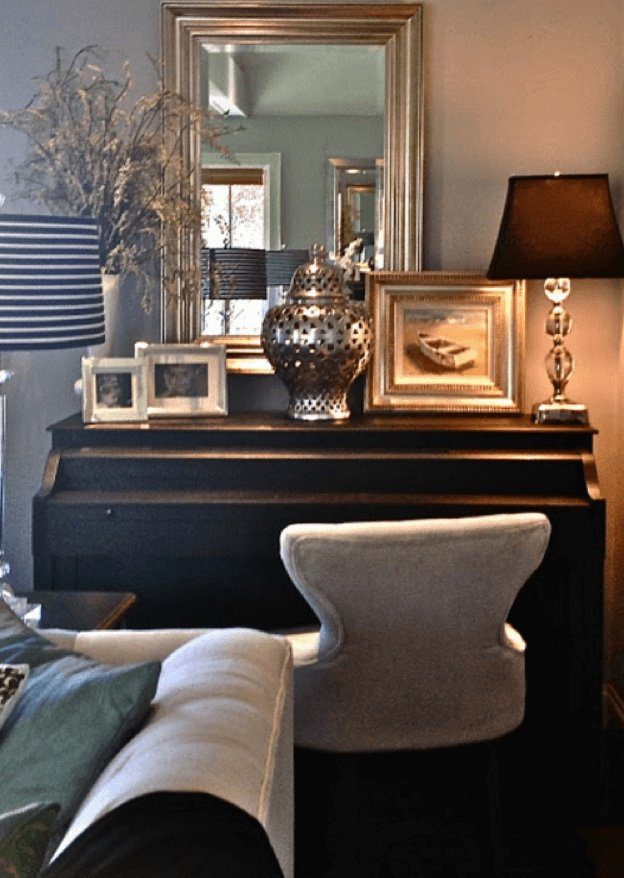 Even a small wall between rooms, or a divider in the floor plan might be a perfect fit for small pianos.  Keep a creative eye to what you do and do not need, and where the space could be better utilized.  With art objects and plants, a bare and boring space in a home can become beautiful and most importantly, a music center for the whole family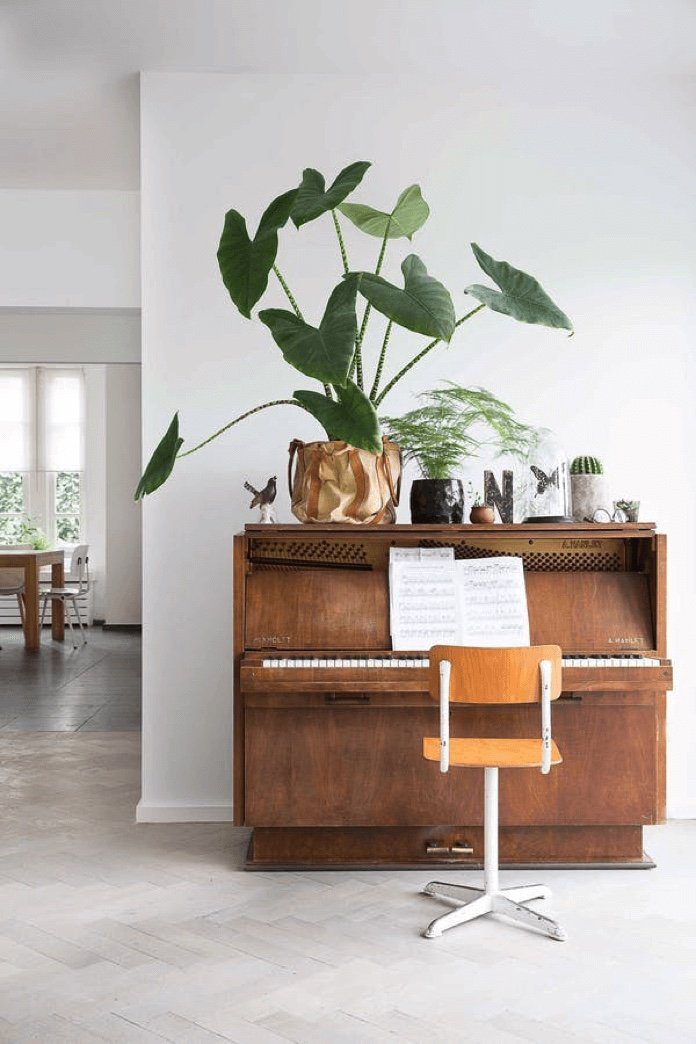 So What's The Best Piano For A Small Space?
Obviously the amount of home space you find is going to dictate just how big you can go when you set out to look for small pianos for sale. But here are a few ideas just for inspiration and direction. There are hundreds of choices and we would encourage readers to see our other blog articles on design and décor and check out our website for myriad models and customized colors and styles. But for the purposes of this article, we shall address two baby grand pianos and three Sauter uprights that we think are representative of small pianos that would do any small home proud.
RONDO Upright by Sauter
This curvy little beauty will look at home in any room of the house. Oozing with style, its rounded edges and cheerful aspect almost cries out "Play Me!"  These upright designs are by the renowned German designer, Peter Maly who was commissioned to do exclusive, modern and innovative creations for Sauter, one of the most respected, quality European piano builders. Sauter always makes our ten top lists in every category of pianos.
The piano seemingly "floats" on stainless steel cylinders and the sophisticated case in available in dark brown African Rosewood or glossy black. With Maly ingenuity, the lid opens in "wing-like" formations, with an upholstered chrome and leather bench.
PURE 2000 Upright by Sauter
The stark ebony lacquer of this Pure model make it one of our favorites.  Sauter (and Peter Maly) approached this upright with the principle that "less is more"  – as little as possible, as much as necessary.  Their aim was to be archetypal, reducing the best quality instrument to its essentials, with nothing superfluous.  The Purist Upright Piano. But these uprights offer a great deal, indeed. All of Sauter's larger verticals use an action, designed and patented by Sauter, that contains an auxiliary jack spring to aid in faster repetition. Sauter calls this the R2 Double Escapement action. The added tongue-shaped spring on the jack keeps it against the butt of the hammer much like gravity does on a grand piano. Repetition is nearly instantaneous, but doesn't put any "lost motion" in the key. This makes Sauter uprights a great choice among professionals.
VITREA Upright by Sauter
Another Maly original, the Sauter Vitrea is an astounding sibling of the Pure model above, with the same aliform winged lid and quality R2 double-repetition action under the hood. However this upright is sleekly constructed in warm shades of dark or light oak but adorned with front panels of cool frosted matt glass (available in two shades but shown here in green). This glass, reminiscent of fine art glass found in Venice and Paris, catches the light and is an audacious surprise in an upright piano, making it swank and modern, and memorable.
Manhattan 150 by Story & Clark
Among the many baby grands available, one little Story & Clark piano catches our eye.  The Manhattan is a flirty tribute to the art deco era whose designs have become iconic and still in demand all over the world.  It high gloss ebony finish is enhanced with accents of Birdseye Maple, and even the lid stand has the unmistakable art deco flair.  At four feet eleven inches, this baby grand can tuck into an apartment or home with ease.  It would be just as at home in a penthouse New York apartment, as a pied a terre in Paris.  Every Story & Clark piano is equipped with QRS PNOmation player system, which makes this an economical choice as well as a superstylish one, as it runs about $25K all included.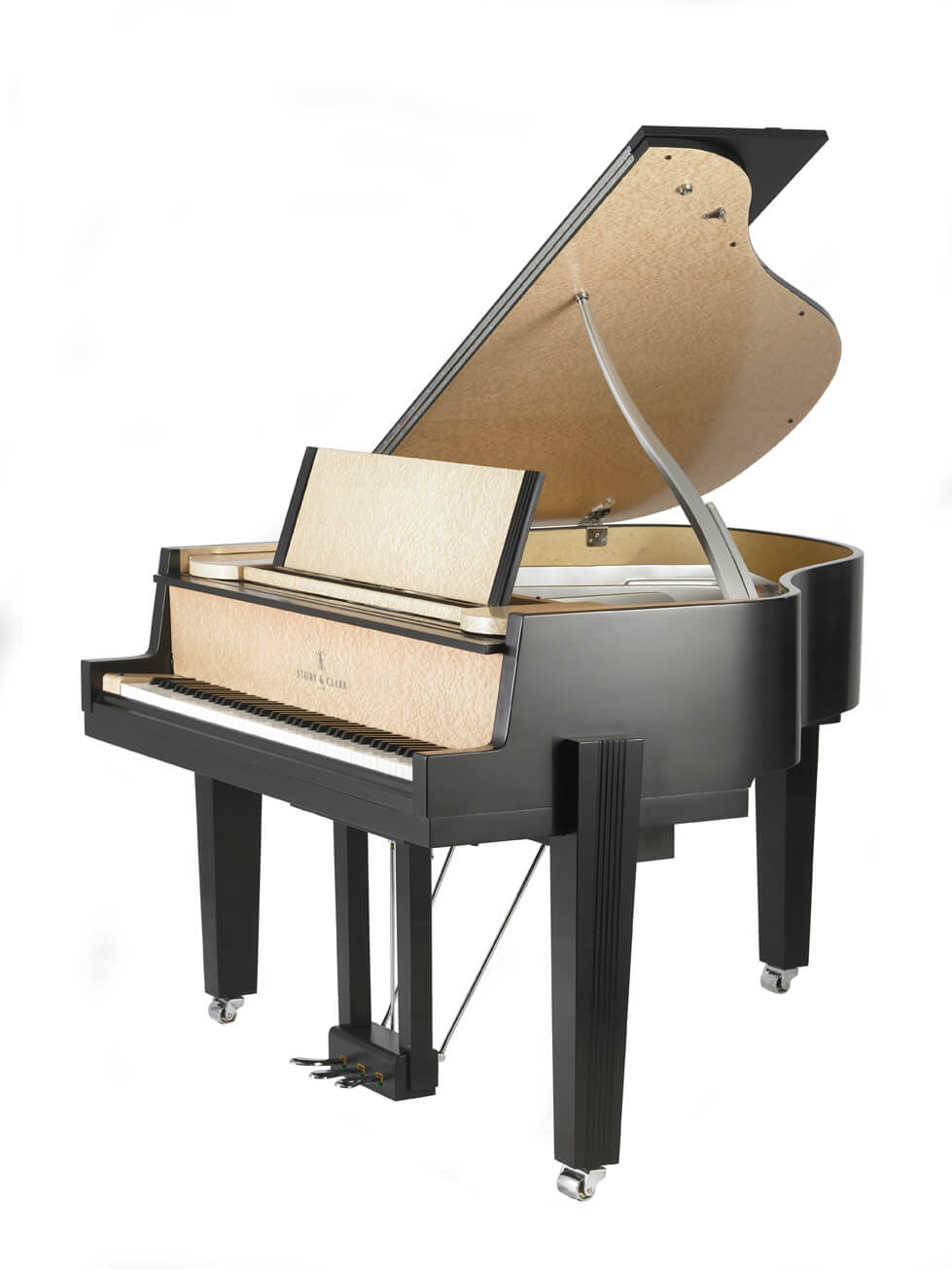 Baby Grand F156 by Fazioli
At the high end of baby grands and renowned as one of the best pianos in the universe, we must include the F156, the smallest (five foot two inches) of Fazioli grand pianos. It is hand made with all the same astonishing bells and whistles of the nine foot concert grands.  If you are the pianist who demands the best, this is the instrument for you.
Fazioli's reputation for unique sound, extraordinary workmanship and rare woods is upheld in every piano they ship from their factory in Sacile, Italy. The action is so perfect that these pianos don't even have to be tuned when they are uncrated, and require no preparation by a dealer on delivery like most other pianos. Extraordinary and special, the Fazioli brand is an asset as prized as the Ferrarri in the car industry. Professionals insist that to play a Fazioli is to experience anew the sound of music.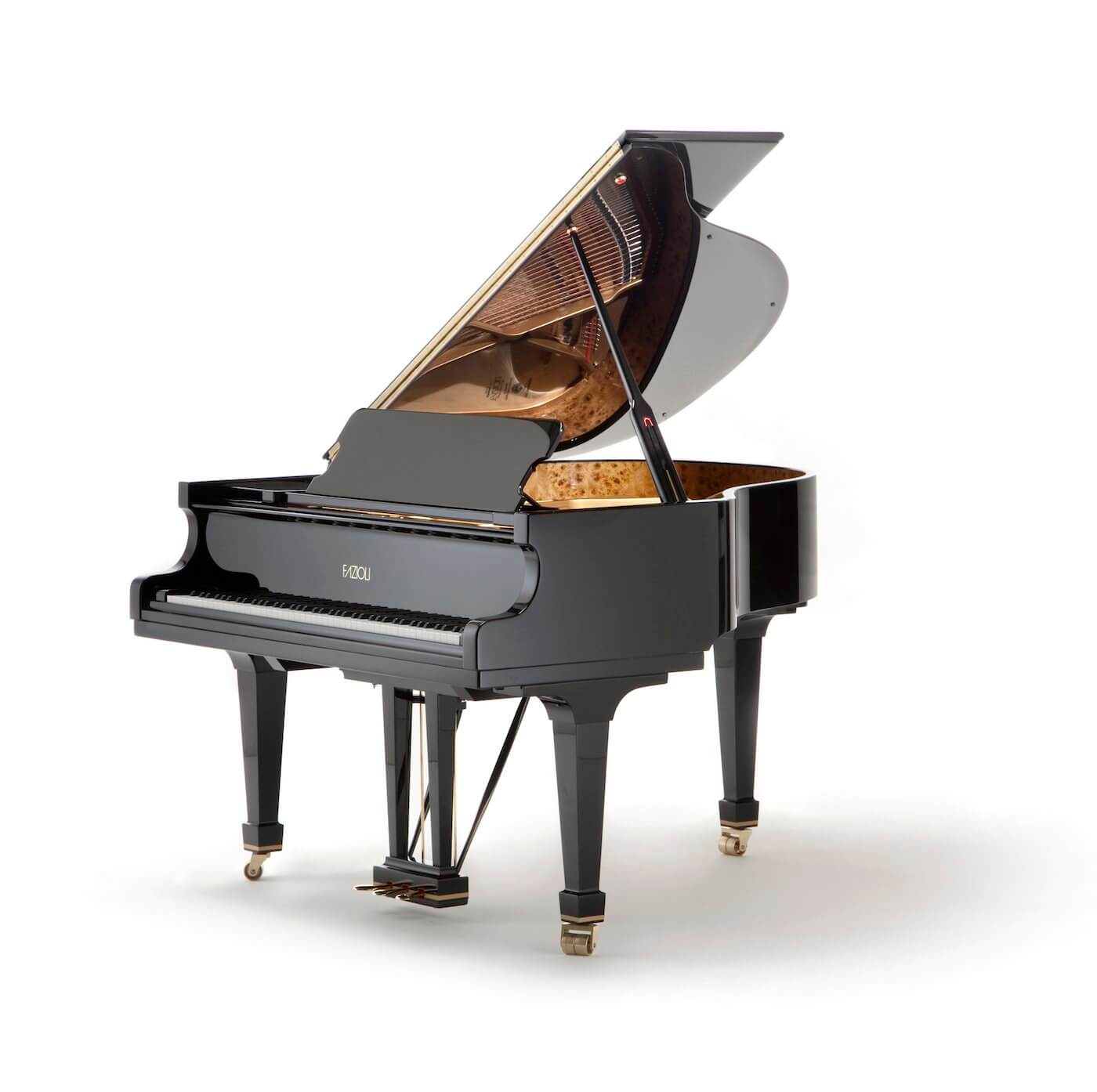 Euro Pianos Naples is a respected distributor of European luxury musical instruments. The company's origin dates back to 1965. Euro Pianos represents world renowned brands such as Sauter, and it has recently become a manufacturer of its own acrylic instrument – The Aire. Apart from being a successful retailer, consultant, and entrepreneur organization, Euro Pianos is actively engaged in the artistic and community life of Naples, Florida as an organizer and supporter of musical events throughout the years.