The adage of you get what you pay for couldn't be truer than when purchasing a piano.   The difference between mass produced, cheap instruments versus artisan hand-made luxury pianos is as distinct as fast food versus gourmet cuisine. 
Auction at Sotheby's, a gilt-bronze and porcelain mounted tulipwood marquetry handmade French piano. (Marshall B. Coyne collection)
Money isn't usually the biggest issue when buying a designer, luxury piano.  The emphasis, depending on the client, is usually on style, décor and function.  Because the piano industry has exploded with new technology, materials and fantastic designers, more and more purchasers are looking for high end, designer pianos.
But let's face it, most people are not averse to saving a little money and still getting a top quality, luxury instrument.  Musika, a piano-lessons website, addresses prices but includes non-luxury brands to give an idea of mass-produced piano prices versus luxury designs. There is always the Piano Buyer website to get pricing on dozens and dozens of manufacturers.   But we are sellers of luxury designs and want to compare a few of those.
In a crowded market of quality piano makers, it's hard to know which luxury pianos are giving you the most for your money.  We thought it would be useful to compare the more expensive models to some similar models at lower prices, while staying with top brands and luxury instruments.  
The old saw that "Steinway is the Best" has all but disappeared as the general public has learned more and more brand awareness in recent decades.   (The Hamburg made Steinways are still considered top pianos, but are no longer distributed to the U.S.)  Little known European piano builders who have been absolute leaders in quality since the 17th Century have finally moved into the limelight and are getting the recognition they deserve.  In return, these manufacturers have taken courageous leaps in design and performance to appease a growing clientele.   
Euro Pianos Naples has many blog articles available on each of the best pianos at the "Under the Lid"  blog, but we thought it would be interesting to look at luxury pianos with an eye to price.  
Modern Luxury Piano Styles
In contemporary homes, modern designs have become very popular in keeping with the sleek lines and clean colors of the 21st Century architecture.   Many of today's new pianos reflect the forward thinking of the modern look with innovative shapes and materials not used in the past.
FUTURISTIC PIANO SHAPES
The Boganyi Grand by Gergely Boganyi
One of the most expensive grand pianos (apart from the famously expensive Fazioli brand) in a modern, dramatic design would be the Boganyi which carries a price tag of over $225,000.  This is no ordinary grand piano. Designed by a Hungarian concert pianist, his Boganyi boasts new performance technology and high-quality materials with carbon fiber automotive elements.  There are only three Boganyis that exist to date, and one of them resides at the Aria Hotel in Budapest.   This piano is a rare and costly treasure reserved for clients seeking the best.
But there are less expensive luxury pianos which have unique futuristic lines and design.  For modernists seeking a bespoke piano with an extraordinary shape, the famous German piano builder, Bluthner, has many options.
The PH Grand by Bluthner
At about $170,000, Bluthner offers an iconic grand piano designed by Danish designer Paul Henningsen.  This exquisite piano was actually created in 1931 and was the first model to depart from the traditional piano shape and carries the renowned Bluthner performance quality in a unique designer case.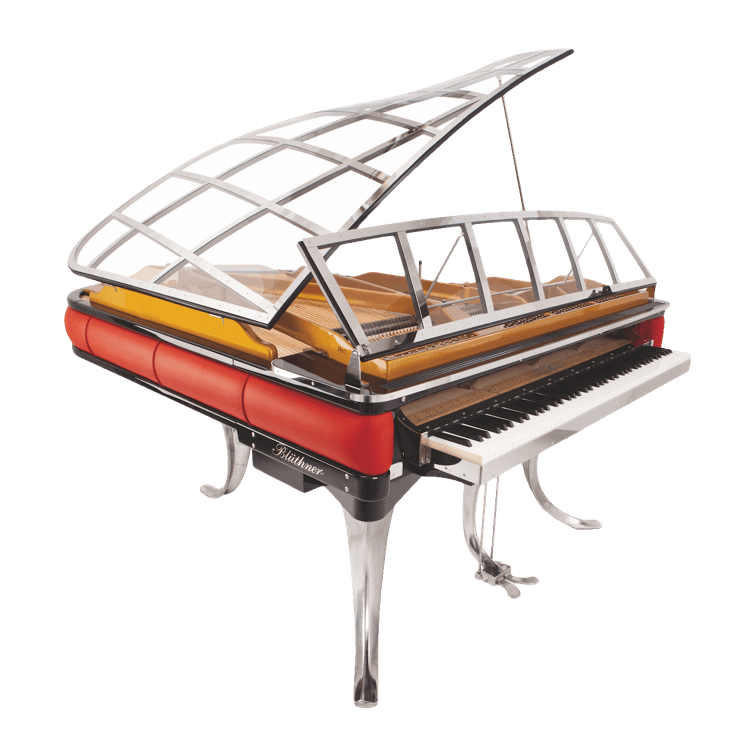 ACRYLIC LUXURY PIANO DRAMA
As the crystalline quality of acrylic materials improved over the years, furniture makers developed modern pieces using Lucite and Plexiglas to make beautiful home furnishings—everything from tables and chairs to bedroom headboards and lamps.  As quality acrylic that would never yellow was produced, a few forward-thinking piano makers decided to incorporate it into piano designs for the modern minded customers.   It turned out to be a successful venture and luxury acrylic pianos are now in demand.   Bluthner leads the industry with the most extensive array of acrylic models.
The Lucid Grand by Bluthner
The fully transparent Lucid Grand is an extraordinary focus piece in any room.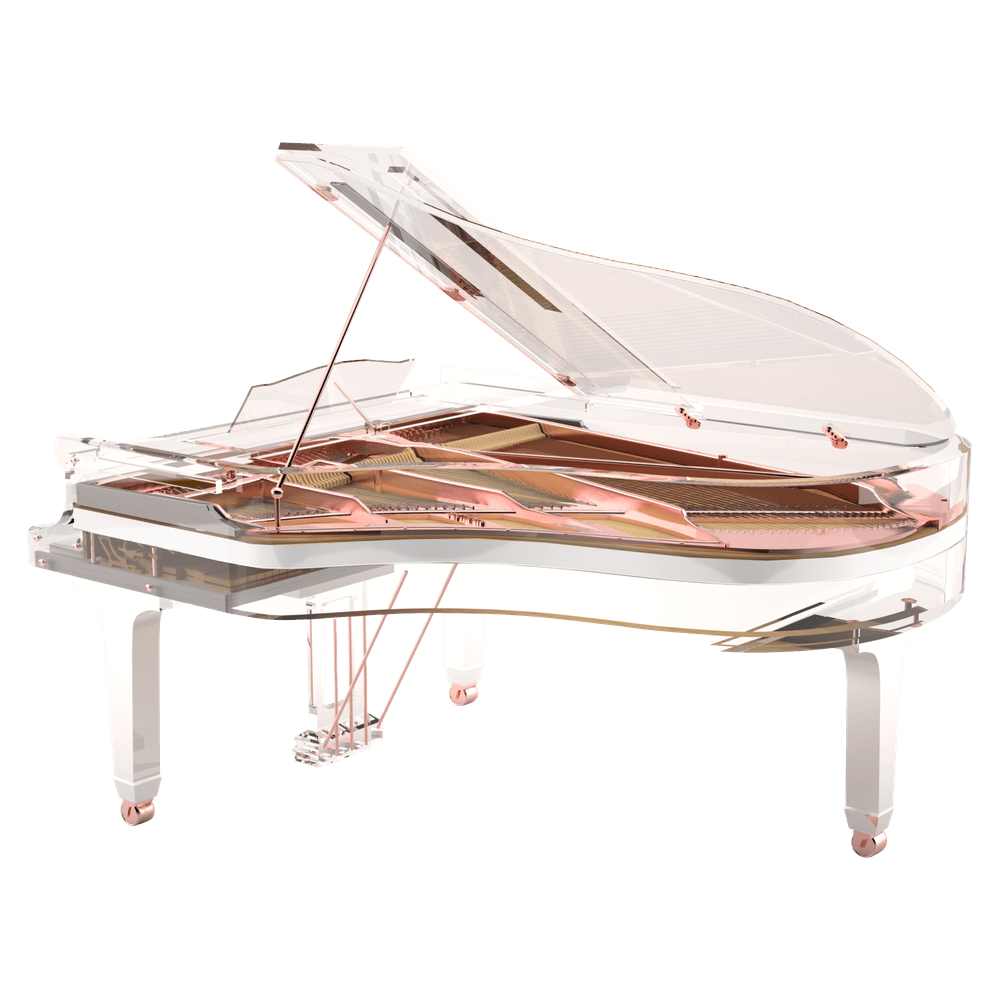 There are several gorgeous Bluthner models to choose from ranging from $150,000 to over $300,000.  And most can be customized with colors, LED lights, and a whole range of graphics, bells and whistles.
Euro Pianos Naples was approached time and again for a crystal piano model that was more affordable than the Bluthners.  There was no other quality acrylic piano available.  At this point, EPN decided to design and manufacture our own baby grand that is semi-transparent and has a $50,000 price tag to make it available to our budget conscious customers.
The Aire™ Baby Grand by Euro Pianos Naples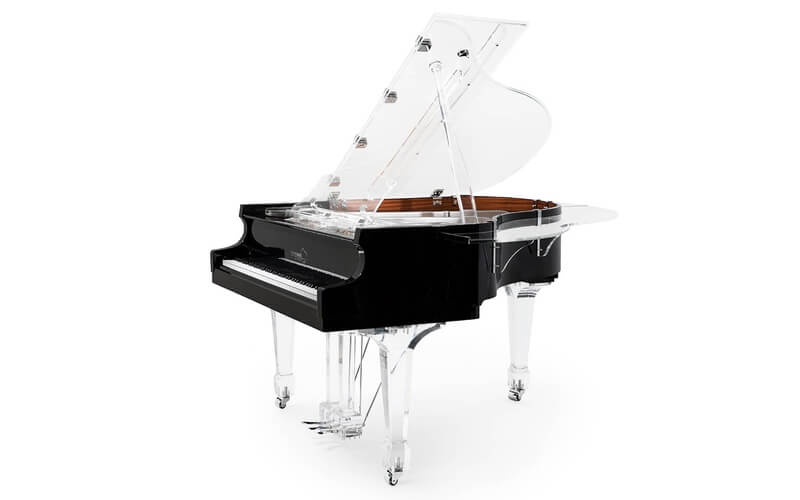 Traditional Luxury Piano Styles
Traditionalists are often unmoved by all the new designs and revere the shape and sounds of traditional pianos.  Such instruments provide historical and soothing influences for those who treasure the classics, yesteryear and the pure beauty of the original piano silhouette.
THE LITTLE BLACK PIANO
Just as every woman knows she needs a little black dress; the traditionalist often seeks a little black piano.  Polished ebony is easy on the eye.
Steingraeber & Sohne Baby Grand
One of the best kept secrets in the industry is the extraordinary excellence of the German piano maker, Steingraeber & Sohne.  When it comes to tradition, since the 1820's, their instruments have been making the finest music.  Their A-170 is five feet seven inches of baby grand grandeur with a price range of $112,000 to $142,000.  Their eight -foot grand is over $250,000.
Mason & Hamlin Model B Baby Grand
A more affordable little black baby grand can be had from an American piano builder, Mason & Hamlin, dating back to Boston, 1881.  By 1910, they were considered Steinway's chief competition.  Work has continued over the decades on core designs, and the company emphasizes limited-quantity, hand-built production. The Model B baby grand can be purchased for a little over $75,000 to $80,000 depending on finishes.
NON-HECTIC & ECLECTIC PIANOS
Traditionalism is more than a preference for established styles and shapes.  It's a mental set the prefers things in their place, uncluttered simplicity and clean lines.   Even if a room has eclectic leanings with some surprise colors or textures, it never goes overboard with a piano shaped like a dolphin or a crystal showpiece with LED lights.
Ambiente Grand by Sauter
Renowned for their full, lush singing tone, Sauter pianos have been built in Germany since 1819.  The ebony Ambiente Grand is a spectacular example of a traditional piano that would lend itself to the most traditional or eclectic interior design.   The seven-foot-seven-inch beauty is approximately $170,000. 
Model 190 Classic White Grand by August Förster
Another esteemed German piano maker, August Förster, since 1859 have made a limited output of instruments by artisans using hand labor.   If the traditionalist doesn't necessarily want the ebony case, white is a wonderful choice, especially for the somewhat eclectic tastes.  Förster's classic white grand in the seven-foot-two-inch length runs a little over $100,000, but a classic white in the six-foot-four-inch length (pictured below) is available for $80,500.
Practical Pianos
Sometimes customers have other reasons for buying a new piano.  There are many reasons, including lessons for the children, practice piano for the professional, entertainment center for guests, an investment, an art treasure, or needing something smaller or larger for a new space.  We thought we'd address a couple of these issues here.
UPRIGHT LUXURY PIANOS
When there simply isn't enough space for a grand piano, there is a delightful solution because today's upright pianos are as exciting and beautifully designed as their larger cousins.  Uprights have always been popular because they are smaller and less expensive than grand pianos.  In the old days only the affluent had grand pianos.  Upright pianos brought the middle classes Baldwins and Wurlitzers, and later Yamahas, and the rest is history.   For kids' lessons, for a small music room, for an apartment with floor limitations, the Vertical piano excels.
It's only been recently that the style and quality of upright pianos have undergone major changes, and today's new models are as exciting as the revolution of grand pianos.  In the uber luxury category, Sauter makes some of the most elegant uprights on the planet.  But the good news is that the best affordable luxury verticals are also made by Sauter.   Most of them, regardless of price, were designed by renowned Peter Maly, you can't go wrong with a Sauter upright.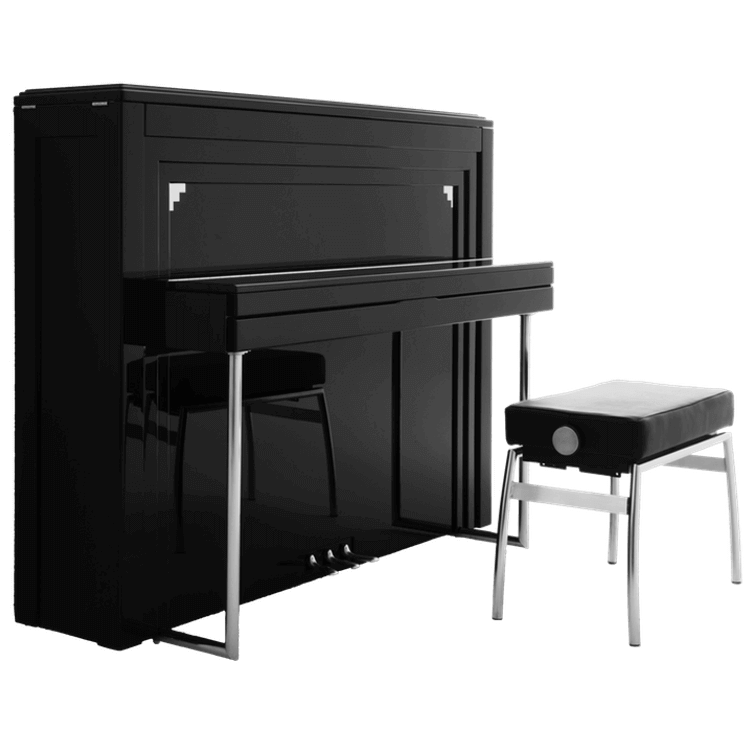 The beautiful art deco Artes upright is available in polished macassar ebony or white, and runs $53,500 in the high-end price. Each piece is signed by Peter Maly and comes with a matching bench.  The famous Sauter grand singing sound is also duplicated in their vertical pianos.
The Concent runs $32,000 and is a beautiful Maly design with winged top.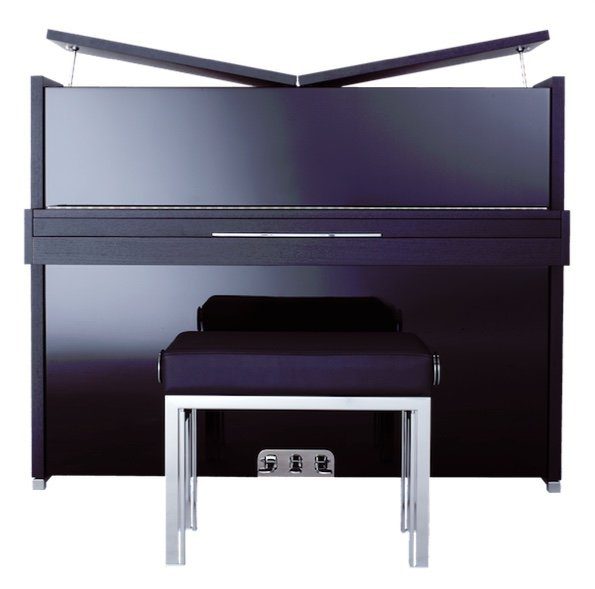 Euro Pianos Naples designed our own upright because of the demand for Mid Century Modern design in a piano.  Unable to find a piano builder who could provide such an instrument, we just built our own, calling the Echo™ ™.   The price tag on this little treasure is under $15,000.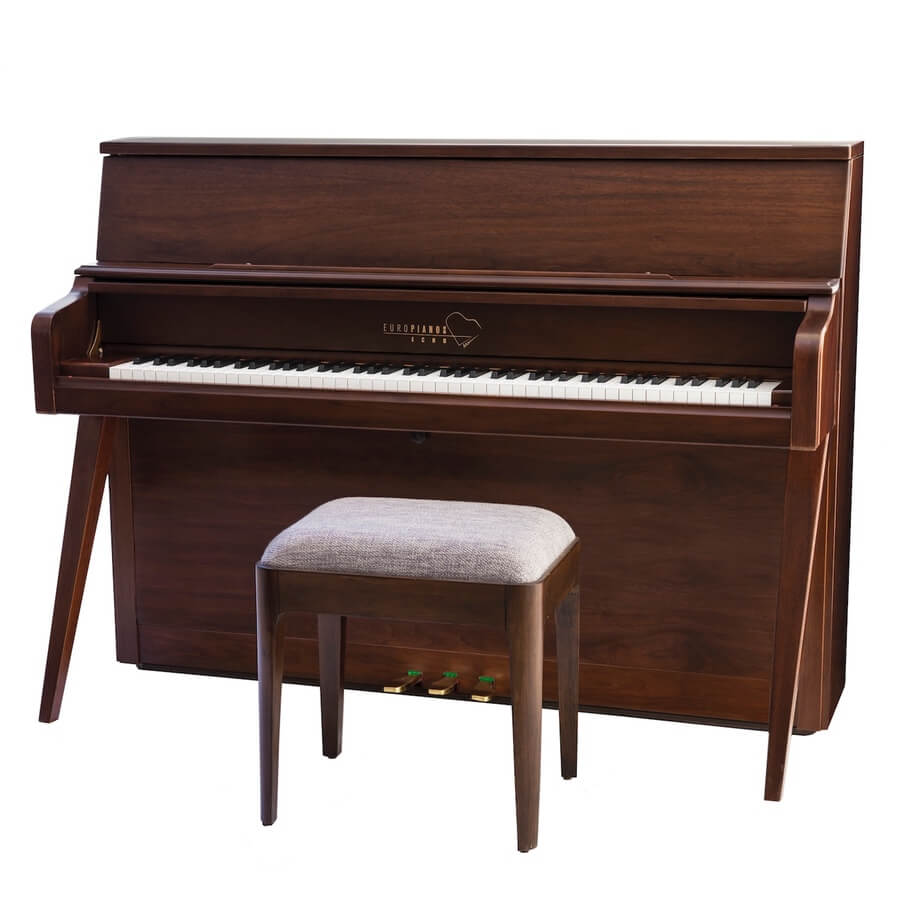 PLAYER PIANO SYSTEMS
People are usually surprised when we tell them how many pianos we sell to clients who do not play piano at all.  Pianos have become art treasures, living room furniture, symbols of culture, and things of beauty – with their musical capability only a secondary consideration.  But in addition, many clients do personal as well as business entertaining at home and require an entertainment center for guests.  
Today's state of the art player piano systems are installed out of sight and operated by an electronic device – an iPad, Alexa, or several other options.  Any piano can become a self-playing "performer" with moving keys as the repertoire of thousands of artists from classic to country perform "live" in your living room.  
Our "Under the Lid" blog has several articles regarding player systems, for example Pianodisc versus Pnomation brands and others. 
Contact us for free consultations and support.  We're here to help.
Euro Pianos Naples is a respected distributor of European luxury musical instruments. The company's origin dates back to 1965. Euro Pianos represents world renowned brands such as Sauter, and it has recently become a manufacturer of its own acrylic instrument – The Aire. Apart from being a successful retailer, consultant, and entrepreneur organization, Euro Pianos is actively engaged in the artistic and community life of Naples, Florida as an organizer and supporter of musical events throughout the years.