What makes a piano a Baby Grand?
A Baby Grand Piano is an acoustic piano distinguished from a Grand Piano mainly by size.  Grand pianos, which are essential for concert halls and other public venues, range in sizes usually six feet long and longer.  Size is measured from the keyboard to the longest tip of the closed lid.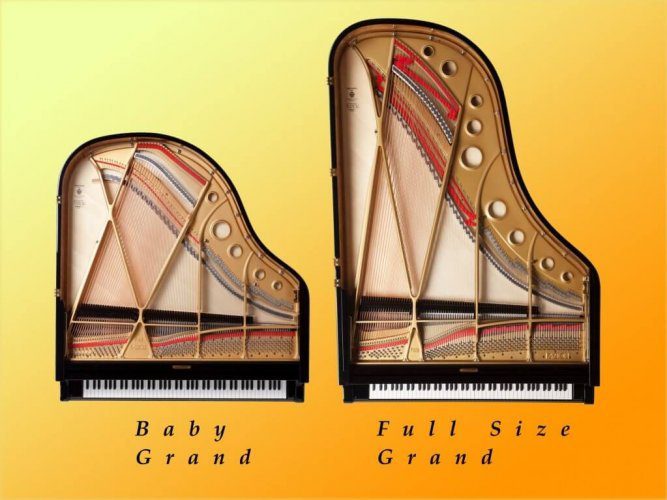 Baby grand pianos are under six feet, but normally fall in the 4'11" to 5'9" range.
Baby grand pianos are under six feet, but normally fall in the 4'11" to 5'9" range. Baby grands are popular because the smaller case fits apartments and homes with limited furniture space, and in today's revolutionary piano market, baby grands are constructed in a variety of woods, colors, and customizable choices that buyers find exciting and affordable. 
For instance in today's market, designers and decorators buy pianos to coordinate with their clients' décor.  This can mean that a heavy traditional piano, even a baby grand, could look clunky in a living room, sapping up not only space but color and line. But with the renaissance in modern piano building, that piano choice might be a white baby grand piano or even a white transparent baby grand like the Euro Pianos Naples' Aire model.
Another difference, of course, is that the cost of a Baby Grand, due to its size is lower than the same quality instrument built in the grand piano size. Baby Grand piano prices contribute to the wide popularity of these smaller, but just as elegant, pianos.
What are the Dimensions of a Baby Grand Piano?
The piano industry uses the length of the grand piano to dictate the difference between baby grands and all the other grand pianos as noted in the section above. Baby grand pianos are always under six feet.  But when a buyer is computing how much space is needed, one needs to know the width of a baby grand piano as well. There are small differences between piano builders, but by measuring across the keyboard, from one side to the other, a standard baby grand piano normally measures just under 5' wide.
Historically piano measurements have been in centimeters due to the European metric system and the origins of the piano instrument in Europe. There are 2.54 centimeters (cm) in an inch, if one needs to do the conversion when calculating the size of a piano.  Fine pianos made in Europe are still advertised in centimeters, so it helps to know the conversion specifics.
When planning the space for a baby grand piano, the buyer should also calculate the space needed for the piano bench for seating. There are other considerations to make regarding the placement of your instrument in a room. Climate control (not in direct sunlight or in high humidity, or directly over a heat vent), accessibility, "room to bloom" for the sound of the music, as well as decorating and design issues which can be resolved with planning. See some of our other blog articles for tips on how to incorporate a piano into the home.
What is the Weight of a Baby Grand Piano?
The weight of baby grand pianos vary by manufacturer, just as the dimensions do, but 500-700 pounds would be a safe, average estimate, with some larger baby grands going as high as 800 pounds. The main importance of the weight (besides the assurance that your floor can withstand it) is the moving of the instrument into the home.  Pianos are delicate instruments and cannot be treated like merely a big piece of furniture.  An item this heavy and large, with the intricate inner workings of a piano should be moved by professional piano movers and NOT by your standard household movers, if you want to assure that the piano is not damaged.  The industry abounds with horror stories of movers dropping pianos doing irreparable damage to the action; of storing them in warehouses without climate controls, ruining finishes, working action parts and corroding the metal strings.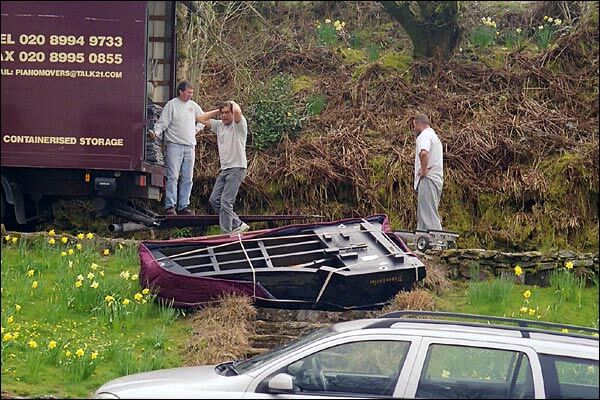 How Much Does a Baby Grand Piano Cost?
It's sometimes helpful to think of baby grand piano prices in the way one might consider purchasing an automobile.  Car manufacturers usually have a "basic" price for each model, and then many options are available at extra cost for more luxury, functionality or design.  Smaller models with fewer bells and whistles cost less.  Brands make an enormous difference. Chevrolets don't cost as much as Lexus models.
The same holds true for pianos.  Each manufacturer has its own quality standards, sizes, and extras.
In other words, prices may be under $10,000 for a mass-produced entry level piano and up to six figures for a high-end, hand-made designer baby grand by one of the most prestigious piano builders in Europe.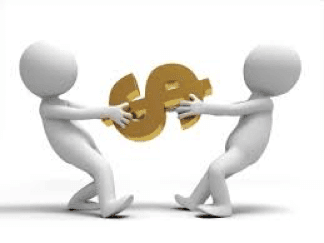 Some advertising for a baby grand piano for sale might be misleading to a buyer who isn't familiar with the inner workings of grand pianos.  Do not let price be the only consideration in the search for an instrument. Pianos, like autos, are hugely diverse in their sound and performance quality—and even for an amateur pianist or a beginning learner, it should be important to consider the action, tone and voice when you buy a baby grand piano for sale .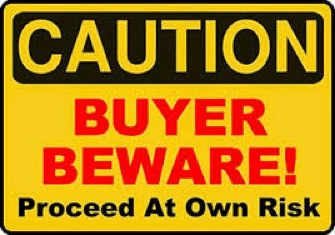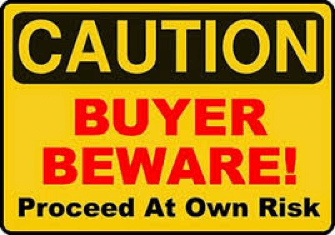 There are so many factors that can affect a piano, including temperature and humidity levels, the piano's location, and regular maintenance (tuning, voicing and regulation), that it almost goes without saying that used pianos can be a very a risky investment if the instrument hasn't had proper care. Having a car sit for years without driving it is not good for the engine.  The same applies to piano actions.  Even a top-priced antique Steinway is worthless if it has been sitting in a warehouse without climate control and hasn't seen a technician or been played in years.
What are the quality differences between a Baby Grand versus Grand Piano?
There are really few visible technical differences between a Baby Grand and a Grand Piano.  The major difference is the length of the pianos which house longer strings.  The longer the strings, the deeper and longer the tone quality; the shorter the strings, the quieter and less tone quality you have because shorter strings put less sound waves in motion.  Many pianists have the idea that a baby grand is an inferior piano because it usually costs less and has less tonal range than the grand piano.  However, this is not accurate.  If you put a concert grand into an apartment sized room, I guarantee the sound experience would not be a pleasant one.  Grands are designed for big sound to fill big spaces, and baby grands are made with an appropriate range of sound for smaller spaces.
What are the quality differences between Premium Grade baby grands and Mass-Produced (Promotional) baby grands?
It is true that that all baby grands are not equal.  There are premium grade baby grands versus "promotional" baby grands.   Most of the quality differences are under the lid and in the sound, but for those who want to be assured of quality, the promotional pianos will be low cost, as a rule.
There are some industry tricks to tell you how to find a premium grade instrument. You have to look under the lid and know a little about pianos to find the quality, but it's not difficult.
1. Look for a "wide" tail German design at the end of the piano. One of the best built pianos in the world is a Fazioli F156, and you can see just how wide the tail is, which accommodates a larger soundboard, and sound.
Not everyone will purchase a top of the line Fazioli, but this is just an example of what the ideal wide tail might look like.
2. Look for aliquot bars. Aliquots, originally designed by Bluethner, one of the leading piano manufacturers, have been adapted and recreated by others. Aliquot stringing is the use of extra, un-struck strings in the piano for the purpose of enriching the tone. With aliquot stringing, the notes in the highest treble section (about the top two octaves) have four strings each instead of three. The extra string is raised slightly above the others so that it is not struck by the hammer. Whenever the hammer strikes the three conventional strings, the aliquot string vibrates sympathetically. Aliquot stringing broadens the vibrational energy throughout the instrument, and creates an unusually complex and colorful tone.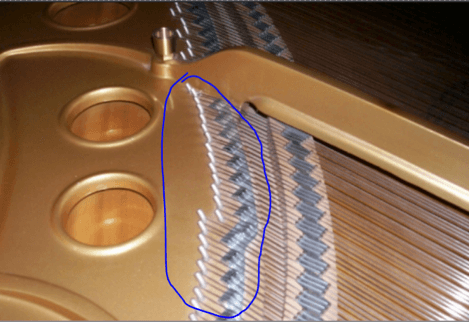 If you find a baby grand with aliquot stringing, you know it's a premium instrument.  Some pianos use individual aliquots, some have devised "bars" to hold the aliquot strings, and others like Fazioli have created a stainless-steel track, fixed to the cast-iron plate, on which individual aliquots slide. No matter how they're done, they're a good clue of quality piano building.
3. The outer case of the piano is surrounded inside by the "Inner Rim." This is the wood that the sound board is glued to, and cradles the sound produced by the action.  If a good hardwood, like hard rock maple, is used in the inner rim, the piano is going to sound better.  So another way to check for quality is to check the type of wood and thickness used for the inner rim.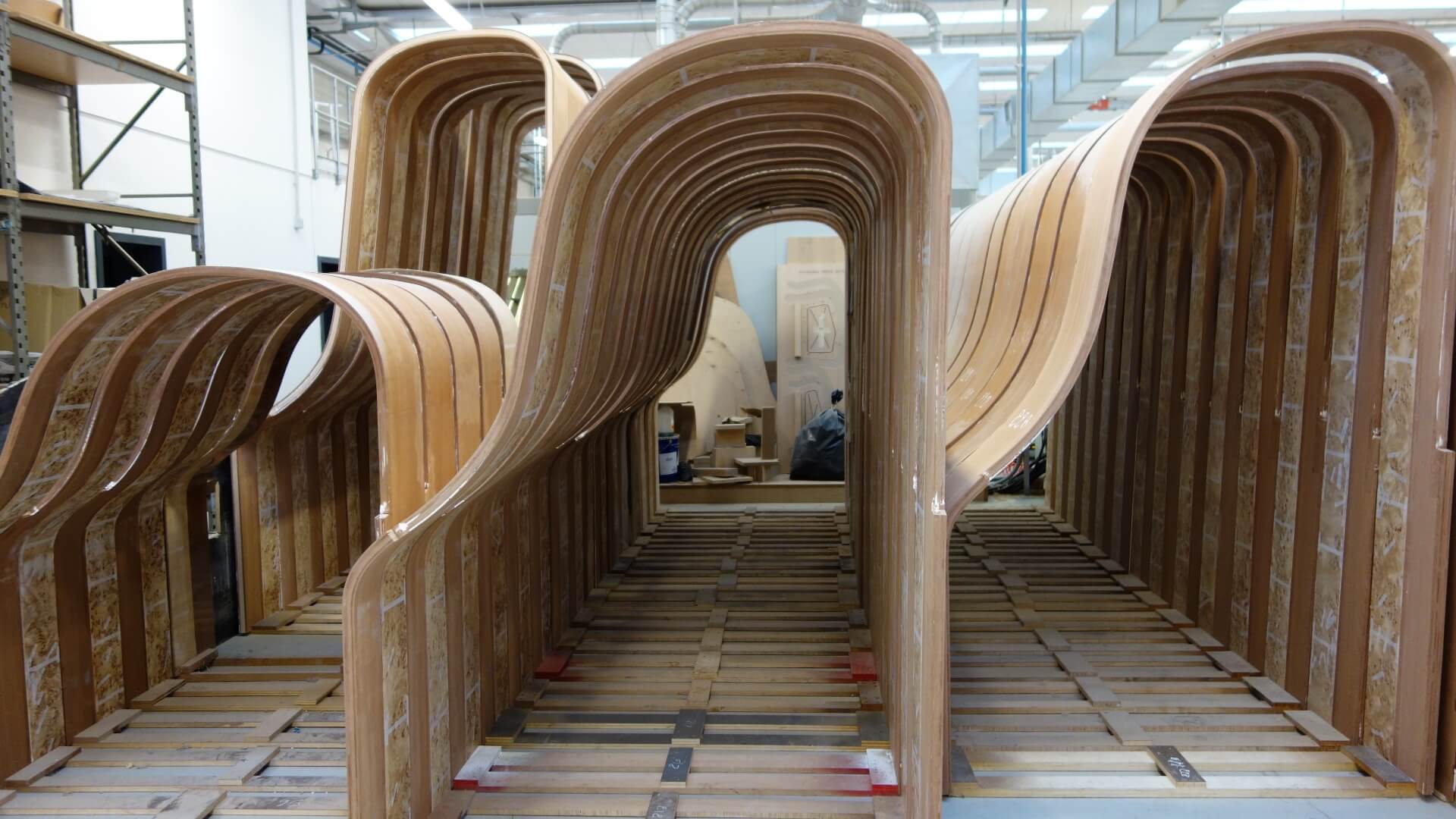 4. There is some controversy about piano plates. Traditionally the wet sand cast plate has been used, but in recent years, especially in Asia, a vacuum mold plate has come into use. Typically, a wet cast iron plate has fewer unwanted resonances, therefore it is a better choice. It takes anywhere from several days to weeks to create one. Almost all high end pianos have a wet cast iron plate, while cheaper pianos have a vacuum mold plate.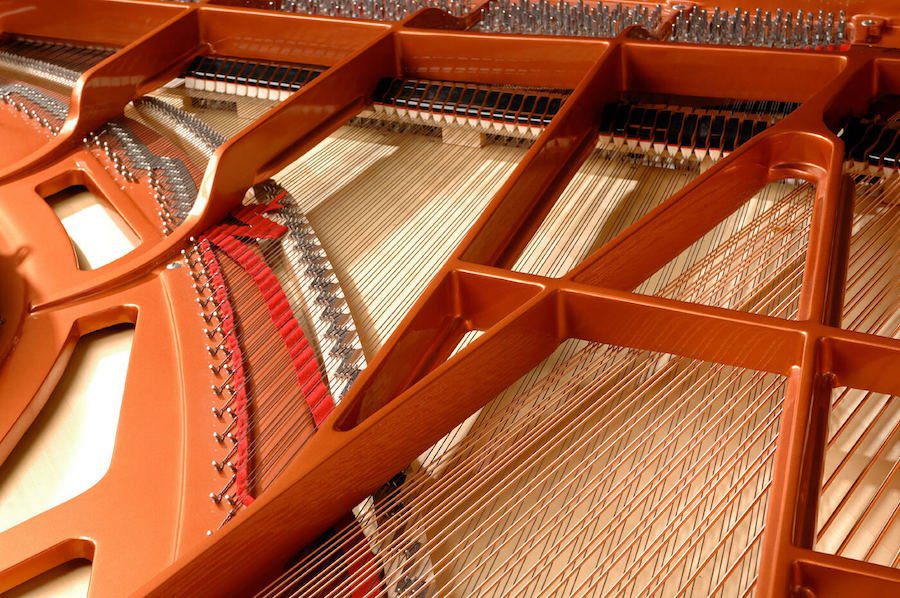 These are not must-haves, but just a few indicators of how well a piano is made.  Playing the piano and listening is how most buyers choose.  Finding the perfect piano usually involves working hand in hand with a technician.  A good instrument can be voiced to be brighter in tone, or mellower, for whatever purposes—if it has good components to begin with.
What about a Digital Baby Grand Piano?
The digital piano produces sounds digitally (as its name suggests): when you press a key, the piano's electronic speakers will play back high-quality recordings that were previously taken from acoustic pianos. So it is basically non-authentic.
A digital piano can only mimic the sound of the acoustic piano. Its sound is a digital file and thus doesn't allow for the same acoustic nuances. Nonetheless, a high-end digital piano is better than a bad quality acoustic piano. Some pianists turn away from digital pianos because of their lack of touch sensitivity. An acoustic piano comes with three pedals: soft pedal, sostenuto pedal, and sustain pedal. (The sustain pedal is commonly used in all genres of music, while the soft and sostenuto pedal aren't as frequently used. Some digital pianos come with only a sustain pedal, and some (in particular portable digital pianos) don't come with any. Here you can purchase a sustain pedal separately, but the other two pedals—sostenuto and soft pedal—aren't always available as an add-on option. It is thus important to determine whether the presence of the pedals will make a difference in your playing experience. A serious pianist is not going to accept this absence of nuance and control.
And finally, the digital piano needs a power source, just like an appliance, to work.
What the digital piano may lack in terms of sound, they make up for with some additional features. With the digital piano, you can produce the sound of almost any instrument, ranging from a saxophone to a choir. You can experiment with different types to choose the sound that suits your music best. Moreover, you can start a drum beat track and play to the beat, which will transform your keyboard into a small ensemble.
The digital piano can be connected via a port to your computer which allows you to record and store your own music as a digital file. This is a useful tool for budding songwriters, who can manipulate their recordings with software.
The digital piano comes with a volume knob and a headphone output, allowing you to practice anywhere, anytime, without disturbing others.
Digital pianos differ in types and sizes, but they are all more portable than their acoustic counterparts. Most digital pianos can be moved by one or two people without professional handlers.
Digital pianos are far less expensive than acoustic pianos, making them very attractive. However what they gain in purchase, they lose in resale value and depreciate rapidly. An acoustic piano is a much sounder investment.
It doesn't require maintenance or tuning.
Has no temperature or environment requirements.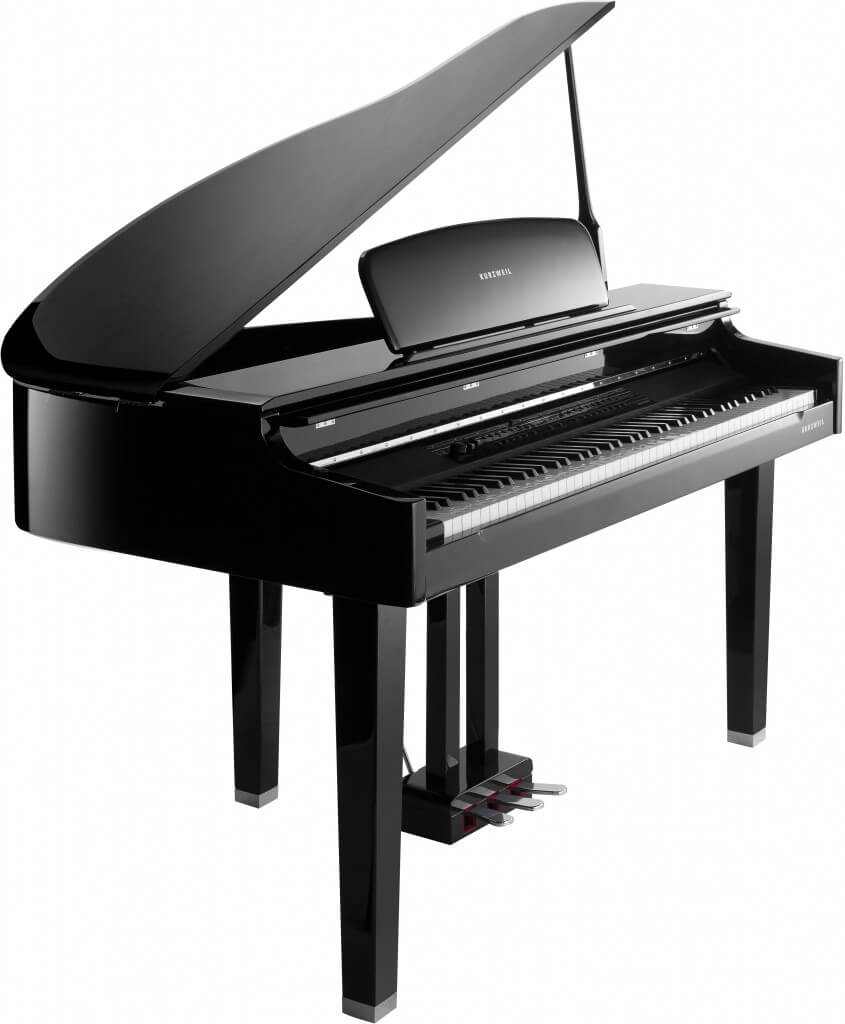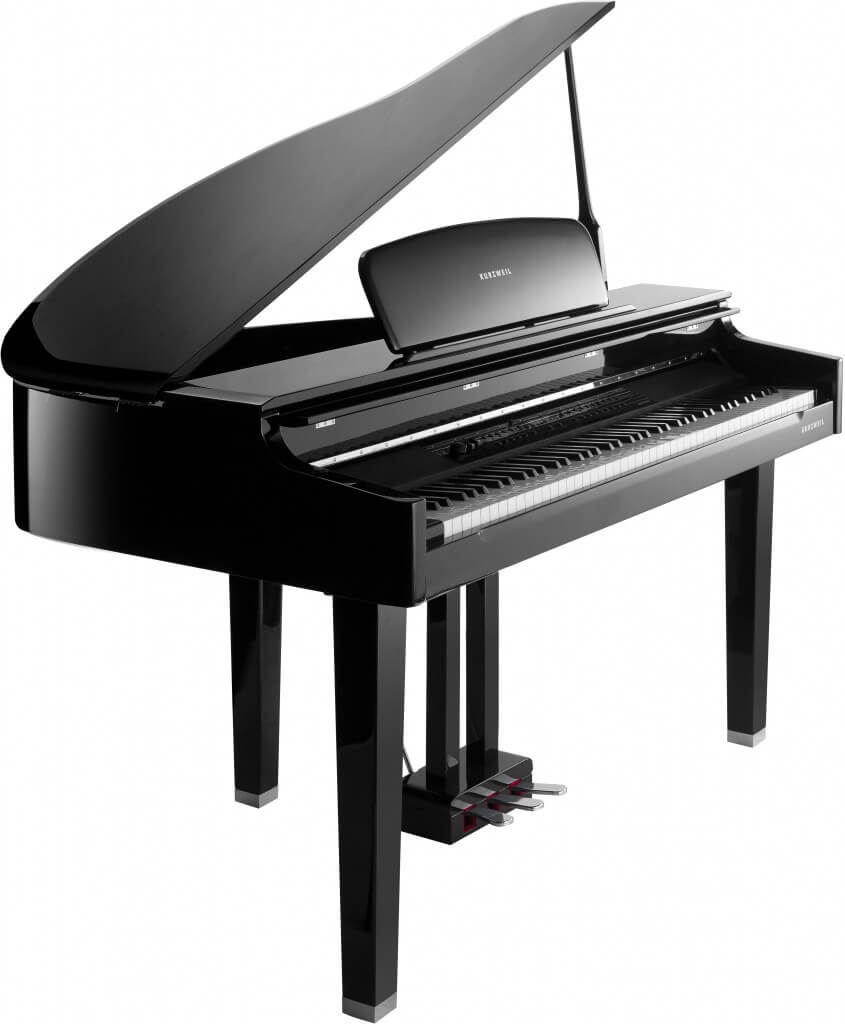 Five Popular Acoustic Baby Grands
Story & Clark – Manhattan 150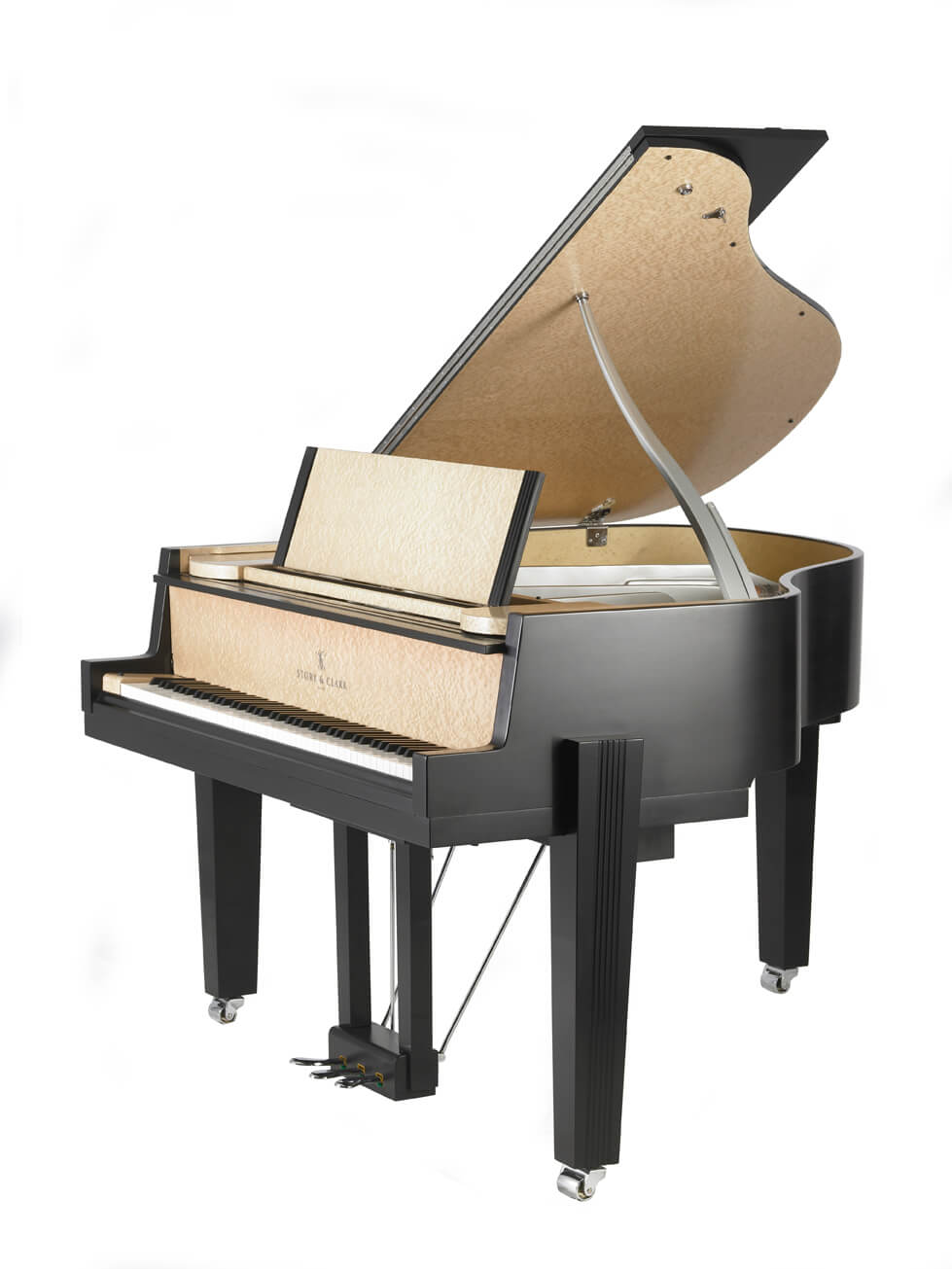 The perfect sized baby grand (4'11") for urban dwellers, the Manhattan grand piano with its minimalistic styling is now a classic echoing the panache of Nick and Nora Charles city chic from the The Thin Man blockbusters of the 30's. You can almost see Myrna Loy sipping her Manhattan cocktail while William Powell picks out a jazz ballad on their Story & Clark. Lovers of Eames and Le Corbusier will nod and smile seeing the lines and designs of Manhattan's timeless elegance.  This space saving little beauty not only looks fabulous, but has all the quality requirements for top-notch sound under the lid.  
Price:   ~$25,095.00 (includes player system)
Steinway & Sons Baby Grand – Model S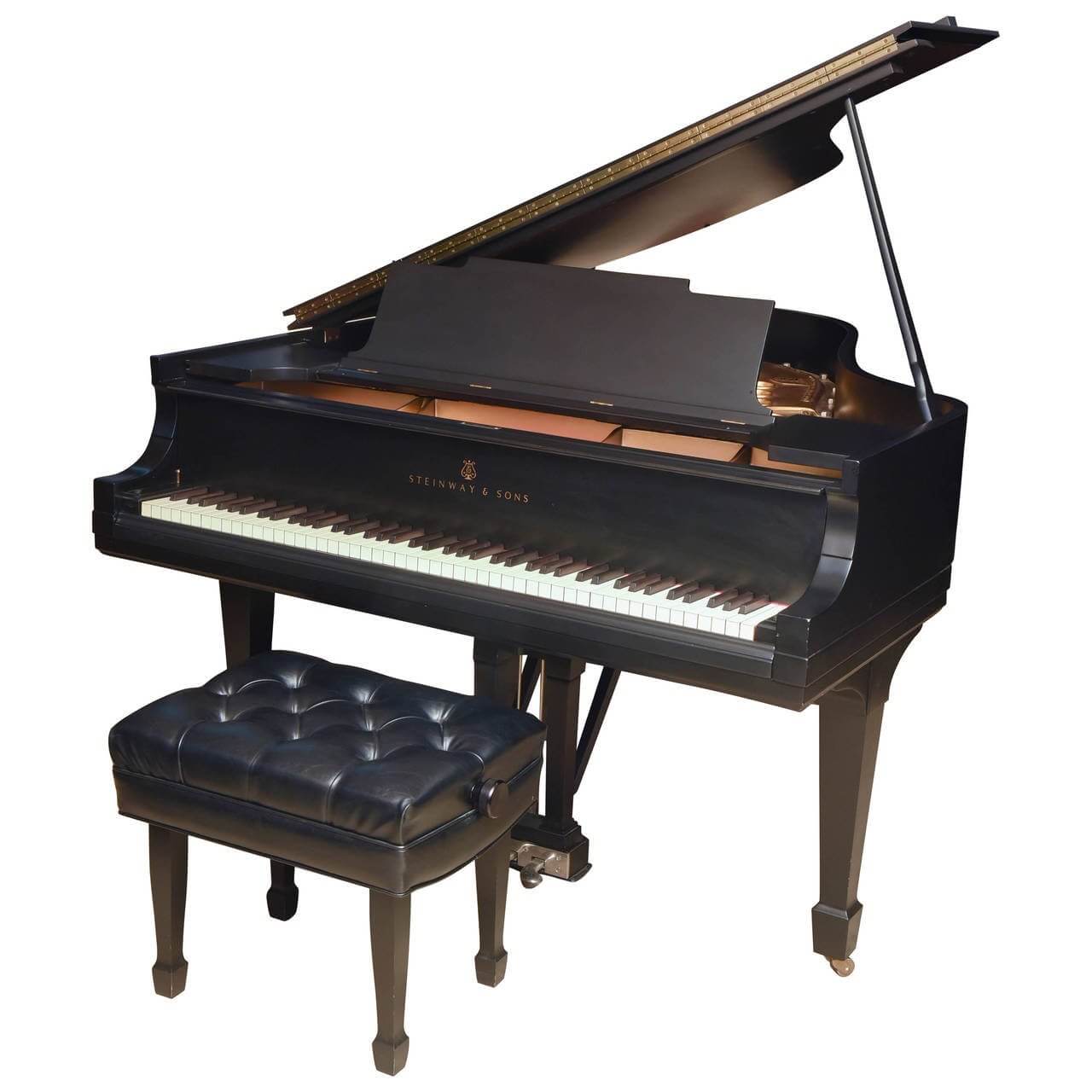 At 5′ 1″, this piano is the smallest of the Steinway grands. This design was introduced in the 1930s to invite Steinway's brand and sound into almost any space. Quality components make this baby grand an appealing choice for diehard Steinway fans.
Price:  ~$65,600.00.
The new Aire baby grand by Euro Pianos Naples is sweeping the industry as an acrylic grand piano that is affordable.  Most acrylic grands are in the six figure price range.  At 5'2" and styled with modern lines and quality components, The Aire stands out as a luxury instrument that designers can include in the smallest of chic apartments and retain the airy look of modernity. 
Price: $49,950.00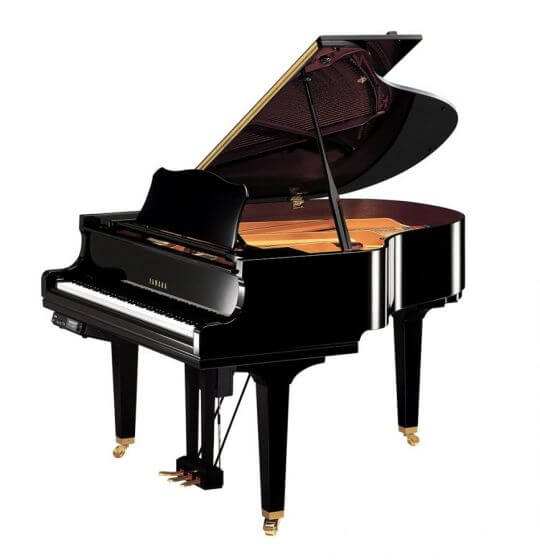 This series of Yamaha baby grand pianos belong on the list of best buys by our standards. The three sizes in three models give a price range with commensurate quality components:  the economy model Yamaha GB1K offers some choice in case colors, is 5'0" with pricing starting at $15,000, the Yamaha GC Series starts at 5'3" starting at $24,000 and the Yamaha CX Series which is their "Lexus" baby grand that is made in sizes from 5'3" to 5'8" with a price range of $38.000 to $83,000. The two more expensive models are available in ebony only.
A brand that cannot be omitted from any list of best pianos, whatever the size, is the Italian handmade instruments of Fazioli.  This 5'2" baby grand is the true Ferrari of the industry and boasts the best quality performance components and engineering that money can buy.  It is frequently the first choice of professionals and is a superb work of art.  Fazioli also customizes pianos in rare woods, colors, designs and gemstones making it the preferred brand for true luxury seekers.
Price: ~$120,000.
Euro Pianos Naples is a respected distributor of European luxury musical instruments. The company's origin dates back to 1965. Euro Pianos represents world renowned brands such as Sauter, and it has recently become a manufacturer of its own acrylic instrument – The Aire. Apart from being a successful retailer, consultant, and entrepreneur organization, Euro Pianos is actively engaged in the artistic and community life of Naples, Florida as an organizer and supporter of musical events throughout the years.