Acrylic pianos today are made by a variety of manufacturers, including Euro Pianos Naples who offer the beautiful "Aire" model which can be color customized in a variety of ways.
While acrylic pianos (also called transparent pianos, crystal pianos, lucid pianos, or clear pianos) are a fairlyrecent phenomenon, I was surprised to learn the U.S. patent for a transparent piano lid dates back to 1976. It was granted to the Libby-Owens-Ford Company, a glassmaker in Ohio. This lid, made of safety glass merged with a layer of special plastic, with a hinge, was invented for use by the Boston Pops Orchestra and the Toledo Symphony Orchestra, to lend better viewing to the audience at concerts. In other words the grand piano lid does not block the view of the orchestra.
Concert performers and entertainers today sometimes opt for acrylic grands for the same reason, to give an unfettered view of the piano workings to their audiences, and/or to provide the beautiful and dramatic theatrics which such an instrument creates. A perfect example is Bruno Mars playing the Bluthner Lucid Elegance grand on this video:
But acrylic pianos have come into their own and are being purchased for homes, music rooms and entertainment venues. They fall into two general types: The best and the most expensive are transparent pianos, such as those made by Schimmel and Bluthner that run to six figures and carry the quality of the historic German piano builders under their lids. These models are decorator luxury instruments, highly customized and iconic. Schimmel's transparent piano began to be produced in 1951 and was further perfected 30 years later by his son. Bluthner took over Lucid Pianos of Spain and streamlined the production of acrylic pianosto a new standard. Bluthner, established in 1853, is a premier performance piano builder.
The Lucid Pianos are based on models 166, 175, 186, 210 and 235 sharing the same highest performance materials and construction for the soundboard, plate pin block and action. Bluthner Plexiglas is purchased from the German company Evonik. Most modern day acrylic, like Evonik's, will remain crystal clear with no distortions for the lifetime of the piano, regardless of the thickness or shape provided its cared for appropriately. Colorless acrylic is as transparent as the finest optical glass, its total light transmission is 92%. Lucid Idyllic Excellence is the only fully transparent piano. This piano features a patented technology – thesoundboard sits on a special metal inserts. (visible on this picture below)
Because top of the line luxury pianos are not affordable by all, a second choice has evolved, a piano with  an acrylic lid,with decorative acrylic lyre, music stand and legs completing the design. High-quality interiors are still contained in the cases, but are better priced in the $50K range and don't have all the innovative bells and whistles of the more famous brands. Euro Pianos' Aire is such a model.
 The Aire™ piano is built in Miami FL and uses American-made high-standard acrylic (second only to original German Evonik acrylic) which will not yellow with age or sunlight like other substitute plastics some use in place of real acrylic.
Aire™ piano is available in Black, White and the newly released Red finish with hardware options of brass or chrome.  Invisible self playing systems, are a high-tech add on providing live performance quality with today's wirless technology.
What Is Acrylic Anyway? Can We Talk About Quality?
Acrylic is a clear (unless it's dyed) very high-grade form of plastic made primarily from petroleum. Plexiglas (Acrylite)  is one of the big brand name manufacturers, as is Lucite (Perspex). High grade acrylic is a form of plastic that may be easily confused with non-acrylic plastics which yellow or discolor quickly and age poorly. But like anything else, there are superior and inferior acrylics, in terms of their ease of use and manufacturing process. 
The best acrylic for transparency and longevity is German made acrylic followed closely by US made acrylic. 
There are two basic versions of acrylics: cast and extruded. These are different products but both are considered acrylic with different uses.
Cast acrylic is usually regarded as a better quality than the extruded and is more resistant to some solvents.  Extruded acrylic can behave differently depending on how it's bent whereas it makes no difference in cast acrylic.  Cast acrylic is more scratch resistant, but is harder to flame polish (the finishing process to remove saw marks, prep marks, etc.) 
The most important point is that genuine acrylic plastic will always be more expensive than non-acrylic plastics. Non-acrylic plastics carry names such as Styrene, PETG, and Polycarbonate. These are NOT genuine acrylic and as such are not suitable for durability of clarity and resistance to scratching, etc. So, buyer beware. Check that the plastic used to manufacture the piano is a true acrylic before settling for a bargain price product.
The Knock-Off Trade In Transparent Pianos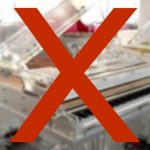 The Amazon of China showcases a variety of  discount priced "clear",  "crystal" and "acrylic" pianos. Some listings attempt to mislead purchasers by posting images of genuine top-notch acrylic pianos. If the price sounds too good to be true, ask yourself …
Will the hardware pit and tarnish?
What plastic are the clear parts made of?
Will it yellow and grow cloudy or will it remain crystal clear and beautiful?
How do I enforce the warranty?
Are there bubbles in the acrylic?
Are the visible screws and glue beautiful?
Are the piano legs and lid engineered for safety?
And how about the value of the piano as a musical instrument? 
Is the piano built by a legitimately ranked and respected piano manufacturer?    
Final Thoughts On Quality Acrylic Pianos
If you want the best – Bluthner Lucid line of pianos (100% made in Germany using only Evonik acrylic) offers exciting, fully transparent, semi-transparent and colored acrylic pianos which can be customized with LED lighting and self playing systems in all manner of color palettes and decorative hardware.
For the price minded consumer, Aire is an elegant acrylic piano built in Miami using 100% USA acrylic and real performance quality mechanics by the world's largest piano manufacturers. Oftentimes these pianos can be delivered in less than 8 weeks.
Euro Pianos Naples recommends either one of these options. We are available to answer questions and consult with you on acrylic and transparent pianos, free of charge. Just give us a call, and we will be happy to accommodate you.
Euro Pianos Naples is a respected distributor of European luxury musical instruments. The company's origin dates back to 1965. Euro Pianos represents world renowned brands such as Sauter, Schimmel, Fazioli, as well as its own acrylic instrument – The Aire. Apart from being a successful retailer, consultant, and entrepreneur organization, Euro Pianos is actively engaged in the artistic and community life of Naples, Florida as an organizer and supporter of musical events throughout the years.