Taking an approach that extends beyond that of a traditional piano store, Sunny Reuter has converted the family business started by her parents into a new piano boutique for clients seeking exceptional quality, unique piano designs and a top notch piano performance.
Clients considering a piano purchase increasingly expect the piano to be more than just a traditional ebony piano case. The interior design style determines the piano design. For example, a traditional room with antique furnishing may call out for a beautiful grand featuring the veneers of rare woods in intricate intarsia designs (see Schimmel Tradition Intarsie). A minimalist penthouse would provide a spectacular backdrop to a limited edition Fazioli M Liminal (cold silver color with deep black lid and futuristic shape). A mid century modern styled home with limited room for a full size grand is perfect for the Echo™ upright piano .
Acrylic is timeless medium that is suitable in most decors without ever overpowering. The beautiful shape of a grand piano with an open lid often blocks artworks or a view. An acrylic lid solves this problem.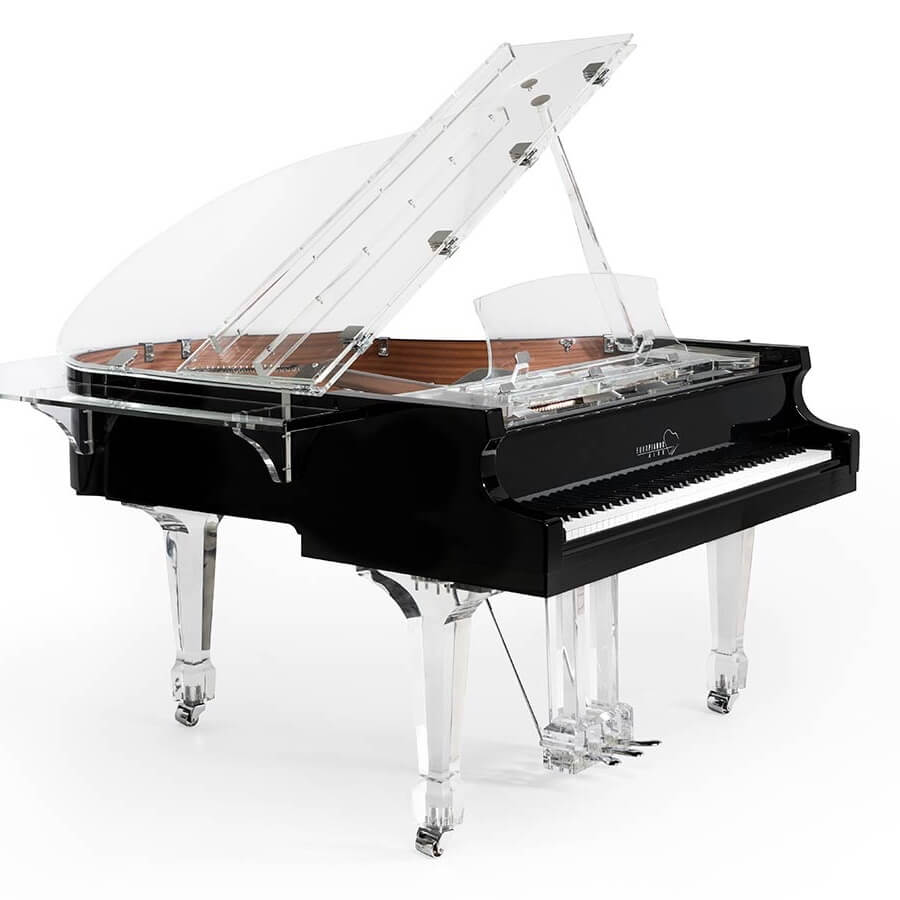 To bring a new transparent piano to the marketplace required a lot of research and development. Over months of intensive study, Sunny pulled together a team of specialists including an engineer to create the acrylic baby grand piano she named "Aire."
The standard 5′ – 5'2″ piano case can be ordered in polished ebony or white with beautiful acrylic legs, lid, lyre and music desk. The clear elements make the piano look as if it's floating on air, thus the name designated for this little beauty.
The Aire™ functions and sounds just like a traditional piano having a wooden rim, spruce soundboard and full sized high performance piano action. The acrylic components do not interfere with the sound quality or performance.
The Aire™ can be customized in a variety of ways. The addition of a wireless PianoDisc player system brings performances by top artists to your living room and extends the usefulness of the piano. Today's high definition player systems are invisible, store hundreds of hours of music, have a full orchestra and voice accompaniment, and do not impact playability of a piano.
Like to have parties and sing alongs around the piano? Order a custom detachable acrylic piano bar.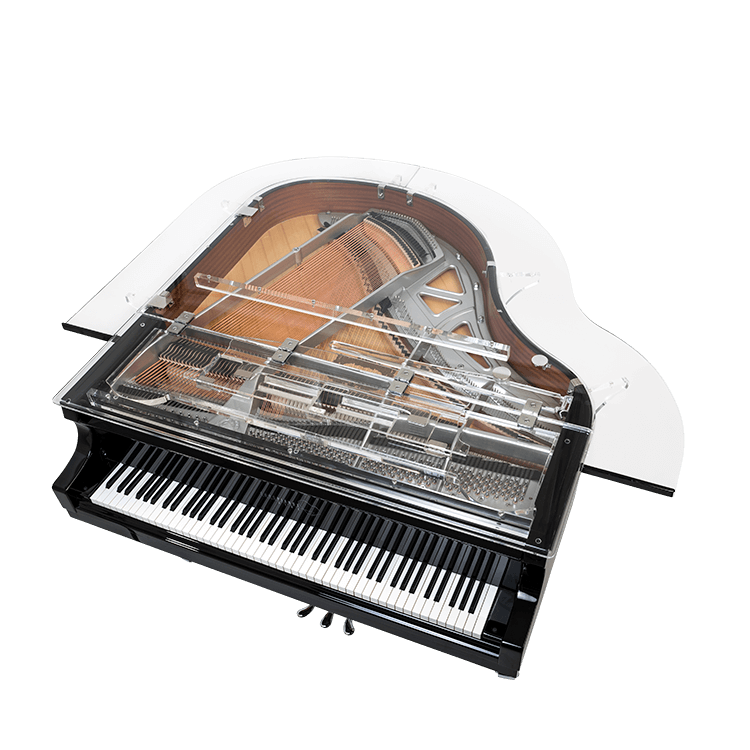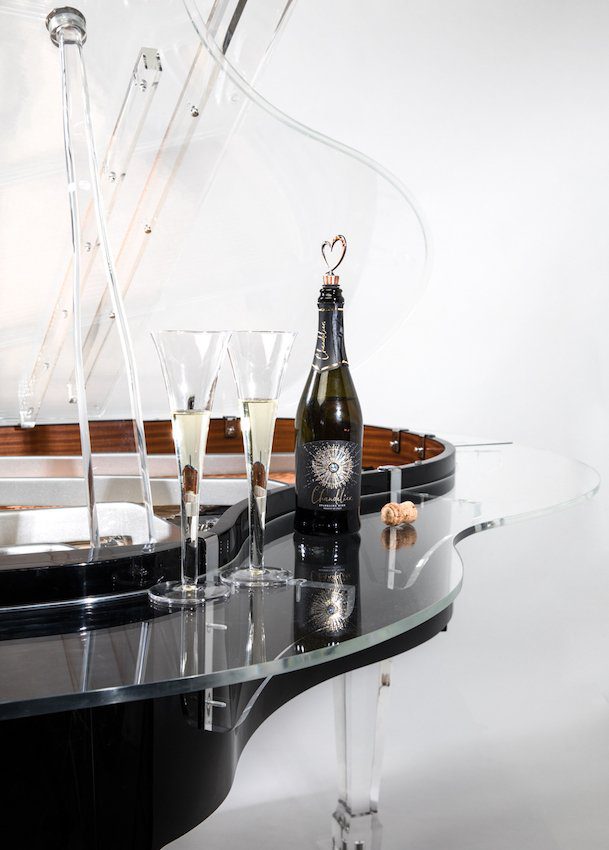 10 Reasons Why You Should Choose the Aire™ Acrylic Piano
Designed by Euro Pianos Naples
Striking statement piece!
Traditional piano action and soundboard for optimal performance.
US made acrylic that won't yellow over time unlike lesser quality options.
Available in Black Polished or White Polished body | Chrome or Brass Hardware
Handmade in Miami, FL in limited quantities.
Less than 3-4 months delivery from the time of order.
Option of an acrylic bench or stool
Detachable custom PianoBar option
PianoDisc options installed by factory certified technician.
A 5-year warranty accompanies your purchase and the solid support of Euro Pianos Naples' technicians and experts for your needs.
Euro Pianos Naples is a respected distributor of European luxury musical instruments. The company's origin dates back to 1965. Euro Pianos represents world renowned brands such as Sauter, Schimmel, Fazioli, as well as its own acrylic instrument – The Aire. Apart from being a successful retailer, consultant, and entrepreneur organization, Euro Pianos is actively engaged in the artistic and community life of Naples, Florida as an organizer and supporter of musical events throughout the years.