Taking an approach that extends beyond "piano store," Sunny Reuter has converted a 30-year-old family piano business into a new modern concept of services for the client seeking quality and state of the art products, plus offering the one-on-one care and follow-through services that most of us think of as memories of the distant past.
Euro Pianos sells high-end luxury and design pianos, as well as quality performance pianos by some of the best piano manufacturers in economy models. Their movers, tuners, repair and rebuild experts and technicians provide the level of service that one would expect from a business interested in beauty, art and making the world a better place for music.
When it became apparent that there was a demand for transparent pianos, Sunny Reuter made sure that her affiliations to the lucid piano of Schimmel and the crystal piano of Bluthner were intact, so she could serve her clients. Both of these high-end acrylic grand piano manufacturers are making a splash in today's market.
Sunny was surprised when another group of enthused customers contacted her, begging for a modern acrylic piano but were brought up short by the quarter-million-dollar (and up) price tags. They pleaded with her for a more moderately-priced instrument. But it had to be transparent or semi-transparent to suit their needs.   Sunny, who comes from the ground of being of service and never failing a customer, hated to say no to these people. But there wasn't an economic piano available to fill these people's needs. So, undaunted, Sunny designed one herself.
To bring a new transparent piano to the marketplace required a lot of research into acrylic manufacturers, and modestly priced piano parts. Over months of intensive study, Sunny pulled together a team of specialists, and an engineer to create the semi-tramsparent Euro Pianos baby grand "The Aire."
The standard 4'11" polished-wood piano case can be ordered in black, white, mahogany and walnut colors, and every Aire model has beautiful acrylic legs, lid, lyre, key cover and music stand.   The clear elements make the piano look as if it's floating on air, thus the name designated for this little beauty.
The Asian-made piano parts are the highest quality available on the market in the economy class of instruments. Warranty and service from Euro Pianos is unsurpassed, and the buyer can be assured of quality performance to suit home pianists and students alike.
The Aire can be customized in a variety of ways. Any color can be chosen, including the special cherry red shown above and the matte silver shown below. The Aire can also be ordered in larger sizes than the 4'll" to fit your needs. The finish can be polished glossy or matte. So whatever you can dream up in these choices, The Aire can accommodate. Just by some subtle changes in color, size and finish, one baby grand can create dozens of different ambiances from Hollywood Zing to Classic Modern.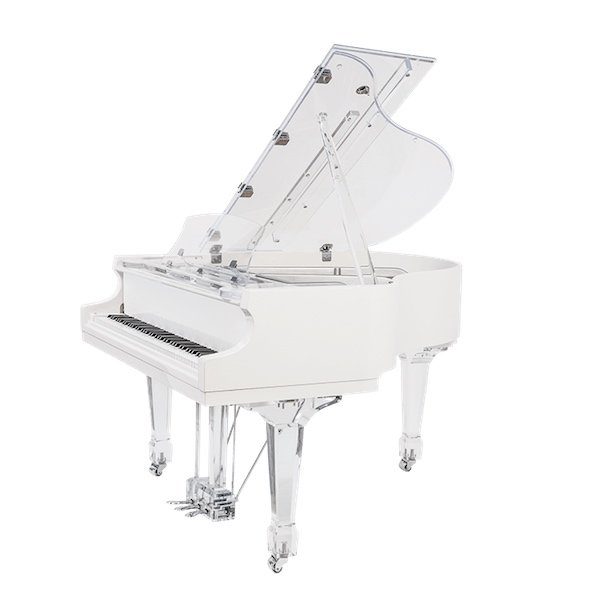 Benefits of New Piano "The Aire" created by Euro Pianos
The most obvious benefit is that the price tag on this piano is in the $50K range instead of upwards of $100K.
The Aire provides the contemporary "look" and glamour of an acrylic piano.
Acrylic care consists of no more than normal wipe-cleaning to keep it looking new.
Normal small scratches that might occur on acrylic can be cured with a special cleanser. Severe scoring or gouging can be sanded and refinished. The case can be cleaned with piano polish.
A 10-year warranty accompanies your purchase and the solid support of Euro Pianos Naples' technicians and experts for your needs.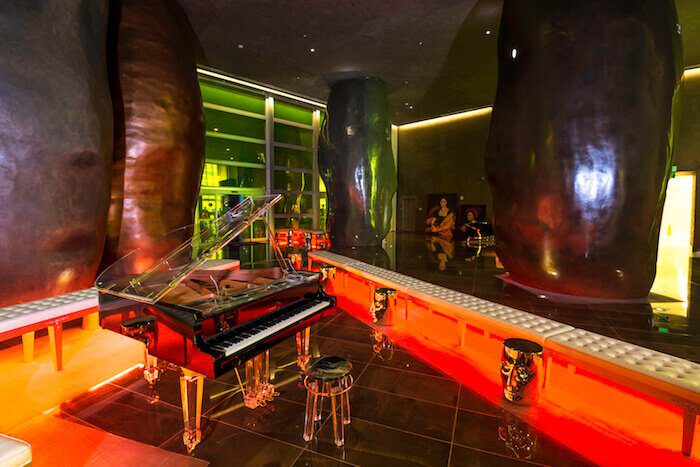 Euro Pianos Naples is a respected distributor of European luxury musical instruments. The company's origin dates back to 1965. Euro Pianos represents world renowned brands such as Sauter, and it has recently become a manufacturer of its own acrylic instrument – The Aire. Apart from being a successful retailer, consultant, and entrepreneur organization, Euro Pianos is actively engaged in the artistic and community life of Naples, Florida as an organizer and supporter of musical events throughout the years.