To have a baby grand piano in your home is the goal of most people who play or want their children to learn to play. Like art and literature-music–and the means to play it, are the hallmarks of a cultured life well lived.
Baby grand piano prices may certainly be a consideration for many buyers, and a few people will be looking for nothing more than a cheap baby grand piano, regardless of quality. There are people who see a Steinway baby grand piano price and think they can't afford a piano at all, but the truth is, piano prices can be as diverse as anything else.
Other more knowledgeable shoppers might be predisposed to a particular baby grand piano brand , and that will be their determining factor. The brand might be a family tradition or perhaps they got a recommendation from a trusted professional or musician for a particular brand. But there are many people who are not limited by price or brand preference, and are undecided how to find the best baby grand for their needs.
Everyone is different and has individual reasons for doing things. We wanted to provide some categories that might be useful and inspire some thought for customers with special interests or who have just a kernel of a yearning for a particular type of piano, but not sure why. It could be that you had a grandparent with a Wurlitzer baby grand piano, the oldest name in pianos, and you wanted to see if they are popular; or perhaps you took piano lessons as a child on a Chickering baby grand piano or a Brambach baby grand piano, and didn't know that these instruments are no longer being made and only found as in the Used Pianos stores as antiques today. So how to proceed? Most people are interested in new pianos and like to be up to date on the standards of the industry which has had a renaissance of design and performance improvements in the last few years. So we thought we'd offer some categories of the top fifteen baby grand pianos that you might consider.
FAZIOLI F156
Best Overall Baby Grand Piano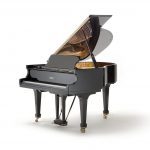 At the high end of baby grands and renowned as one of the best pianos in the universe, we must include the F156, the smallest (5'2″) of Fazioli grand pianos. It is hand made with all the same astonishing bells and whistles of the nine foot concert grands. If you are the pianist who demands the best, this is the instrument for you.
A baby grand makes better music with a "wide" tail at the on the end of the piano which accommodates a larger soundboard, and sound. Fazioli has this and so much more. Take a look at our blog article on baby grands for the full scoop: WHAT YOU NEED TO KNOW BEFORE BUYING A BABY GRAND PIANO.
Fazioli's reputation for unique sound, extraordinary workmanship and rare woods is upheld in every piano they ship from their factory in Sacile, Italy. The action is so perfect that these pianos don't even have to be tuned when they are uncrated, and require no preparation by a dealer on delivery like most other pianos. Extraordinary and special, the Fazioli brand is an asset as prized as the Ferrarri in the car industry. Professionals insist that to play a Fazioli is to experience anew the sound of music.
Price Range: $120K
Aire™ Acrylic Piano
Designer Baby Grand Piano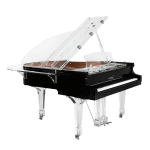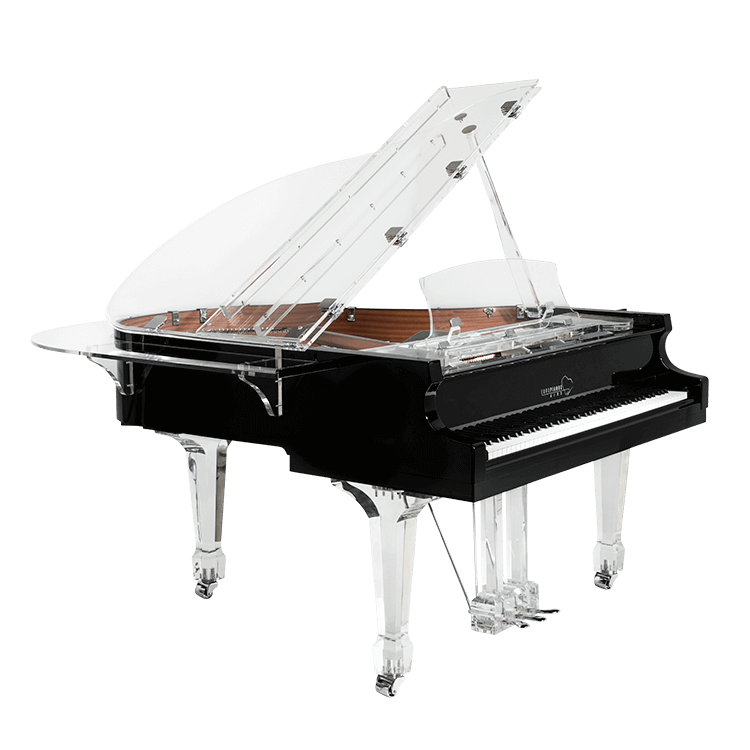 It might be immodest to recommend our own piano at the top of the list, but this acrylic baby grand has earned its rightful place. Euro Pianos has made its reputation since 1965 in selling high end pianos, so it was only natural that we'd have our ear to the ground on what people are seeking in today's world.
Transparent pianos as a rule carry six figure price tags. They are often out of price reach for customers whose contemporary homes beg for the modern acrylic piano to complement their décor. Blüthner is famous for their magnificent Lucid pianos but they run about $125,000 and up. (see below). Schimmel has equally gorgeous Fully Transparent pianos which are even costlier.
We have had enough people begging for an economy version of a crystal piano that the principal of Euro Pianos, Sunny Reuter, made a decision to design one herself to fill the need.
The 5'2″ polished-wood piano case can be ordered in black, white, mahogany and walnut colors, (and customized) and every Aire™ model has beautiful acrylic legs, lid, lyre, key cover and music stand. The crystal elements make the piano look as if it's floating on air, thus the name designated for this little beauty.
Price Range: $50K
Bluthner Idyllic Excellence
Luxury Designer Piano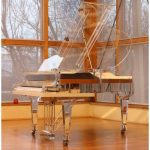 Blüthner calls this 5'1″ Model 11 Baby Grand "Perfection in a Petite Package." This instrument is designed to give concert-like performance in a size that will fit in nearly any home or studio. What sets this piano apart is the concentrated effort Blüthner made to design a baby grand that would compare in performance to their own extraordinary grands. The proven Blüthner soundboard design has been exploited to maximize the resonance and fullness of tone to recreate the quality of the Blüthner grand pianos. Price Range: $80K
It's difficult to talk about just one Blüthner piano because of this company great design flair and their excellent quality. They also have two 5'1″ Lucid-Edition baby grands, the Blüthner Elegance Piano and the Blüthner Idyllic Excellence Piano which run in the price range of $125K and $144K respectively.
Story & Clark "The Manhattan"
Affordable Designer Piano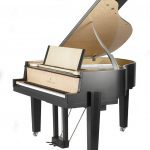 Story & Clark knew what they were doing when they designed a flirty tribute to the art deco era whose designs have become iconic and still in demand all over the world. It high gloss ebony finish is enhanced with accents of Birdseye Maple, and even the lid stand has the unmistakable art deco flair. At four feet eleven inches, this baby grand can fit almost anywhere. It would be just as at home in a penthouse New York apartment, as a pied a terre in Paris. Story & Clark pianos can be equipped with QRS PNOmation player system. These factory-installed systems arae fully concealed, with no solenoid-rail cover visible, (requiring no cutting of the legs to fit the entire 88-note system, and allows full use of the original pedals and trapwork). All this makes the S500 an economical choice as well as a superstylish one, as it runs about $25K all included.
Mason & Hamlin Model B
American Made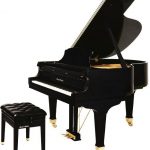 If you like to buy all American, here's an excellent piano builder who's been around the USA since 1854. who decided to design grand piano performance into a baby grand case. The Model B was designed for those who want the big Mason & Hamlin sound in a small package. At 5'4″, the Mason & Hamlin Model B qualifies as a "Baby Grand", but the sound and presence are anything but small. The tone of Mason & Hamlin pianos is typically American – lush, singing, and powerful, not unlike the Steinway in basic character, but with an even more powerful bass and a clearer treble. One listen will tell you that the B has all the legendary Mason & Hamlin characteristics in a size that just happens to fit anywhere. There's a choice of various exotic wood finishes or ebony.
Price Range: $62K.
C.Bechstein Model L167
German Made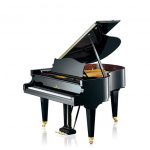 It's hard to go wrong with a German-made piano. They have the benefit of centuries of experience and master craftsmanship.
The C.Bechstein L167 could be considered one of the best baby grand piano ever built. Despite its relatively small size, (5′ 6″) this professional baby grand piano can express brilliantly. The C.Bechstein L167 boasts all the features of the larger models, including a duplex scale, as well as a pleasant touch and an amazing sound resonance, hand-made in Germany
The C.Bechstein L167 baby grand descends from the Model L (short for Lilliput) built before World War II, but due to a dedication to better manufacturing concepts, the instruments developed by C.Bechstein in recent years have surpassed even the excellence of their golden age, years before. As the C.Bechstein R&D department continuously optimizes the materials and production processes, each C.Bechstein piano has its own sound personality. The magic is not chance, but the result of more than 160 years of experience in building high-end uprights and grands.
Price Range: $120K
Sauter Model Alpha 160
German Made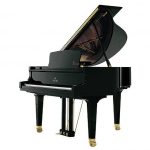 Six generations of Sauters have given the world beautiful high-quality instruments with a lush, full, singing tone, closer to an "American" sound than most other European pianos.
This little grand piano is small and compact, (5'3″) yet rich in sound, with surprising volume. Due to the length of its bass strings, it carries conviction with its ample sound and rich fundamental tone.
When speaking of quality German pianos, the subject of materials and hand crafted excellence must be addressed, as they are masters. This stable construction with solid beech beams and multilayered, glued frame is a hallmark of the Alpha 160. The sound board is made of mountain spruce. Selected felts are used for the hammer heads.
Sauter is one of our favorites, not only because of their craftsmanship, but also in the diverse designs and innovative ideas most notably their Peter Maly designed instruments-some of the best in the business, in both uprights and grands.
Price Range: $95K
Steingraeber & Sohne A170
German Made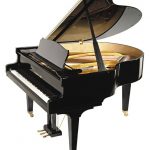 Steingraeber is one of the smaller boutique piano manufacturers in the world, producing fewer than 80 grands and 60 verticals per year for the top end of the market. It is owned and operated by sixth-generation family member Udo Schmidt-Steingraeber, who still makes pianos using the traditional methods of his forebears at the company's present factory, which it has occupied since 1872.
The 5′ 7″ model A-170 grand (a baby grand on the larger side) has an unusually wide tail, allowing for a larger soundboard area and longer bass strings than are customary for an instrument of its size. Although relatively small in size, it produces a sound which completely belies its dimensions, the results of exceptional design know-how and the use of the highest quality materials throughout. An unusual feature of this piano is the bass bridge, which manages to do without a "shelf" – just like large grand pianos. Together with the sophisticated action mechanism which is built to the highest specification, the A-170 is truly a professional instrument.
A note of interest: In 2014, Steingraeber introduced the world's lightest grand piano lid, made of modern aircraft material with a honeycomb interior, which makes the lid nearly 50% lighter than conventional lids. The company says that the new material also projects sound better. Steingraeber also specializes in so-called ecological or biological finishes, available as an option on most models. This involves the use of only organic materials in the piano, such as natural paints and glues in the case, and white keytops made from cattle bone.
Bösendorfer 155
Austrian Made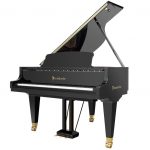 In 1828 in Vienna, Austria, Ignaz Bösendorfer founded his piano company and rose to fame when Franz Liszt endorsed his concert grand. Liszt had destroyed every other piano set before him and was unable to destroy this one no matter how hard he played it.
Bösendorfer is one of leading piano brands in the industry, the company exists 189 years. Based on experience the company introduces new production methods, but to improve quality only. Pianos and grand pianos from this Austrian factory are exclusive, and this fact stays unchanged.
The 5′ 1″ grand, new in 2012, while unusually small for a Bösendorfer piano, has the same keyboard as the 5′ 8″ grand, ensuring a wonderful touch despite the instrument's size.
Color richness in sound, projection of nuances, repetition speed and responsiveness are key qualities of a Bösendorfer Grand. The same key characteristics of the Grand 170 are designed into the 155.
Baldwin Model M1
Chinese Made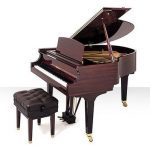 While most people still think of Baldwin as an American company, it actually ceased regular piano production at its only remaining U.S. factory, in Arkansas, at the end of 2008, although the facility remains open as a U.S. distribution and service center. Pianos sold in the U.S. now bear only the Baldwin name; all other piano names Baldwin owns and has recently used, such as Hamilton, Wurlitzer, Chickering, Howard, and D.H. Baldwin, have been retired, although some pianos bearing those names may remain on showroom floors until sold.
Measuring exactly 5'2″, the M1 Artist Grand piano is the smallest in their line. Handmade with only the finest materials, these diminutive pianos feature a one-piece, continuously-bent rim design constructed entirely of maple. The soundboard is constructed from quartersawn spruce, and dependable pinblock construction ensures exceptional tuning stability. The M1 also features a keyboard flap that utilizes a pneumatic, slow-close mechanism design that provides a smooth, sure motion that also makes it easier and safer to use. The piano's sharp keys are made from genuine African ebony wood, and the Baldwin-engineered Renner hammers deliver world-class clarity and consistency. The three pedals are traditional – soft, sustain and sustenuto – and constructed from solid brass.
Price Range: $42K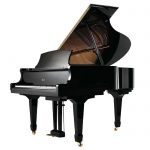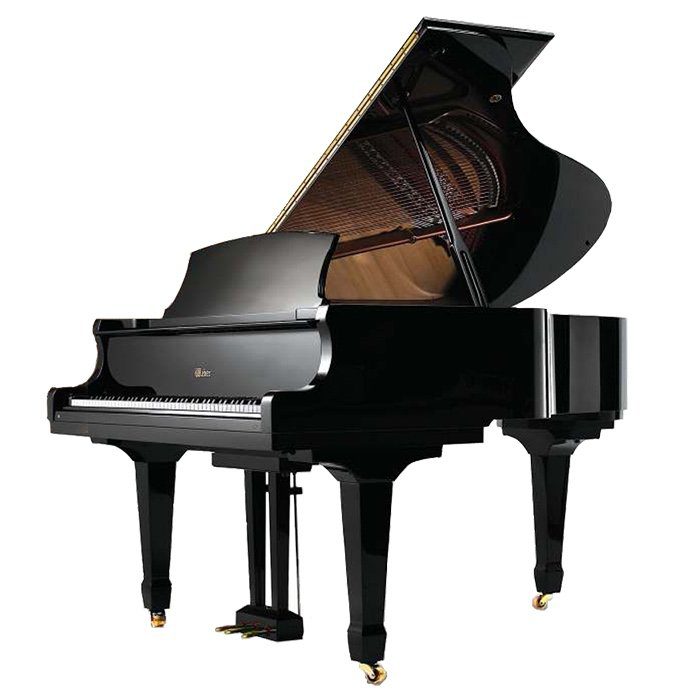 Weber & Co. was established in 1852 by a German immigrant, and was one of the most prominent and highly respected American piano brands of the late 19th and early 20th centuries. In 1985 Young Chang acquired the Weber brand. The Young Change line of pianos is kept separate from the Weber line. The Weber models have a low-tension scale and softer, cold-pressed hammers, and the greater warmth and romantic tonal characteristics that often accompany that type of scale; (the Young Chang models have a higher-tension scale and firmer cold-pressed hammers, and the greater brightness and stronger projection of a more modern sound. The Weber line, also known as the Premium Edition, also has agraffes in the bass section of the verticals, and beveled lids on the grands. Their Soft-glide feature is a system that closes the keyboard flap slowly and gently. The frame, which also plays a crucial role in the alignment of strings, is produced through the V-Process, an electrical vacuum-casting method, in the Young Chang foundry. This economic 4'11" instrument is probably the best bargain in the baby grand market.
Price Range: $14K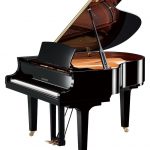 Yamaha is probably the most international of the piano manufacturers. In addition to its factories in Japan, Yamaha has plants in Mexico, China, and Indonesia.
Their CX1 models has advanced construction, scaling, and cabinetry, including a true sostenuto pedal and a soft-close fallboard. It has vertically laminated bridges with maple or boxwood cap, similar to that found in Steinways and other fine pianos, and is considered to give the bridges greater strength and resistance to cracking and better transmission of vibrational energy. CX grands have keytops of Ivorite™, Yamaha's ivory alternative.
The C1X is the smallest of Yamaha's CX Series Grand Pianos. At 5'3″ it can comfortably fit into many environments such as small teaching studios and living rooms.
Price Range: $38K
Hailun HG151
Asian Performance Piano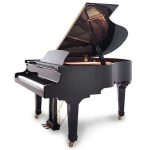 Hailun's founder and owner, Chen Hailun, is an entrepreneur in the Western style. To reach the highest quality standards, Hailun works with an impressive group of international experts. Hailun was voted Piano of the Year by Musical Merchandise Review (MMR) Magazine three years in a row – 2012, 2013 and 2014 – an unprecedented feat.
Chester L. Cline began producing pianos in Tacoma, Washington, under his own name beginning in 1889. He eventually became one of the largest piano dealers in the U.S. West. Unlike the cheap entry-level pianos bearing the Cline name made by Young Chang during the 1980's and '90's, today's Cline is a quality modern instrument designed in the USA, now built by Hailun Piano Company in China, under American production supervision
Hailun America is reintroducing the Cline brand to the U.S. market in the form of entry-level models made by Hailun. Cline makes a 4′ 11″ grand that comes with the HLPS lid-support system and has the option available of the MG Silent System, which can turn the acoustic piano into a digital one that can be played with headphones at any time of day or night.
The HG151 baby grand boasts an excellently rounded tone with dynamic playability across the entire keyboard. The Hailun Performance Plus Design Action works in unison with the spruce keys to ensure perfect balance. This is a truly high-quality instrument that fits into a range of spatial and financial budgets, whilst still providing a grand piano aesthetic. Sturdy craftsmanship has shaped all of Hailun's instruments resulting in a 10-year guarantee from new. Another economy find.
Price Range: $22K
Kawai GX1
High Tech Piano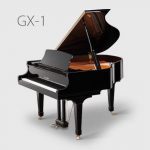 One of Kawai's most important innovations is Exclusive Millennium III Action, the use of ABS Styran plastic in the manufacture of action parts. More than 40 years of use and scientific testing have shown this material to be superior to wood for this purpose. ABS does not swell and shrink with changes in humidity, so actions made with it are likely to maintain proper regulation better than wood actions.
The most expensive line that Kawai sells in North America is the GX series in a version known as the BLAK series, and has the best features. It is designed for the best performance, whereas their budget GL series is designed more for efficiency in manufacturing, with fewer refinements. All the GX pianos feature a radial beam structure, converging together and connected to the plate using a cast-iron bracket at the tenor break. This system makes for a more rigid structure, which translates into better tone projection. The soundboards in the GX models are tapered for better tonal response; and the rims are thicker and stronger than in the GL models, and are made of a blend of open- and closed-pore hardwoods to improve the tone. All GX pianos have agraffes, duplex scaling, lighter hammers (less inertia), and Neotex synthetic ivory keptops; and come with a slow-close keyboard cover. The GX grands get more precise key weighting, plus more tuning, regulating, and voicing at the factory. The cabinetry is nicer looking and of better quality than that of the GL series pianos, with the polished ebony models in the new BLAK series receiving a UV-cured, scratch-resistant coating on the music rack.
Price range: $37K
Steinway Model S
Most Famous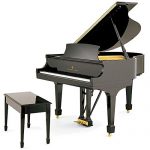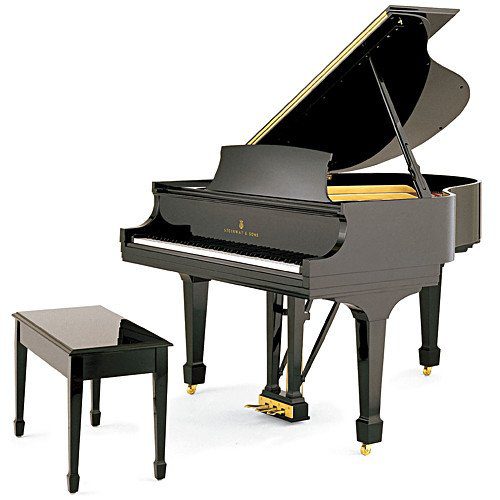 Steinway is known best for its grand pianos and has been in the business since the 1850's with a lot of early success and brand recognition with patents that revolutionized the piano industry at the time. Many of these patents concerned the quest for a stronger frame, a richer, more powerful sound, and a more sensitive action. By the 1880s, the Steinway piano was in most ways the same piano they have today. Not much has changed.
The company has changed hands several times and when the dust settled there were two factories: one in Hamburg that serves the world market outside of the Americas and the New York factory for Americas consumers. Hamburg Steinways are known to be superior to the New York instruments.
The 5′ 1″ model S is very good for a small grand, but has the usual limitations of any small piano and so is recommended only where space considerations are paramount. The 5′ 7″ model M is a full six inches longer, but costs little more than the S. Historically one of Steinway's more popular models, it is found in living rooms across the country. So for the diehard Steinway fans, their littlest baby is the Model S.
Price range: $66K
Euro Pianos Naples is a respected distributor of European luxury musical instruments. The company's origin dates back to 1965. Euro Pianos represents world renowned brands such as Sauter, and it has recently become a manufacturer of its own acrylic instrument – The Aire. Apart from being a successful retailer, consultant, and entrepreneur organization, Euro Pianos is actively engaged in the artistic and community life of Naples, Florida as an organizer and supporter of musical events throughout the years.